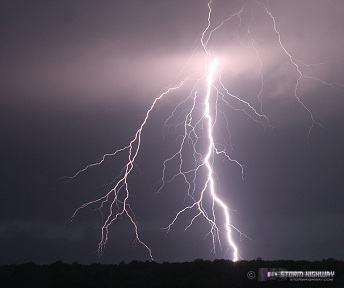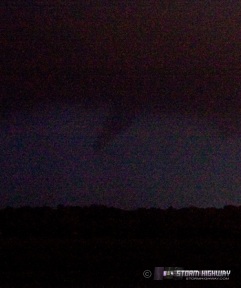 Arkansas high risk day: May 1, 2010
ABOVE: Lightning from a supercell in Biscoe, Arkansas; and possible tornado/funnel near Fair Oaks, AR on May 1, 2010.
Click any thumbnail on this page to view a larger version.
FAIR OAKS, AR - On Saturday, May 1, a second major tornado outbreak was expected mainly in the state of Arkansas. A very moist and unstable airmass would again be overspread by strong upper-level winds, and a high risk was issued by the SPC for much of Arkansas as well as a small portion of southeast Missouri. Since this area was not a great distance from home, I decided to target the bootheel region of Missouri to await development on a warm front situated just to the south in northern Arkansas.
As I drove southward on I-55 near Sikeston, I looked to my west to see a well-defined funnel hanging down below a line of rain showers about 4 miles away. This funnel persisted for about 5 minutes: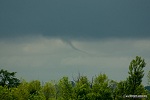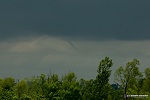 The sunny skies were still to my south and west, marking the best area of destabilization - so I decided to keep moving south until I broke into clearing. I exited at Luxora, AR and headed west to Marked Tree. A storm had gone up on the warm front to my southwest, so I parked and waited on it. However, it slowly dissipated to nothing, leaving me with no intercept options nearby. My only chance at an intercept before dark was to head south to I-40, then west toward Little Rock where several supercells were poised to cross the interstate - so that's what I decided to attempt.
The first storm crossed I-40 before I arrived, west of Biscoe. A second supercell was just about to cross right behind the first, and I happened to arrive at Biscoe just as it did, right at sunset. A low base moved into view to the west, with some of the most intense cloud-to-ground lightning I had seen in a long time. I ended up capturing some of the best CG lightning stills I've had in many years: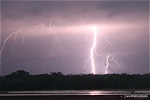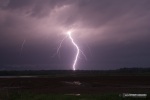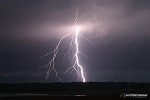 A flurry of storm photographers arrived soon after this, including tour groups.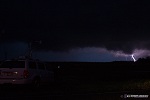 We all watched the storm move to the northeast. It was getting hard to discern motion in the base due to the low light, so I could not make out any areas of obvious rotation. I decided to jump back on the interstate and head east then north on Highway 49 to re-intercept. I caught up to the storm again about 2 miles south of Penrose, where I again set up the DSLR to do long exposures, hoping that the lightning would reveal something under the base. The only image of interest from this sequence was this feature, that may have been a funnel precursor to the tornado that would soon follow: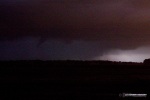 As this feature moved behind a grove of trees to my north, I got back on the road and continued northward toward the crossing point. After a couple of miles, I encountered police vehicles blocking the road where a tornado had just crossed. Power poles were snapped and down, a house near the road had been de-roofed, and a police cruiser had taken a direct hit. The police car had been struck with debris from the house, with all of its windows blown out and considerable body damage. The vehicle had also nearly been blown off of the road. The officer was fine.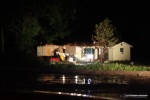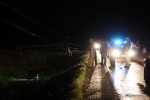 First responders ran over to the house to check on the occupants, and everyone was OK. After about 20 minutes, the road was re-opened and I continued north, then east on Highway 64 at Fair Oaks. The tornado had continued on and also crossed 64 about 3 miles east of Fair Oaks, with many more snapped power poles, tree damage and structural debris. The damage path was also much wider on 64 than on 49.
At this point, I was out of position to intercept any other supercells. I considered trying for the Memphis storm, but it was obvious that I'd never make it in time. At that point, I called off the expedition and started heading home on I-55. Other severe thunderstorms were approaching from my southwest, but they were not tornadic. I kept an eye on them for possible lightning photo opportunities, but instead, convection filled in rapidly over the interstate - socking me in with heavy rain for most of the trip back home. That ended any chance for lightning photography for the rest of the night.
NEXT EVENT: St. Louis area supercell >
GO: Home | Storm Expeditions | Photography | Extreme Weather Library | Stock Footage | Blog
Featured Weather Library Article:
All content © Dan Robinson. All usage requires a paid license - please contact Dan for inquiries.

Web Site Design and Internet Marketing by CIS Internet