This page lists all of the posts for our 2008 Weather Expedition, listed in chronological order. To view the blog with recent posts listed first (in conventional blog format), click here.
Saturday, March 29, 2008 - 7:30AM
2008 Event Blog Kickoff
It's that time of year again! The 2008 spring storm season is coming alive - and that means it's time to start planning and preparing for the annual expedition to 'Tornado Alley' during the peak severe weather season centered around late May. Some good observing setups are already popping up out west, with Sunday and Monday both looking like potential tornado outbreak days over Texas, Oklahoma, Kansas and Missouri.
2008 Challenges
The 2008 storm season will be quite different for us this year. With gas prices threatening to top $4 a gallon during prime tornado season, this year's trip planning will be a little more challenging in the sense that financial factors will come into play almost as much as model data will. Consequently I will have to keep the criteria for chaseable events much more stringent than last season. Our team this year is also in an undetermined state, with several of us still working out details in scheduling flexibility.
Furthermore, since I first drafted this post in my blog queue a couple of weeks ago, unexpectedly high business taxes have dried up my entire funding for a 2008 Plains weather expedition - putting the trip in even greater jeopardy. Adding to the complication is the fact that my car (a 2005 Ford Freestyle) has over 130,000 miles on it. This puts it in the mileage range that the chances of a major mechanical issue during the trip (transmission, engine) start becoming a reality to consider. So not only will our basic trip expenses (gas & hotels) need to be funded, but I'll need to have enough to cover a major repair if one is needed.
There may be some possibilities to restore the travel budget later on next month, so I haven't given up on this year's expedition 100%. The fact that I went ahead and published this post illustrates that - although I'll admit that things don't look good for a Great Plains trip right now. I debated whether or not to even mention the expedition at all in light of the recent developments - but I figure that showing the typical hurdles encountered in making this trip happen every year will help put things in perspective, even if it ends up that we have to miss this year's season altogether. There is still at least a month and a half before peak season, so there is time for new developments. We'll see what the Lord wills. Based on my experience with Him, I can be rest assured in the fact that whatever happens will work out for the best.
2008 Blog Format
The 2008 Plains trip blog format will be the same as last year, with the posts related to the expedition being 'grafted' in with the rest of the Storm Highway storm season blog. All posts relating to the expedition will appear in this specially designed frame, making the separation from the normal posts a little easier.
What's Ahead
The annual Raleigh, NC chase vehicle clean-out and configuration will also be coming up sometime during the month of April. Since last spring's tripod compartment and wiring/console reconfiguration has worked great and held up well throughout the past year, there may not be as much to do other than to give the vehicle interior a good scrubbing. Some minor items such as dashcam mount tweaking, storage issues and wire tidying are also on the agenda.
Departure Date Probability
As with previous years, I'll be revisiting the departure date probability forecast excercise, with which I'll try to visually depict the thoughts on which dates look the best for heading westward. The departure date probability will be largely based on long-range forecast models that we use to watch for the hints of an upcoming severe weather pattern. But as I mentioned before, cost will also have to be factored in to this season's trips - even more so after the recent expenditures cutting into the travel budget.
At this point, we are way out of range of even the most far-reaching forecast models for May 1 and beyond, meaning that all dates during the 'standby period' currently have an equal chance of being the time that a trip will take place. The changes you'll see in this year's probability table reflect the better chance that a trip may not happen at all if good enough setups don't materialize. So, without further adieu, here's the first 'official' departure probability table for Weather Expedition 2008:
Based on the current outlook, this probability table charts the chance of our trip starting on a particular date:
2008 Weather Expedition - Departure Date Probability as of March 29

May 1-10
7%
May 11-20
7%
May 21-31
7%
June 1-15
7%
No trip
72%
Thursday, April 17, 2008 - 11:07AM
Raleigh vehicle clean-out and reconfiguration
Click for larger version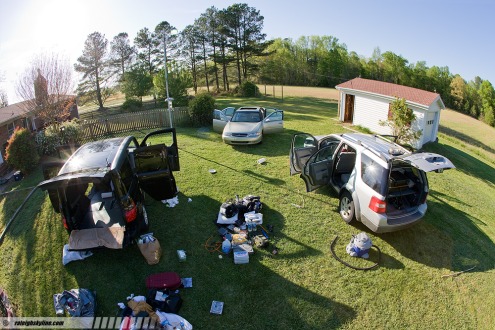 Click for larger version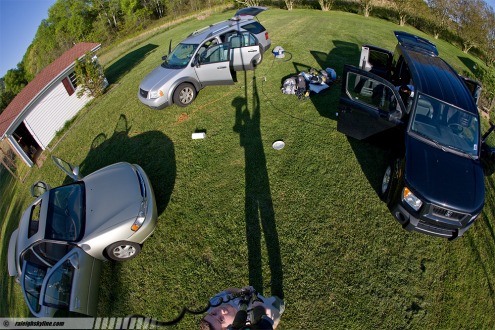 (Fisheye lens photos on this post by Matt Robinson) The weather in Raleigh has become perfect for chase vehicle work - and we haven't let that opportunity pass by. Yesterday afternoon, I started the process of removing everything from the car for its annual clean-out and tweaking in preparation for the upcoming storm season. If you're new to the blog this year, the reason the Raleigh house is optimal for this is the one-acre yard on the semi-rural outskirts of town. This provides a large, flat and safe space where multiple cars can be parked, opened up and worked on for days. This is in contrast to my options in Charleston, which would involve trying to do everything while parked on the side of a city street.
While we had the cleaning supplies, shop vacs and steam cleaner out, Matt and his wife Beth joined in on the process with their cars. I've been thinking that this would be a good basis for a pre-season observer cookout, where everyone brings tools and an extra set of hands to help get vehicles ready for the season. There was a storm observer group in Indiana that had events like this several years ago, and I always thought it was a good idea. Maybe I'll look into planning something for next season.
Click for larger version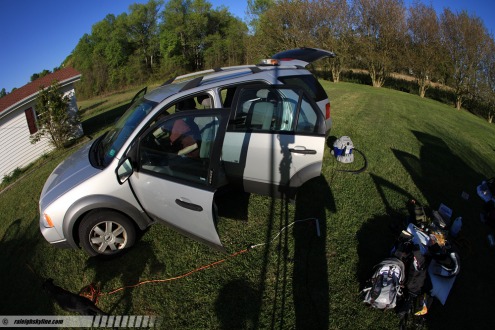 The main accomplishment yesterday was getting the car vacuumed and the interior wiped down, followed by the re-running and bundling of the front wiring for the laptop and USB devices. The rear cables leading to the power console need sprucing up, but since there are still questions about what devices will be going in there in the next two days, that process will likely hold off until tomorrow when some new equipment arrives.
Cellular router and console
The shipment of my Cradlepoint aircard router and external cellular antenna should arrive around midday Friday. At that point, the task will be building the console on which the aircard, the router, the voice-over-IP box and a telephone will be mounted. This portable 'access point' will be designed to fit in the car, while being easily removed to carry indoors for home and office use. The access point console is the biggest project of the week and the most significant addition to the expedition vehicle technology. With it, I will have full internet access via WIFI and VOIP telephone service virtually everywhere I go.
Chasecam config update
The live chase camera will be running in one of two different modes this season, with a different configuration needed for each. The 'static image mode' is the one I plan to use most of the time. In static mode, the expedition cam image will be captured once every 30 to 60 seconds and FTPed to the web server (just like the current webcams have been running). The Alltel connection has no problem with doing this, and since it uses very little processing resources on the computer side, will be run on the old Dell laptop along with the WxWorx software. For 'streaming mode', the camera will need to be plugged into the new HP dual-core laptop. Even if streaming works well (I haven't been able to test it yet), I don't plan to do it that often, as I don't want to put excessive strain on the laptops and the aircard connection. I will likely only stream on big storm observation days, and then only during the storm interception portion of the expedition. Otherwise, the camera will run in static image mode.
Event expedition forecast
Models show a developing large western US upper trough beginning to affect the Plains next week. Moisture quality in the Plains is very poor currently, but in the next few days should slowly return to favorable levels for severe storms. While none of the days next week look like major tornado outbreaks, they do look like the types of setups that will produce one or two good isolated supercells that may be very observer-friendly. Regardless of this, I don't see how we'll be able to leave before May 1 due to work schedules and my still-recovering weather expedition budget. Due to logistical and financial reasons, I expect that any weather expedition will need to wait until at least after May 10 or so. As always, that can change.
Based on the current outlook, this probability table charts the chance of our trip starting on a particular date:
2008 Weather Expedition - Departure Date Probability as of April 17

May 1-10
7%
May 11-20
11%
May 21-31
11%
June 1-15
11%
No trip
60%
Monday, April 21, 2008 - 2:27AM
Preparing for a sidelined season
My optimism for a Plains weather expedition happening this year was already on the way out even before the viewfinder on my Sony FX1 flickered Sunday evening, then started showing what looked like a scrambled cable TV channel picture. On top of everything else - my tax-obliterated travel funds, skyrocketing gas prices, no concrete team commitments, a high-mileage vehicle, slow sales in March and April, a business in need of attention and now critical equipment in need of a major repair are just not surmountable obstacles before spring is over. In the midst of the 'perfect storm' of circumstances in both their magnitude and timing, I have worked to find a way to make things happen this year, but all options are coming up short. Some things just aren't meant to be - fighting against it not only doesn't make a difference, but just makes the inevitable harder to accept. Strangely enough, resigning to the impossibility of this year's trip actually comes as a bit of a relief.
I believe that everything works out for good not only because the Scriptures say so, but because I've seen it happen before. Taking a look at past year's intercepts leaves me with no justification to sulk about this season. I've been blessed with more that I'd ever imagined, so I can manage a year off. So with that sentiment, I'm officially letting the 2008 Great Plains season go. The nice thing about getting older is how days, weeks and months get shorter every year - and spring of 2009 will be here quickly enough.
So with that, we'll officially 'sign off' on the expedition blog until April of next year.
Based on the current outlook, this probability table charts the chance of our trip starting on a particular date:
2008 Weather Expedition - Departure Date Probability as of April 21

April-June
1%
No trip
99%
Friday, April 25, 2008 - 10:46AM
Back in the game
LINK: Storm Observing Guide Services
With every problem comes an eventual solution. I've been considering doing this for several years, but for some reason never decided to move on it until now. I've received many emails over the years asking about this type of service, but the 'light bulb' never really came on until this week. If this works out, weather expeditions to the Plains will be a regular thing!
So give this a look - and if you've got that friend who's always wanted to go tornado observing (or if you're that person yourself), pass the word along!
Based on the current outlook, this probability table charts the chance of our trip starting on a particular date:
2008 Weather Expedition - Departure Date Probability as of April 25

April-June
50%
No trip
50%
Good call Dan, wish I lived in WV would def take you up on that offer !!!!
- Posted by Mick from United Kingdom
Thanks Mick, I'm looking forward to see how this works out. I may have launched things too late for this season, but we'll see what happens!
- Posted by Dan R. from Raleigh, NC