Home | Blog Index | Blog Archives | Christianity & Faith Essays
Sunday, April 12, 2009 - 1:20PM
2009 Event Blog Kickoff
It's that time of year again! The 2009 storm season is upon us - with severe weather already on the increase in parts of the country. And that means it's time to start planning and preparing for the annual expedition to 'Tornado Alley' during the peak severe weather season centered around late May.
As with the past couple of years, an 'extended' storm photography expedition (as in a week or more) is not as likely due to funding issues. More probable, however, would be a short trip or two during a period of enhanced tornado risk. Factors in favor of a Plains storm photography expedition this year are the affordable gas prices and for me, a new truck. A new vehicle means that unlike my past 3 seasons, breakdowns are less likely (and, in a worst-case scenario, any breakdown repairs would be covered by warranty). Tentatively, I have no 'team' this year, and I'm content to make this a solo season. With a truck now, I only have room for one other person regardless. As with past seasons, I'm keeping a sub-blog for the Plains trips, with its posts simply 'grafted' in with this blog to make updating things easier.
Some upcoming events of note:
Raleigh vehicle preps: I am on my way to Raleigh today for a tradition that, now in its fourth year, sadly, may also be its final one. The wide-open yard at my grandmother's semi-rural house in Raleigh, North Carolina is a great place to park a vehicle for a few days, open it up, clean it out and install new observing gear for the upcoming season. It's an ideal alternative to working on the side of a street with passing traffic like I would need to do here at my house in Charleston. It's a safe and secure place with tools, cold drinks, shade and a place to relax in ample supply. It has also provided some good quality family time in recent years, with my brother and his wife bringing their vehicles and spending a few days outside working on the cars in the warm spring air. It's a time I've always looked forward to. Here is a shot (from Matt) from last year's vehicle prep time:
Click for larger version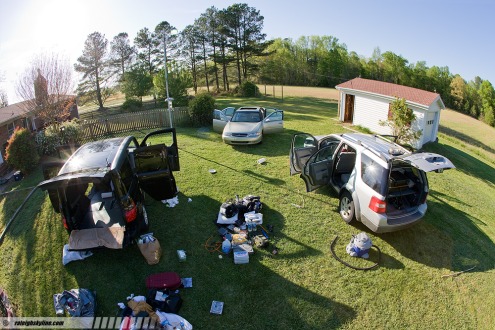 If you've been following my blog recently, you know that my grandmother passed away in January. That means the Raleigh house's days in our family are numbered - and this year's 'vehicle prep days' at the house will probably be the last. Although it won't be the same anywhere else, we'll probably try continue the tradition at another location. Time will tell.
Some items on the list for Raleigh include:
Jotto desk install - The main item on the list is to get a custom mount made for the Jotto laptop desk. I've covered a couple of times without it, and really miss it! The base will have to be secured to the passenger seat mounting bolt, as that is the only realistic place to attach it securely. Details on a design are yet to be determined.

Tripod case stabilizing - The rifle case that houses my tripods in the bed of the truck needs some modifications to keep it from sliding around during normal driving. This should be an easy mod involving installing 'feet' to the underside of the case that will rest in the grooves of the bedliner, preventing lateral motion.

Electrical system mods - I bought an extension cord for the cigarette lighter plug so that I could place the main inverter back behind the passenger seat. However, the cord's small wire gauge is proving insufficient to maintain enough current to the inverter, causing voltage drops and power cut-outs. I will most likely make a new cord for the inverter with heavier-gauge wire that is long enough to reach up front.
With a new vehicle, there is not a whole lot to be done on the cleaning side of things, but the above items should provide a good afternoon or two of work time.
Forecast exercises: As with previous years, I will be doing some heavy-duty long-range forecasting using the models to the best of my ability. If you followed this blog in previous seasons, you know how challenging this is. But, those flaky long-range forecasts are all I have to plan a 'marathon' storm photography expedition on. Being as this season will probably be a solo trip, long-term planning may not be as big of an issue (I usually can leave at a moment's notice any time in spring storm season), but I'll still make my usual forecasts just for the practice and for the fun of it.
My 'official' standby period for the 2009 spring storm season begins on April 20th and continues through June 15, though as usual, I am heavily favoring May for the setups I prefer to photograph storms. I toss in late April in case any insane synoptic outbreak setups happen to occur early on.
As always, I must add my standard disclaimer about long-range forecasting: it's borderline guesswork beyond 5 or 6 days. Models usually flip-flop numerous times beyond that time frame. I'd give any model forecast at 7 days a 10% chance of verifying, and any forecast at 10-14 days a 2% change of being right. However, good run-to-run consistency, ensemble agreement, and agreement with the ECMWF (the European model) can make a forecast more believable - so it's not completely worthless to look at the extended range. With that said, let's take a look at the models for the first long-range Plains storm photography expedition forecast.
After a decent upper trough providing a couple of storm photography days later this week, the GFS doesn't indicate a strong signal for any obvious severe weather outbreaks in the long term. A northeastern US/southeastern Canadian trough is shown beyond the 10-day period on the GFS for the 23rd timeframe, which may provide an storm photography day or two in the Plains as it develops and moves northeast.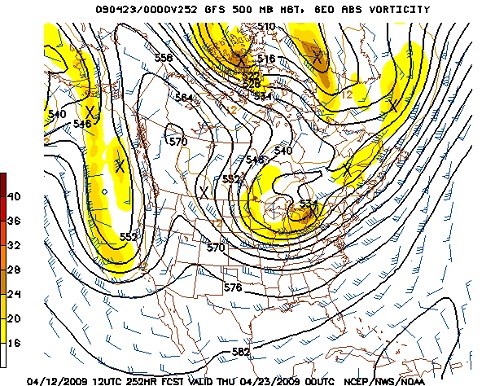 GFS 500mb pattern for April 23
The ECMWF (whos outputs, being owned by a private company, are copyrighted and as such I can't post here) shows pretty much the same thing, a higher-latitude eastern trough developing in the country's midsection and moving northeast. So, nothing of note to really talk about on the models at this point.
Based on the current outlook, this probability table charts the chance of the Plains storm photography expedition starting on a particular date:
2009 Storm Photography Expedition - Departure Date Probability as of April 12

April 20-30
10%
May 1-10
22%
May 11-20
22%
May 21-31
22%
June 1-15
22%
No trip
2%
Once your probability chart goes up Dan I watch your blog like a hawk :) Looking forward to seeing this years results.
- Posted by Mick from United Kingdom
Thanks Mick! Looking forward to a great season.
- Posted by Dan R. from Raleigh, NC
All content © Dan Robinson. All usage requires a paid license - please contact Dan for inquiries.

Web Site Design and Internet Marketing by CIS Internet