Home | Blog Index | Blog Archives | Christianity & Faith Essays
Tuesday, April 6, 2010 - 8:39PM CDT
4/5-6 wrap-up: blue-sky bust; engine nest; convergence virga
Event on Monday, April 5: One of the issues of living in the Midwest is that often a secondary risk for severe weather and tornadoes is present at home on days you decide to photograph storms a setup far away. Thus, there is the ever-present risk of missing something at home while you sit under clear skies a state or two away. Such was the situation Monday, when a higher-risk area along the warm front in Missouri/Iowa failed to produce - while supercells developed in a lower-threat area in Illinois just east of St. Louis, with at least one confirmed tornado about 50 miles north of New Baden. I chose my target this day purely on the better parameters rather than local convenience - so this would have been a day for 'local bias' to score a win. That happens sometimes, so nothing to lose sleep over.
I left St. Louis Monday morning with the expectation of a two-day storm photography expedition ahead. I headed west on I-70 and turned north at Columbia, following the warm front northward. I finally called off the pursuit a few miles south of Kirksville. I saw no signs of storm development, and didn't want to keep driving farther from the next day's target (or home). Near sunset, when it became apparent that storms weren't happening (and I'd let the warm front get too far from me anyway), I started slowly working my way south. I eventually decided to scrap Tuesday's expedition plans once I saw the 00z model runs showing veering low-level wind fields ruining the setup. I arrived back home about 2AM.
So, Monday was a classic 'blue sky bust' with no storms observed at all. The most interesting thing that happened on this expedition was when I stopped for an oil change in Wentzville, and discovered a large bird's nest in my engine compartment: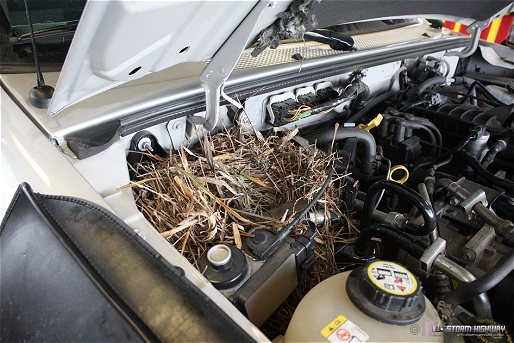 click to enlarge
The nest was subsequently removed, but the offending birds have replaced 1/4th of it today! This could be a season-long saga.
* * * *
Tuesday, April 6: After bailing on the Tuesday severe weather setup in Kansas and Iowa, I was able to make my aforementioned dentist appointment after all, and generally have a restful day. After watching the event unfold 'armchair chase' style (watching online data as the storms developed), I was glad I chose to sit the day out - I have yet to see indications that the main target areas produced any tornadoes, or even anything special that would have made the long drive worth it. Late in the afternoon, a small area of low-level wind convergence in eastern Missouri was causing some very weak showers to form and race northeast. So weak, in fact, that most of the precip was not reaching the ground, rather evaporating as 'virga'. With this activity poised to pass over New Baden at sunset, I went out to the 'sky theaters' just outside of town to watch it go by. The show was rewarding, with some mammatus and other interesting features painted gold in the setting sun:
click to enlarge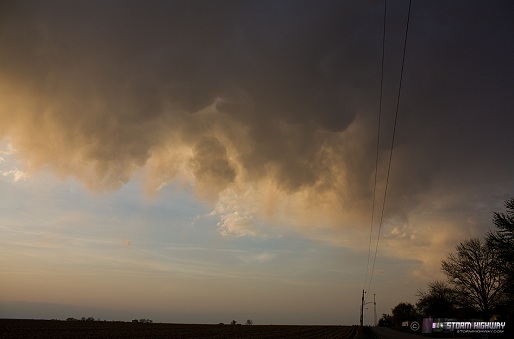 click to enlarge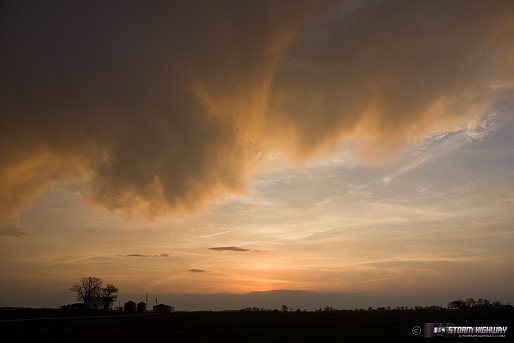 click to enlarge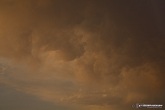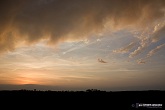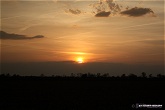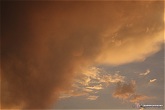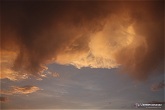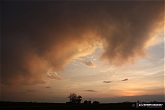 A weakening squall line may affect St. Louis in the morning, with another possible severe weather setup east of here in Illinois in the afternoon. So, I'm still on standby to get another expedition in from this system.
All content © Dan Robinson. All usage requires a paid license - please contact Dan for inquiries.

Web Site Design and Internet Marketing by CIS Internet