Home | Blog Index | Blog Archives | Christianity & Faith Essays
Friday, December 18, 2009 - 3:25AM
December 18-20 snowstorm - Charleston, WV
Now that this event is over, I've converted this to a static, permanent post and compiled all of the photos into one gallery. The running updates that I posted throughout the storm are intact below the gallery.
Measured snow depths around Charleston on noon Saturday: Scenic Drive (Greenbrier Street area): 12.5" - 15th Street, Dunbar: 4" - Capitol Street (downtown): 2" - Ashby Avenue, Fort Hill: 7" - Cantley Drive and Route 119: 7".
Valley influences played a large role in accumulations. Downtown received very little relative to surrounding areas due to warmer surface temperatures, which apparently did not drop below freezing during the bulk of the storm. Snow was continually melting and dripping from the trees, and only a slushy inch was present on sidewalks and streets. The 2" amounts downtown were found mostly on elevated objects and rooftops. Outside of the valley, temps stayed at or just below 32°F, allowing the snow to pile up. In general, the higher up in elevation and the farther from the valley you got, the higher the totals.
Video
HD VIDEO: Spinout on I-64 at Fort Hill
Photo Gallery
Click any thumnail to enlarge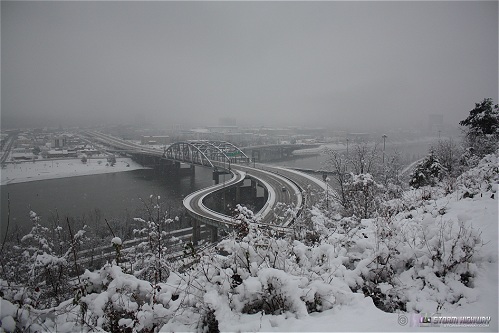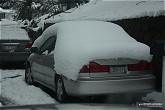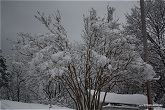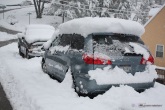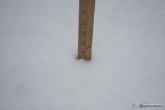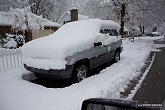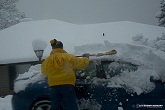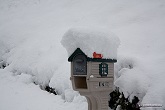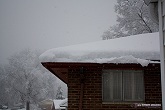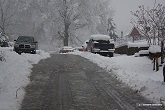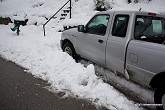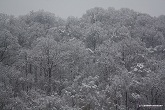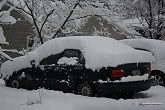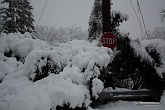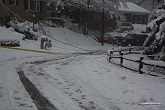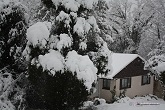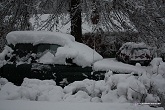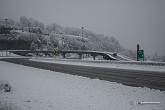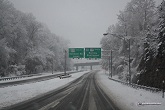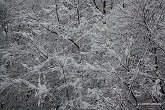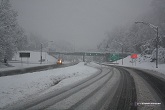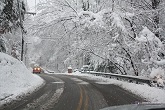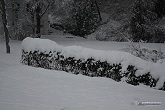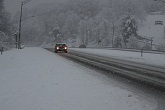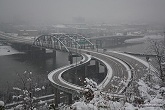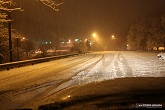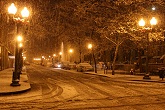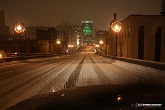 Below are the updates posted during the storm:
Update 8:52AM Sunday, (Posted via Office from Charleston, WV):
Several accidents this morning around Charleston as temps drop with light precip. I left about 15 minutes too late for this 3-car crash at the Fort Hill Bridge. With long-duration major snow events like this, it's impossible to cover the bridge 24-7 and therefore more likely that I'll miss footage opportunities. I'd have to camp out at the overlook for 48 hours and use up one videotape per hour. If I had a team of photographers to rotate shifts with, it would be different - but I have to sleep sometime!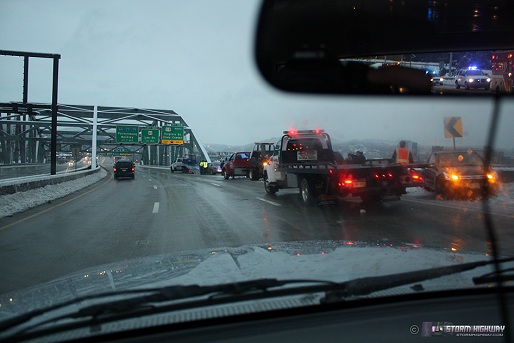 click to enlarge
I went down toward Alum Creek on Route 119 to see what a light upslope-driven snow shower moving through was doing to the roads. This is a good example of a light dusting that looks harmless, but is actually very slick. A lot of serious accidents happen in this type of condition because drivers don't perceive this as a major threat, and continue to drive at normal speeds.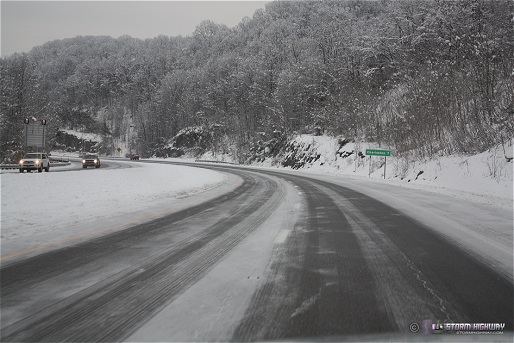 click to enlarge
* * *
Update 12:11PM Saturday, (Posted via Office from Charleston, WV):
Again, I was shocked to see the over 12" totals in the hills to the north of town (including at my house), given that the most I'd seen around Fort Hill/Corridor G was 7". Another round of photos was in order.
(see photos in gallery above)
I could very well end up with 15 inches or more at home after all is said and done by Monday morning. By far the biggest snowstorm since I've lived in Charleston.
* * *
Update 10:37AM Saturday, (Posted via BlackBerry from Charleston, WV):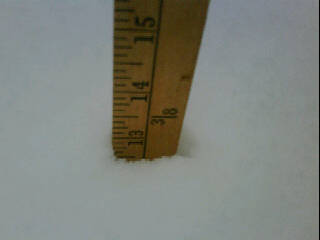 foot of snow on Scenic Dr
Measured over a foot at my house in the Shadowlawn subdivision off of Greenbrier Street. Measured 7 inches in the Fort Hill area. Getting reports of 100s of people stranded on the WV turnpike for over 18 hours.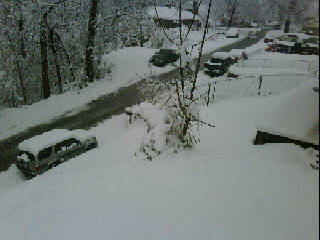 foot of snow on Scenic Dr
* * *
Update 9:14AM Saturday, (Posted via Office from Charleston, WV):
Solid 6 to 7 inches in the hills outside of the valley so far. 3" to 4" or less in the valley due to warmer temps. Sounds of limbs breaking and power lines arcing can be heard from time to time. Some photos (click thumbnails to enlarge):
(see photos in gallery above)
Thick low-level fog over the city has made the classic photo scenes impossible so far (Capitol, Fort Hill view).
Not over yet - we still have another two days of snow to go. Not as heavy as last night/this morning, but possibly enough for another 3-4 inches.
* * *
Update 2:46AM Saturday, (Posted via Office from Charleston, WV):
1" to 2" diameter snowflake clusters currently falling in downtown Charleston.
* * *
Update 1:45AM Saturday, (Posted via Office from Charleston, WV):
Two inches and counting. About as few people on the roads as any storm I've documented. One spinout at Fort Hill on tape - not much due to heavy snow and low visibilities. Here are a few items to post for now:
HD VIDEO: Spinout at Fort Hill
(see photos in gallery above)
Again, really not much happening right now due to the lack of people out. Roads are pretty bad but as long as one stays off of steep hills and takes it slow (less that 30mph) there are no real problems.
* * *
Update 8:46PM Friday, (Posted via BlackBerry from Charleston, WV):
Finally changing over here in town, a little behind schedule. Temps are still above freezing and may hold there for a few more hours, delaying the start of accumulation.
* * *
Update 3:38AM Friday, (Posted via Office from Charleston, WV):
Time to get started on covering what is looking to be Charleston's biggest snow event in at least 6 or 7 years. Models are in good agreement putting Charleston within the 6 to 10 inch maximum range - and that could actually end up being higher or lower depending on the track of the parent low to the east. The last 5 inch snowfall we had here was back in 2006. Widespread totals above a foot are forecast for the eastern mountains and the Blue Ridge, with some models showing isolated 2 foot amounts will be possible.
Due to the parent low and most of the upper support being far to the east, I think thundersnow chances are generally less with this system - but I think it may be possible on the eastern reaches of the storm in NC and VA.
This will be a multi-phase event for West Virginia, with a separate upslope snow event taking shape from Sunday into Monday. All in all, look for fairly continuous snow for the next 3 days in the central Appalachians.
As you can see by the timestamp, I am prepping my sleep patterns for some long awake time starting Friday evening.
* * *
This is a running-updates style post, with new sub-updates appearing under the same heading. New posts are listed first.
This is 1980's type snow. I miss it here in TN. Take plenty of photos!
- Posted by Clarence from Nashville, TN
great experienceage Dan !! thanks for sharing
- Posted by Mick from UK
Just saw from Blacksburg NWS my old hometown of Rainelle received 25". This was an old school snowstorm.
- Posted by Clarence from Nashville, TN
Thanks guys, it was definitely cool to be a part of a big event like this.
- Posted by Dan R. from Charleston, WV
Thank you so much for the photos and blog!
- Posted by Debbie from Raleigh, NC
All content © Dan Robinson. All usage requires a paid license - please contact Dan for inquiries.

Web Site Design and Internet Marketing by CIS Internet