Home | Blog Index | Blog Archives | Christianity & Faith Essays
Wednesday, February 27, 2008 - 9:17AM
February 26-27 snowstorm updates
This is an ongoing blog post about the current storm affecting the Ohio Valley and Appalachian regions. New updates are listed first.
9:17AM Wednesday: This event is going to linger through this evening, but I'm calling it a day. After an all-night coverage marathon into this morning, I picked up a good amount of decent icy road footage from this storm - some more of which I'll post later after I've had a chance to rest. So far it looks like staying in Charleston was the right call, as there have not been any thunder reports yet from Beckley. As for storm snowfall totals, we're at 3 inches now and still going (see the ground camera).
3:25AM Wednesday: Just caught this at Oakwood/Fort Hill 30 minutes ago (click picture for video clip):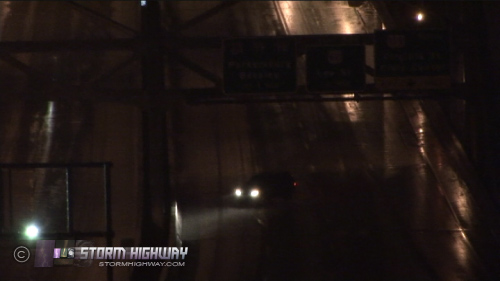 Click for video clip
The Ohio snow band should be here within the next hour or two. A Beckley trip is looking less likely as any thundersnow that does occur should happen after sunrise when the upslope really starts kicking in. Daytime would make any snowbound lightning hard to see on video footage.
1:38AM Wednesday: Currently a lull in the action after the earlier heavy snow band, although light upslope snow continues. The northwest flow Lake Michigan moisture conveyor belt is evident on radar (below) with a few snow bands embedded in it. The band over Ohio should arrive here in the next 2 to 3 hours and intensify with the aid of upslope flow.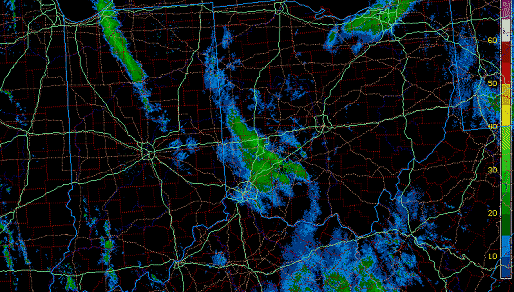 Radar: Lake Michigan moisture heading toward WV
10:28PM Tuesday: As you can see on the ground camera, we just picked up a quick inch in a 20-minute band of heavy snow. The temps and accumulations are very elevation-dependent now, with my house up on the ridge at 31F and the valley downtown just now hitting the freezing mark. The roads in the valley, including the interstate, never began to ice up despite the heavy snow- and the highway crews are already out salting. This may clear the way for a Beckley thundersnow expedition shortly.
8:08PM Tuesday: Changeover is complete here in Charleston, with upslope precip already breaking out and lighting up the radar. Waiting on the temps to drop to 32F in the valley, then it's time to go. The sensor here at the house is reading 33F with snow starting to stick to the back porch, so it won't be too much longer.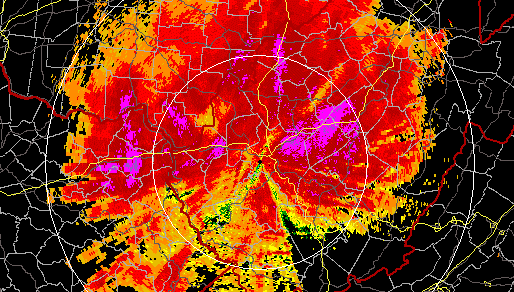 Upslope snow on the Charleston radar at 8:08PM
5:21PM Tuesday: The changeover to snow is knocking at the state line currently - although freezing temps are still lagging far behind in northern Ohio, central Indiana and southern Illinois. The RUC model shows the strong plume off of Lake Michigan that will be aiding our upslope event later. As Bill mentioned below, the strong northwesterly upslope flow and very cold air aloft later tonight could result in convective snow with lightning (thundersnow) in Beckley. For that reason, I am preparing for the possibilty of spending the night up there once the WVDOH gets the roads salted and under control here in Charleston. It's going to be tricky deciding if and when it's clear to leave Charleston tonight, and I may not be able to at all if the Fort Hill/Oakwood bridge remains a prolonged risk. Complicating things is the fact that Beckley will be getting heavy snow long before Charleston does. It's one of those nights where I'm probably going to have to choose one or the other, with the risk that I'll come up empty-handed and at the same time miss something where I decided not to go. In the end, as much as I'd like to try for thundersnow, the bridge here remains the main footage priority. I would rather miss lightning/snow in Beckley than miss an event at the bridge. Too bad I can't be two places at once...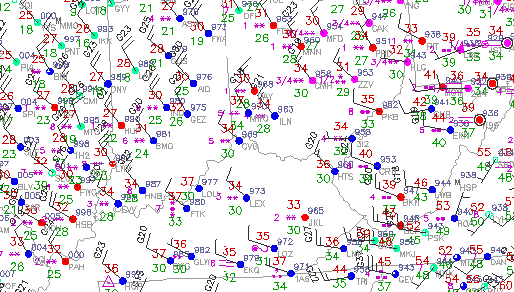 Observations at 5:21PM
2:23PM Tuesday: Another day, another snow event for the 2007-2008 winter! This one has some of the better potential for a good snow accumulation that we've seen here since December 5. Not much in the way of forecasting to do today, as all indications point to snow being in full swing here by midnight tonight. Upslope enhancement will be a major player through tomorrow night, with totals in the mountains topping 8 inches. In Charleston and Huntington, it's more of a toss-up - we're not even under any watches, warnings or advisories here. Nonetheless I expect to see anywhere between one and four by tomorrow, of course accompanied by the usual road problems.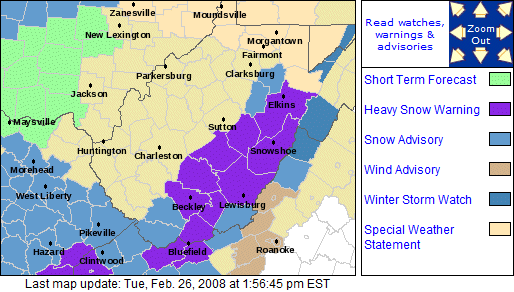 This web site is made possible by support from CIS Internet.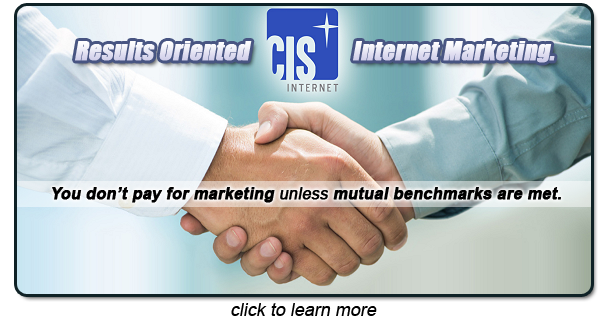 GO: Home | Storm Expeditions | Photography | Extreme Weather Library | Stock Footage | Blog
Featured Weather Library Article:
All content © Dan Robinson. All usage requires a paid license - please contact Dan for inquiries.

Web Site Design and Internet Marketing by CIS Internet