Home | Blog Index | Blog Archives | Christianity & Faith Essays
Wednesday, February 11, 2009 - 7:11PM
Wednesday - storm photography day updates
Update 7:11PM Wednesday: The day is finished - here is a brief summary. I headed to Nitro to intercept the crest of a bowing segment of the line, which shifted east with time and put me right back in Charleston. I decided that my house would be the best vantage point, with my east-facing living room windows. It was a race with the line back home, with power flashes visible in the twilight sky. The bow crest and I arrived at the same time as I parked in front of my house. I ended up shooting out of my driver's side window as there was no time to make it inside. The intense part of the squall only lasted about one minute, with whiteout rains and pea-sized hail. Our subdivision (including my house) lost power during this initial burst (power is still out, including all along Greenbrier Street). I saw no lightning, but about a half-dozen power flashes.
I spent the next 30 minutes shooting the sights and sounds of wind roaring through the trees. I could hear several large limbs snapping, and after I decided to call it a day (and turn the cameras off), several bright power flashes lit up to the west as another major wind burst plowed through.
Photos and video to come later.
* * *
Update 3:35PM Wednesday: Convection is slowly intensifying now as it nears the slightly-enhanced instability axis over the tri-state area. Lightning activity is still nonexistent, however numerous wind damage reports have come in across Kentucky. Even without lightning, these storms will be increasingly capable of damaging winds as they move into West Virginia.
And here's a first for as long as I can remember - just issued by the SPC, a Moderate Risk in West Virginia in February: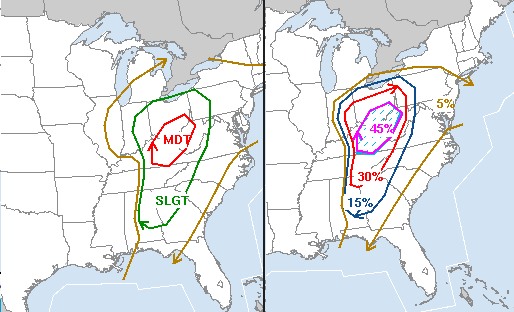 SPC severe weather risk (left) and wind damage risk
At this point, I'm eyeing the southern portion of the current line of storms passing south of Lexington, which should pass over Cabell/Putnam Counties later. Convection to the south of that section looks like it is struggling.
* * *
Update 2:47PM Wednesday: Still on standby here in Charleston. While the squall line has not yet reached the areas that have benefited from the extra sunlight, I'm becoming less optimistic due to the fact that the line has been struggling to maintain lightning all the way down through Tennessee. This is despite strengthening apparent on radar and continuous warnings along its length. Right now I'm thinking we could be looking at some heavy downpours with a few intense gusts of wind as they pass - not an expeditionworthy subject. Furthermore, at this stage, I really don't see any difference in potential between surrounding areas and right here in Charleston - which would make it pointless to leave anytime soon.
As strange as it sounds, I-79 is even looking like an option now due to the clearing spreading northeastward.
The storms have another 1 or 2 hours before they hit the zones that are/were cleared out, so there's still some time to wait and see what happens before making a call on a direction of travel (if any).
* * *
Update 1:14PM Wednesday: The tri-state area is clearing out significantly now - with a large area of cloudless skies stretching from Morehead to Charleston. With the squall line's current position, I'm actually thinking Charleston may be the best starting point now, as I may want to either stay here or head either northeast on Route 35 into southern Ohio, or I-77 toward Parkersburg. The current area of clearing should result in better instability from Charleston into southern Ohio.
Interestingly, there is still no lightning with the main squall line, but some strikes are showing up near the core of the low back near St. Louis. I've got to have at least some decent lightning to get me away from Charleston, so the plan is to hold on standby here until that happens. The clearing skies should help.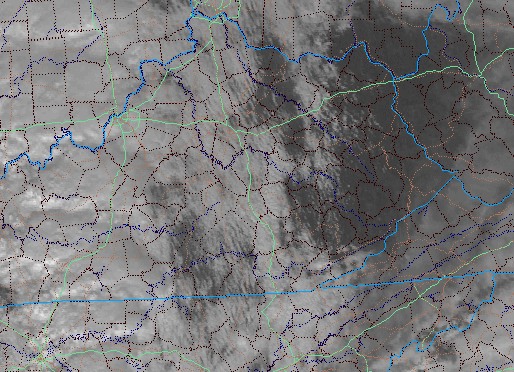 Visible satellite at 1:16PM EST
* * *
Update 12:39PM Wednesday: Clear blue sky moving in to Charleston now! Tornado watches are up for central and western Kentucky and Tennessee, and subsequent watches for eastern KY, OH and WV should follow within a couple of hours. I'm planning on heading west to around Grayson/Morehead, KY in the next 1 to 2 hours, then keeping just ahead of the squall line on the way back home, ready to jump on something that forms out ahead of it. Currently lightning activity is very meager in the line, but should gradually intensify as it encounters some of the more unstable air to the east. With pockets of clear skies in the area, instability should be enhanced in the tri-state. Already I've recorded a temperature of 71°F in downtown Charleston a few minutes ago, with the airport reporting 67°F. Dewpoints are still pretty low, however - hovering in the mid to upper 40s areawide. That could mean problems with low-level moisture mixing out if temps spike too high, though the mid levels are not too dry for that to be a huge issue (according to the 12z sounding at Wilmington, OH).
If lightning can't get going a little more in the next couple of hours, I may hold back on leaving for a while longer to give things more of a chance to get organized. I'm anxious to get on the road just for the sake of getting on the road, but there's got to be at least something to see out there before I do.
I will have mobile internet during the expedition today, and I'll plan to update the blog whenever I get the opportunity.
* * *
Update 10:54AM Wednesday: The squall line is already flaring up in western Kentucky. While storm motions are rapid to the north-northeast, the eastward-component progress of the line is slow enough that one could easily stay ahead of it with a good east-west road (like I-64). I may head west here shortly to check things out. It looks like the models are way too slow with the arrival of the line, which could be in Charleston by 3 or 4PM.
* * *
Update 9:29AM Wednesday: Looks like 'game on' for an storm photography day in February. Not a whole lot in the way of clear skies out there - but there is enough to almost ensure thunderstorms by late afternoon. Models show the best instability in eastern Kentucky and southeast Ohio by 7PM, with the squall line arriving in WV after dark. That timing would mean that if I was to go looking for tornadoes, a starting point should be west - possibly Huntington, where I could head due west on I-64 or northwest toward Portsmouth on US 52.
However, with my main goal being lightning after dark (as tornadoes look to be too much of a long shot today to spend gas money on), the key will be intercepting the squall line after sunset while it is still lightning-active. I think there will only be a brief window for that (the storms should die rapidly after dark), so I'll need to be just ahead of the line wherever it is at sunset. That may end up being in Charleston! With that strategy in mind, I may delay departure out of Charleston until the convection has fired up out west, giving me a good idea of its ETA. The remnant squall line from Tuesday is just now in western Kentucky. This will either re-develop, or fizzle and be replaced with new development later this afternoon.
Again, the wild card is instability. If an area can clear out fast and allow for a full afternoon of heating, tht would become a new target area worth driving maybe another hour or two to check out.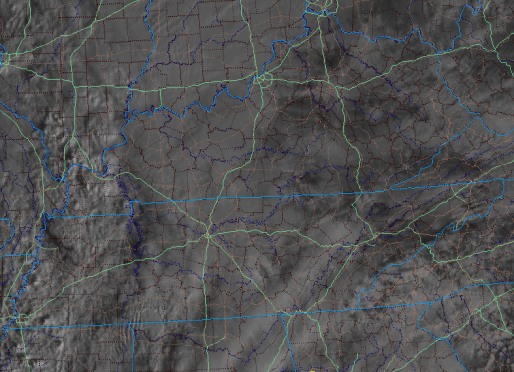 Visible satellite at 9:30AM EST
* * *
Update 11:30PM Tuesday: 00z models show the precip lifting out earlier now, with some clearing possible in the morning. Radar also shows the rain moving a little more northward, with a few light showers in Kentucky still yet to clear our area. Before sunset, visible satellite showed some diffuse clearing over the lower Mississippi valley. The NAM shows some weak instability in the tri-state area at sunset tomorrow. At this point, it's time to call it a night and see what the morning data holds.
* * *
Update 5:09PM Tuesday: Currently a stationary frontal boundary is providing a focus for rain showers along the general vicinity of the Ohio River counties. I'm a little worried at how the models don't move this boundary northward much in the next 18 hours or so, showing rain right at or over Charleston all the way through about noon tomorrow. That would mean zero sunshine for enhanced instability through midday, possibly later. A dry slot will likely develop ahead of the squall line, which may give a brief 1 to 3 hours of sunlight to help destabilize things a little. If we remain socked in with clouds and precip after noon, the chances for even some lightning strikes with the squall line will diminish greatly. At this point there is not much to do but wait until morning light for a visible satellite image.
* * *
Update 1:25AM Tuesday: Just a quick update to comment on the 00z (evening) model runs. The NAM is pretty much the same, but speeds the arrival of the system up slightly. The GFS is also quicker with the arrival of the main squall line sometime during the mid-afternoon on Wednesday. The SPC has maintained the Slight Risk from the earlier outlook, with 45% severe storm probabilities across Kentucky and Tennessee (which would suggest a likely upgrade to Moderate in tomorrow morning's update.)
Again, it will be all about the cloud cover - clear skies early would mean a pretty intense squall line plowing across Kentucky. Depending on how late it fires, a short trip toward Lexington on I-64 may be in order - just to ensure I see a good part of it before it fizzles over the western slopes of the mountains. When the line loses steam after dark, it will probably happen quickly. Sometimes these things can go from frequent lightning to almost no precip in less than an hour as they hit the WV/KY state line. This will be a 'one shot' deal, as once that line hits, it will be moving too fast to safely get back ahead of it again.
As for today's (Tuesday) setup, the SPC has outlooked a rather large Moderate Risk over Oklahoma, Arkansas and Texas with a 15% hatched tornado probability (the hatches denote a threat for strong tornadoes). Again, I won't be chasing today's setup since we'll be getting in on the action Wednesday. Storm speeds throughout this system would make observing both days difficult if not impossible anyway - as I said, once the line of storms gets east of you, forget about getting back ahead of it without jet engines!
* * *
4:11PM Monday: This is not a setup I'd pay much attention to under normal-season circumstances. But it's February, so just to get up and 'stretch my legs' from this long winter, I'll go through some forecast excercises for Wednesday.
Synopsis/summary: A strong upper-level wave will swing through our region on Wednesday, bringing a significant low pressure system, cold front, and upper-level wind energy to our region during the day. Ahead of this system, southerly winds will carry warm, moist air into our region - allowing for temperatures approaching 65-70°F by midday Wednesday. As the strong system and its attendant features encounter this warm air at the surface, strong thunderstorms are expected to develop. The limiting factor looks to be extensive cloud cover ahead of the system, reducing instability.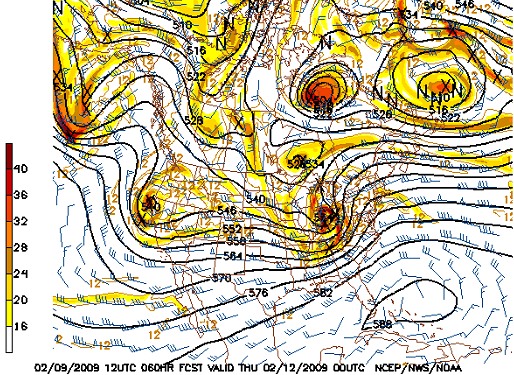 NAM 500mb winds for 7PM Wednesday
The SPC has a large 'slight risk' painted over much of the Midwest/Ohio Valley region for Wednesday. We could see part of this upgraded to a Moderate Risk, particularly the southern portions of the outlook. The more clearing and sunlight we see, the bigger the Moderate Risk.
SPC outlook for Wednesday
Timing: Model indications show that the approaching cold front will bring a squall line of heavy rain and thunderstorms into West Virginia by late afternoon. This is the best possible timing for thunderstorms, which will benefit from a full day of potential daytime heating-driven instability. Temperatures and instability drop off quickly after dark this time of year, so a later arrival may mean a gusty line of showers with no lightning for the Mountain State.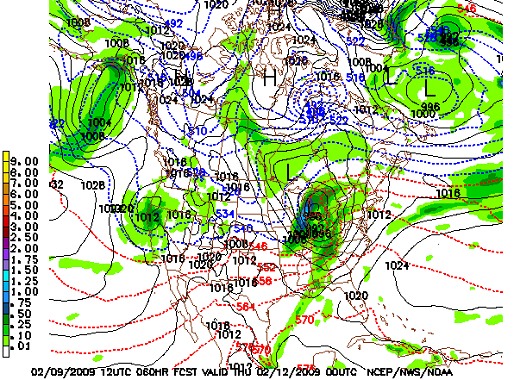 NAM precip for 7PM Wednesday
Instability/cloud cover: The biggest wild card factor for this event being either strong or severe hinges on the amount of pre-system sunlight the region can get on Wednesday. Models indicate high moisture content aloft by the time the system arrives (a saturated 700mb layer), which would suggest cloud cover for much of the day. This is actually quite typical for systems this time of year. Even without additional heating from the sun, the ambient conditions should still support at least weak thunderstorms during Wednesday afternoon.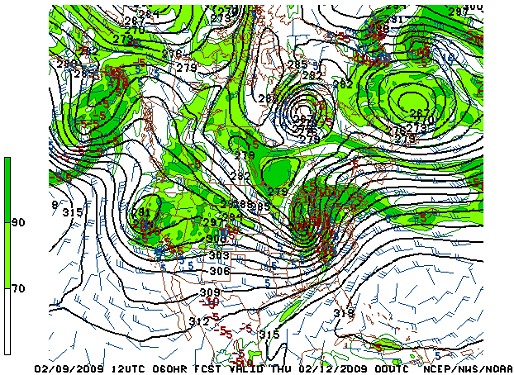 NAM 700mb Relative Humidity for 7PM Wednesday
The most likely scenario West Virginia will see on Wednesday night is a big squall line with some decent lightning, rapidly tapering in intensity as it moves across the state. I don't see a big tornado outbreak in Kentucky - yet. Consequently, my plan is to stay here in Charleston and set up for some lightning when the line rolls through.
Now if those 700mb RH maps are overdone, and I wake up Wednesday morning to find extensive clear skies to the west in Kentucky and Tennessee, I may revise that plan to a target as far west as Lexington for the possible tornado chance. At any rate, Wednesday should be at least a minimal storm photography day.
A very interesting set up indeed. A good "just to get out there" chase. An ice-breaker if you will ;). Looks like it may be an early show for me on WED (front out of the area by the noon hour) but at any rate, good luck if you go out!
- Posted by Danny Neal from Chicago
Thanks Danny, it will definitely be nice to get out in some warm air and listen to some thunder. Hope you guys can get something interesting to see up there also.
- Posted by Dan R. from Charleston, WV
Did you get any good stuff today? Lots of wind!
- Posted by Spencer
Hey Dan. Don't know how you fared today (hopefully all thumbs up) but I saw my first CG of 09 today lol That should be worth a steak. Lets break out of this wintry pattern and start ejecting Low pressure out of the SW :)
- Posted by Danny Neal from Chicago
All content © Dan Robinson. All usage requires a paid license - please contact Dan for inquiries.

Web Site Design and Internet Marketing by CIS Internet