Home | Blog Index | Blog Archives | Christianity & Faith Essays
Saturday, May 3, 2008 - 12:01AM
Saturday storms & possible chase - updates
5:50PM Saturday: The back edge of the cloud deck associated with the dissipated original squall line has moved east of Charleston, allowing the sun to come out for a couple of hours from eastern Kentucky into western WV. An area of cumulus clouds (sometimes the first indicators of potential thunderstorms) exists across in eastern KY and is nosing into southwestern WV: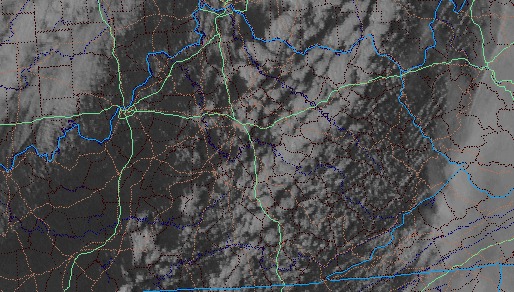 5:50PM EDT satellite
This may be to little, too late though for WV - the peak sun angle and optimal daytime heating hours have long passed. However, any sunlight in the afternoon can create a little bit of instability. SPC mesoanalysis shows some very weak instability has managed to develop in Kentucky ahead of the cold front. With dewpoints in the low 50s and high 40s around here, there is not much low-level moisture to work with. Still a low-confidence storm forecast for us here, but if the front can make a decent push east in the next few hours, storms may redevelop somewhere around Morehead-Grayson-Jackson. If the sun was able to do anything into WV today, a squall line might be able to make it to Charleston. It will all depend on how much the front can get moving and create some low-level forcing to initiate and sustain storms.
3:19PM Saturday: This day may be over with. The RUC continues to show little of interest through this evening, and radar trends are not indicating any new development. The front seems to be lagging in Kentucky, not making much progress since early this morning according to surface obs. This is minimizing low-level convergence along the front, which was pretty much the only mechanism left to give us any redevelopment of storms. It's not truly 'over' until the frontal passage, but I'm not optimistic about anything worth even making a drive across town for today.
11:34AM Saturday: The original squall line has faded to nothing this morning, with cloud cover over most of the state. The 4km WRF model thinks that this line will begin to redevelop east of here over the higher terrain of the mountains, with a second line forming out west on the cold front later this evening and moving through here. While I can believe the reintensification over the mountains (because they've had some sunlight for a while), I'm having a harder time seeing the second line later being much to talk about. The RUC is also not as optimistic, not showing much of anything except for a burst of storms to our east around midafternoon. With the upper air dynamics around, it could surprise me with something though.
12:01AM Saturday: According to both the latest RUC and the WRF models, the squall line currently moving into the Louisville area will stall out over central Kentucky overnight, the re-intensify as it creeps toward West Virginia on Saturday afternoon. If these models are right, the timing will be optimal for stronger storms in and around Charleston, as long as skies can remain halfway cloud-free through midday.
All content © Dan Robinson. All usage requires a paid license - please contact Dan for inquiries.

Web Site Design and Internet Marketing by CIS Internet