Home | Blog Index | Blog Archives | Christianity & Faith Essays
Sunday, May 31, 2009 - 3:01AM
Saturday supercells in Kentucky and West Virginia
HD EXPEDITION VIDEO: Lightning near Grayson, KY; hail in Lavalette, WV
No 'death ridge SDS' here. Yet another great storm photography day in home territory, this one with two supercells on the record. Lots of images to go through, so a full expedition report will come sometime down the road. For now, here is a synopsis of the day. The 4KM WRF model once again performed well today. With a boundary draped SE to NW across WV and KY, instability to the west and south of the boundary and some nice upper wind support above, Huntington seemed like a good starting point. I got there by mid-afternoon, then ended up near Grayson, Kentucky where I observed the first supercell of the day. A disorganized lowering was present for the entire time I watched this storm (about 25 minutes) at I-64 and Industrial Parkway. This nice wall cloud developed and persisted for about 5 minutes: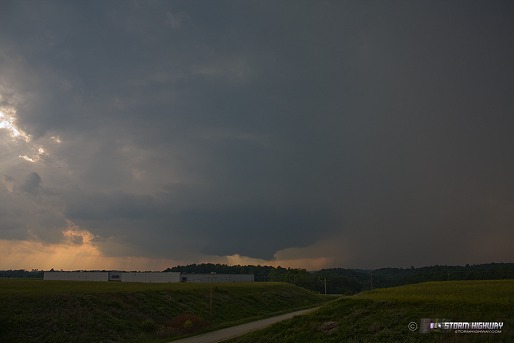 click to enlarge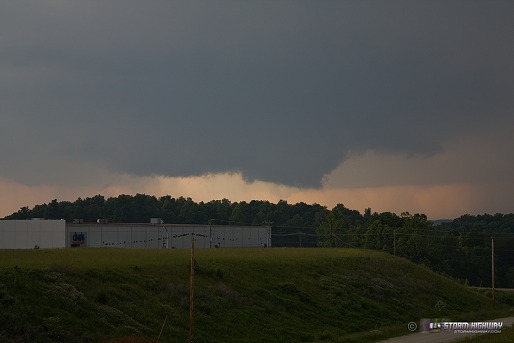 click to enlarge
Frequent lightning with this storm: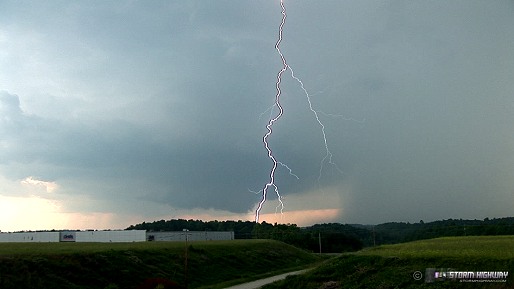 click to enlarge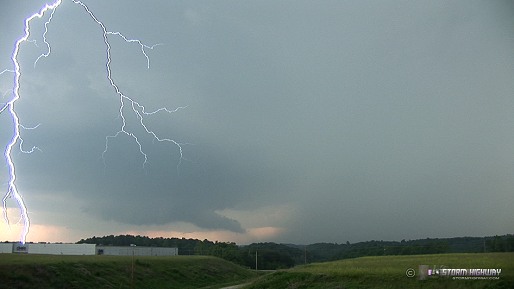 click to enlarge
As the rain overtook me here, I headed back east to Cannonsburg to wait for the core to cross the interstate. Nothing of interest there. Since the storm was now out of reach in the hills to the south, I moved east then south (back into WV) to Lavalette to re-intercept. Using VIL data and WxWorx markers, I positioned where the biggest hail was indicated. Mostly dime-sized hail with a few one-inch stones in the mix. No stills of this, but I posted the video above.
As the back side of the core neared, the full sun was shining through even while the downpour of hail and rain continued. The resulting rainbow was brief but vivid: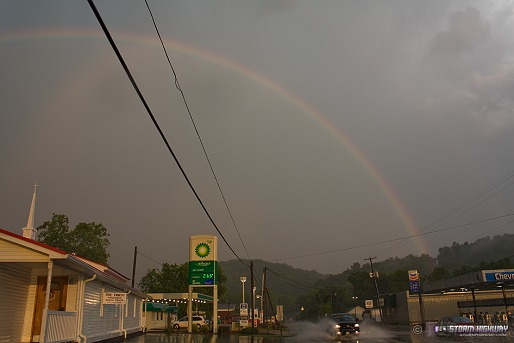 click to enlarge
Once this storm moved east of Lavalette, it became unchaseable due to curvy, winding roads. It was shortly tornado-warned thereafter. The only option to re-intercept was to go back to I-64, go east back to Charleston, then down Route 119 to Madison. This was a very lengthy course, and it did not appear that I would make it in time. So, I just hung around Teays Valley to see what new storms to the NW would do.
The second supercell of the day developed after dark near Huntington, dropping golfballs and cracking windshields in town there (according to reports). This storm was heading toward Alum Creek on a nearly identical track as the first cell, so I used Coal River Road from St. Albans to get down to 119 - passing through the town of Tornado on the way (the first time I've done that on an actual chase). Constant lightning was visible to the west. I parked along 119 north of Julian in the projected path of the new storm.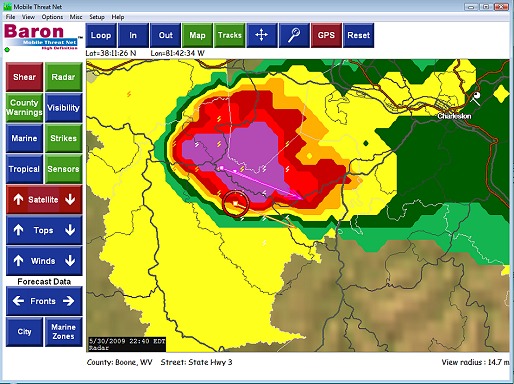 click to enlarge
If you live in the Appalachians, you know what happens in the mountains/hills after it rains - the fog starts. Since the second storm was retracing the path of the first, I was having trouble with visibility due to all of the fog in the wake of the first storm. I thought that when the air started moving in advance of storm #2, the fog would clear out. It did, but only partially. Finally the second storm got close enough to observe over the terrain and the fog. I could not see any structure at all. However, the CG lightning was great. I got out and set up the camera for a few minutes as it approached. I was worried about the fog (which was still hovering for the first 100 feet or so above the ground) ruining the shots, but the lightning was still crisp and highly contrasted. I caught every visible CG I saw here, some within a split second after opening the shutter - a rarity that would be reversed later.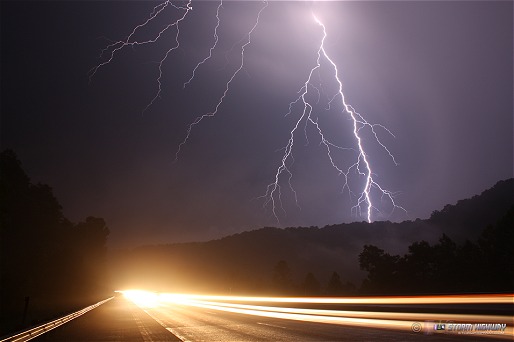 click to enlarge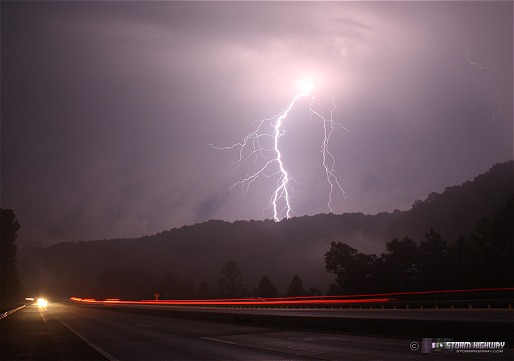 click to enlarge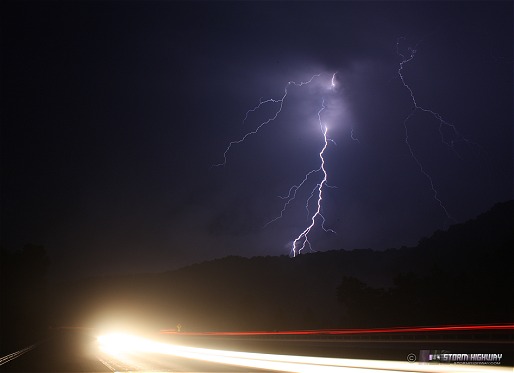 click to enlarge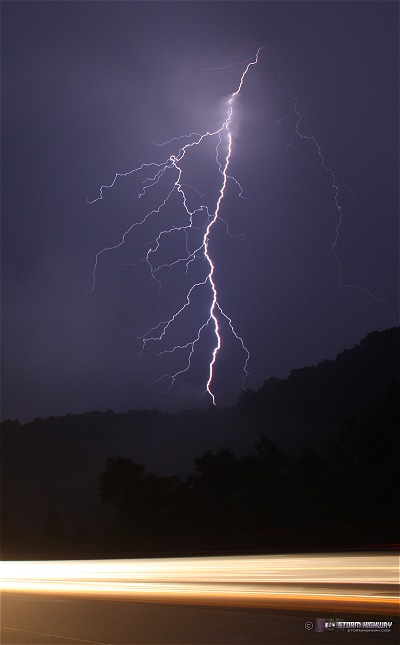 click to enlarge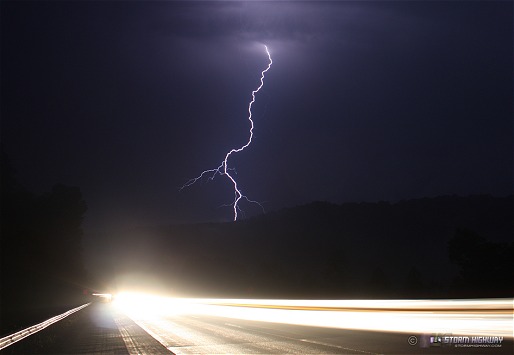 click to enlarge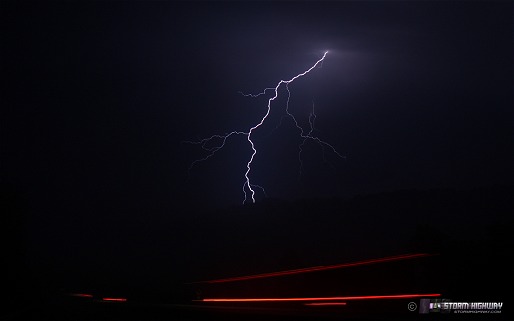 click to enlarge
Once again, I adjusted my position about a half-mile down the road to let the indicated hail maximum pass over. Other than a short burst of copious dime-sized stones, there was not much hail of note.
The night was not over - still more storms were firing all around Charleston. I set up on the South Side Bridge looking northwest over downtown. Unlike earlier, I missed every CG this storm produced behind the city. Every bolt occured in between exposures - just as rare as catching all of the ones earlier. The only visible lightning channel I actually captured at this spot is here: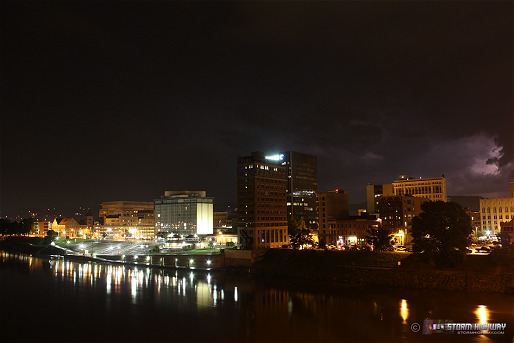 click to enlarge
The precip core hit soon after, so I retreated and headed down to the Capitol for east-facing shots as the storm departed. Again, I missed four nice bolts behind the dome, one while I was setting up the camera and three more in between exposures. After the earlier storms though, I can't complain! I did manage this one, but somehow the dome is out of focus - the only exposure out of about 40 frames that was!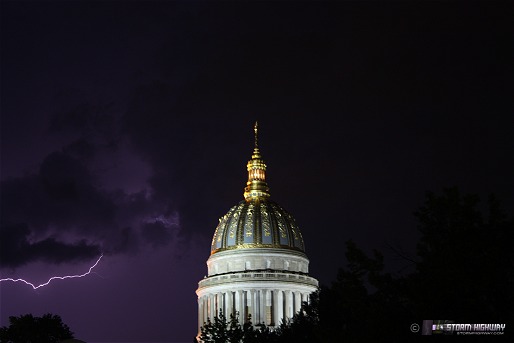 click to enlarge
All in all, a great day that proves that with some nice upper flow in spring or summer, interesting things can happen even here.
Very nice work Dan!
- Posted by Joe Lawton from Owensville, MO
Great lightning, good pictures, nice storm.
- Posted by Suzanne ten Tije from Netheralnds
Excellent job! Amazing how you manage to score in all that terrain.
- Posted by Paul from Decatur, IL
Thanks everyone, it is definitely nice to be able to see all of this with less than a tank of gas. Next week also looks pretty active!
- Posted by Dan R. from Charleston, WV
Life on the edge of the death ridge. Can't argue with that!
- Posted by Dann Cianca from Denver, Colorado
Nice shots especially during the Death Ridge. Love those wall clouds and the lightning with streamed car lights.
- Posted by Bill Hark
awesome pictures...I was in WV this past weekend..
- Posted by Debbie from raleigh, nc
awesome pictures! I'm doing a report for school and the information is phenomenal!Great work! Could you do ball lightning?
- Posted by Zoe
This web site is made possible by support from CIS Internet.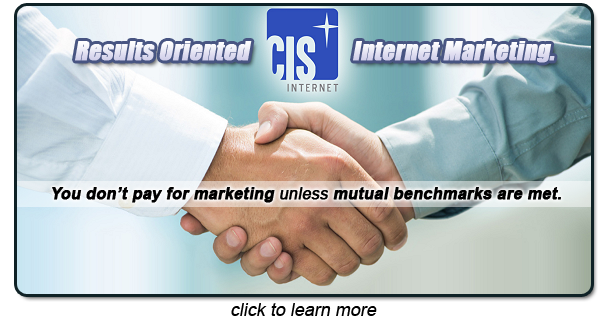 GO: Home | Storm Expeditions | Photography | Extreme Weather Library | Stock Footage | Blog
Featured Weather Library Article:
All content © Dan Robinson. All usage requires a paid license - please contact Dan for inquiries.

Web Site Design and Internet Marketing by CIS Internet