Home | Blog Index | Blog Archives | Christianity & Faith Essays
Tuesday, November 4, 2008 - 3:53PM
Charleston peak colors, webcam, upcoming weather
Trees in the lower Kanawha Valley, particularly near the river, are actually right at or just past peak colors now, making for some photo ops around downtown Charleston. It's not unusual for the trees close to the river to be the first to bud in the spring and the last to change in the fall.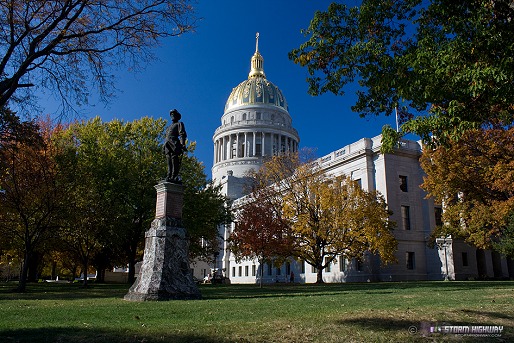 click to enlarge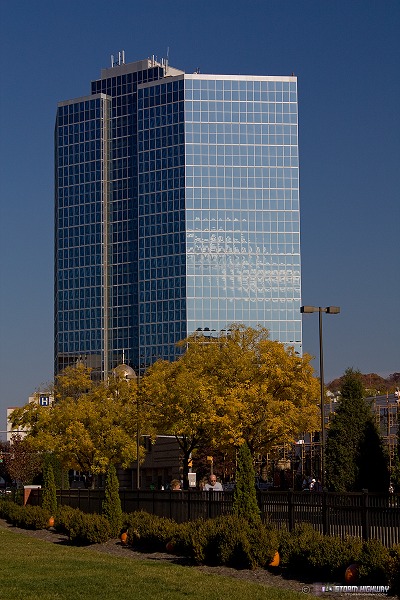 click to enlarge
Capitol Street Webcam
I set up a live camera looking out of my office window down on Capitol Street (the link is on the right). The image updates every 30 seconds.
Upcoming weather roundup
Or lack thereof, that is. There was some question whether we would see another round of mountain snow this weekend, but the latest model trends have suggested that the post-frontal temperature drop will not be enough to bring snow to anywhere but the highest ridges (above 3,000 feet). Even up there, temps will not be cold enough for snow to stick or accumulate. So, not looking like another winter weather trip for me. Looking at the long-range models, the next chance for snow in West Virginia could be at least 2 weeks from now - no signs of any significant cold air infiltration from the north are showing up.
Although winter has retreated for now, storm season is trying for a comeback. Warm temps this time of year are usually a signal of severe weather potential. Upper-air dynamics and cold air aloft are regular features in the summer-winter transition - so anytime warm surface temps and low-level moisture show up in November, the possibility exists for severe storms and tornadoes. Tomorrow (Wednesday) holds the highest potential for tornadoes across the Plains states, with a lower risk on Thursday in the Mississippi valley region. The front quickly races east after that, with the main upper support passing well to our north - bringing our region possibly nothing more than a brief line of showers. Even though gas prices are now under $2 a gallon in Ohio and Kentucky, removing a major obstacle to observing - I don't think a trip west would be worth much. Things are subject to change, so I'm still on 'standby mode' for a run out west.
Dan on Capital Street... sounds like a song. Hey bud, been awhile. Glad to see your still doing the things you love.
- Posted by Brock from Virginia
Thanks Brock! Good to hear from you - if you're coming in for Thanksgiving, give me a call!
- Posted by Dan R. from Charleston, WV
All content © Dan Robinson. All usage requires a paid license - please contact Dan for inquiries.

Web Site Design and Internet Marketing by CIS Internet