Home | Blog Index | Blog Archives | Christianity & Faith Essays
Friday, October 9, 2009 - 10:23PM
October storm photography day
As happens several times every fall, we had a pretty decent setup for severe weather today - big upper trough moving in, with 70+ knots of flow at 500mb and winds screaming even more above that (unfortunately convection was too low-topped to really take advantage of most of that). A weak surface low was moving along the front in Kentucky, and clouds cleared out early in the day across most of the area following a round of morning storms. Instability, lift on the cold front, a broken-line storm mode and the upper wind configuration meant it was a day to keep an eye on.
In the morning, I drove to Weston to meet my parents to do a 'dog exchange' (I'm taking care of Tess, their cocker spaniel, for a couple of weeks while they travel). I left Charleston around 9AM just ahead of a weakening squall line, which I kept just ahead of most of the way north on I-79. The outflow had a nice arcus/shelf cloud on its leading edge racing across the landscape, literally brushing the ridgetops with 'fog fingers' rapidly forming in the trees under it. I didn't have any fall foliage + shelf cloud shots before this, so it was good to get to add that to the 'list'.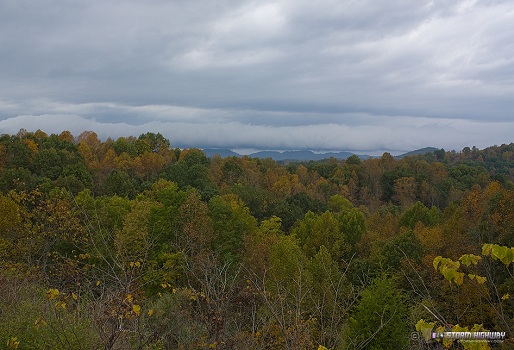 click to enlarge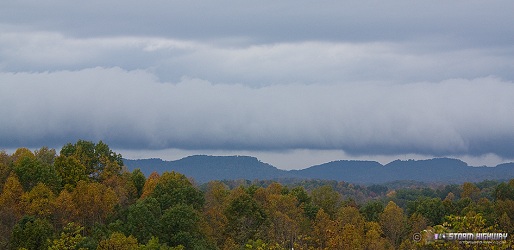 click to enlarge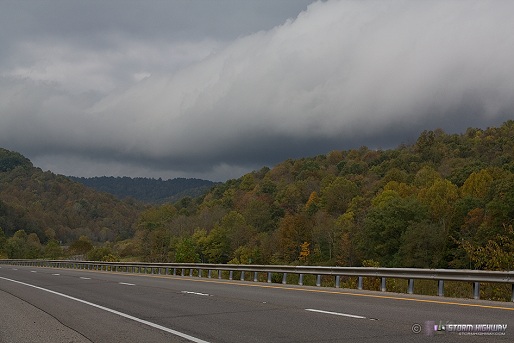 click to enlarge
On the way back from Weston, the initial squall line cleared out fast, leaving some great sunlit foliage/blue sky scenes. This is one of the better vistas on I-79, just south of the Route 19 interchange: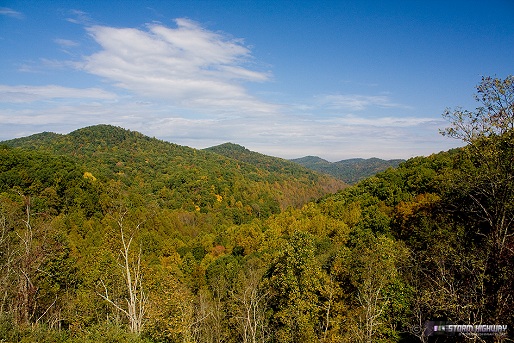 click to enlarge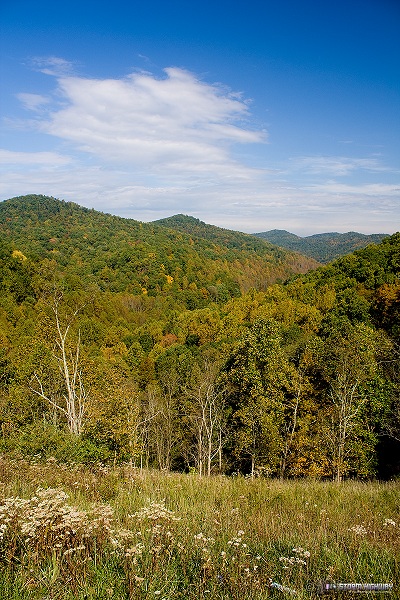 click to enlarge
Later in the afternoon, I embarked on my first chase since August 20 to intercept some cells of interest moving in from Kentucky. Tess tagged along, with more interest in the squirrels than the storms. This storm here, weakening as it passes over Teays Valley, was once one in a line of supercells that produced an EF2 tornado in Kentucky earlier in the afternoon. Here, it is a shadow of its former self. At about this time, a tornado-warned cell in Jackson County (to the north) has a 103mph shear marker on WxWorx. No way to catch it, so I didn't consider trying.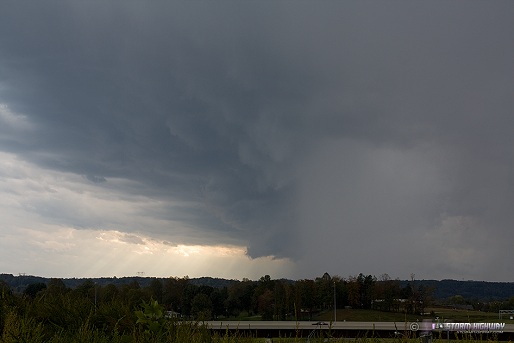 click to enlarge
The gust front trailed out to the southwest, with a ominous but otherwise harmless shelf on its leading edge. Here, it moves into Dunbar over the changing trees of Grandview Cemetery: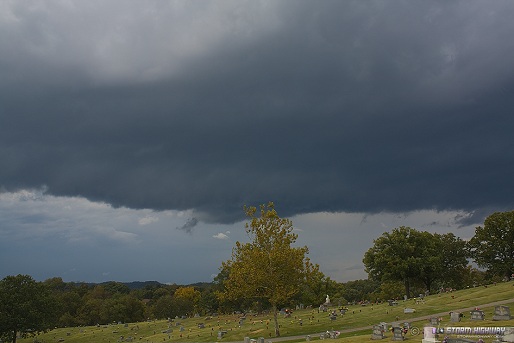 click to enlarge
A strong bow echo to the southwest was the next feature in line, heading right for Charleston. My initial worry was that it was going to slam into the popup-tent 'city' housing the big Chili cookoff at WV Power Park and cause mass chaos - but the storm weakened considerably before arriving, thankfully sparing all of the chili. Here, the strongest part of the severe-warned bow arrives at Rand along Route 60, with little more than a 15-second show of 30-40mph winds to shake some dying leaves off of the trees.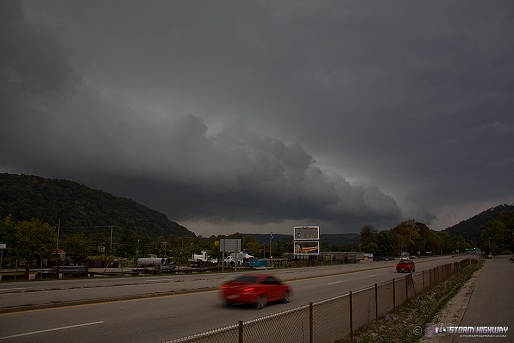 click to enlarge
I didn't hear thunder at all today - there was lightning out there according to WxWorx, just not in anything I was on.
All content © Dan Robinson. All usage requires a paid license - please contact Dan for inquiries.

Web Site Design and Internet Marketing by CIS Internet