Home | Blog Index | Blog Archives | Christianity & Faith Essays
Wednesday, January 12, 2011 - 3:14PM
New Year's Eve 2010 St. Louis tornado outbreak chase
VIDEO CLIP: December 31 tornado sirens in St. Louis, hail in Illinois
Now that the blog is back up, I figured I needed to post an expedition log entry for the December 31, 2010 tornado outbreak in the St. Louis area. Holiday traveling, a road icing threat the day before and the need for sleep all conspired to cost me the rare opportunity to see December tornadoes this day. I had been in Pennsylvania at my parents' house for Christmas, and left for my return trip to St. Louis on Wednesday the 29th. As is typical for my trips back east, I made a stopover on Wednesday in Charleston, WV to check on my house, my grandmother's house and catch up with friends, intending to head back to St. Louis on the morning of Thursday the 30th. But complicating my already tight schedule was that on the overnight of the 29th into the morning of the 30th, West Virginia was under the gun for a major freezing rain road icing event. Since I was there, it was a no-brainer to cover the event. This kept me awake the entire night Wednesday into Thursday morning. Long story short, the icing event spared Charleston (widespread problems in the northern half of the state, however) and after meeting friends for breakfast early on Thursday, I was finally able to catch a few hours of sleep before a business meeting at 2PM.
I finally was able to start heading westbound toward St. Louis by 5PM, going on a meager 3-4 hours of broken sleep. I stopped once for a short nap near Frankfort, Kentucky and finally made it back home by around 2AM. By this time, a large area of warm frontal thunderstorms had developed in central Missouri and were tracking northeast toward the Hannibal area with lots of lightning. I didn't want to pass up the opportunity for some lightning shots with Christmas decorations downtown, so I stayed up for another couple of hours to monitor the progress of those storms, even beginning the drive westward to stake out a position. Eventually it became apparent that everything was sliding well to the north and west of St. Louis, and was weakening - so I headed back home.
By then it was after 6AM, and already tornadoes were reported with supercells in Arkansas and in southwestern Missouri. Had I been well-rested, I would not have hesitated to start the drive down I-44 toward them right then. The supercells were tracking fairly parallel to the interstate, and it would not have been difficult to stay ahead of them. However, I was in desperate need of rest, and I decided to get some sleep instead - and just catch the storms when they arrived in the St. Louis metro area around noon. I figured by then, we might have some more instability to work with anyway. I also prefer to try and catch storms over the city and then east into Illinois, which provides better photo opportunities, visibility/terrain and expedition logistics than trying to navigate through the Missouri hills, city traffic and limited Mississippi river crossings.
After a few hours of rest, I headed into St. Louis to meet the arriving storms, now in the form of a bow-echo/line with solid severe t-storm and tornado warnings. A break formed in the line just west of the city, which allowed the Sunset Hills supercell and tornado to spin up. This event was several miles too far west to be visible from my downtown riverfront location. There was not much in the way of visible storm structure, though the western sky darkened ominously behind the city:

click to enlarge
In the above image, the Sunset Hills/Fenton tornadic storm (what is left if it) would be somewhere directly behind or just to the left of the Arch. The actual tornado happened roughly 10 to 15 minutes prior to this image, at which time the storm wasn't yet visible from downtown. Tornado sirens were activated in downtown St. Louis as the storms approached (watch video). The heavy rain quickly arrived over the city, at which time I jumped on I-64 to stay ahead of the seemlingly disorganized line. I pulled over at Green Mount Road in Shiloh to observe the storm, now more of an isolated cell that seemed more likely to resume supercell characteristics. Cloud-to-ground lightning was frequent and close, and though I missed getting any decent strikes in frame, I did manage to get my first-ever image of December lightning in 17 years of chasing: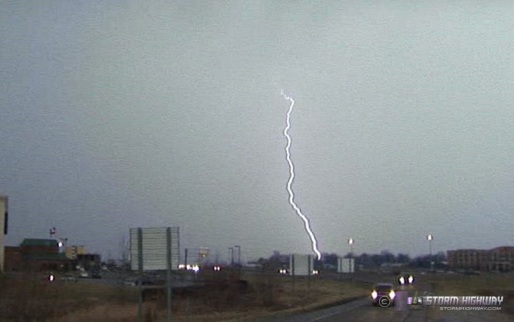 click to enlarge
I watched the storm pass from Belleville through Fairview Heights into O'Fallon, but did not observe any storm features other than a developing shelf cloud out ahead of the precip. A misrepresented photo of an alleged photogenic funnel in Belleville made the rounds in the media, but I was there, and saw no such feature. I observed some mainly dime and nickel sized hail at Green Mount (watch video), with a few quarter-sized stones in the mix. With the storm racing off to the northeast and away from any reasonable routes to keep up, I let it go and headed east to get into position for the next cell in the line to cross I-64 at New Baden.
At this point, the storms were quickly outrunning the tiny instability axis and weakening considerably. A transition to complete outflow-dominance was under way, and it was not long before all of the lightning dwindled to nothing. The shelf clouds and "whale's mouth" made for a few scenes over the prairie worthy of shooting, but otherwise the event was wrapping up for the St. Louis area.
click to enlarge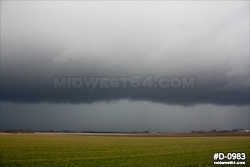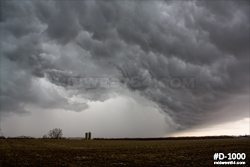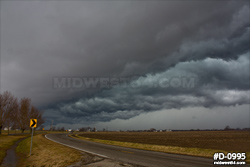 I opted to not follow the storms farther east, though some lightning persisted for the rest of the day and evening as the storms moved into Indiana and Kentucky. I was disappointed to miss such a significant event by a slim margin and over the issue of sleep, but don't regret the decision to play it safe.
All content © Dan Robinson. All usage requires a paid license - please contact Dan for inquiries.

Web Site Design and Internet Marketing by CIS Internet