Home | Blog Index | Blog Archives | Christianity & Faith Essays
Tuesday, August 14, 2012 - 3:02AM CDT
NKP steam locomotive #765 in Pittsburgh - August 11-13
MORE STILL IMAGES: Matt's photos at PittsburghSkyline.com
HD VIDEO: 765 in and around Pittsburgh on August 11-13
HD VIDEO: 765 creating vortex rings (smoke rings)

For the first time in 21 years, my Mom, Dad brother and I were present together for a steam train excursion - our last previously being in August 1991 during the NRHS convention in Huntington, West Virginia. It is difficult to convey with words the significance of what this meant for us. To get here, I drove nearly 10 hours from St. Louis, and my brother flew in from Raleigh. First and most importantly, a huge thanks goes out to the people/supporters of the Fort Wayne Railroad Historical Society and Norfolk Southern for making this event possible. Without their hard work, collaboration and planning, experiences like these wouldn't happen (particularly in today's world). I'm thankful not only to be able to relive some of my own childhood memories, but that some of today's generation are getting the chance to make their own.
As I've mentioned in previous posts, railfanning/trains was my major childhood interest that has mostly faded away. I grew up riding, 'observing' or working on train excursions frequently (mostly steam-pulled) in the 1980s and early 1990s, which comprised many of our family trips/vacations. Countless great memories, and many of those trips were led by the #765. Prior to 2009, I myself had last seen mainline steam in 1994, and as I said, our last family excursion trips together were in 1991. To put this in perspective - the last time we did this as a family: I was 15, had finished my sophomore year in high school, and didn't yet have a driver's license; my sister was 13 years old, my brother 11.
I broke my own 15-year hiatus from mainline steam in June of 2009, when by sheer providence ended up stumbling upon one of #765's first trips (following a 16-year rebuild) in northern Indiana after a storm photography trip to Chicago (that whole story/photos/video is recounted in this blog post). This year, Norfolk Southern is working together with the FWRHS to use the #765 to lead employee excursions in several cities, many which have not seen an operating steam locomotive in over 20 years! Pittsburgh last saw steam in 1993 - making this weekend's event significant not only for us as a family, but historic for the region/city as well.
During this event, I took very few stills, focusing primarily on video. My brother Matt is a professional photographer and thus took care of capturing stills - his images can be found at his web site, PittsburghSkyline.com. Here are a few of my stills/video grabs: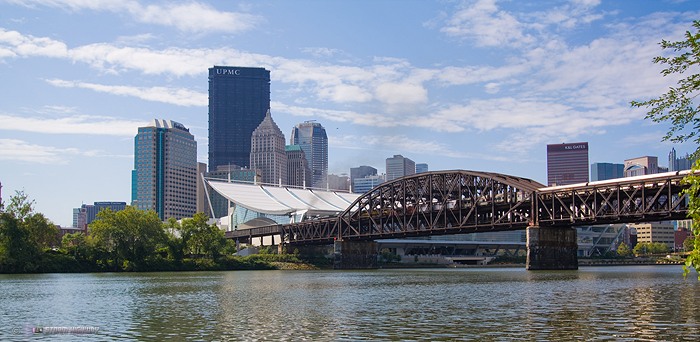 Steam in downtown Pittsburgh for the first time in two decades! The bridge's superstructure/girders didn't lend itself well to visibility of the train, but I liked this angle with the city over other available options.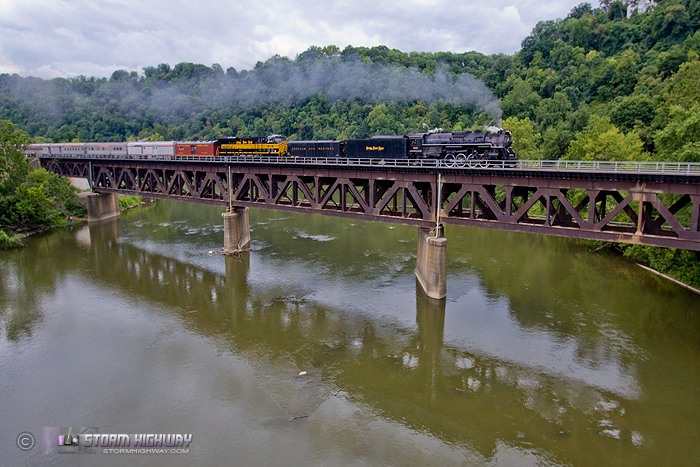 Bridge at Beaver Falls, PA on 8/12.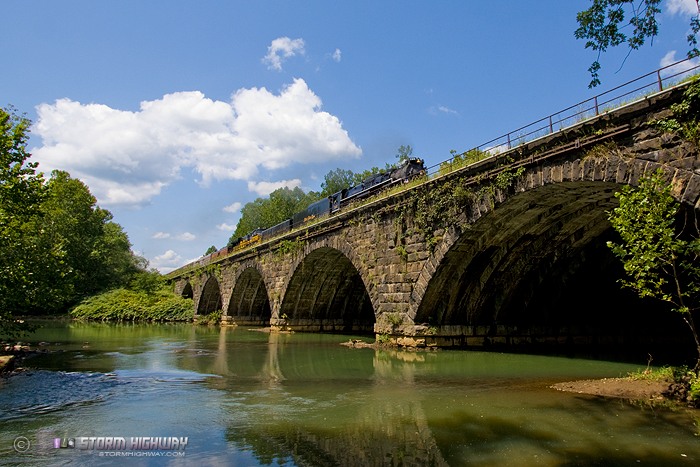 Stone arch bridge over the Conemaugh River in New Florence, PA on 8/13. Again, the ex-Pennsy's wide bridges make it difficult to see much of the train unless you're set up far away, which the slippery, muddy riverbank didn't permit here. Like Pittsburgh, this is the first time steam has been at this location since the 1980s.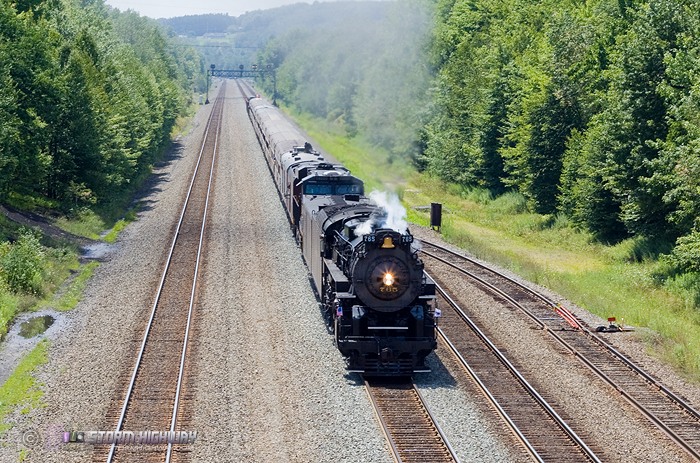 Almost at the summit! Cresson, PA at Highway 22.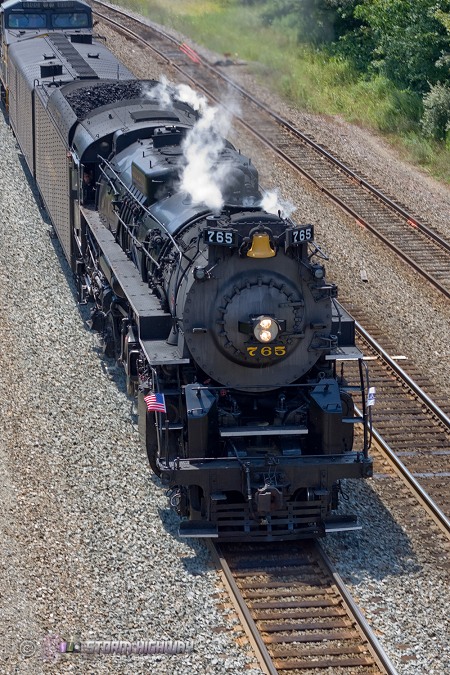 Another from Cresson on 8/13. I didn't dare venture farther than this, as Gallitzin and Horseshoe Curve were next, both sites likely saturated with railfans/photogs.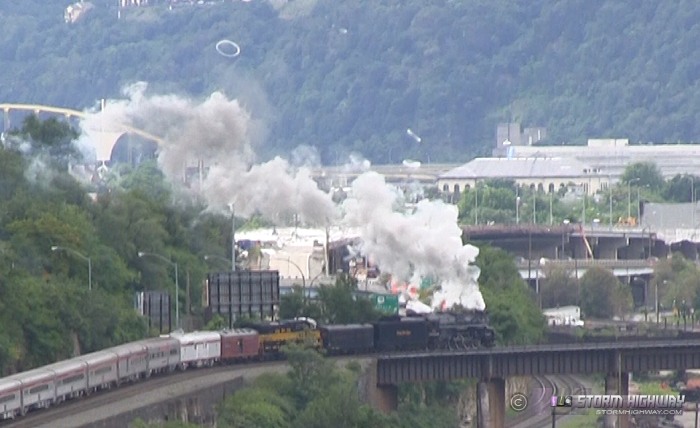 Smoke rings (a type of vortex ring) from the #765's exhaust were prolific on 8/11 in Pittsburgh. I'd only seen 765 producing smoke rings in an old Greg Scholl video from the 1980's, never in person until today. (See the video clip linked above)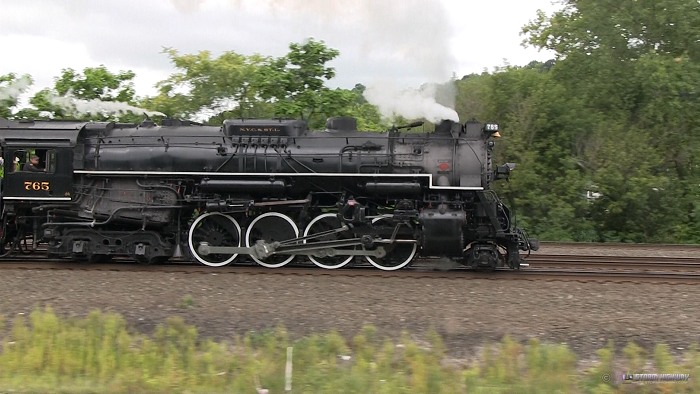 Pacing shot from Highway 65 in Rochester. One of my favorite experiences from this weekend! Back in the 1980s, it was difficult to do this due to higher train speeds and the number of railfans on the road. I wasn't expecting to be able to do pacing shots this weekend, but we did it four times thanks to light traffic and a surprisingly small number of railfans.
On the OC Bridge in front of the Pittsburgh skyline.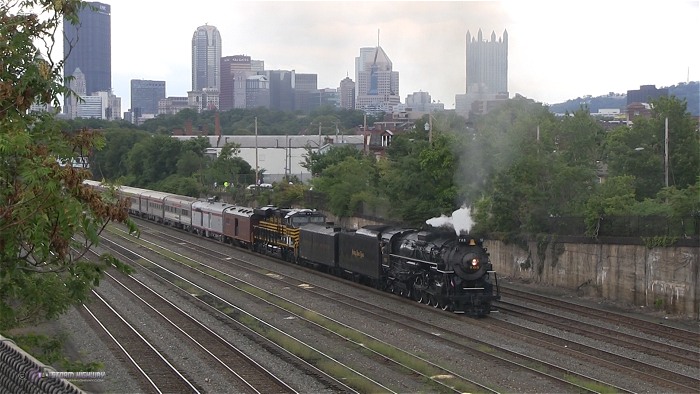 Backing down the bridge approach along California Avenue, again with Pittsburgh in the background.
Family photo at Homewood, PA, courtesy of an unknown bystander (thanks by the way, if you happen to read this!). My sister Katie was unable to make it this weekend - we really missed having her and her family there. We're hoping to have everyone together one day for one of these events, with a new generation to introduce to steam.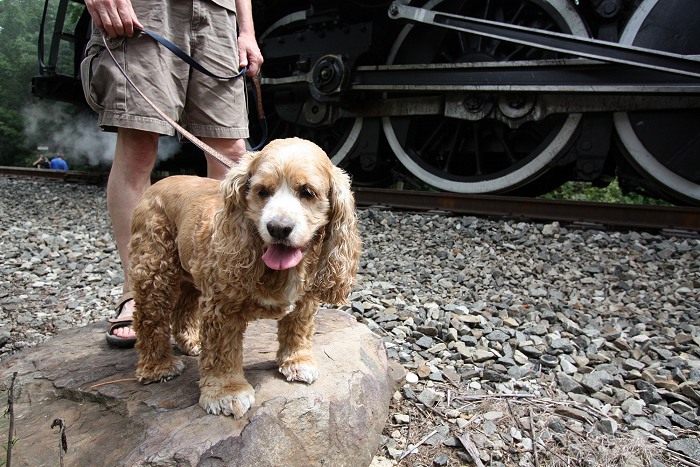 We determined through observation that probably 70-80% of people couldn't care less about a steam locomotive going through their town. Tess seemed to be part of that 70-80% demographic, though she was definitely scared of the whistle and exhaust once it started moving.
Great pictures. Love trains and the old steam locomotives.
- Posted by George Duffield
I'm so happy to see these pictures and read this post. I wish we could have been a part of it, but you know our hearts were with you. Lots of love...
- Posted by Katie from Melrose
Absolutely wonderful pictures. So happy that we got to share this amazing venture with you and Matt.
- Posted by Mom
Great pictures! I love steam locomotives and it's so rare to see them in action.
- Posted by Mat. Anna from Mississippi
When is the 765 due back through pittsburgh? Understand that it is Monday, August 20, 2012. Leaving Enola, PA at 6 AM on it's way to the Conway yards. Anyone get any closer to it than that?
- Posted by Jill Kummer
Was the shot from California Ave. near the Postal Center?
- Posted by Paul J. Pachasa Jr.
This web site is made possible by support from CIS Internet.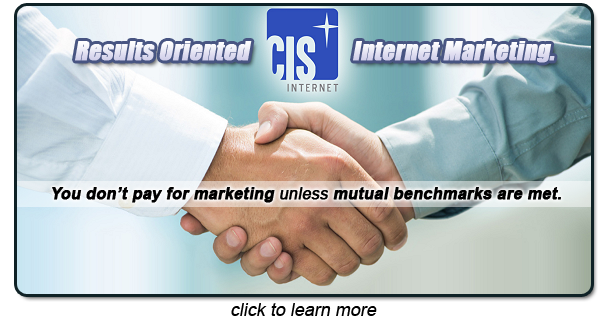 GO: Home | Storm Expeditions | Photography | Extreme Weather Library | Stock Footage | Blog
Featured Weather Library Article:
All content © Dan Robinson. All usage requires a paid license - please contact Dan for inquiries.

Web Site Design and Internet Marketing by CIS Internet