Home | Blog Index | Blog Archives | Christianity & Faith Essays
Monday, January 23, 2012 - 3:32AM CST
Active January continues: 2/22 AR/MO tornado expedition, 2/20 freezing rain
HD VIDEO 1: January 22 lightning in southeast Missouri
HD VIDEO 2: January 20 freezing rain road icing
(for each video, you can select 1080p option and full screen for HD)
The no-off-season-Midwest keeps on going with a very active and interesting January. A severe episode of light freezing rain hit the St. Louis region hard on Friday night, shutting down many roads and causing at least 2 fatalities. The second clip linked above is a demo video I shot to show how slick this type of precipitation makes the road surface.
Sunday, it was a setup for a potential tornado outbreak from southern MO/IL down into AR/TN/MS/AL. Due to the event being nocturnal, I was hesitant to do a long-distance drive, but decided to make a short trip down to Cape Girardeau to position in case something on the northern fringes of the event could make it that far. At the very least, lightning was a sure bet, and I wanted to get that far south at least to get out of the dense fog that was locked in north of the warm front. To make a long story short, I ended up going the extra distance south into Arkansas to try to catch a potent supercell as it crossed I-55 north of Memphis. I watched the radar-indicated circulation pass about 1/2 mile to my north, but could not see any visual signs of interest. With the rest of the supercells to the south lining out, I turned back north toward home. Most of the lightning in the front and middle of the storms was all hidden within the clouds, but after the cores passed, the trailing stratiform region had visible channels. I stopped for about 15 minutes at Steele, MO to shoot some of this lightning on the back side of the line (video clip is here).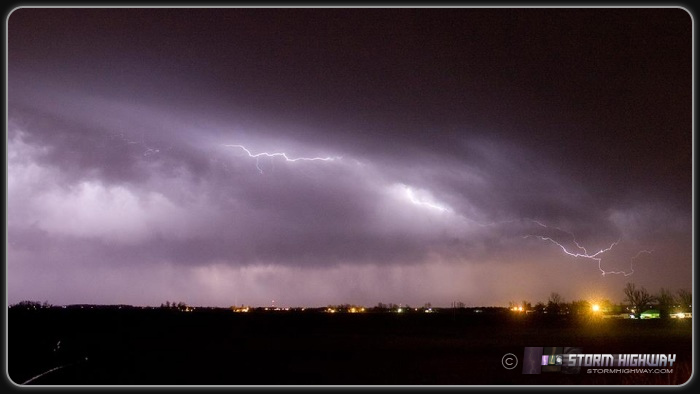 Driving north on I-55: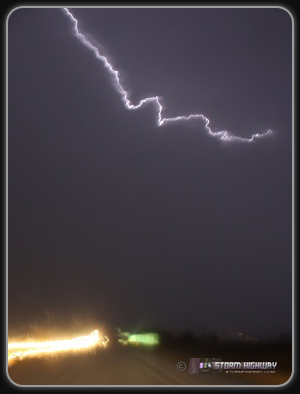 Video capture: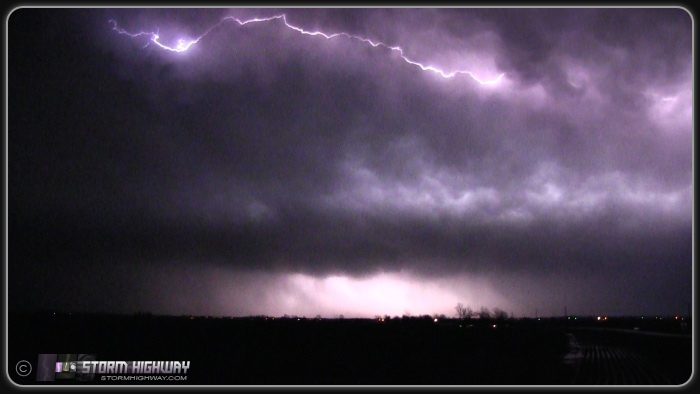 Some storm photographers scoff at the idea of chasing in the winter, outside of the Plains, at night and certainly all of the above. True, I never have high expectations for winter expeditions - but when something potentially major is an afternoon drive away on a day off, it's not a hard decision to do it. Furthermore, the Memphis-Jonesboro-Sikeston triangle is excellent chase territory, Plains-like and flat with great visibility. After the storms had passed, I stood outside on the prairie of the Missouri bootheel, shooting the trailing stratiform lightning - no different from those end-of-chase lightning moments on the Plains. It was a fun day, and one I won't hesitate to do again if a good setup occurs close by on my day off - no matter the time of year or day. If I never covered at night, I wouldn't have seen my first and only F5 in 2007 (along with several other tornadoes) and this amazing tornado in 2004.
well i glad something pretty happen
- Posted by jalica from south hall
Back in st. Louis, you didn't miss anything. Maybe a few flashes of lightning, some rain as well as fog throughout the day. I can't believe I waited the whole night for my weather radio to go off, which it never did. :/
- Posted by Tim
All content © Dan Robinson. All usage requires a paid license - please contact Dan for inquiries.

Web Site Design and Internet Marketing by CIS Internet