Home | Blog Index | Blog Archives | Christianity & Faith Essays
Friday, April 19, 2013 - 7:34AM CDT
April 18 south-central Illinois expedition; accident close call; flooding
Even with the 10% hatched tornado risk issued by the SPC, I was originally not planning to observe storms on Thursday (other than shooting lightning in downtown St. Louis, those images are here). I admit I simply got suckered into observing by the PDS tornado watch issued early in the morning. Day 2 Midwestern squall line setups in nearly unidirectional flow aloft are climatologically poor tornado producers, and I did not see anything in morning data that indicated a target worthy of a multi-hour drive. However, it's difficult to ignore a PDS tornado watch in my backyard issued by professionals who are leagues above me in forecasting ability.
I left New Baden around 9AM and headed east. Despite my initial skepticism, it was intriguing that the squall line had completely stalled just east of St. Louis, something I'd not seen before with similar setups. Usually such a squall line will continue plowing east, pushing the afternoon instability axis to Louisville or farther. The stalled line meant the instability in southern Illinois would not be fouled early on. Furthermore, the RAP model showed a quite-nice instability/helicity/0-1km EHI bullseye in the Evansville, Indiana region at 5PM. This was south of the PDS watch, so I expected that another would be issued to cover this by noon (the watch was issued, but as a standard non-PDS one).
Despite the ominous SPC outlook and what the RAP indicated for mid-afternoon, I could not conjure up enough optimism to go any farther than Mount Vernon. Cloud cover blanketed all of southern Illinois, and there was not much of a sign of development in the more clear sky areas in Indiana. The day felt like a bust from the start, so I wanted to keep a nice and short drive home if my hunch was right. I also felt that there was a non-zero chance to see a tornado in the squall line if it could develop a good 'kink'. And sure enough, an s-shaped segment of the line to my southeast in Missouri was producing consistent tornado warnings.
At noon, I finally gave up on the possibility of supercells ahead of the squall line and focused on the line itself. I drove back west to Nashville to meet it, then intermittently moved east to watch different sections of it rocket by to the northeast. This process of 'fishing for squall line tornadoes' concluded with the tornado-warned 's curve' part of the line meeting me at Macedonia, IL. This section of the line was a disappointment, nowhere near tornado potential - only a high, weak arcus above outflow for as far as the eye could see (click for full screen view):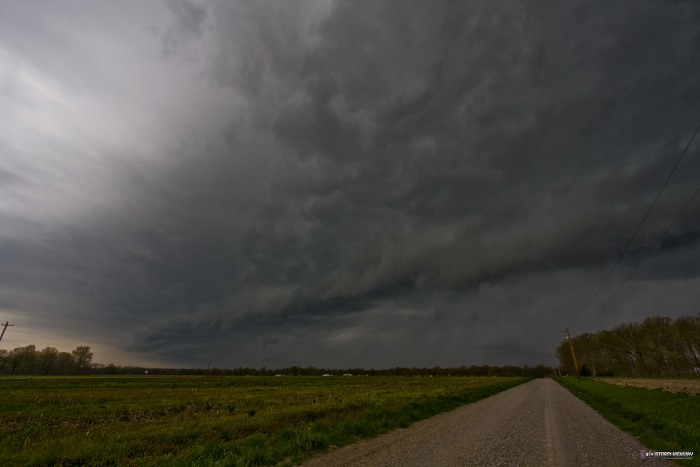 The time of that image was around 3:30PM. With that, I'd given this setup all I wanted to give, and headed home.
At around 4PM at Albers on I-64 westbound, a passing SUV drifted into my lane and the driver jerked the wheel to correct. This started an unrecoverable fishtail that sent the vehicle into the grassy median sideways at approximately 70mph. This all happened right beside me. I watched the mud and water spray flying as the SUV plowed through the median sideways at highway speed, heading for the eastbound lanes. Miraculously, they did not hit me, they did not roll over, and came to rest on the right shoulder of the oncoming lanes. I turned around at the Albers exit and went back eastbound to check on the occupants. Everyone was OK. The muddy median was too much even for their 4WD, so a tow truck had to be called in.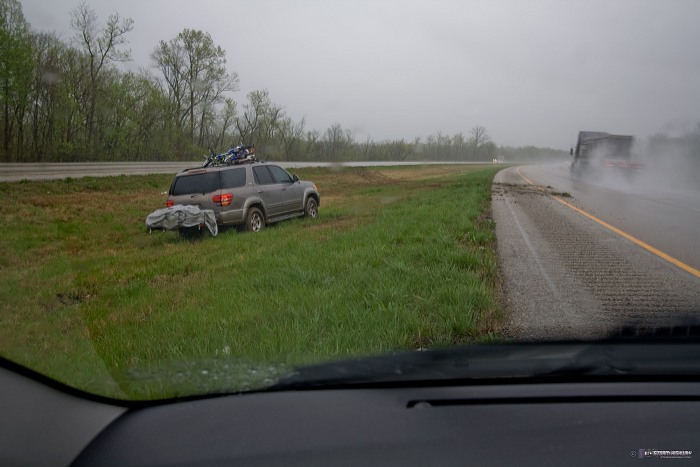 My dashcams record out the front and back, so since this happened right next to me, the majority of the incident was out of view of the cameras. The rear camera, however, captured the start of the accident and the flying mud as the SUV entered the median: Watch video clip.
Meanwhile, back in the eastern St. Louis metro, a significant flooding event was under way thanks to the stalled squall line. Many roads and parking lots were flooded, some with up to 2 feet of water and cars partially submerged. This was the scene on Haselhorst Road at New Baden, with the fields turned into a giant lake on both sides of the road. Water here about 5 inches deep is flowing over the pavement from one field to the other (click for full screen view):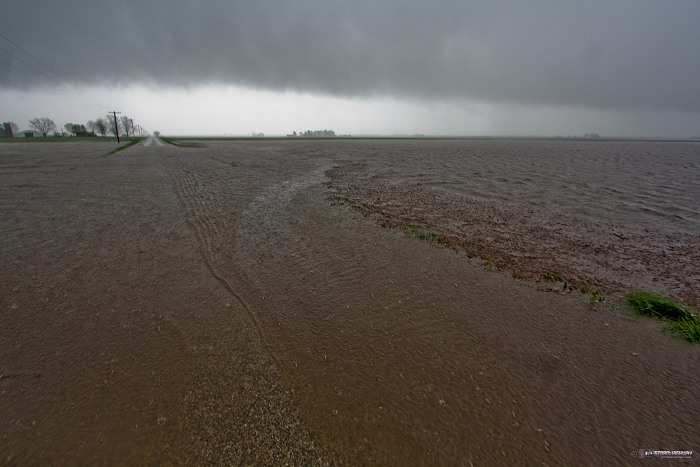 The low cloud deck in that photo is actually the main cold front that had just passed a couple of minutes prior.
Dan, Yikes! I watched the video. Sure glad they missed you. And good on you for pulling over and being the good Samaritan. (I noticed that not many others did.) Could you share some info on the dashcam setup. What cameras? How are they mounted and powered?
- Posted by JM from BC, Canada
Thank God. That was real close. I heard car accidents are the most dangerous part in storm observing. Please be safe!
- Posted by Luka Lee from Arizona
Thanks for the comments! There are may styles of dash cameras available - if you do a search for 'hd dashcam' on Google, you'll find a bunch of them. They usually mount to the window with a suction cup, like a GPS unit. There are some junk models out there, so features to look for are true HD resolution (1920x1080), continuous loop recording, and no gap between loop record files. There is a Youtube channel called Techmoan that reviews a lot of dashcams. Good HD cams are around $200, SD ones are less than $100.
- Posted by Dan R. from New Baden, IL
How close were you to the reported tornado in IL? I was a little skeptical of that report, but then again with the radar site issues I couldn't find a good view of it.
- Posted by Matt Hunt from Indiana
Matt, I caught the storm about 40 minutes after the reported tornado, so it could have looked entirely different then. If it was anything like what it was when I saw it, I'd say the tornado report had a zero chance of being legit. The report stated that it was a public report relayed by EM, so without seeing a photo or video, I'm going to assume it isn't legit.
- Posted by Dan R. from New Baden, IL
Luka, they are one of the more dangerous aspects of observing. Sadly, nearly 2 years ago today, a drunk driver crashed head-on and took the life of fellow observer Andy Gabrielson. Another observer died after swerving to avoid a deer. As for April 18, there was only rain here. Well, there was a small tornado watch but the heavy rain and lightning were done before 7:30, then it rained steadily all day.
- Posted by Tim
This web site is made possible by support from CIS Internet.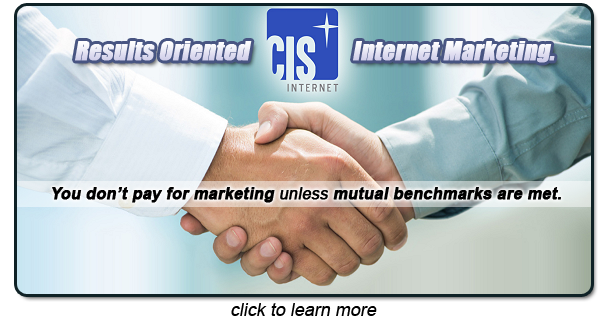 GO: Home | Storm Expeditions | Photography | Extreme Weather Library | Stock Footage | Blog
Featured Weather Library Article:
All content © Dan Robinson. All usage requires a paid license - please contact Dan for inquiries.

Web Site Design and Internet Marketing by CIS Internet