Home | Blog Index | Blog Archives | Christianity & Faith Essays
Friday, July 5, 2013 - 7:40PM CDT
Escaping the El Reno, OK EF5 tornado - full HD dashcam sequence - May 31, 2013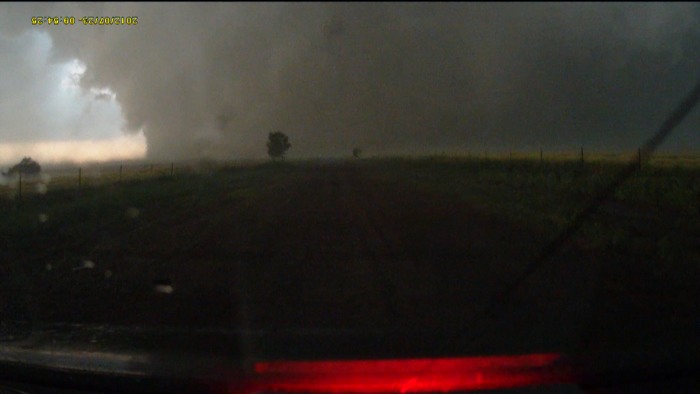 HD VIDEO: Escaping the El Reno, OK EF5 tornado - full HD dashcam sequence
This is video from my front-facing and later rear-facing dash camera while escaping the EF5 El Reno, Oklahoma tornado in my Toyota Yaris on Reuter Road between 6:16PM and 6:30PM CDT on May 31, 2013. CDT time shown on-screen is based on GPS time, synced with US official time and accurate to the second. Road intersections are shown as my vehicle encounters them.
The audio contains what I am attempting to narrate for the main video camera. My voice transcription is as follows:
6:17:29 "I want to find an east road here, I'm getting a little to close. I need to start looking for the east (road) option". The tornado was moving east at this point. I didn't want to go farther south and risk not being able to reach the next east road option to the south after Reuter Road.

6:17:45 "Power flashes". The tornado is damaging the power lines up ahead and causing arcing. The streetlight goes out.

6:18:18 "New wall cloud". Another area of circulation was organizing to the north.

6:18:28 "The wedge is rain wrapped". Referring to the main wedge tornado about a mile to the south.

6:18:57 "I don't like getting in front of tornadoes I can't see, especially huge wedges". Referring to why I don't want to go farther south than Reuter Road.

6:19:56 "What is that? What is that?" I am surprised to see what looks like the tornado to the south rapidly approaching the road. I had expected it to be well south of me and to the west.

6:20:18 "It looks like the tornado." I now realize what is happening.

6:21:03 "It's just off to the side of the road". Referring to the tornado, which I can see is now right on me.

6:21:53 "Come on, car!" The car is not maintaining speed in the strong headwinds, due to the traction control reducing power to the wheels as they slip on the gravel.

6:22:13 "The car won't go!"

6:23:12 "I've got to get out of whatever this is" I'm still in disbelief that the tornado reached Reuter Road that fast. I was wondering at the time if it was a second tornado that developed to the north of the wedge.

6:23:24 "The car just isn't going"

6:23:33 "Come on! Traction control OFF!" The entire time, I have been repeatedly hitting the traction control's manual override button to turn it off, but it is not working.

6:24:03 I step out of the car and get my first look back at what I had just escaped.

6:24:22 "I just drove through that"

6:24:44 "There's debris" There are small pieces of debris falling around me.

6:24:50 "Where is it? I can't see it" From the driver's side looking north and northwest, I can't yet make out the north edge of the tornado. I was looking back to see if it was safe to stop again.
See a more detailed account of this event here at this page.

NOTICE: The sequence containing images of the Twistex team's Chevrolet Cobalt is not included in this package. That particular sequence is not available for use until further notice, and the families of those affected are not to be contacted about this footage. I am the sole contact for questions regarding this footage. Any company or individual that contacts the families in disregard of this stipulation will be permanently prohibited from receiving a license for the footage, in the event it does become available for use. The footage is registered with the US Copyright Office, and any unauthorized use will be swiftly and aggressively pursued to the fullest extent of the law.

Dan. You will never know how many lives you will have saved by sharing this information. Tim was known for playing it safe, so I felt it important to find out as much as possible about what happened. As I watch your video, and read your information, I admit that I would have made each turn you did (with the exception of turning north on Alphadale). I would have -never- imagined that soon after passing hwy 81, that thing would have moved so far north and be closing on me like that. You sharing this experience allows others to learn from it.
- Posted by Jeff Tyler from Texas




Thanks Jeff!
- Posted by Dan R. from New Baden, IL




It's hard to believe that Twistex died just 1 mile behind were you were!
- Posted by Brendan




It's hard to believe that Twistex died just 1 mile behind were you were!
- Posted by Brendan




This is incredible footage. It's chilling to know the fate of Samaras was captured, but simultaneously warming to know Mr. Robinson made it out with his life. Absolutely terrible, almost otherwordly storm this was. Hooking sharply, rapidly intensifying/widening, WHILE increasing forward speed, within the span of about a minute. .. No wonder so many storm photographers were impacted on this beast.
- Posted by Ryan




Why didn't you turn north at the intersection of 80? The tornado had begun turning northeast by then. What was thinking exactly, as you,decided to continue on Reuter?
- Posted by Guy from CT




I think your nuts my man but I m glad you are okay. Sorry for the loss of your friends. Stay safe in the future.
- Posted by Jen from WA




That was so intense! I was holding my breathe thru most of this. Stay safe out there my friend! Continue to Rest Easy Tim, Paul and Carl. God Bless!
- Posted by Sharon Henry from Carrollton Texas



All content © Dan Robinson. All usage requires a paid license - please contact Dan for inquiries.

Web Site Design and Internet Marketing by CIS Internet