Home | Blog Index | Blog Archives | Christianity & Faith Essays
Friday, June 26, 2015
Roundup of June 16-25 expeditions: IL tornado and daily Midwest severe storms
Not only have storms been very active in the past week (with near-daily expeditions), I have had several simultaneous work projects that have occupied the rest of my time when I've been home. The result has been that I've had no time to do a blog post for any of the storm photography days. So, this will be a big catch-up post with lots of images and links!
I have started putting together these multi-panel photo montages for a couple of reasons. One, they are an easier and more compact way to display multiple images. They work better for social media, since posting several individual full-size images will not only 'spam' the feeds, but result in viewers not seeing all of them. It also saves blog post space and keeps the page from being too long and/or slow-loading for mobile devices.
June 16: Lightning at New Baden
Tuesday the 16th was a 'local' storm photography day, with weak upper level winds leading to disorganized storms. I caught this storm just outside of town on the way home from a work meeting. The lightning was unexpectedly good for such a meager environment. These are all video frame captures.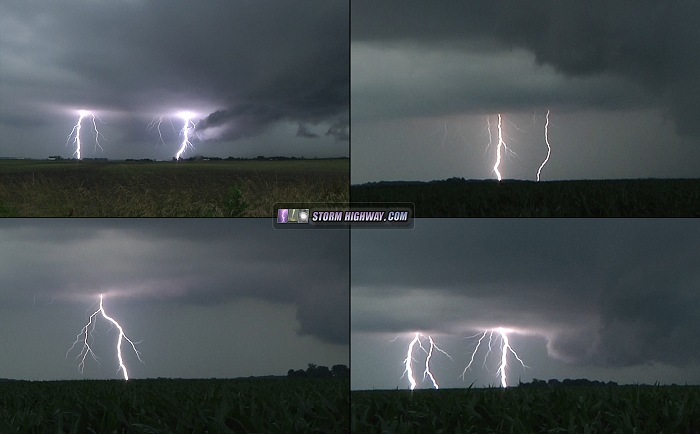 June 18: Low-topped supercell from St. Libory to Bartelso, IL
Another meager environment produces an interesting storm very close to home. This cell emerged from a far-outer band of Tropical Storm Bill as it encountered a zone of 1500j/kg surface-based CAPE in southern Illinois. The storm really got cranking at St. Libory just as I intercepted it west of Venedy, with a strong circulation showing up on radar. This circulation maintained all the way to Bartelso, where the storm finally gusted out and dissipated. The storm presented some interesting structure, with a tail cloud racing in from the northeast. Despite what radar showed, I did not see any strong low-level rotation while I had a visual on it. The top image here is at Venedy, the bottom image is a view from Okawville.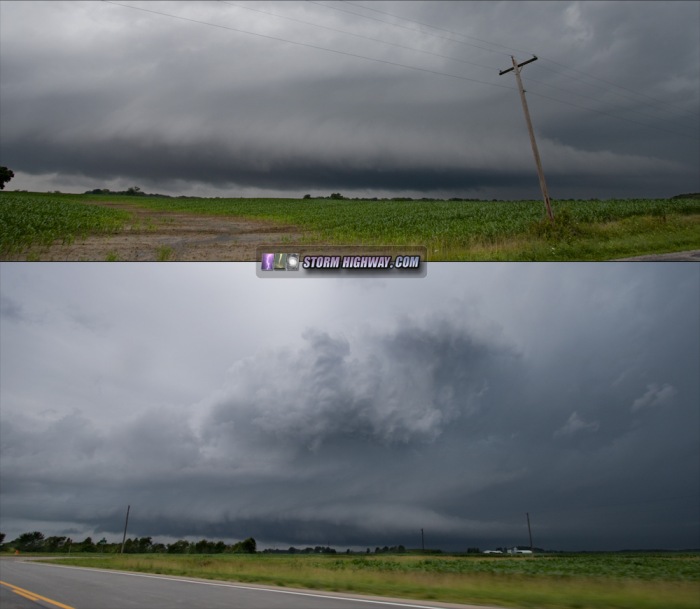 June 19: Flooding at home, tornado at Enfield from Tropical Storm Bill remnants
Friday the 19th was an action-packed day thanks to Tropical Storm Bill's remnants moving through southern Illinois. The chase began at mid-morning with coverage of flooding at home, with many roads underwater around Lebanon, Mascoutah and New Baden. After I finished with the flooding, I headed east to southeast Illinois where instability had developed in the eastern half of the TS circulation - a prime environment for tornadoes. Many tornadoes occured with this event, and I managed to catch a fairly long-lived but weak tornado from south of Enfield to near Springerton, south of I-64 east of Mount Vernon. The tornado was mainly non-condensed except for when it encountered groves of trees, where the wind resistance caused a pressure drop enough for condensation fingers to reach the ground. The RFD was quite strong, carving out a very distinct cylindrical meso and pushing a gust front well to the east.

VIDEO: Flooding at Mascoutah, IL
VIDEO: Tornado at Enfield, IL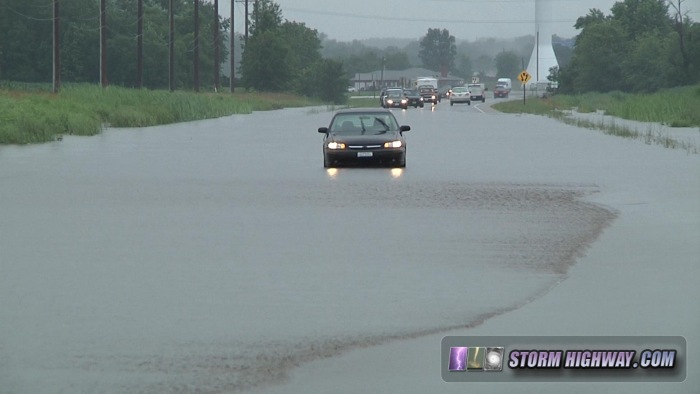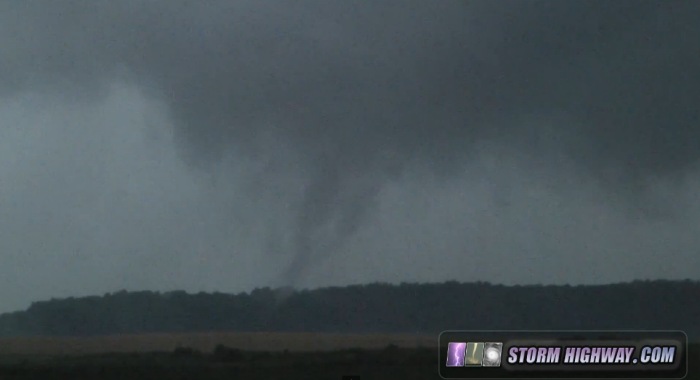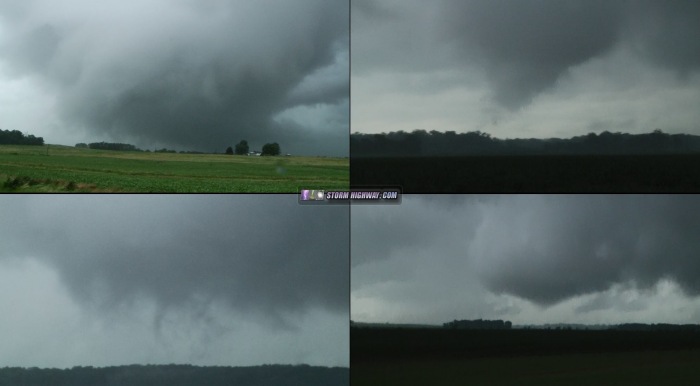 June 20: Lightning bust expedition to Delavan, IL
I decided not to pursue the tornado setup in Iowa this day, which would have required a 6-hour plus drive to get into position. Instead, I made it a nighttime lightning photography trip, heading up to meet the bow echo north of Lincoln, IL. When the storm got to within visual range, I could see the lightning was very infrequent with very few visible cloud-to-ground bolts. So, I turned around and headed home early, staying just ahead of the gust front all the way. The only two images I captured this day were of the anvil of the storms while they were still in Iowa, and the sculpted gust front at Marine, IL.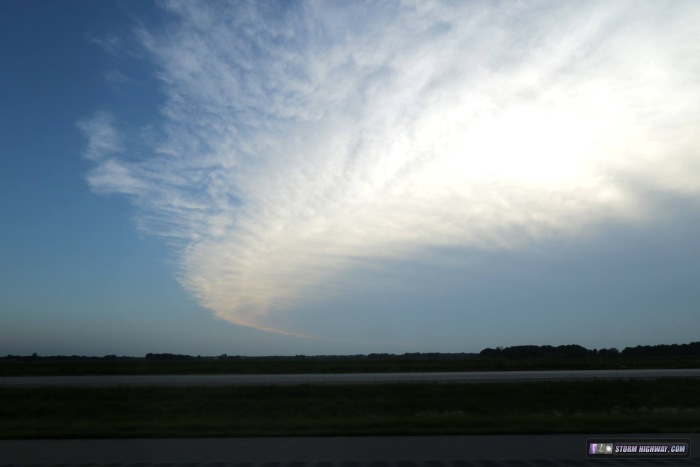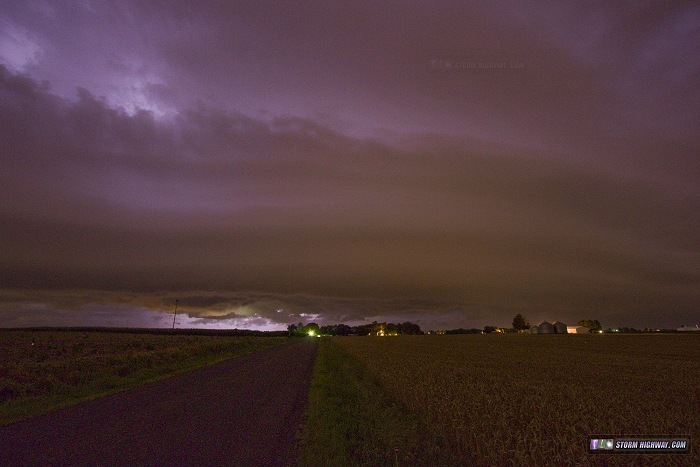 June 21: Southern Illinois severe storms
This was a low-expectations expedition, but 2500-3000j/kg surface based CAPE, a boundary intersection and about 25-30 knots of midlevel flow meant there was a chance for a classic Illinois "sleeper" tornado. I started at an outflow boundary intersection setting up right at home, and followed the developing cumulus field east until a storm finally fired at New Memphis. This moved east-northeast away from the primary outflow boundary, so I dropped southeast to catch new storms going up on the boundary at Pinckneyville (top left image below). I caught this storm near Thomasville, following it to Harrisburg (top right image below). It was staying strongly outflow dominant, so I left it and headed back toward home. I caught up with a new storm at Woodlawn (bottom left image below), following it to near Mount Vernon (bottom right image below). It too was all outlfow at the surface, so I let it go at Mount Vernon and called it a day.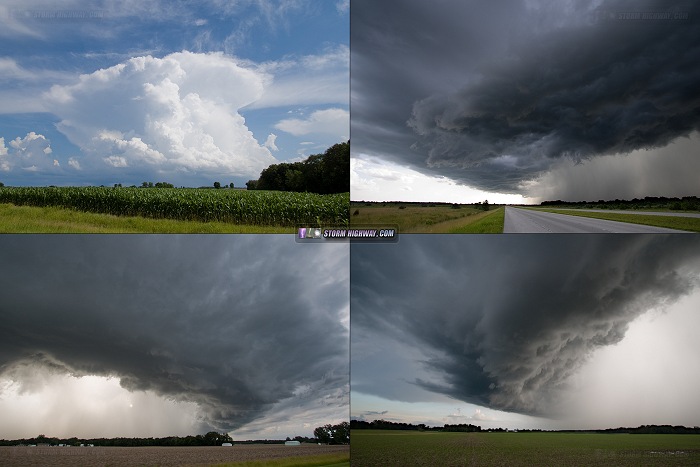 June 22: Supercell and possible tornado in Illinois near Davenport, Iowa
This was to be the "big day" in the series of setups in the Midwest. I headed up to Galesburg, Illinois and stopped for about 20 minutes to choose my target storm - either a supercell ongoing in southeast Iowa, or new storms firing up near Davenport, Iowa. I eventually chose the Davenport storm, catching it just south of the metro in Illinois, but just missing the big tornado by 15 minutes. I stayed with this storm until just after dark as it slowly lost its strength. Lightning was intense, with at least one bolt striking a wind turbine near Andover. I think a tornado may have occured near Swedona, as a rapidly spinning wall cloud lowered and produced condensation aboult halfway to ground (see the video linked below). I'm not counting this, however unless I see a better view from someone. I considered heading over to the ongoing tornadic supercell just to the east, but opted to head home due to work responsibilities and the fact that I'd likely just find a severly HP storm after dark.

VIDEO: Supercell and possible tornado at Swedona, IL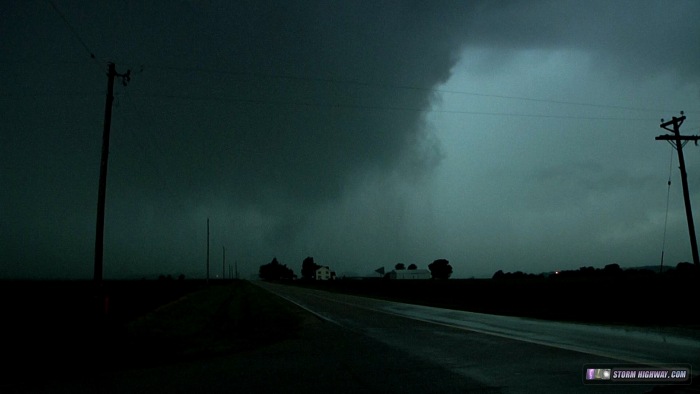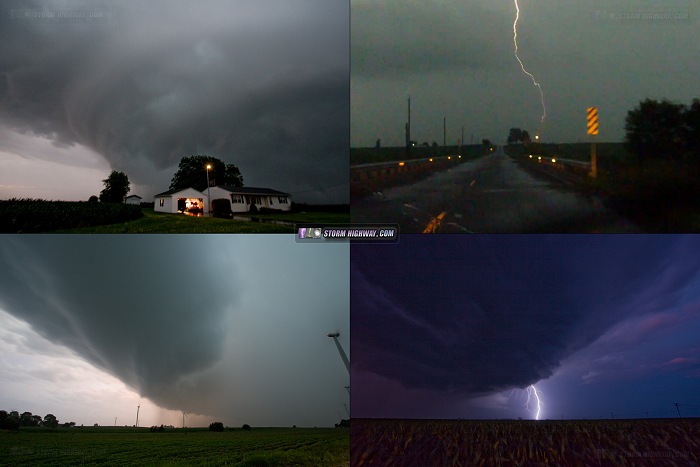 June 24: Bethalto, Illinois dying storms
An outing north of St. Louis for storms that dissipated before they arrived at my location.
June 25: Severe storms in the St. Louis metro
A supercell developed Thursday afternoon near Troy, Missouri on an outflow boundary draped across the STL metro. Despite some impressive early organization, this storm quickly transitioned linear and charged southeast across the city. I waited for the storm in Florrisant, then dropped south to downtown when it became apparent the tornado threat was all but gone. I stayed downtown for much of the afternoon and evening shooting the lightning and flooding from the first and second round of storms that moved across the metro.

VIDEO: Severe storms/flooding in St. Louis, June 25
VIDEO: Time-lapse of ominous storm clouds over the Gateway Arch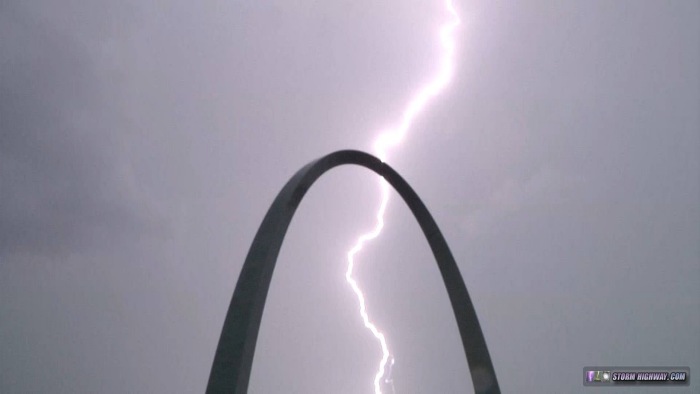 All content © Dan Robinson. All usage requires a paid license - please contact Dan for inquiries.

Web Site Design and Internet Marketing by CIS Internet