Home | Blog Index | Blog Archives | Christianity & Faith Essays
Saturday, June 27, 2015
May 24-June 7, 2015 Missouri/Illinois storm chase roundup
I'm finally getting a backlog of expedition accounts finished over the weekend. This post covers events from May 24th to June 7. (Events from June 16 to June 25 are covered in this post from yesterday.)
May 24: Missouri/Illinois supercells
I was hoping to play the warm front this day, but it was lifting too far north, too fast - all the way up into far northern IL by late afternoon. Just too far to go for me when a supercell environment also existed in my backyard. Instead, I followed a storm through the surface-based CAPE max from Montgomery City, MO (NE of Jefferson City) to near Bluffs, IL (west of Jacksonville). The storm had a nice rain-free base at Montgomery City (top left image below), with a brief attempt at a wall cloud. The storm cycled a few times with RFD/outflow undercutting, then finally ramped up in intensity and structure rapidly at Bowling Green, becoming tornado-warned (top right image below).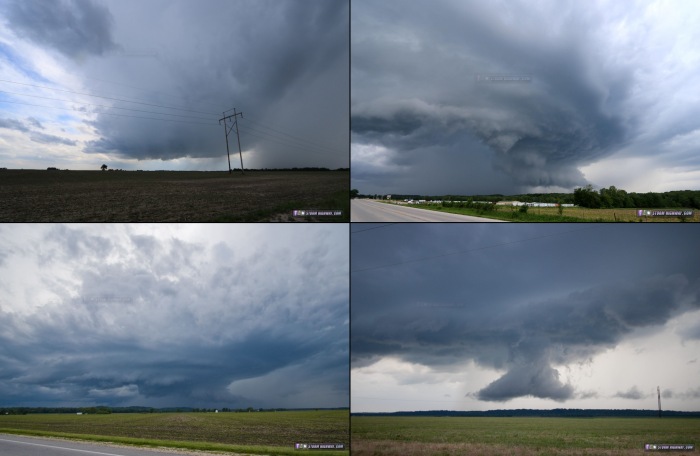 There is only one river crossing for dozens of miles here, so I could not go north into the notch to get a better look at this. I opted instead to cross the river into IL and hope to get into the notch there. The storm, however, weakened rapidly as it crossed the river, becoming hopelessly outflow-dominant. The image at bottom left (above) shows my view as it was crossing the river at Louisiana. A second storm trailed the first, but was also outflow dominant. Storm speeds were thankfully around 30-35mph, making it easy to stay with things. I got back out ahead of the southern storm (still outflow dominant) on I-72 near Oxville, staying with it north for another 30 minutes in hopes it would re-establish good inflow. That never happened. This weird scud bomb at Bluffs was the only other photo-worthy subject this storm produced (bottom right image above).
I headed back south to intercept a pair of supercells moving toward the eastern STL metro after dark. I caught the lead storm's dying circulation in Fairview Heights, with the city lights illuminating some weak rotation that passed directly overhead. No power flashes. A big squall line from the south caught up to the trailing supercell before it arrived, and didn't see anything else of interest during the rest of the 20-minute drive home from Fairview Heights.
May 27: Morning shelf cloud at home
Early morning storms moved through at home this day, producing a shelf cloud at New Baden, IL.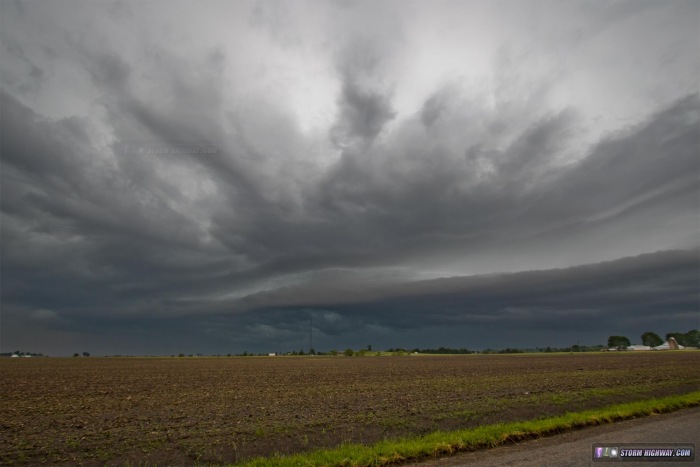 May 28: Weak storms east of St. Louis
I went into the city for storms this day. Most of the activity occurred to the east, with a couple of dense cores close to home:
May 30: Illinois MCV setup with funnels
This day, I targeted the center of the MCV, which crossed into Illinois near Red Bud and tracked north-northeast to near Decatur. A storm persisted at the MCV center for much of the day, which had its strongest radar-indicated circulation near Marissa. A new precip core developed directly in front of this feature, completely obscuring it from my view as it approached, so I could not see if anything occurred within it. The MCV convection slowly weakened as the afternoon wore on, but numerous small updrafts remained at/near the center. I stayed with this area to Carlyle. During this time, there were multiple areas of updraft/rapid rising motion that would occasionally tighten into a spin. Two of these produced brief funnels, one of which I captured near Bartelso (north of I-64).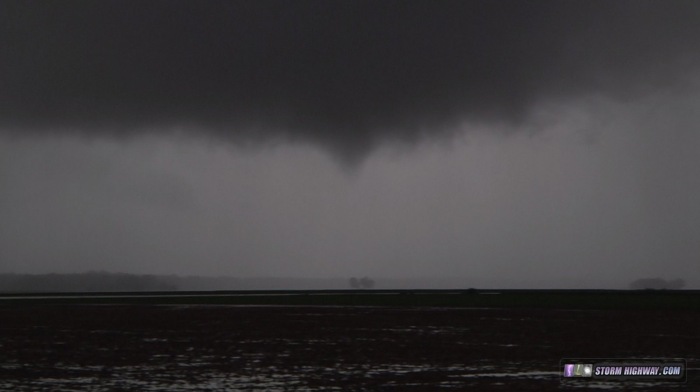 There were also areas of fog being pulled from the ground up into these updrafts, producing many tornado look-alikes. Like July 1-2 2013, the potentially tornadic areas were distinguishable from the 'fognadoes' by their motion (or lack thereof). This image shows some of these look-alikes: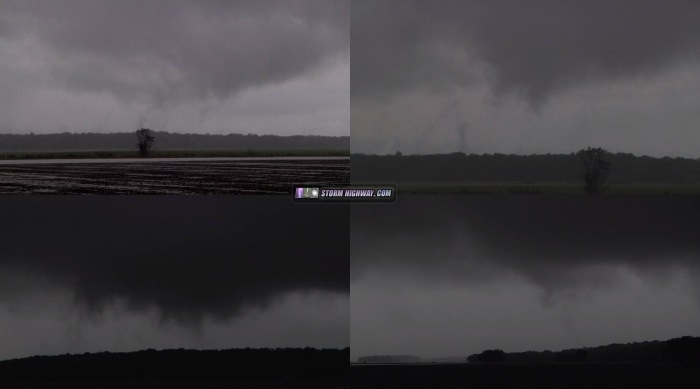 June 7: Uncooperative St. Louis storms
This was a pretty ho-hum letdown event. Strong storms were expected to move through the city after dark, but turned out to be a dud for lightning. Better storms fired to the east, which I drove just behind on my way home. Lightning was intense with these, but again, extremely uncooperative. When I finally decided to start trying to catch some through my windshield over I-64, even this lone CG I captured wasn't fully in the frame. I stopped at the Lebanon exit and tripoded the storm, but no more lightning occurred before heavy rain overspread the entire area. A frustrating night!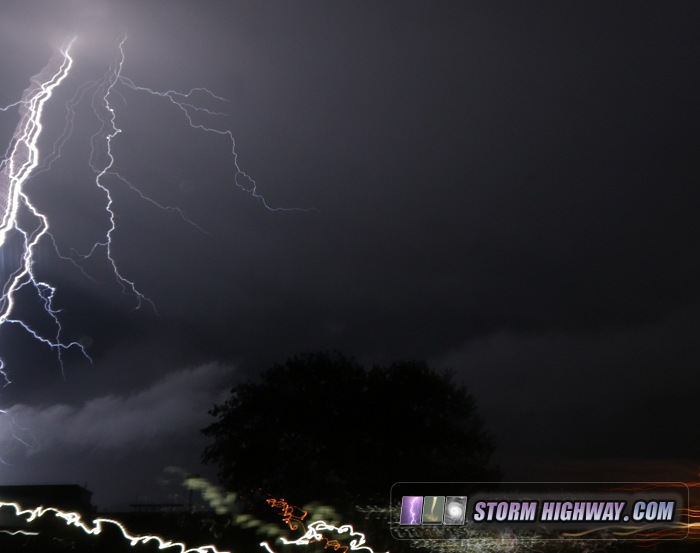 June 11: St. Louis storms
Another outing for uncooperatice storms from Florisannt to Litchfield. No photos or footage captured.
June 12: St. Louis storms
A repeat of the previous day, this time for storms from downtown to Hamel, IL. No photos or footage captured.
All content © Dan Robinson. All usage requires a paid license - please contact Dan for inquiries.

Web Site Design and Internet Marketing by CIS Internet