Home | Blog Index | Blog Archives | Christianity & Faith Essays
Saturday, September 10, 2016
September 9 Illinois supercells, close lightning and likely tornado
VIDEO: Extreme close lightning & weak tornado - Washington County, IL - Sept 9, 2016
Missing a tornado in my backyard is *always* worse than missing one hours away, I've learned. So, I'll willingly accept not seeing good tornadoes 3 hours away from home (nearly at the Indiana border east of Champaign) on Friday. Supercells and a couple of tornadoes looked like a good bet right in my backyard along I-64 east of St. Louis, so I didn't feel a strong urge to drive up to I-70 and beyond to stay with the outflow/MCV that held much better potential. In retrospect, if I had, I would have almost certainly picked the storm tracking along I-70 that reportedly produced a brief but forgettable tornado at Casey (I can't envision a scenario that would have made me pick the Homer storm farther north). In the end, I did see a likely tornado near Irvington, great storm structure, and the closest lightning strikes I've experienced in many years.
I started out in Belleville on the first storm of the day. I followed it right past my apartment in New Baden, where a few nice RFD surges and a well-defined clear slot presented.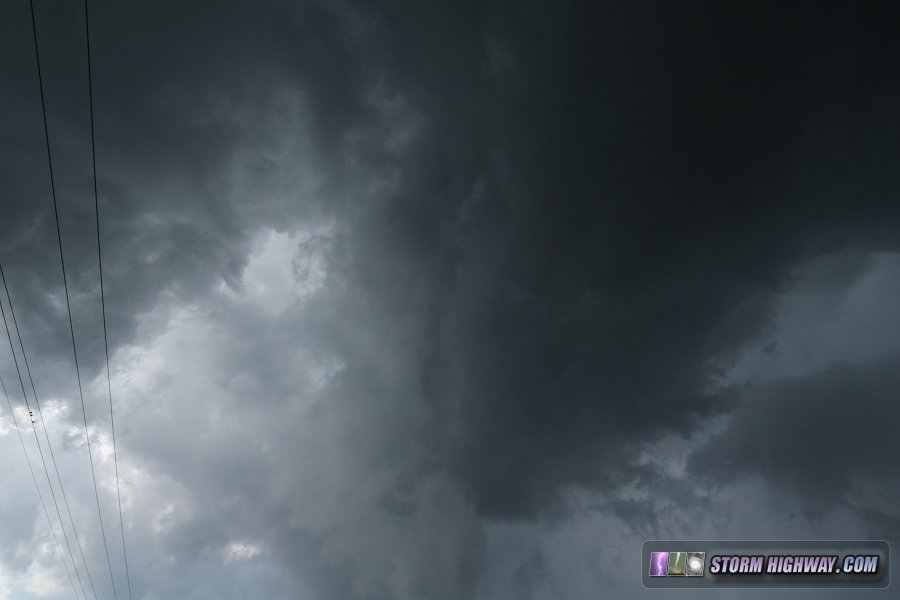 The storm looked its best at Germantown, when inflow and motion in the base was strongest: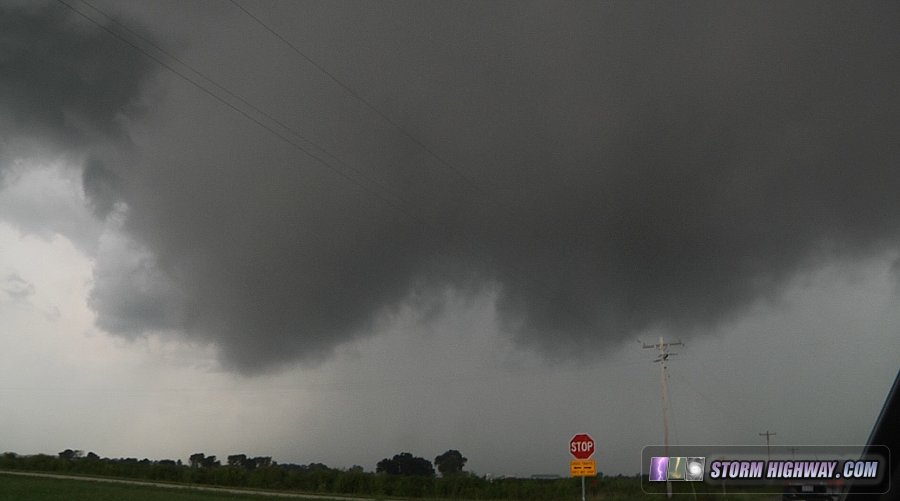 Despite dramatic structure, the storm was rapidly falling apart - with all cloud material in this shot moving outward - no surface inflow visible: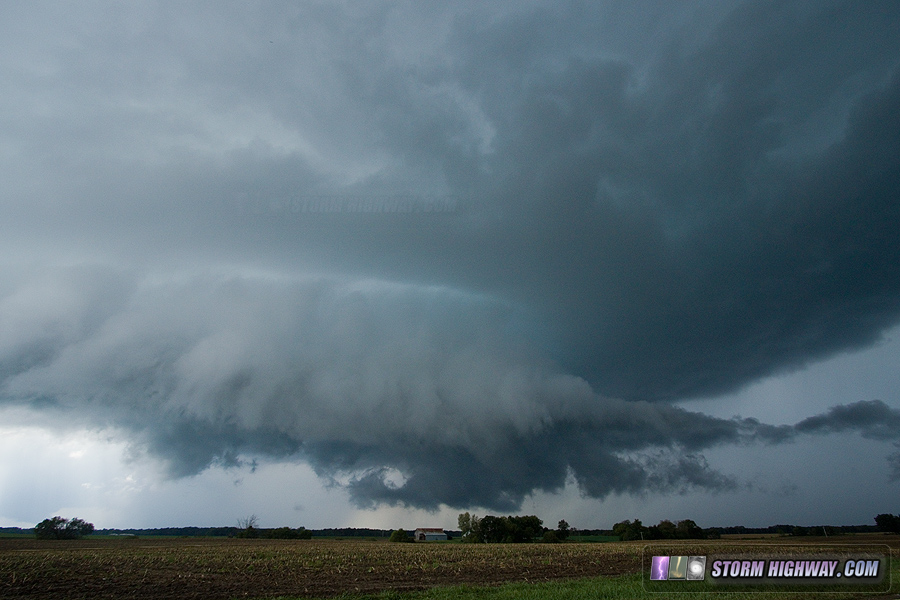 So, I bailed on this storm at Bartelso and headed to the next storm to the west - which was looking much better. As it moved closer, the barrage of cloud-to-ground lightning was intense, as many supercells in the Midwest in mid-to-late summer tend to be. I had two strikes hit within a few hundred feet, with instantaneous blasts of thunder. Both were right outside my *open* driver's side window, so my left ear got the full intensity of these shock waves. After the second one, my ears rang for 15 minutes, and I instantly had a headache that lasted the rest of the day. I have experienced close lightning strikes' thunder giving me headaches at least two times in the past that I can remember.
I captured one of these close bolts on the main video camera, but the dashcams got both (here is the video).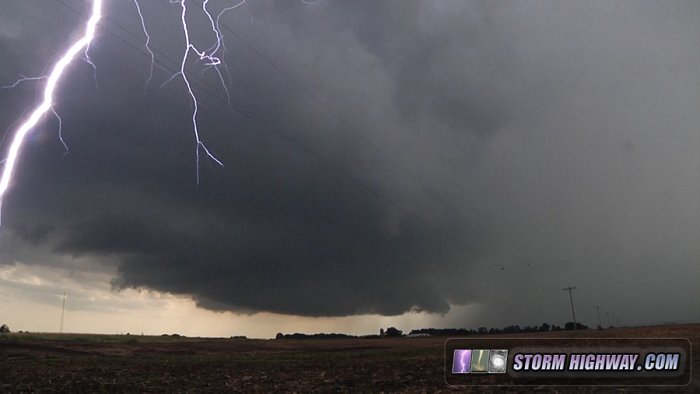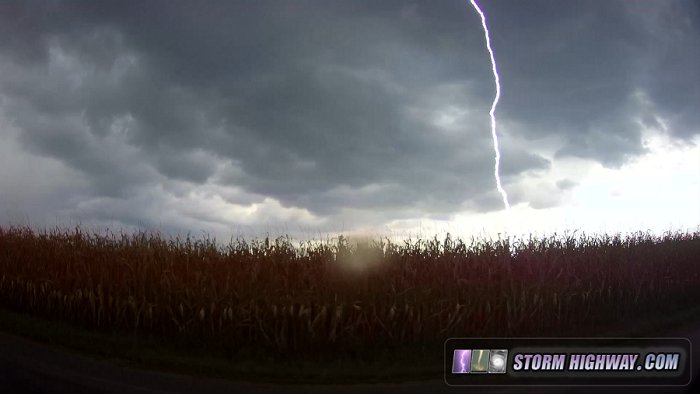 The Bartelso storm also looked its best right about this time before it too rapidly fell apart. The RFD was adequate (very well defined clear slot), but strong surface inflow could not get established. I could not visually identify any upward motion or surface inflow despite the clear slot: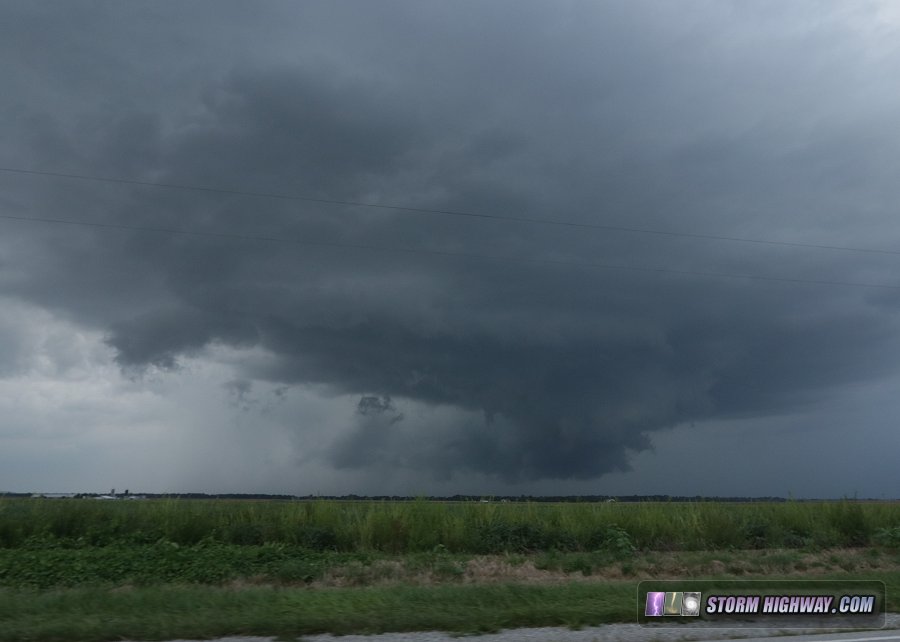 Once again, I dropped to the next storm to the southwest. It looked more linear than supercellular on radar, but when I got to within visual range at Irvington, I could see midlevel inflow bands curving into a notch that was beginning to look interesting: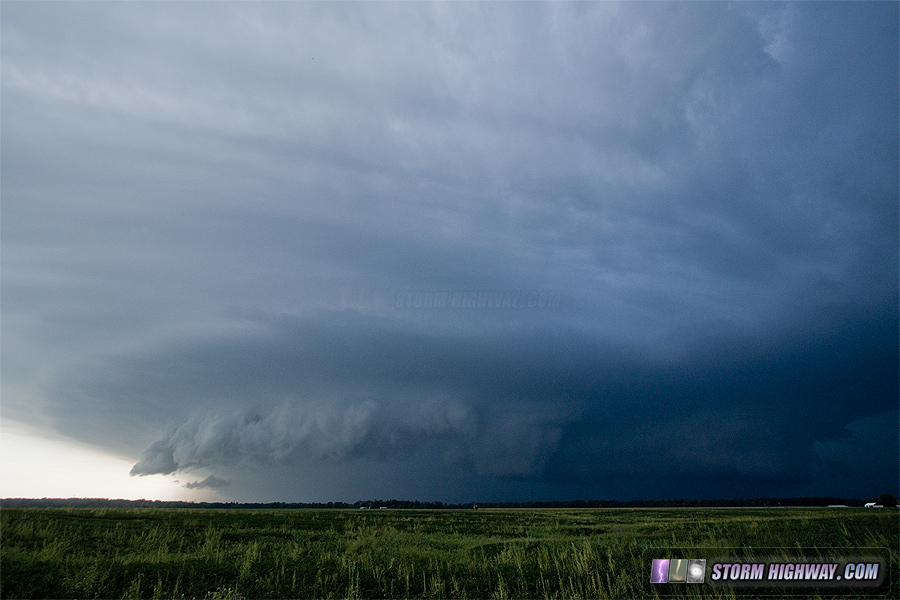 The wall cloud tightened up with clear rotation evident, and power flashes flickered below it - signalling the presence of a likely tornadic circulation at ground level:
This feature dissipated soon after, as outflow from the south and west obliterated the rotation at the surface. The storm never regained any supercellular look, so I bailed once again to the next storm in the line to the southwest at Nashville. This fourth storm was completely uninteresting, so I moved west to a fifth storm back near St. Libory. This one seemed to be trying to establish an inflow notch along/south of I-64, so I follwed it back up to Okawville. I never encountered any easterly inflow into the storm, however - everything was blasting outflow from the west. The storm however was producing frequent cloud-to-ground lightning, and my dashcams captured my third and fourth close strikes of the day. The last one hit a power pole north of Venedy about a tenth of a mile away with a visible shower of sparks (watch the video).
New thunderstorms continually developed around the St. Louis metro all night, not ending until 4AM! I tried going out a few times for more lightning photography, but the rain was too heavy and the lightning generally uncooperative.
September 7 storms in central Illinois
This was initially a Chicago lightning attempt trip, but I aborted the Chicago leg of the journey early and instead shot a timelapse of storms near Pontiac as the outflow caused the wind turbines to rotate into the shifting wind.
GO: Home | Storm Expeditions | Photography | Extreme Weather Library | Stock Footage | Blog
Featured Weather Library Article:
All content © Dan Robinson. All usage requires a paid license - please contact Dan for inquiries.

Web Site Design and Internet Marketing by CIS Internet