Home | Blog Index | Blog Archives | Christianity & Faith Essays
Monday, August 31, 2020
Storm Photography roundup for August 2020
The first two thirds of August was a fairly active and productive time for storm captures, with the most successful being the Chicago derecho trip on the 10th. Here's a roundup of weather captures and happenings for the month:
August 2: Storms in the western STL metro
Slow-moving storms stayed mostly west of the St. Louis metro this evening, but eventually crept eastward toward Chesterfield after dark. I watched these storms approach from near the Chesterfield mall, but they fizzled before arriving. No footage or stills captured.
August 9: Lightning from Godfrey to Red Bud, IL to St. Louis
Several rounds of storms produced brief but vivid lightning shows around the metro area this day. The first storm a half mile from home produced some nice bolts, one of which I managed a high speed capture: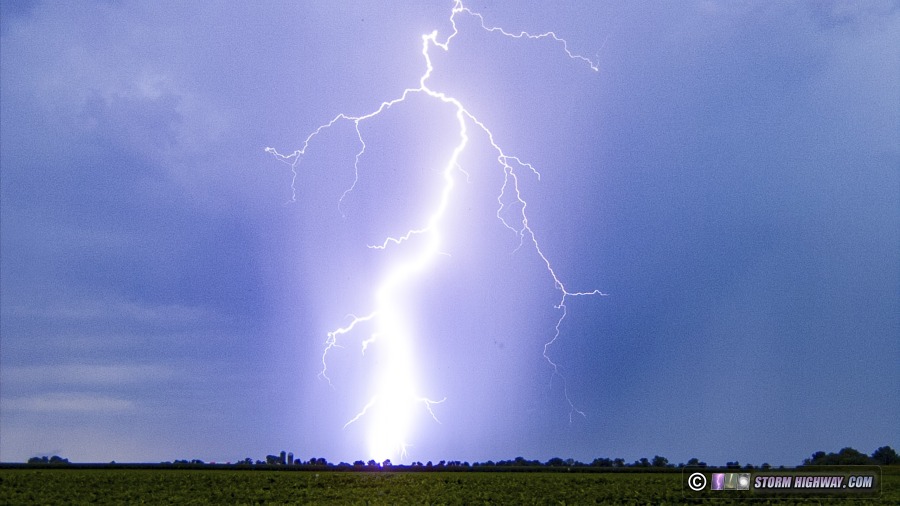 1500fps video frame
Later, a storm near Red Bud, IL developed near sunset and produced numerous bolts-from-the-blue as I drove toward it. The storm developed a supercell look on radar, but was very high based. As I approached, the updraft completely dried up, but had one bolt left for me after I finally got into position and had the high speed camera running on it: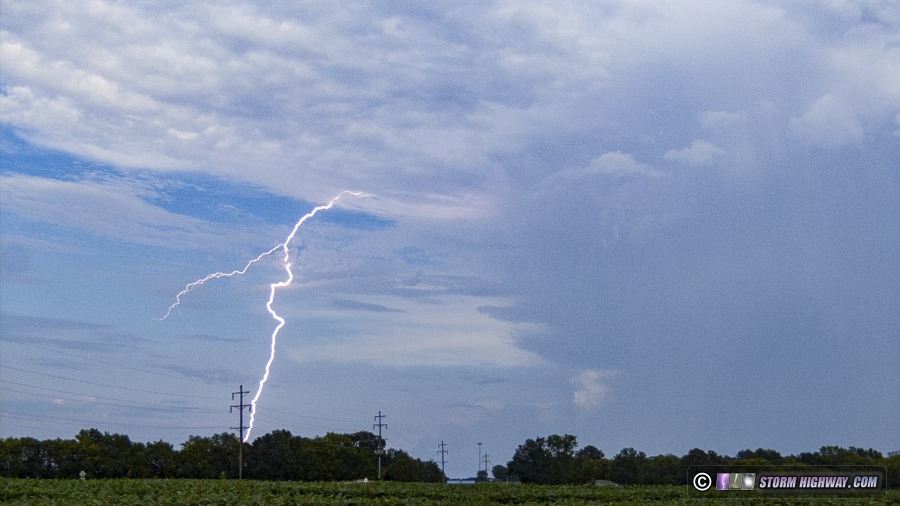 1500fps video frame
Towering cumulus signaled new development up near Alton, so I headed that way, arriving just as the storm started producing a frequent and vivid burst of lightning just as the Red Bud storm did. I was too close to capture the bolts from the blue the storm was certainly producing, but I did manage a couple of relatively close bolts on high speed video at Godfrey: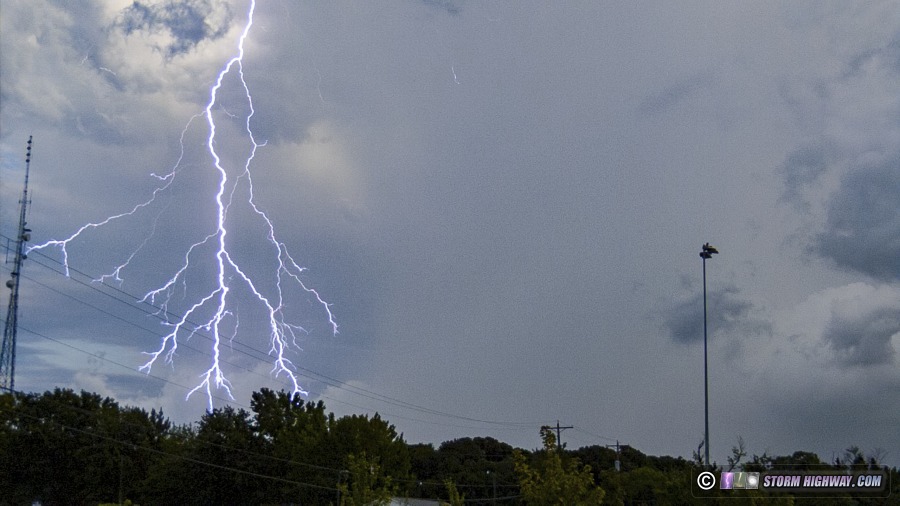 1500fps video frame
After a long break, a new round of storms developed after midnight west of the metro and moved southeast over the city. The lightning in the cores was not very impressive, but a decent trailing electrified stratiform region produced at least nine vivid upward flashes at the Shrewsbury towers. I shot both stills and high speed video here. The first one shown here consisted of a four-channel flash to all 3 Shrewsbury towers as well as the freestanding tower at Hanley and Manchester in Maplewood (the tower is out of the pucture at lower right):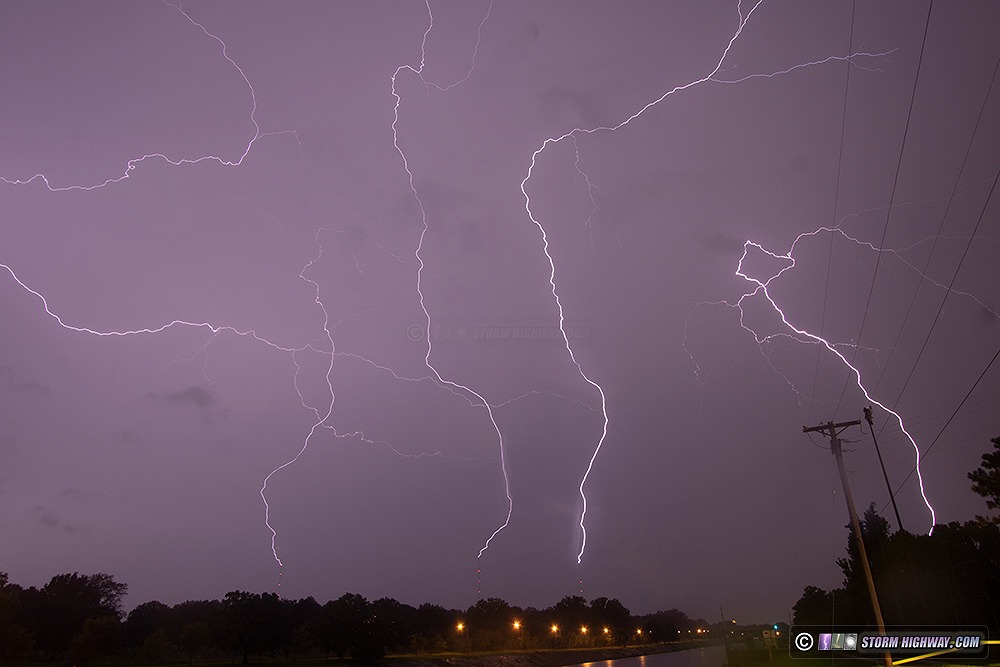 DSLR still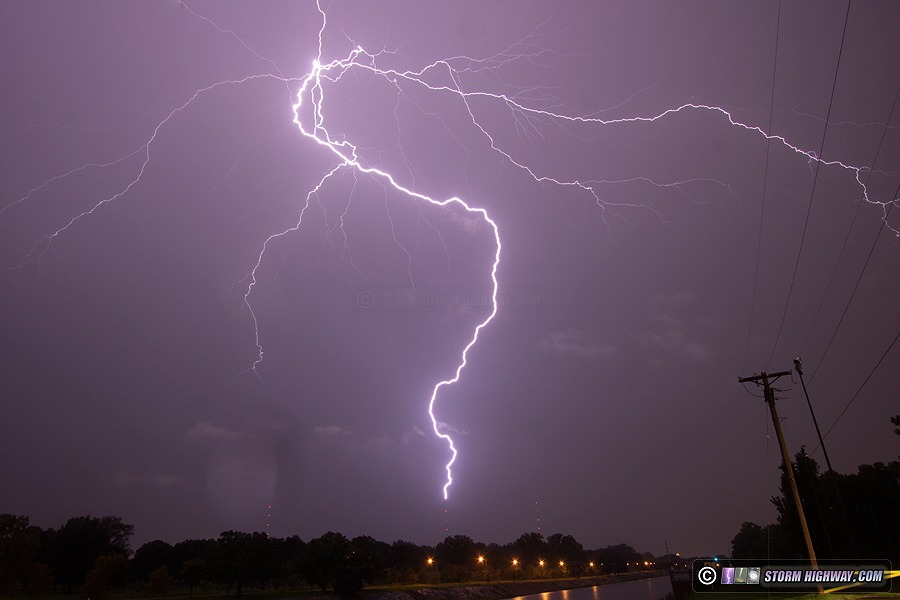 DSLR still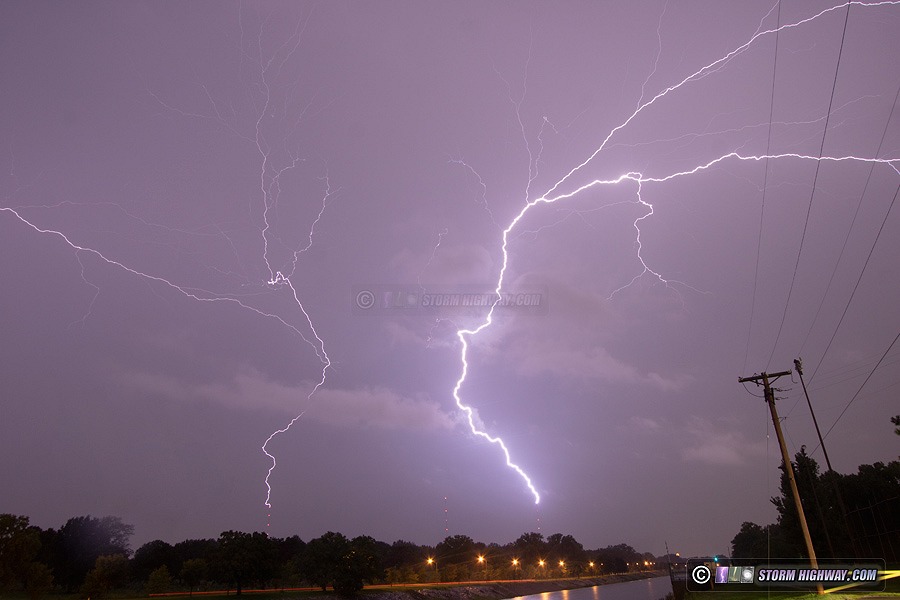 DSLR still
The significant Midwest derecho on August 10 prompted my first trip outside of the St. Louis area in 5 months. After 9 failed expeditions to Chicago last year for this subject, this year's first trip (and only one so far) was a success. There were at least 13 upward lightning flash events to the skyscrapers, with four separate instances of triple simultaneous building strikes (Sears, Trump, Hancock).
I focused on shooting high-speed video of this event, which can be viewed below.
August 12: St. Louis Metro-East flooding
Strong slow-moving thunderstorms developed during the morning, producing significant flooding just a couple of miles west of home. Scott Air Force Base recorded almost 6 inches of rain during the event. Many roads were flooded, including at Mascoutah where the Highway 4 and Route 161 intersection was underwater: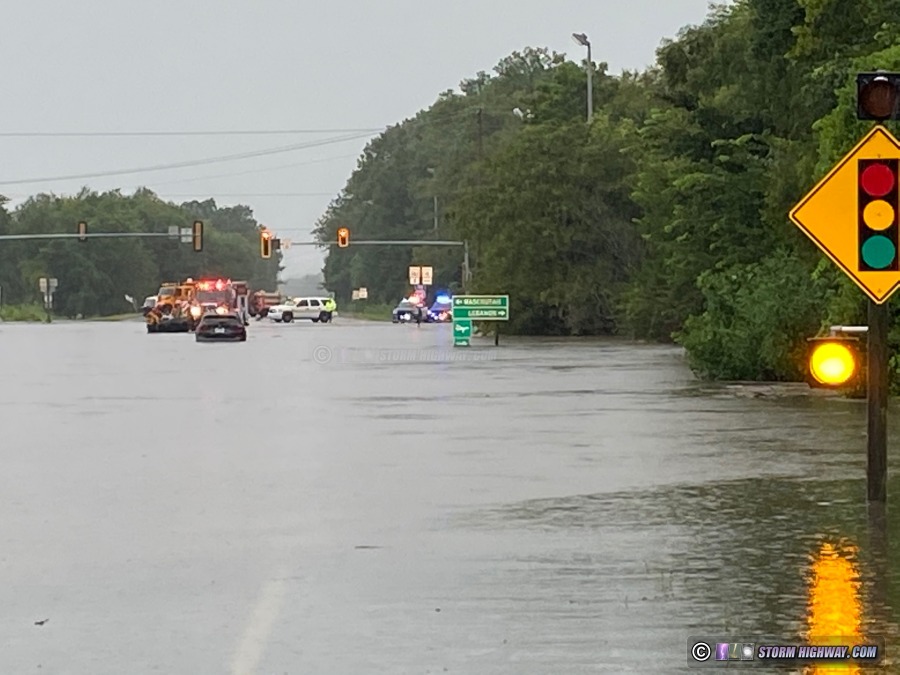 Cell phone still
August 15: Lightning in the Metro-East
I wasn't expecting much from storms firing on a weak cold front moving through the metro this night. The first storm fired south of downtown St. Louis, and I went down to Smithton, Illinois to get in front of it before it eventually fizzled. Five miles from home, new storms began firing on the front east of St. Louis right at sunset, and it was an unexpectedly nice show. First was the sunset in between two storms - one to my west over Mascoutah and another to the northwest at Troy, IL: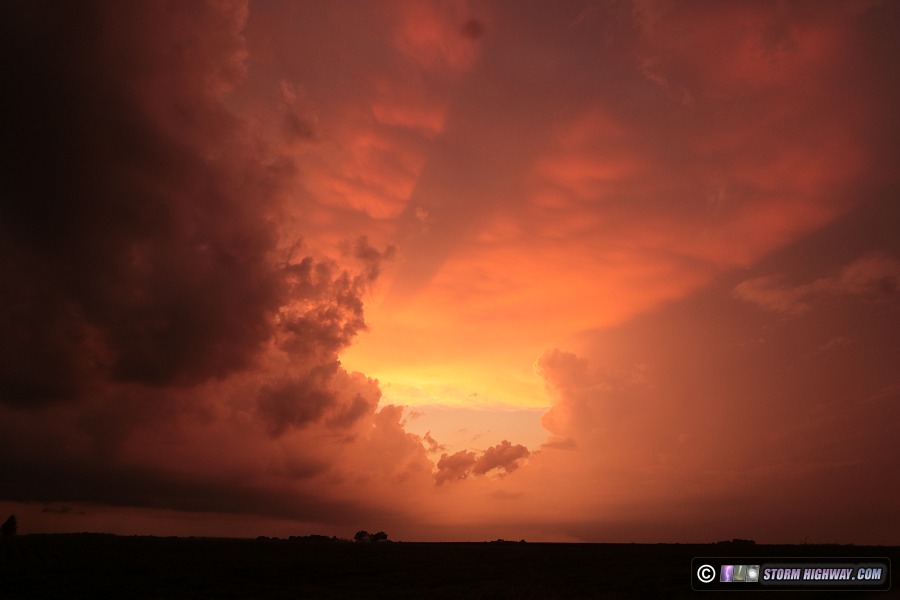 DSLR still
As daylight faded, both storms began producing vivid cloud-to-ground bolts. The northern storm developed a supercell structure, with frequent cloud-to-ground bolts in the vault and updraft regions of the storm. I shot both stills and high speed video here.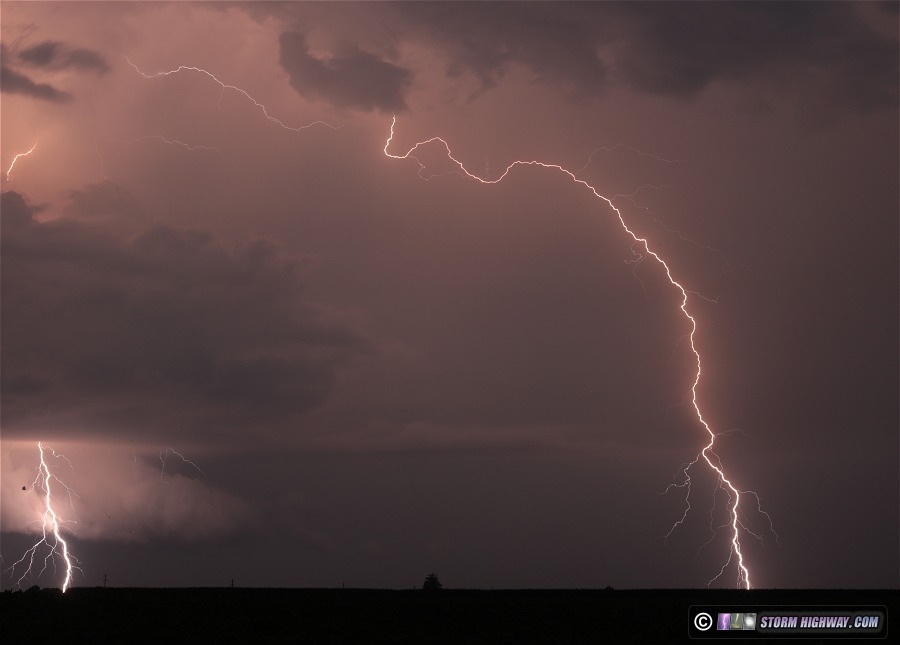 DSLR still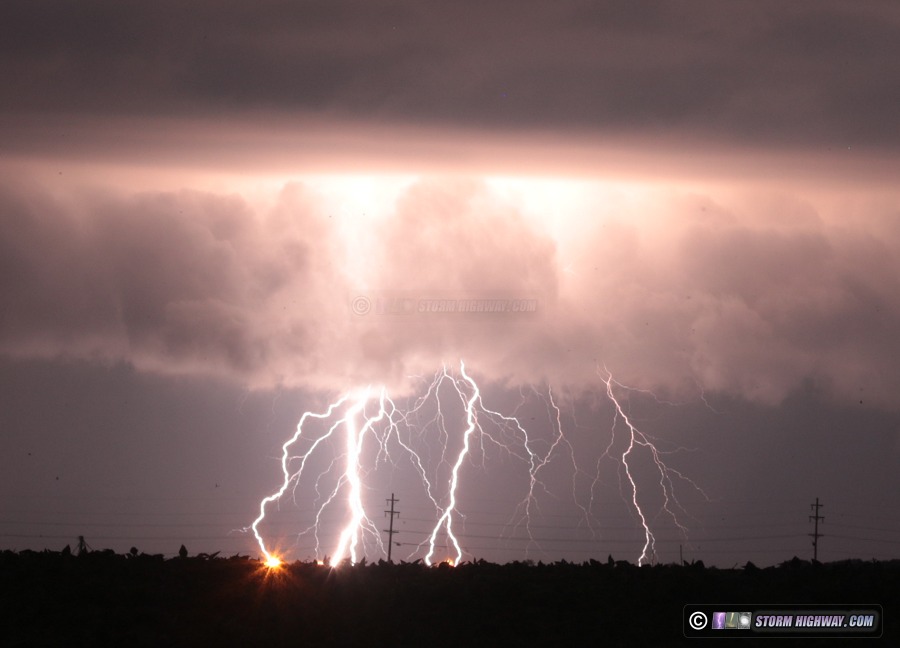 DSLR still
August 17: Downtown St. Louis sunset rainbow
A partial rainbow developed over the Arch this evening as a small rain shower passed over downtown right at sunset.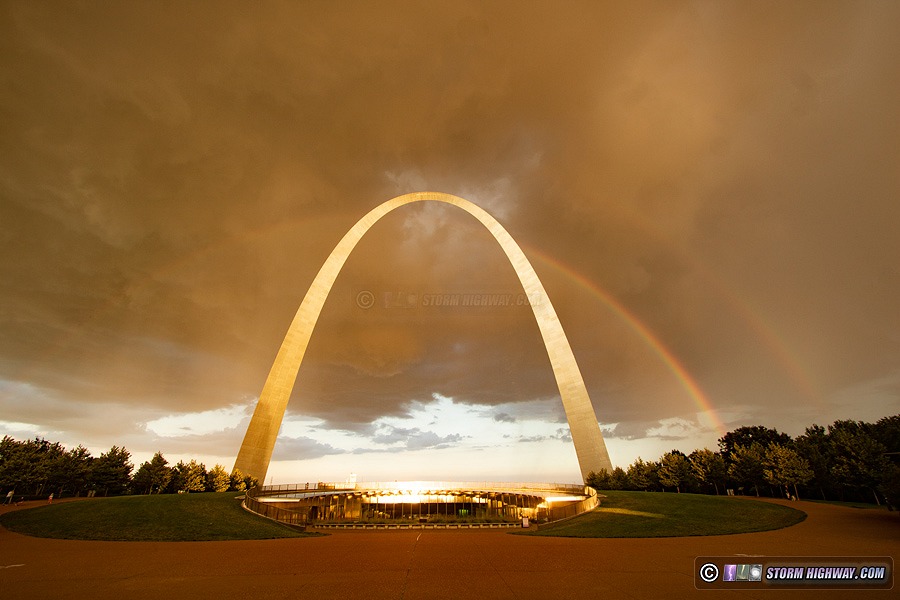 DSLR still
Hurricane Laura no-go
I was on standby for a Hurricane Laura intercept expedition, but ultimately chose to stay home due to the nighttime landfall and ongoing long-distance travel complications from the pandemic.
August 31: Storms miss St. Louis to the south
Storms developed in central Missouri in the morning and just missed the St. Louis metro area to the west and south during the early afternoon. I drove down to Hillsboro, MO to attempt upward lightning shots at a 1,300-foot broadcast tower located there, but I couldn't find a suitable view in the forested and hilly terrain.
That's it for August 2020 adventures! September could be a busy month, so stay tuned.
This web site is made possible by support from CIS Internet.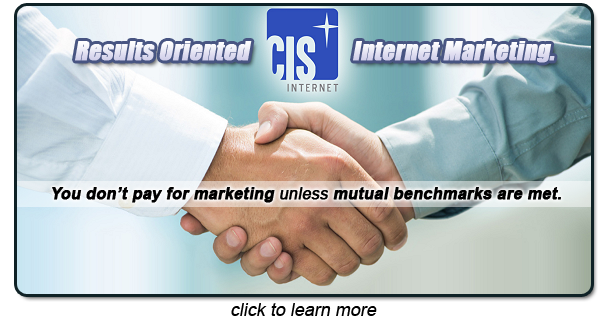 GO: Home | Storm Expeditions | Photography | Extreme Weather Library | Stock Footage | Blog
Featured Weather Library Article:
All content © Dan Robinson. All usage requires a paid license - please contact Dan for inquiries.

Web Site Design and Internet Marketing by CIS Internet