Home | Blog Index | Blog Archives | Christianity & Faith Essays
Thursday, March 5, 2020
Storm observing roundup: December 2019 to March 2, 2020
I'm way behind on my blog updates, but after this post you'll understand why. It's been incredibly busy on the winter weather front and I've taken on additional hours at two of my main day jobs, leaving very little true days off to work on blog posts. Unfortunately I've been on quite a "losing streak" for good footage captures despite working hard on covering numerous winter weather events, including several long-distance trips this winter. This blog post will cover the period beginning on December 14. (This blog post covers the previous observing period up to December 11.)
December 14: Freezing fog/rain around STL metro east
Freezing fog and freezing rain threatened to ice bridges around the STL metro-east early on this morning. I went out for a few hours after midnight from Lebanon to Okawville monitoring road conditions, but found no bridge icing. Ended the coverage after temperatures warmed above freezing post-sunrise.
December 15-16: St. Louis snowstorm
Some parts of the metro received over 6 inches of snow from what has been our biggest storm so far this winter (at least through early March). This event was really two storms in one. The first occurred overnight, during which I captured a clip of a car losing control on I-70 in St. Charles:
Later the next day, the more significant round of snow impacted the metro. I captured some interesting action on I-55 south in South County as vehicles struggled in the deep snow on the interstate:
January 1: Icy roads in Pittsburgh
An icy road event impacted Pittsburgh while I was visiting family over the holidays. I started the first hours of the new year covering this in the Carnegie area, but capturing no footage.
January 9: Thunderstorms east of St. Louis
I went down to Marissa to shoot some thunderstorms moving in from the southwest. One of my dashcams captured a close bolt that hit nearby:
January 10-11: Icy road trip to Kansas and Oklahoma
I went on the season's second long trip for icy road coverage, this time for a few rounds of freezing rain in the Plains. I encountered freezing rain thunderstorms near Topeka, KS and several icy road trouble spots from there down to Bartlesville, Oklahoma through the next morning, but did not capture any usable footage.
January 12: St. Louis icy roads
A short outing to monitor icy road conditions in northwestern St. Louis metro. No problems found.
January 17: St. Louis winter storm
Another big winter storm forecast for the St. Louis area, this time for freezing rain. I started out going up to Bowling Green, MO, then covered icy bridges in the Alton area where most of the bigger problems were reported. No footage captured.
January 20: Surprise clipper icy roads in STL
An unexpectedly high-impact light snow event afftected central Missouri from the Columbia area through the western St. Louis metro. I covered the event along I-44 from Sullivan, MO through Pacific. No footage captured.
January 22: Freezing rain icy bridges in Alton, IL
Another light freezing rain event iced bridges primarily on the northern side of the STL metro in Alton, IL. I started in St. Charles, ending up in Godfrey, Alton and Troy covering icy bridges. No footage captured.
January 23: St. Charles, MO snow
A short outing to monitor possible bridge icing in St. Charles, MO. No impacts found.
January 28: STL metro freezing drizzle
An all-night coverage of light freezing drizzle, mainly in the western metro. No footage captured.
January 29: St. Louis snow and icy roads
Bursts of snow created sporadic icy roads around the metro on this morning. I spent the usual 12+ hours monitoring the road conditions, but no footage was captured. The below image was a good example of bridge icing that I encountered in Bridgeton, MO.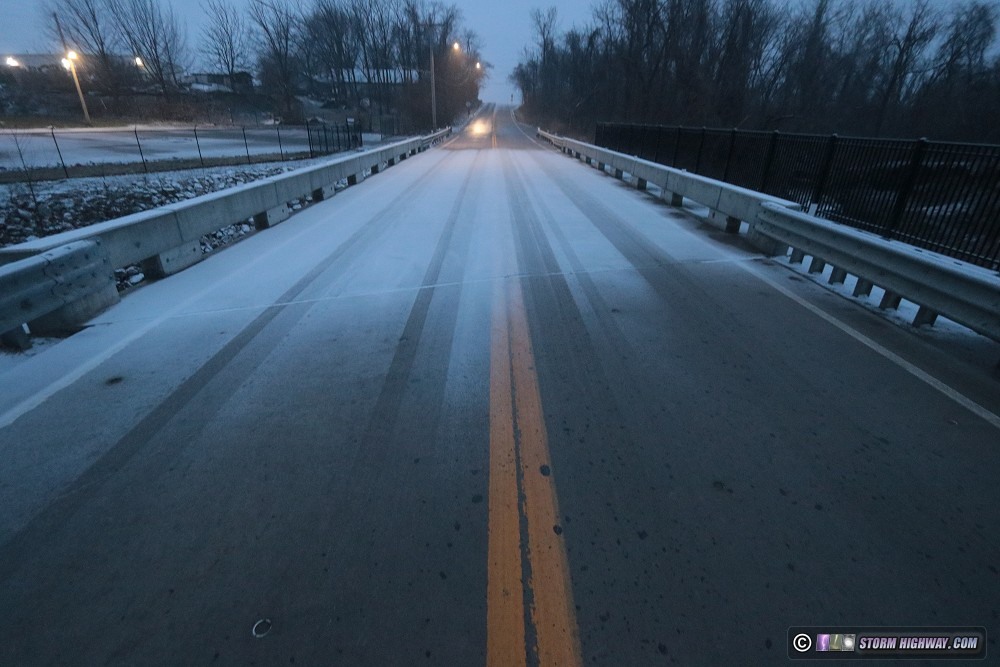 February 3-5: Oklahoma City snowstorm trip
The third long trip of the winter for icy road coverage, this a 3-day long one, took me to Oklahoma City. I started in Wichita, Kansas monitoring freezing rain as the event got going, the moved down to OKC as the heavier snow moved in. Other than a low-quality dashcam capture, no compelling footage was captured.
February 12: St. Louis snow
Borderline freezing temperatures and good treatment from MODOT made this day's light snow uneventful. I covered the event from Wentzville through St. Charles.
February 19-22: North Carolina snowstorm trip
My fourth and longest icy road trip of the season was a 4-day journey to Tarboro, NC for an unusual snow/icy bridge event. I once again struck out on footage captures, missing this incident by minutes after a 24-hour trip to get to this spot I'd located in advance: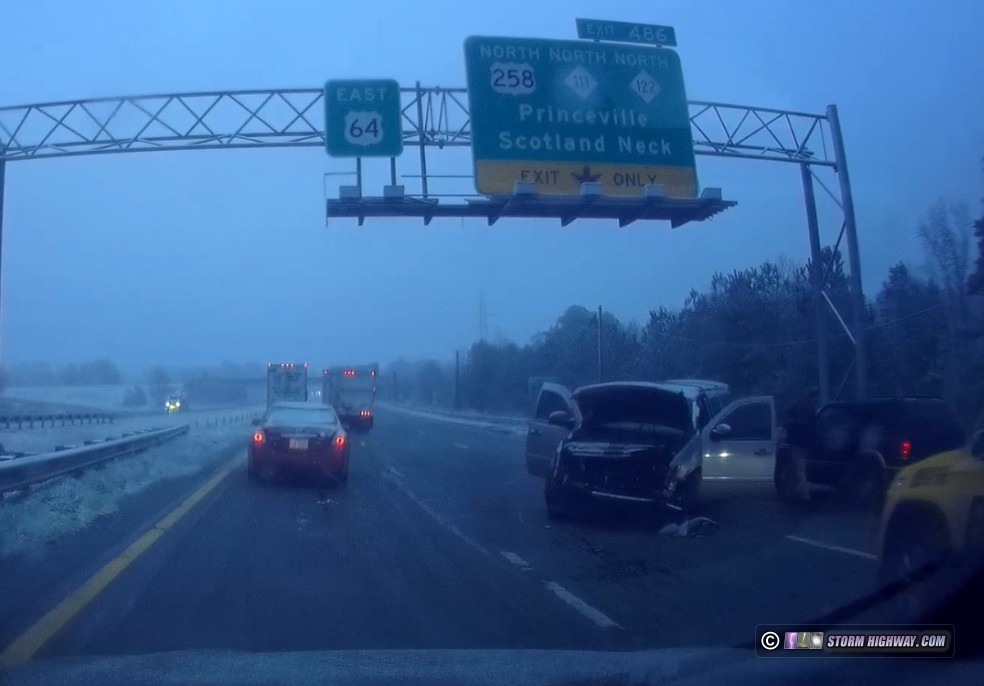 Another shot from Tarboro later that night showing a rarely-seen winter landscape: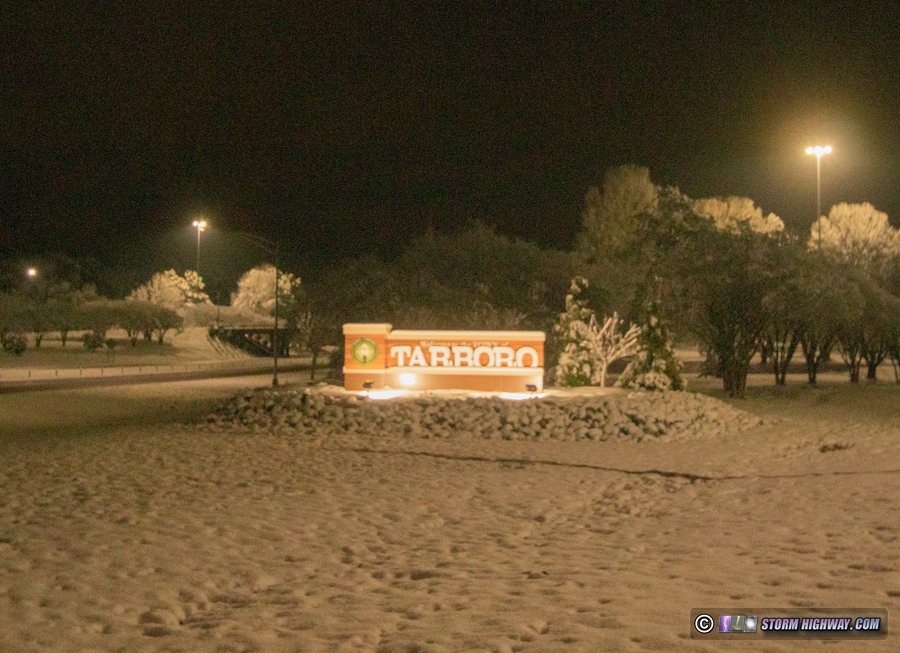 February 26: St. Louis snow
Yet another light snow event in the St. Louis metro is more impactful in the northwestern suburbs. This was another typical 12+ hour coverage effort, this time from St. Charles through St. Peters. No footage captured.
March 1: St. Louis area lightning
Meteorological spring started out with several rounds of thunderstorms in the STL metro. These storms had unexpectedly frequent and high-quality lightning, yielding several captures that were good enough for a Youtube feature. I started out downtown, where the very first shutter click of the 2020 spring storm season captured a bolt over the Arch!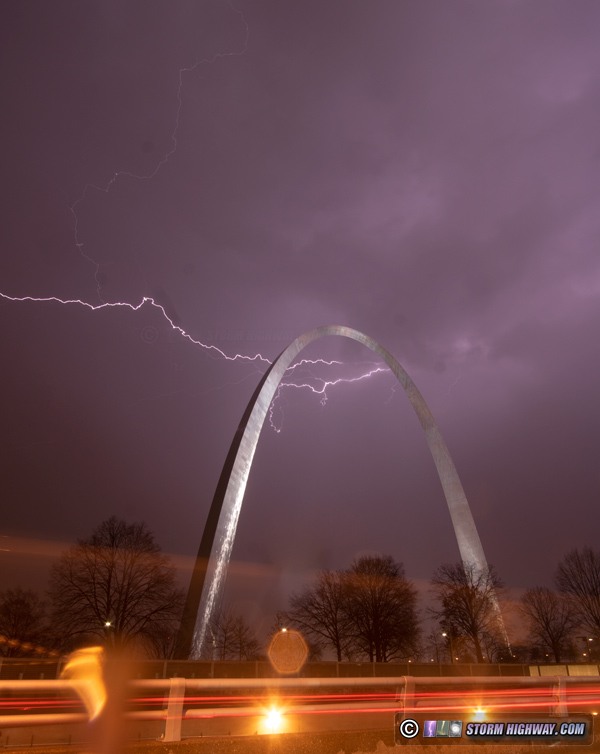 A few frames later, I captured a better one: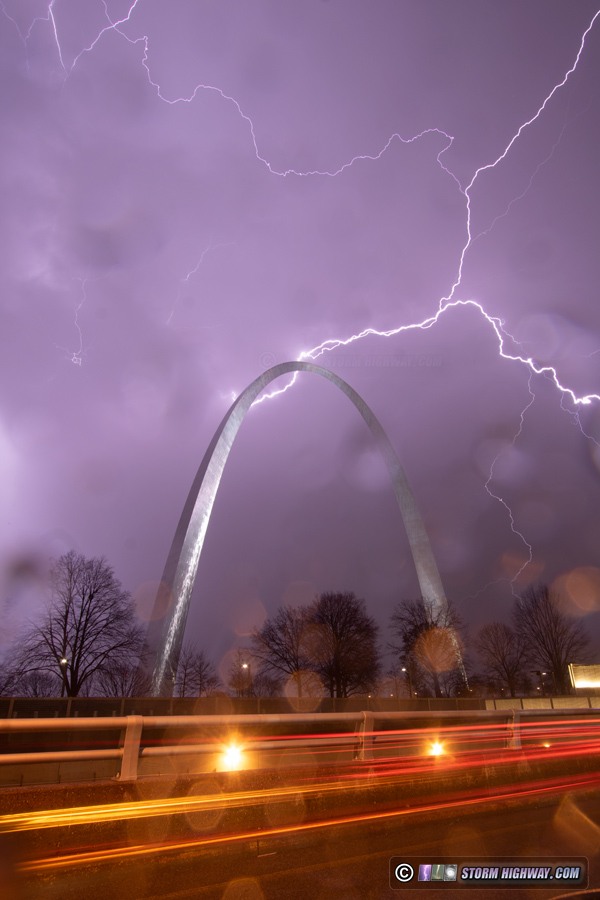 I continued the expedition east of downtown, where multiple storms put on a show. I captured several decent high-speed shots and stills, all featured in this video:
So, after a difficult and expensive winter with little to show for the effort, at least the spring storm observing season started out great!
March 2: Supercells in the Missouri bootheel region
The first real supercell/tornado chances within easy chase range of St. Louis set up on Monday the 2nd. I arrived at Sikeston, MO at around 3PM, originally intending to head west for development CAMs insisted would begin at 21z between Springfield and Poplar Bluff. However, an agitated cumulus field just west of Sikeston signalled initiation right where I was, so I held position there. This quickly developed into a supercell right over I-55 that tracked east-northeast. At Cairo, IL, the storm developed a strong RFD surge with a pronounced hook on radar. This was the view at Cairo while crossing the I-57 Mississippi River bridge, first image is to the north and second to the northeast, showing a panorama of the inflow notch from within the RFD. The lowerings visible in these views had weak motion, and were severely undercut.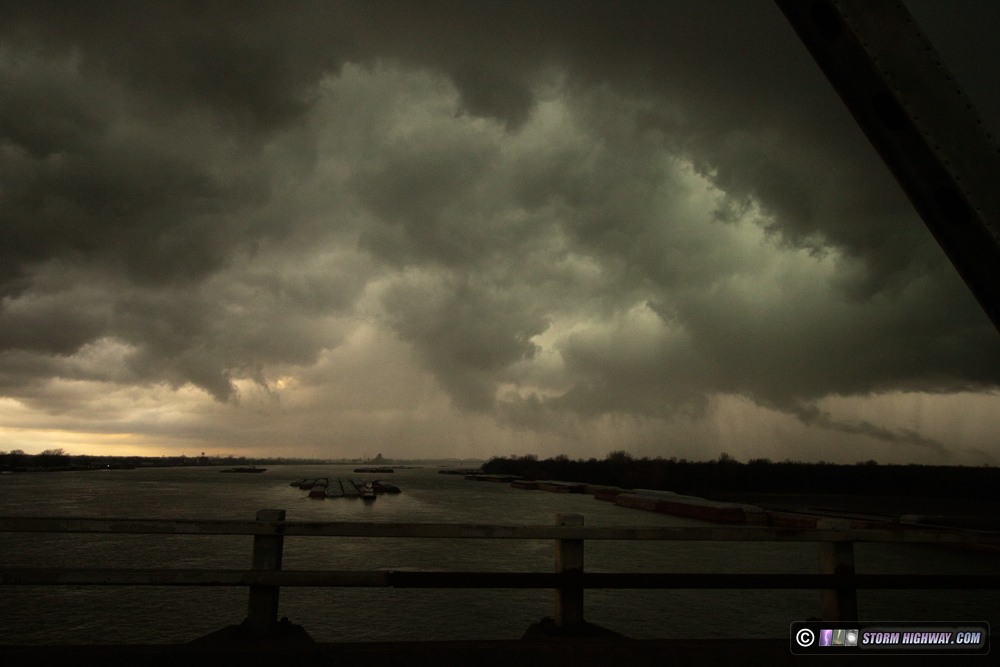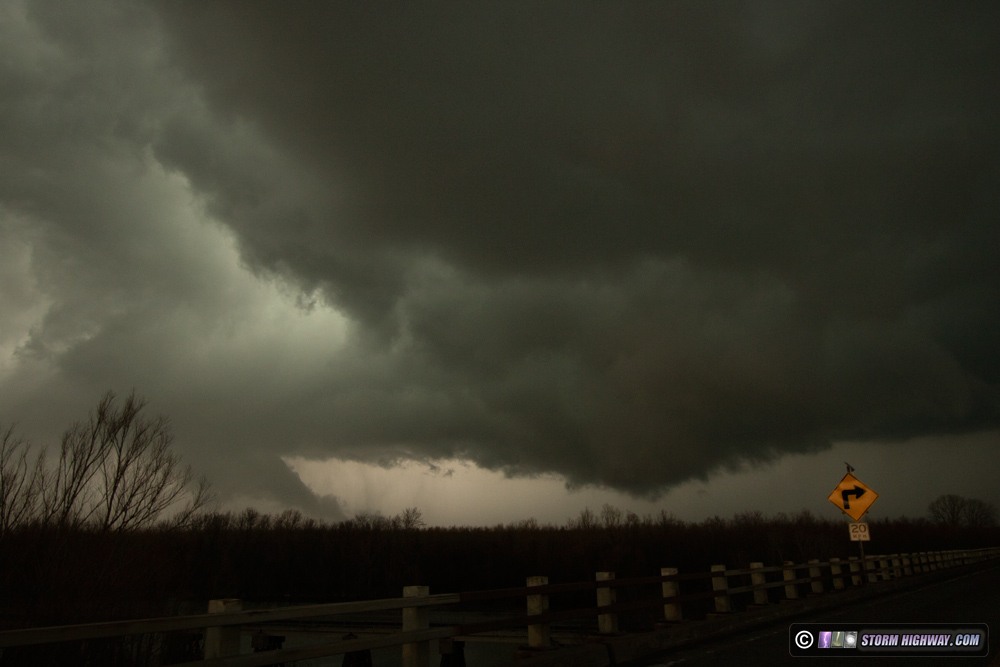 I stayed within visual range of these features to Barlow, Kentucky. With terrain and roads worsening with eastern extent, the diminishing instabilty available to the east and later development to the west in better terrain and slightly more favorable surface winds, I decided to break off and head back to Poplar Bluff.
The expected development west of Poplar Bluff did not get going until after dark, and was in nearly impossible-to-chase terrain of the Ozarks. I decided to try and see what I could on Highway 67 near Williamsville - but the horrid terrain was unworkable. I returned back through Poplar Bluff to Highway 60 to jump back ahead, accomplishing this at Bell City. A strong circulation spun up just west of there, but buried deep in the rain - I had no visual. This was repeated at Benton along I-55 with another stronger radar-indicated circulation and RFD surge.
After that string of rain-shrouded mesos and diminishing lightning quality, I broke off the expedition at Benton and headed home. I encountered a deluge of pea-sized hail north of Benton that covered the road.
With that, the blog and site are caught up with chase adventures. It's looking increasingly likely that winter is over for us here now, so we'll look forward to what the spring storm season has in store!
This web site is made possible by support from CIS Internet.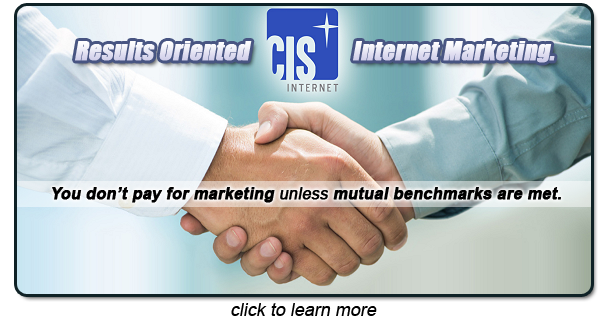 GO: Home | Storm Expeditions | Photography | Extreme Weather Library | Stock Footage | Blog
Featured Weather Library Article:
All content © Dan Robinson. All usage requires a paid license - please contact Dan for inquiries.

Web Site Design and Internet Marketing by CIS Internet