Home | Blog Index | Blog Archives | Christianity & Faith Essays
Sunday, May 31, 2020
Storm Photography roundup for Spring 2020: The "Shelter-in-Place" season
So, it's been an interesting storm season, one like no other I've experienced since I started in 1993.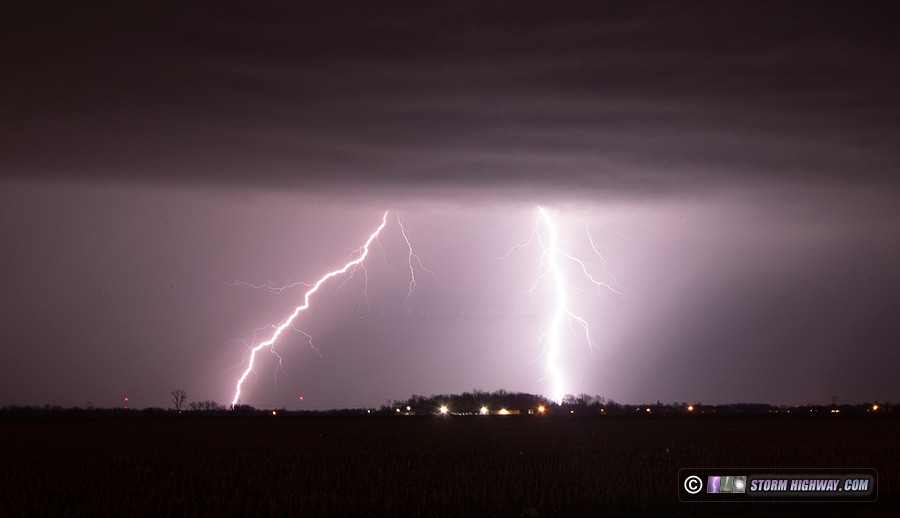 In a dark season, the bright spots are reason to be thankful.
As far as this spring is concerned, the central US severe weather season peak has come and gone. This year's tornado season in the Great Plains was one of the quietest since 2006, with most of the central Plains region nearly shut out from activity. And this was perfectly fitting for the time when the nation was bracing for whatever the COVID-19 pandemic would bring. It's as if the atmosphere did what the travel bans and quarantine orders could not.
Illinois was one of the first states to institute a non-essential travel ban, with Governor Pritzker enacting the order on March 23. From then until the stay-at-home order ended on May 29, I was limited to the St. Louis metro area for any storm photography activities. The Illinois shelter-in-place order included a provision for residents to go out locally for outdoor recreation, so I was at least still able to go out and watch storms in the St. Louis metro area. But anything beyond that was out of play for me, including tornadoes I could have easily seen on March 28 near Galesburg. I used less than 2 tanks of gas total on storms during that entire period. Despite what you may have seen posted about me on social media, I did not go outside of the St. Louis metro from March 12 (11 days before the first stay-at-home orders) until August 10, and not once did I break the Illinois shelter-in-place order. For anyone that wants to challenge that, I'd be happy to go on a podcast and go through everything with you - contact me here.
Despite being shut down for any travel during the whole Plains spring season, I've had a few decent events here in the St. Louis metro area. For that I'm thankful, as I could easily be at zero for storm captures given the quiet patterns and the travel bans. Most of my outings have been to Malcolm W. Martin Memorial Park in East St. Louis (right across the river from the Arch) and the prairie roads around my home town. Like last year, I've focused primarly on shooting high speed lightning video.
This is the complete summary of all of my storm outings this spring:
March 1: St. Louis area lightning
Meteorological spring started out with several rounds of thunderstorms in the STL metro. These storms had unexpectedly frequent and high-quality lightning, yielding several captures that were good enough for a Youtube feature. I started out downtown, where the very first shutter click of the 2020 spring storm season captured a bolt over the Arch!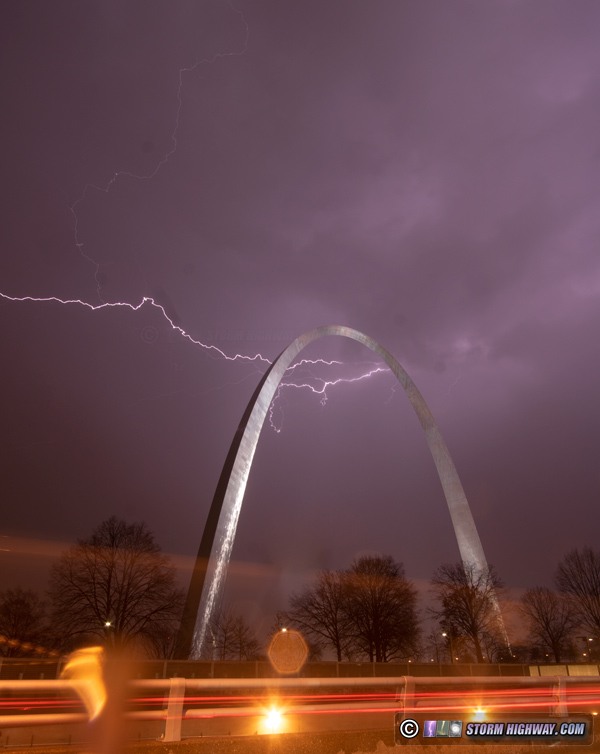 A few frames later, I captured a better one: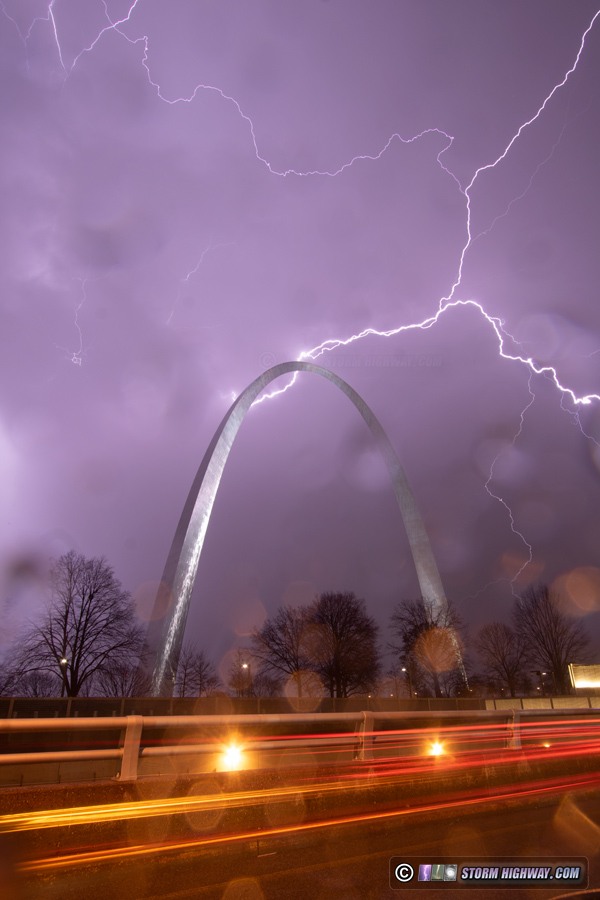 I continued the expedition east of downtown, where multiple storms put on a show. I captured several decent high-speed shots and stills, all featured in this video:
So, after a difficult and expensive winter with little to show for the effort, at least the spring storm photography season started out great!
March 2: Supercells in the Missouri bootheel region
The first real supercell/tornado chances within easy intercept range of St. Louis set up on Monday the 2nd. I arrived at Sikeston, MO at around 3PM, originally intending to head west for development CAMs insisted would begin at 21z between Springfield and Poplar Bluff. However, an agitated cumulus field just west of Sikeston signalled initiation right where I was, so I held position there. This quickly developed into a supercell right over I-55 that tracked east-northeast. At Cairo, IL, the storm developed a strong RFD surge with a pronounced hook on radar. This was the view at Cairo while crossing the I-57 Mississippi River bridge, first image is to the north and second to the northeast, showing a panorama of the inflow notch from within the RFD. The lowerings visible in these views had weak motion, and were severely undercut.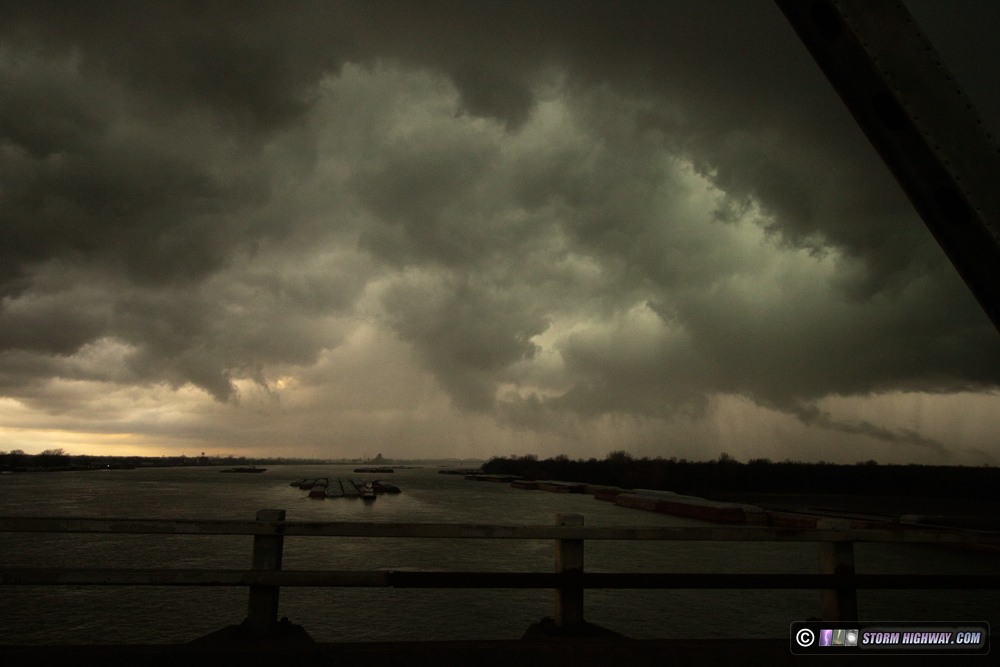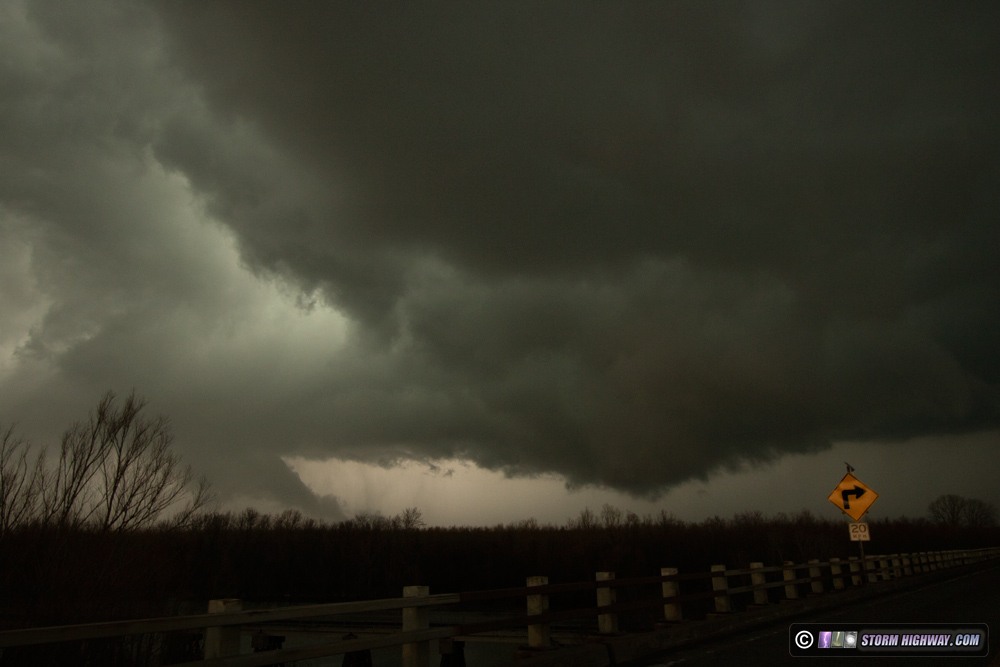 I stayed within visual range of these features to Barlow, Kentucky. With terrain and roads worsening with eastern extent, the diminishing instabilty available to the east and later development to the west in better terrain and slightly more favorable surface winds, I decided to break off and head back to Poplar Bluff.
The expected development west of Poplar Bluff did not get going until after dark, and was in nearly impossible-to-see-storms terrain of the Ozarks. I decided to try and see what I could on Highway 67 near Williamsville - but the horrid terrain was unworkable. I returned back through Poplar Bluff to Highway 60 to jump back ahead, accomplishing this at Bell City. A strong circulation spun up just west of there, but buried deep in the rain - I had no visual. This was repeated at Benton along I-55 with another stronger radar-indicated circulation and RFD surge.
After that string of rain-shrouded mesos and diminishing lightning quality, I broke off the expedition at Benton and headed home. I encountered a deluge of pea-sized hail north of Benton that covered the road.
March 12: Supercell near Poplar Bluff, MO
My last out-of-area trip before pandemic travel restrictions was on March 12. A respectable tornado/supercell environment was coming together in the Arkansas/Missouri border area through the bootheel region, in the exact same area as the March 2 event. I headed down to Poplar Bluff to intercept the storm of the day coming out of the Ozarks into the plains of the Mississippi valley. However, persistent cloud cover over the valley for most of the day limited destabilization, and the Poplar Bluff storm quickly lost its punch as it moved through town. Lightning was also lackluster, ruling out any chances for stills or high speed video. After the Poplar Bluff storm moved south of Highway 60, I started the drive back home well before dark.
March 26: Elevated supercells in the St. Louis metro
An after-dark supercell environment was in place across the metro area on this night, though storms would be elevated and well north of the surface warm front. The Illinois shelter-in-place had gone into effect on the 23rd, so this was the first event where I was limited to the immediate metro area. I positioned ahead of two storms along New Poag Road west of Edwardsville and again at Roxana, observing a downpour of one-inch-maxium hailstones.
March 28: Tornado day lost to the pandemic
This had the potential to be a significant tornado event as a classic upper system moved across the Midwest. However, early clouds and precipitation overspread the St. Louis area in the morning and never cleared out through the day, preventing destabilization and shutting me out of any chance of good storms in my home area. My only option for storms within the St. Louis area was on the west side of the metro where the back edge of the cloud deck was moving in by late afternoon. However, the clearing was too late and storms never fired within my travel-restriction range.
Had I been free to travel, I would have headed up to the Galesburg/Quad Cities area that had seen much more robust clearing. And sure enough, tornadoes occurred in that area at dusk. The STL area's hopes for good storms were obviously dashed by mid-morning, and I could have easily made it up there in time had it not been for the non-essential travel ban. Thankfully, this was the only day during this spring that the pandemic clearly cost me tornadoes.
April 24: Lightning over O'Fallon, IL
A short outing a mile away from work during a lunch break for lightning at dusk from marginal storms.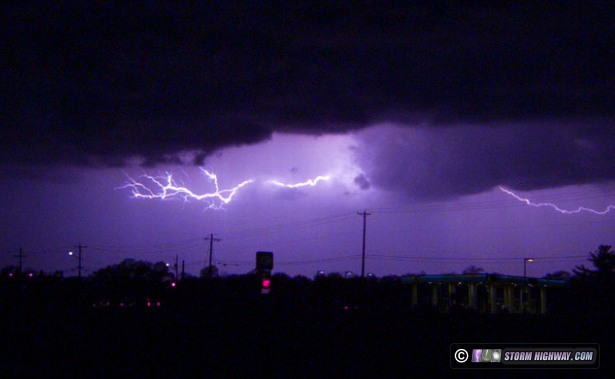 April 28: Lightning over New Baden, IL
I set up a half-mile from my apartment for some marginal lightning from weak thunderstorms moving through the St. Louis metro.
April 29: QLCS circulations in squall line, St. Louis
The gust front on a line of storms moving into St. Louis slowed, allowing the leading updrafts to overtake the boundary. This lead to several QLCS spinups along the line from Springfield, IL down through the STL metro. One of these "kinks" in the line developed just south of downtown, producing power flashes that signalled a possible tornado. The damage in this area included a roof torn off of a building, but the pattern indicated straight-line winds rather than a circulation. Later, more circulations east of town prompted tornado warnings, but no additional damage was reported. Video is below:
May 5: STL metro surprise supercells
Thunderstorms weren't even in the forecast on this day, but a subtle shortwave aloft sparked a series of surprise high-based supercell storms that moved southeast through the St. Louis metro. The storms produced prolific lightning and small hail. The first wave of convection passed through New Baden at dusk, with frequent intracloud lightning that was a little too high into the storms for good captures. My best high-speed capture of the night came from the second round of cells after dark, the easternmost one which I captured west of town. While most of the frequent lightning was once again hidden higher in the cloud, there was one good discharge on the back side of the departing storm: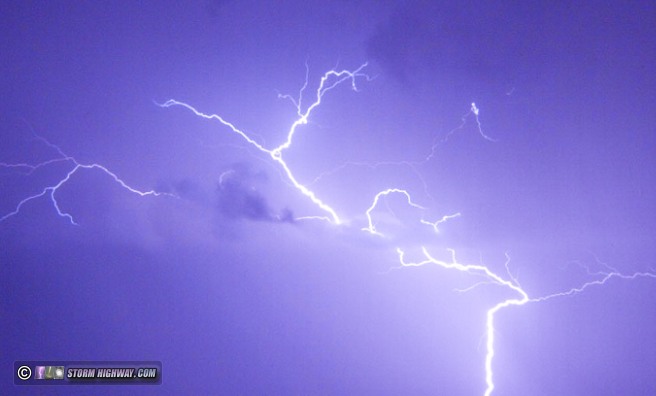 May 14: Weak storms in St. Louis
I went down to Malcolm Martin park again for storms moving through the metro, but they did not produce anything photogenic of note.
May 16: Weak non-severe storms in New Baden and Albers, IL
A short outing a few miles east of town for non-severe storms with very heavy rain that didn't produce anything worth capturing.
May 24: St. Louis and New Baden, IL lightning
Some good lightning for high-speed captures this day during several rounds of non-severe storms in the St. Louis metro area. The highlight was a tall negative cloud-to-ground flash right behind the Arch with 30 frames of stepped leader capture prior to first return stroke. Earlier, a round of storms produced some quality CG lightning just north of New Baden. Video is below:
May 25: Funnel and colliding outflows in St. Louis
Another day of non-severe storms, this time without any decent lightning. Storms east and west of St. Louis collapsed at the same time, sending two outflows at each other. The collision occurred roughly along I-255 from Edwardsville down through Waterloo. I anticipated a brief burst of convection at the collision point with a short window for landspouts as the collision zone zipped southward, but neither happened. Earlier, I witnessed a short-lived funnel beneath a developing updraft just northwest of downtown: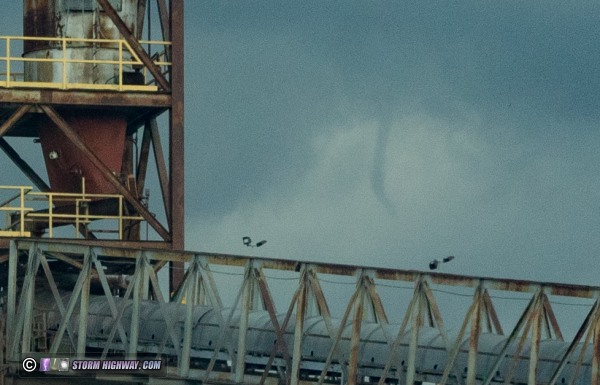 May 27: More nonsevere storms
More marginal convection in the St. Louis area. I again took a lunch break to watch these storms between Lebanon and New Baden. Surface data suggested a diffuse warm front right overhead with backed winds, but the storms were outflow dominant almost immediately. Only a half dozen lightning strikes occurred, most deep inside the heavy rain. Nothing photogenic observed.
May 28: Belleville, IL lightning
I enjoyed a series of quality high-speed lightning captures this day in Belleville, IL, again during a lunch break from work. The cloud bases allowed for 24 frames of negative stepped leader capture prior to first return stroke. Several landspout tornadoes occurred with the convection farther north as updrafts went up directly over the outflow leading edges, but nothing of the sort happened in the St. Louis metro. Lightning video is coming soon.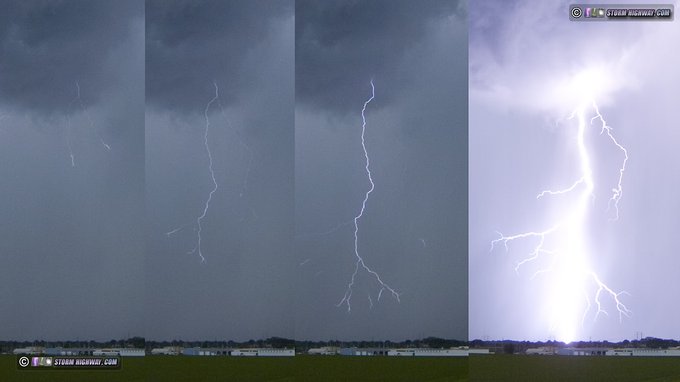 June 3: Dardenne Prairie, MO lightning
This was the first storm event since March 12 without any COVID-19 travel restrictions (Illinois' non-essential travel ban ended on May 29), so I finally had the green light to operate outside of the metro area. Nonetheless, due to weak upper-level winds and a cold front, there wasn't an appreciable tornado risk anywhere to warrant a long drive. In addition, there was a good threat for storms to impact the St. Louis metro area around sunset. This influenced my decision to stay in the metro area.
A storm developed up near Quincy by mid-afternoon, moving initially southeast, but slowly turning southwest over time. The storm eventually moved through the western end of the metro area from Wentzville through Pacific. As usual, I was looking for good lightning, which was most plentiful in the stratiform anvil precip to the east of the storm. I managed one complex positive intracloud capture on the high-speed camera:
Next was to wait for additional development that models had been insistent in the metro area after sunset. However, there was a new problem to deal with: the riots and protests. The mayor imposed a nightly 9PM to 6AM curfew in St. Louis City, meaning all of my usual spots for storm photography in and around downtown would be unavailable (nor safe). Thankfully, the ongoing storms to the west of the metro area maintained intensity, sending a stratiform region east over the city that quashed chances for any new storms over the heart of St. Louis.
June 9: Tropical Depression Cristobal
Post-landfall tropical cyclones can be prolific tornado producers when they pass through the Midwest, so Cristobal's track right over Missouri and Illinois meant that Tuesday, June 9 was going to be a storm photography day. The typical zone for tornadoes in these systems is where a zone of clearing (called a dry slot) is pulled into the east side of the circulation. That allows sunlight to create instability in the moisture and shear-rich environment around a tropical low. Cristobal was completely lacking such a dry slot in the morning, but clearing would be working its way northward and overtaking the storm's eastern side throughout the day. The best zone for tornadoes would be in east-central and notheastern Illinois, but I felt that the late arrival of spotty clearing that far north would not be worth the 3 to 5 hour drive needed to cover it.
In Cristobal's wake, a cold front associated with a trailing low pressure system in the Plains would sweep through ahead of an upper trough moving through the central US. (Had it not been for Cristobal, this trough may have produced a series of big tornado days in the Plains this weekend.) The cold front was shown by several models to help fire thunderstorms in the St. Louis region by late afternoon into the nighttime hours, all still within a decent wind field fron Cristobal's southern fringes. This kept barely enough tornado potential in the STL metro to make it more than worth staying close to home.
The day was a letdown for storms, with daytime and nighttime activity around the metro failing to become established thanks to a very warm layer aloft (called the cap). Only a few cells after midnight managed to grow strong enough to produce lightning, and that was mainly intracloud flashes with no visible bolts. I finished my coverage of storms after 3am, with nothing of note observed and no cameras touched.
That's a wrap of my 2020 stay-at-home spring storm season. Again, as of May 29, Illinois went to Phase 3 in our state's economic recovery plan, ending the last of the non-essential travel restrictions in effect across the Plains and Midwest. So, barring a resurgence in COVID-19 concerns, I am free to travel for storms this summer.
This web site is made possible by support from CIS Internet.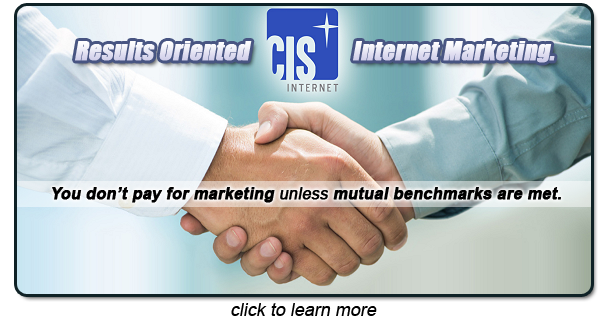 GO: Home | Storm Expeditions | Photography | Extreme Weather Library | Stock Footage | Blog
Featured Weather Library Article:
All content © Dan Robinson. All usage requires a paid license - please contact Dan for inquiries.

Web Site Design and Internet Marketing by CIS Internet