Home | Blog Index | Blog Archives | Christianity & Faith Essays
Wednesday, August 31, 2022
June-August 2022 Storms and Weather Roundup
The following is a recap of weather observed during meteorological summer of 2022 - a very slow season for photogenic storms, despite one historic event.
June-August 2022 Event List
June 10: Supercell at Highland, Illinois
This was a marginal day for storms in and near the St. Louis metro area thanks to weak instability and weak low-level flow. But, strong deep-layer shear thanks to a potent northwest-flow upper jet moving overhead meant that supercell potential would exist with any storms that managed to maintain strength. A weak surface boundary existed from near Hannibal southeast through right near my apartment at New Baden, but stronger instability existed just to the west of St. Louis. I decided to stay at my office and watch how the day evolved. A storm fired on the boundary up along I-72 and immediately had a supercellular look on radar, though soon a strong outflow was visible surging south ahead of it. Jumping on this storm immediately was tempting, but I wanted to wait and see if stronger storms would develop upstream of St. Louis.
Eventually storms did fire northwest of the metro area, but they were not taking off as expected and were producing little to no lightning. I finally decided that the northeastern storm on the boundary would have the best potential, so I headed east and caught it along I-55 at Hamel, IL. The storm exhibited a decent RFD cut and wall cloud, but motion was weak.
The storm cycled down briefly as I stayed with it, then a strong uptick in intesity happened at Marine. A strong RFD surge started kicking up dirt in the fields while the updraft maintained inflow just above the surface.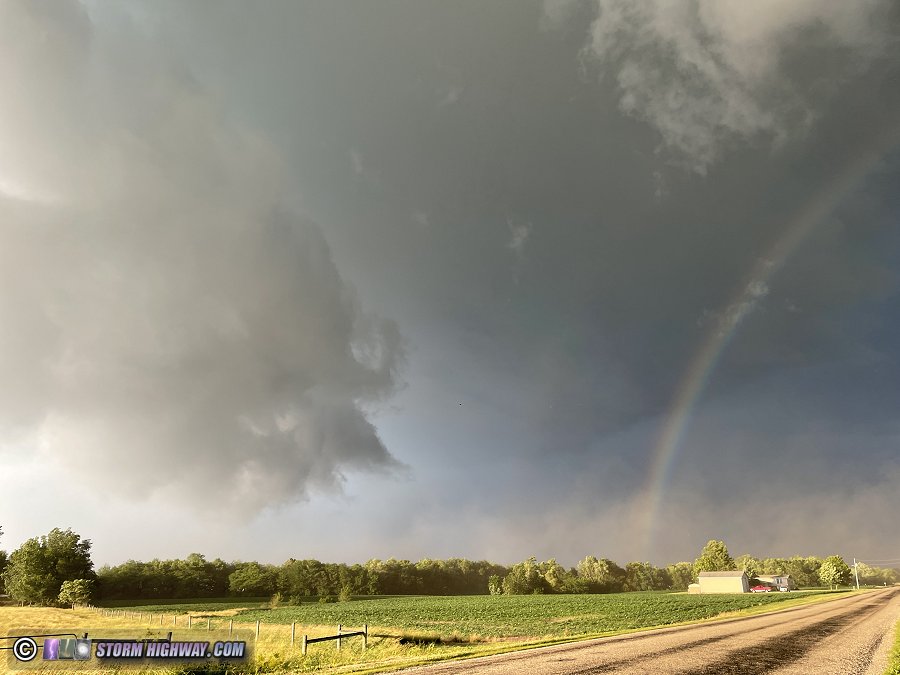 The appearance improved as the storm made a hard right turn at Highland, moving almost due south. A slowly-rotating wall cloud took shape as it passed over I-70 north of town.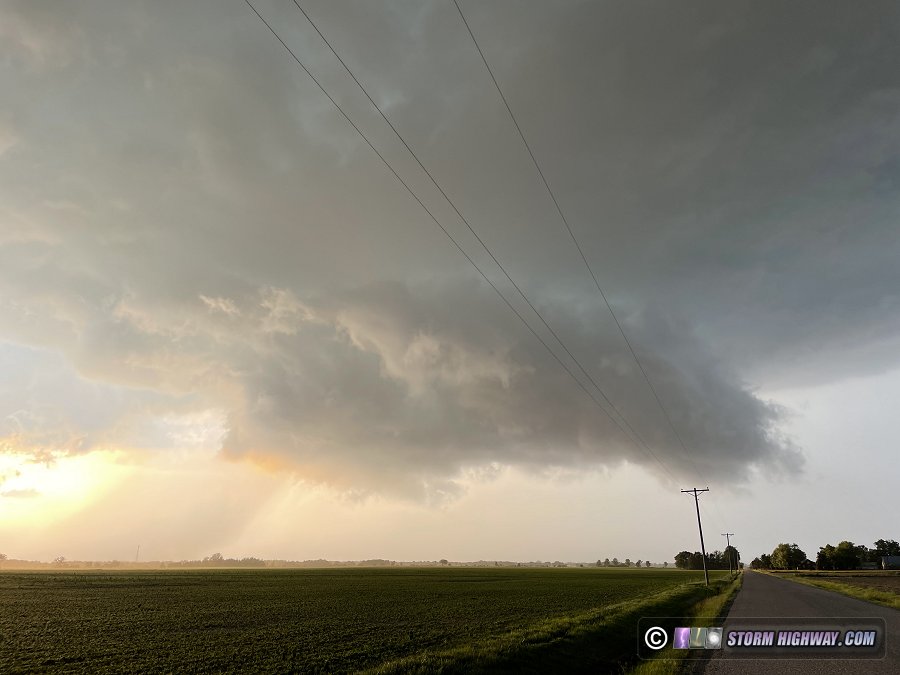 The updraft during this time had grown in size considerably, with the RFD trying to occlude small circulations on its western edge. None of these exhibited strong motion. Eventually, the storm's radar presentation started to diminish, and seeing no imminent tornado threat, I decided to move east of the storm a little to see what the structure looked like. Southeast of Highland, I stopped and looked west to see a surprisingly-impressive updraft with several lenticular lobes. This first image is a panoramic image taken with my phone: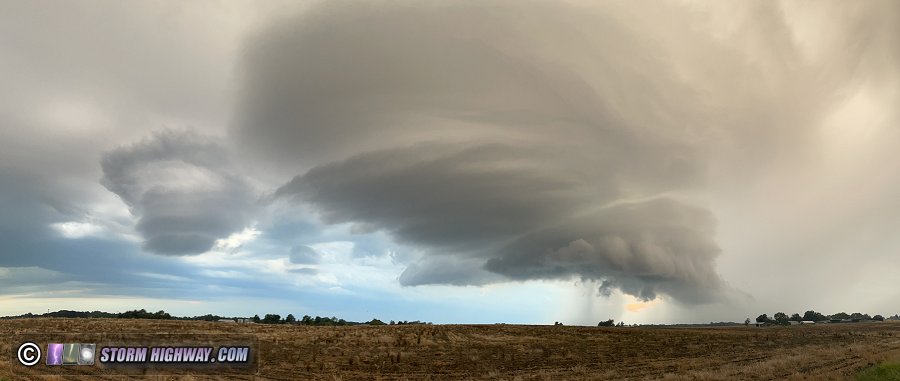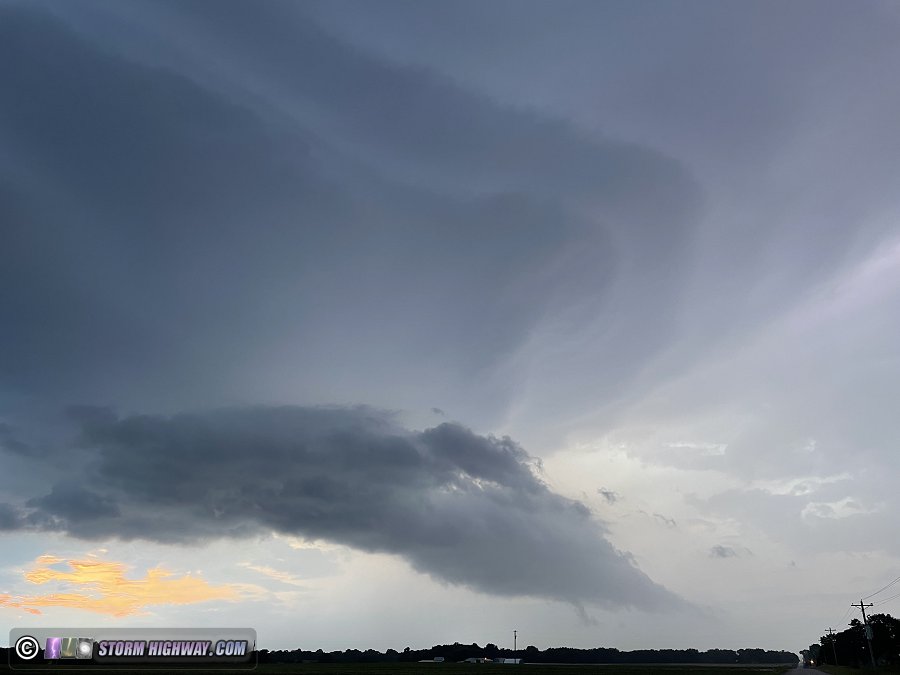 The storm lost its definition just after this, and the updraft was gone 15 minutes later. Despite its short-lived nature, this storm exceeded my expectations for the day.
June 17: St. Louis daybreak severe storms
The first solid lightning opportunity in quite some time was shown by models to affect the St. Louis metro area early in the morning. I was awake by 2AM to prepare for this event, and at 4AM made my way up to Moscow Mills to start shooting high speed video of the squall line advancing southeast toward the metro area. When I arrived, the storms were in a weakening phase with outflow racing far ahead.
Mesoanalysis showed increasing instability ahead of these weakening storms, and sure enough, new lightning-active cells began firing along the outflow as it moved into the metro area. I expected these to continue to develop areawide, so I returned to downtown St. Louis. I made it just before the renewed storm complex's gust front moved over the city. Numerous power flashes occurred north of downtown as the strongest winds focused in that area.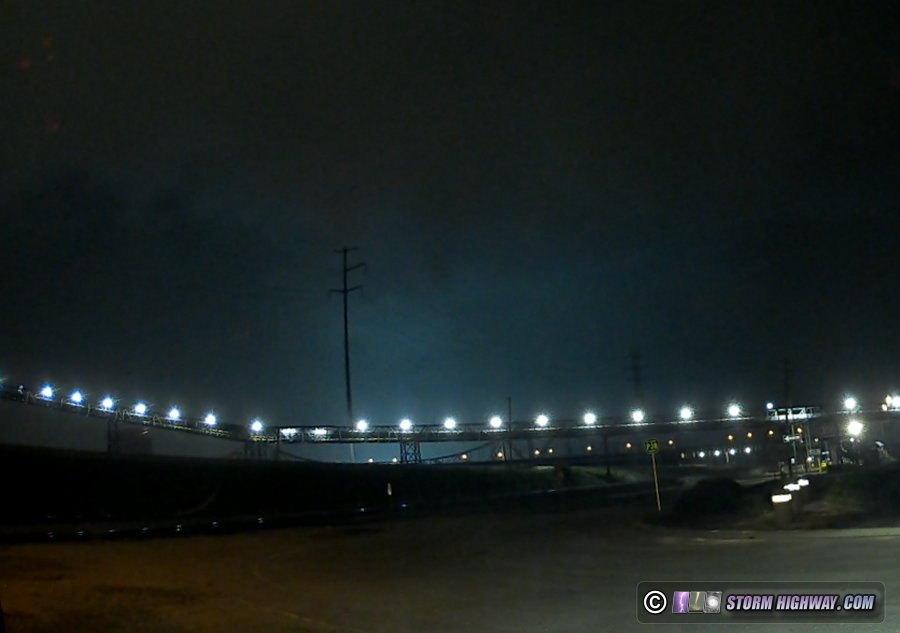 Visible lightning activity was lackluster, so I abandoned the downtown play and headed west to Brentwood for possible upward lightning in the trailing stratiform region.
The storms' stratiform region was disrupted by the brief weakening phase earlier, with a large gap in between the cores to the south and east and a larger lightning-active stratiform area to the north. New cores were developing just to the west, with one producing a burst of cloud-to-ground bolts that was good enough to capture one nice multiple-CG flash event.
The stratiform region rapidly filled in the gap within 10 minutes, and a brief series of strong positive cloud-to-ground bolts signaled renewed upward lightning potential. A close positive CG event occurred in conjunction with a short upward leader to the closest tower. This image shows a series of frames from the 1,500 FPS high speed video showing the upward leaders and the subsequent bright flash from the positive CG return stroke: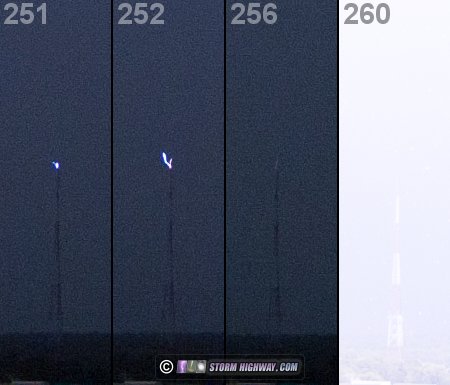 Video of this event from 3 of my cameras is published on my Youtube channel:
June 25: St. Louis metro lightning
I spent a couple of hours following multiple rounds of storms from Hazelwood east to back home. The lightning was decent, but uncooperative for my cameras. No photos or videos captured.
July 1: Washington, PA thunderstorms
I went out for about 20 minutes to take a look at a short round of overnight storms moving through Washington during a family trip. There wasn't any photogenic lightning to be found.
July 26: St. Louis historic flooding
Models had performed so poorly with this event that I wasn't even paying any attention to the weather before it began around midnight. Leading up to this night, short-term models showed rounds of disorganized thunderstorms at best (and heavy showers at worst) staying mostly to the north of St. Louis. When much stronger storms began firing to the northwest of the city, I scrambled downtown to get into position. The lightning was almost entirely deep within the cores of the storms - so although the strikes were intense, all but a few close strikes were visible. For that reason, I gave up on trying to capture any lightning imagery or high speed video pretty early on. I rolled my video camera for about 20 minutes during a more active section, capturing some decent thunder audio but nothing of any visual note.
The radar picture was showing a clear flash flood event taking shape, and a report came in from Tom Stolze on Twitter of over 7 inches of rain at his place in O'Fallon Missouri (in the northwestern metro). As this activity slowly sagged south, the city was poised to receive at least as much. I at first headed toward the River Des Peres to try and capture a flash flood wave moving through, but it was too dark. During the third and fourth major storm cores, I headed back downtown thinking that I-44 could flood in the depressed section below the Arch grounds, but I found no issues upon arriving.
By now, traffic maps were lighting up with closures and slowdowns. I made my way to Forest Park on I-64 where police and fire crews were on scene of several flooded sections, directing traffic single-file through narrow shallow spots. I exited at Brentwood Boulevard and started heading north along the I-170 corridor to the airport, stopping at several locations to film the scenes of flooded roads, submerged cars and blocked traffic.
After editing and feeding in this video, I headed down to see what the River Des Peres was doing at Carondelet. I arrived to find the river just a few feet below the bottom of the Morgan Ford Road bridge - likely the highest flow rates the river has seen since it was channelized in the early 1900s: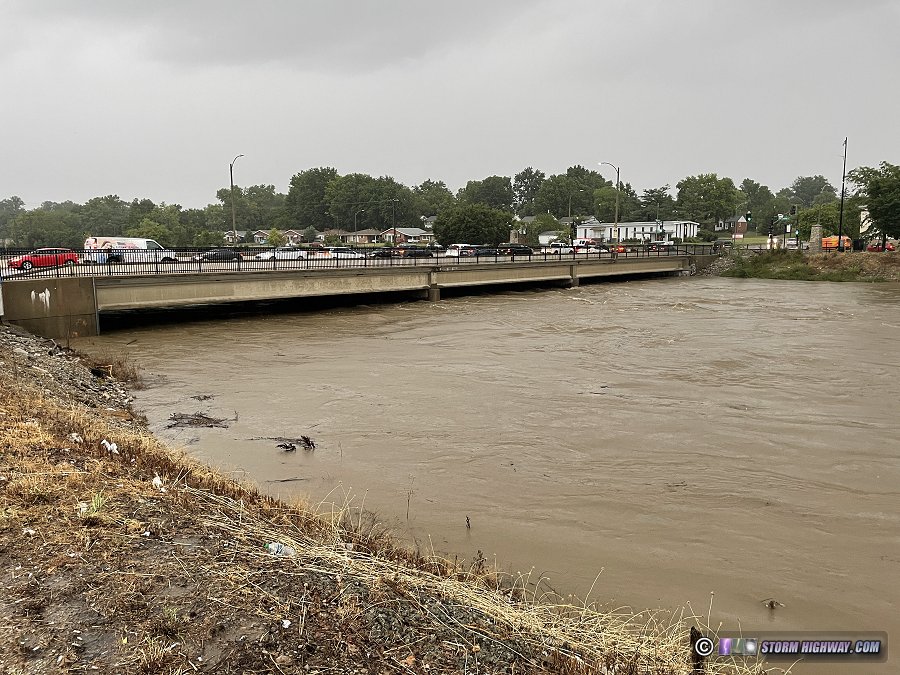 July 27: St. Louis lightning
More rounds of overnight thunderstorms and heavy rain moved through the metro area for the second straight night. The lightning was actually a little better this time, with some at least photogenic-potential bolts appearing along the leading edge of the storms. However, none of this materialized behind the St. Louis skyline, so I didn't even set up any of my cameras.
July 28: More St. Louis metro flooding
A second round of flooding rains moved across the metro area this afternoon, with another 4 inches in the city of St. Louis causing flooding in some of the areas that saw the worst of it on the 26th. I stayed close to home during this event, setting up to film lightning near Trenton, IL. The storms were not cooperative in providing anything photogenic. I headed to Mascoutah and Lebanon to document some of the road flooding occuring there, but the worst of it had subsided by the time I arrived.
August 3: St. Louis lightning, Illinois wind damage
I initially parked downtown, waiting to see if a line of towering cumulus along I-270 would explode into thunderstorms as some had done farther west. This did grow into a northward-moving storm over the airport, so I drove up to I-170 and I-70 to take a look, finding that lightning was entirely within the heavy rain core. With the western storms moving closer and the new activity slowly backbuilding farther south, I headed back downtown to await the arrival of one of those.
The western storms had produced a strong outflow that was surging east, so I set up to do a timelapse of the possible shelf cloud moving in. This feature was disappointing, but new stronger updrafts were visible initiating just behind it. I prepared for a possible lightning show from those to begin right over downtown. CG lightning activity did materialize, but all to the north and east in Illinois. I headed to Collinsville, capturing several nice bolts on the high speed camera, including two examples of dart-to-stepped leader transitions.
I followed this activity east back home, finding significant wind damage including the large tree at my apartment complex completely toppled: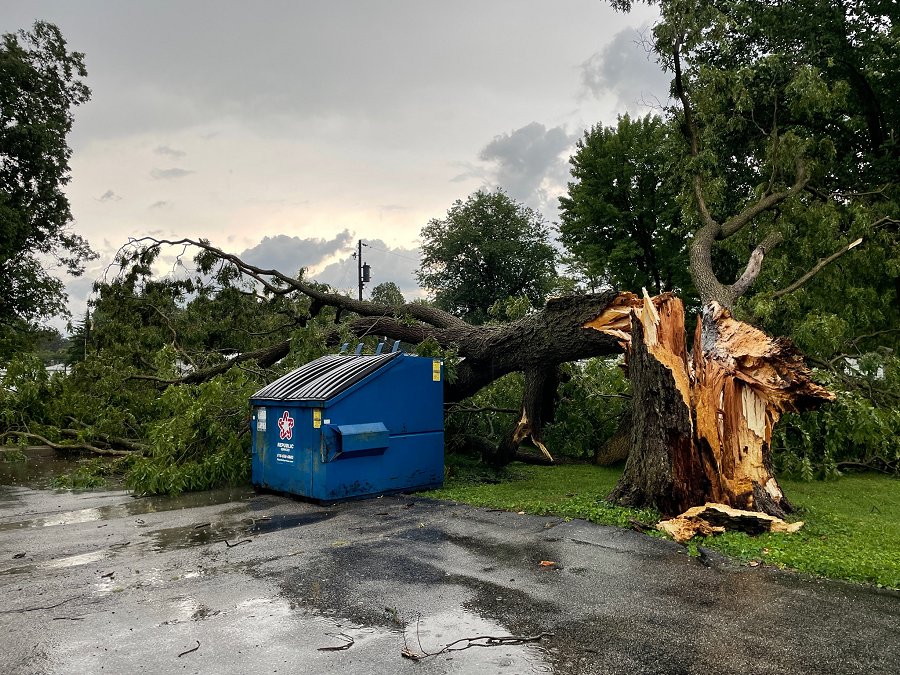 After a break for dinner, I headed back into the city for a second round of storms after dark. This was mostly disappointing, but a few visible channels appeared as the storms moved off to the southeast: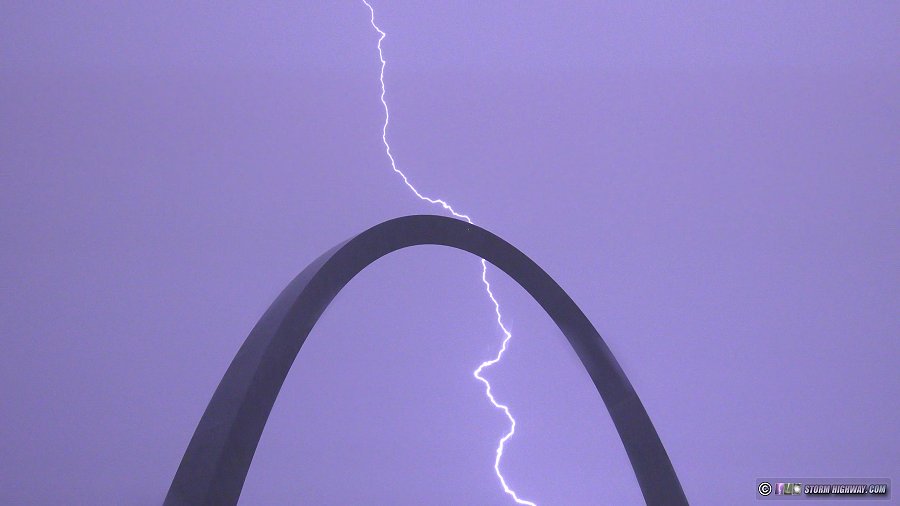 August 28: St. Louis lightning
A few storms of moderate intensity affected the metro area this day. I stuck to my downtown observation spots for the duration, then followed the last round of lightning back home.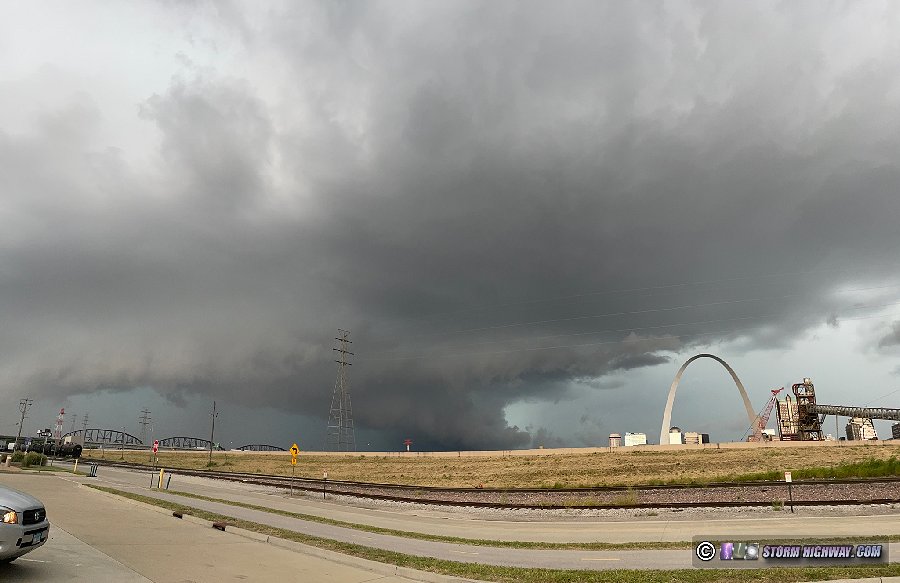 GO: Home | Storm Expeditions | Photography | Extreme Weather Library | Stock Footage | Blog
Featured Weather Library Article:
All content © Dan Robinson. All usage requires a paid license - please contact Dan for inquiries.

Web Site Design and Internet Marketing by CIS Internet