Home | Blog Index | Blog Archives | Christianity & Faith Essays
Monday, November 21, 2022
September to mid-November 2022 Storms and Weather Roundup
The two main reasons for this record-long gap in blog posts are that I've been very busy with work, and more importantly, interesting weather has been uncharacteristically absent from the lower Midwest since the end of August! Here's a roundup of the (very few) events covered during that time:
September to mid-November 2022 Event List
September 18: Southeast Iowa/northeast Missouri supercells
A respectable summer-like northwest flow supercell/tornado risk was taking shape this day in southeast Iowa into central Illinois. I drove up to Mount Pleasant, Iowa to jump on a new cluster of cells firing just to the west at dusk. These storms lacked any low-level organization, so I diverted southwest to Farmington, IA to get in front of what had so far been a persistent supercell moving southeastward along the Iowa-Missouri border. I never got a good visual on this storm due to trees, bad terrain and the loss of daylight.
I continued south across the state line to Wayland to await new development that had started to the northwest. These new cells began producing a barrage of positive CG lightning as they evolved into supercell structures, which I tried shooting unsuccessfully with the high speed cam. I continued south ahead of the storms, stopping a few times to shoot stills of the frequent in-cloud lightning in the forward flank regions. I captured one good time-lapsable sequence on the DSLR at my last stop south of Hannibal as the storms crossed the river into Illinois.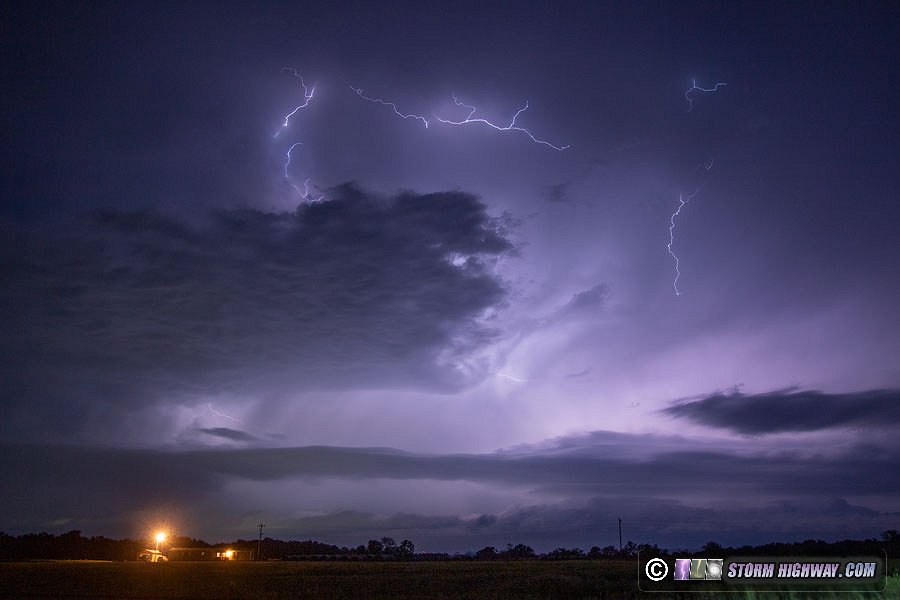 September 21: St. Louis metro thunderstorms
A short outing to observe storms moving through the eastern St. Louis metro from Lebanon to Germantown. No footage/photos captured.
October 12: Sharp cold frontal passage
I went out after dark to watch (more accurately, to feel) the passage of a strong, sharp cold front moving through the region. There weren't any visuals to capture imagery of, but it is always fascinating to observe an easily-detectable synoptic feature.
October 30: Convective showers east of St. Louis
My first storm outing in many weeks was a very short trip south of home to near Venedy, IL to watch convection develop near a surface low moving through the region. Low-level shear was quite good and the convection at times appeared vigorous, but I didn't observe any low-level organization. This cell up near Breese (viewed from New Baden) with pileus was the best sighting of the day.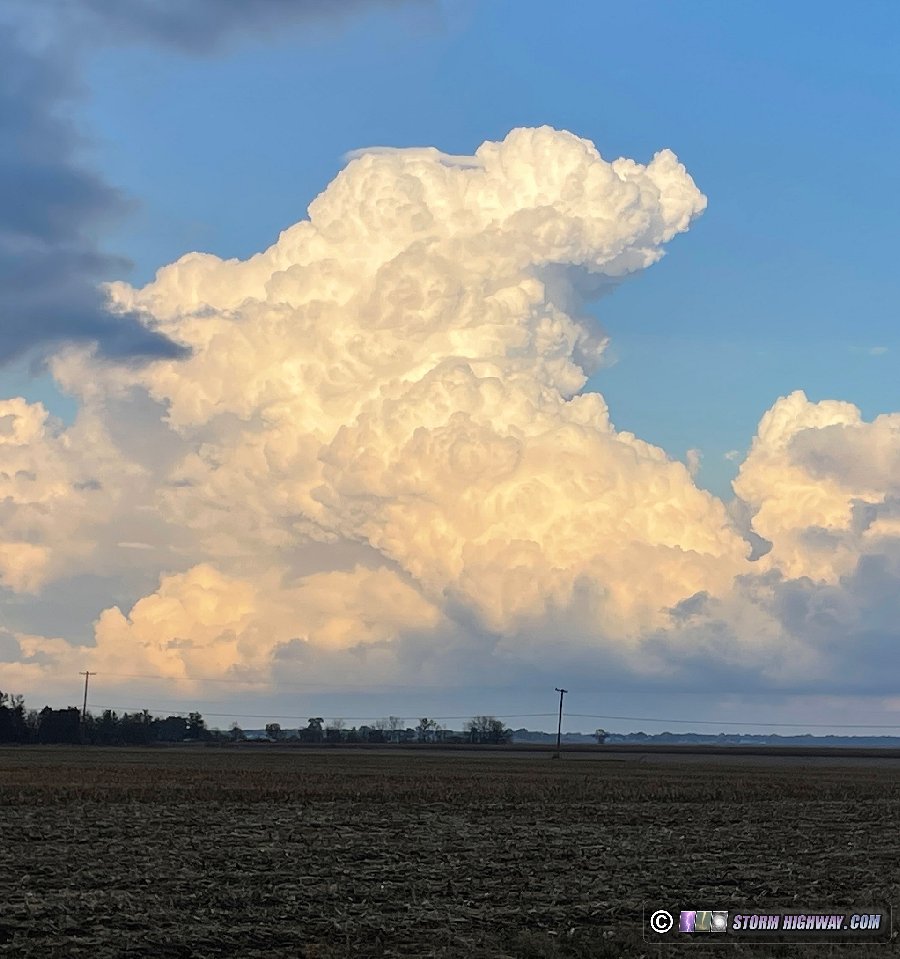 About this time, a line of showers developed from New Baden southward, slowly moving east. I didn't see any lightning, so these technically weren't thunderstorms (just showers).
November 4: STL Metro-East thunderstorms
I went out for about 15 minutes south of Lebanon, IL after 10pm for a fast-moving cluster of lightning strikes embedded within a leading stratiform precip area of a squall line moving through the metro area. There were a few close positive CG flashes - but none happened where I was looking, much less where I was pointing the high-speed camera. Nothing captured.
November 5: Low-topped convection from Trenton to Pierron, IL
The surface low of the powerhouse trough ejecting through the Midwest was passing through the region at dawn this morning, with screaming wind fields at all levels. The shear profiles were highly supportive of supercells and tornadoes, but instability was nonexistent due to the daybreak timing. I went out at sunrise to observe several low-topped showers racing northeast from Trenton to Pierron just ahead of the cold front, but I didn't see any structure or low-level rotation in the cloud bases.
November 11-12: St. Louis icy bridges
A robust layer of dry air at the surface had been expected to keep this snow event from being much more than flurries across the St. Louis metro area. During the day on Friday, models began increasing the snowfall amounts, showing up to 3 inches in a few narrow bands between St. Louis and Paducah, Kentucky. Strong cold advection was shown bringing a solid supply of subfreezing air during the event, coupled with the dry air promising further wetbulbing of the temperatures. This meant that any respectable precipitation reaching the ground would bring with it the threat of road impacts in the form of at least isolated icy bridges.
My initial plan was to wake up at midnight and head down to Paducah, Kentucky for the surest bet of daytime road impacts. However, when I awoke, models had shifted the bands of snow farther to the north, with solid bands of snow showing up in central Missouri. I decided to head down I-55 to Bloomsdale to position for the impending snow band. The situation changed rapidly, however. The snow band began to thicken and expand to the north, threatening St. Louis with icy bridges in the much more solidly-below-freezing air. As I made my way back north, bridges quickly became covered and hazardous.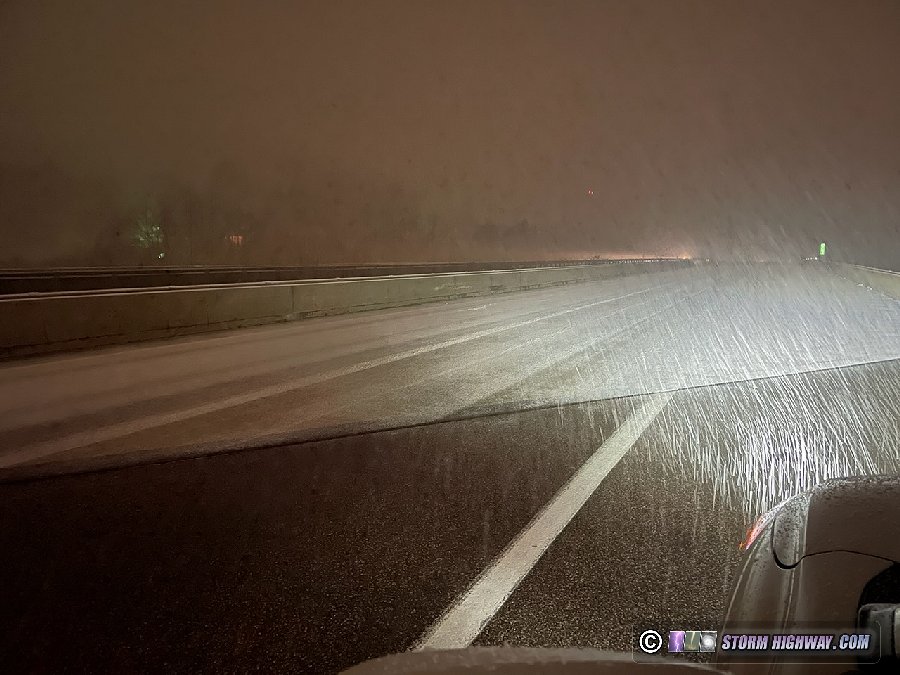 I ended up going all the way back into the city, where a full-blown surprise winter storm commenced. Every bridge along I-55 in the metro became treacherously icy, causing a rash of accidents. Because the event was not expected, no salt or plow trucks were available to treat the roads - which worsened the event's impacts. I captured this footage on I-55 at Loughborough in Carondelet:
The snow band stalled out to the east of the city, with a sharp cutoff to no snow just west of I-55. East of the metro, including at my place in New Baden, snow totals topped out at 7 to 8 inches. I took this after arriving at home at mid-morning, after some melting had taken place: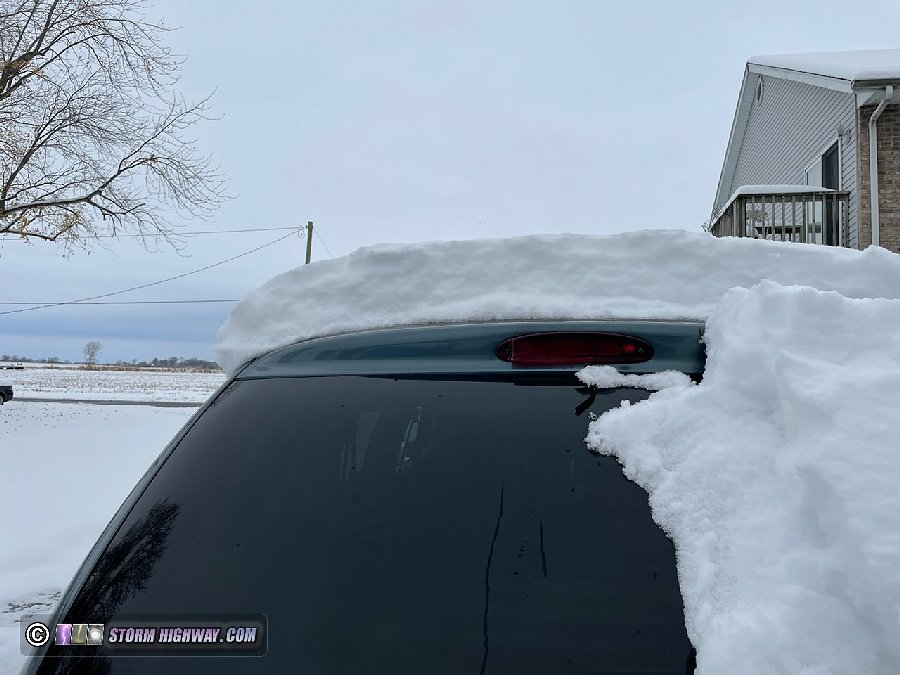 November 14: St. Louis snow
This had originally been the bigger event advertised by models, but it turned out to be mostly a non-event thanks to temperatures in the region staying well above freezing. I spent the overnight hours monitoring conditions from Wentzville through the metro area to Arnold. The worst I saw were some of the bridges along I-55 in South County where the snow was heavy enough to accumulate, despite temperatures of 34 degrees.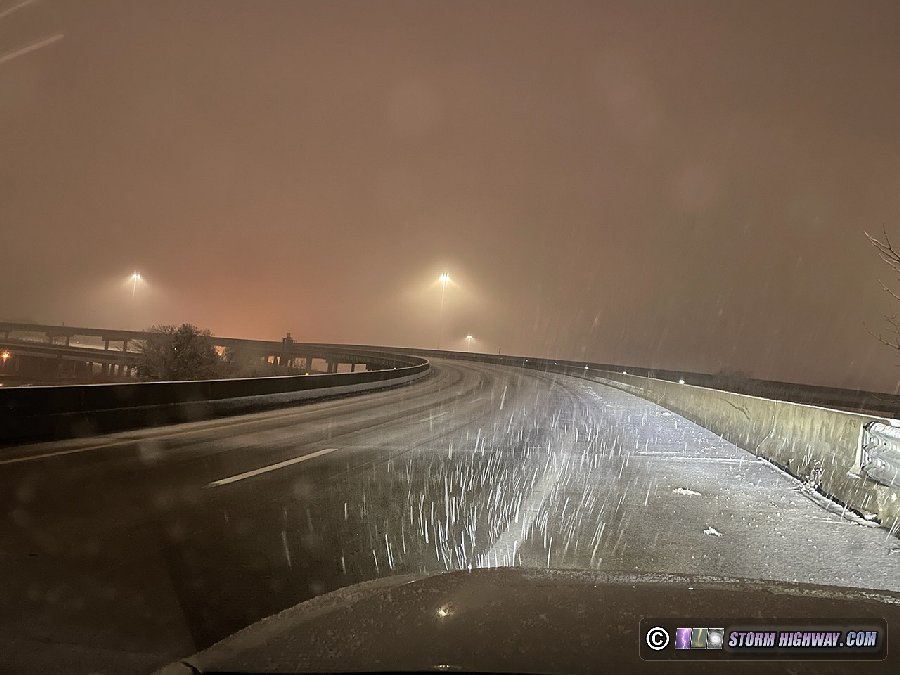 I didn't see evidence of loss of control at any of these locations, and I saw no accidents the entire time I was out.
GO: Home | Storm Expeditions | Photography | Extreme Weather Library | Stock Footage | Blog
Featured Weather Library Article:
All content © Dan Robinson. All usage requires a paid license - please contact Dan for inquiries.

Web Site Design and Internet Marketing by CIS Internet