Home | Blog Index | Blog Archives | Christianity & Faith Essays
Thursday, June 16, 2022
2022 Great Plains storm expedition logs
The summer ridge has arrived across the central USA, bringing an end to the 2022 severe weather season in the Great Plains. This season was a difficult one for storm photography, with numerous days that had great potential which failed to produce. Due to the high gas prices, I had to be more selective than usual on which systems to make a trip to cover. During three separate trips, I had only four Plains storm observation days. I saw only one tornado this spring, a weak high-based EF0 near Hope, Kansas on April 29. The highlight of the season was the giant hail (4 to 6 inches) observed and collected near Taylor, Nebraska on May 29, along with several good high-speed lightning captures.
Season Totals:
Plains expedition trips: 3
Plains storm days: 4
Days on the road: 7
Plains tornadoes: 1
States: Nebraska, Iowa, Missouri, Kansas, Oklahoma
Great Plains Expedition Days
Day 1, April 29: Elmo, Kansas tornado (Trip #1)
I made my first trip of the season to the Great Plains on Friday the 29th, a single-day outing starting at 8AM and ending at 3:30AM Saturday. So far this season, I have not been as motivated to bite on any of the Plains setups due to the long distances involved during this period of high gas prices. But with Friday's event focused on central and eastern Kansas, tornado targets were all within a 7-hour drive that would minimize the fuel expenses. I departed westbound on I-70 out of St. Louis at 8AM, with a ill-defined target along the dryline between I-70 and the Oklahoma/Kansas border (roughly from Salina to Wellington).
By midday, radar and surface data showed a dryline bulge taking shape north of Wichita, focusing the tornadic supercell risk generally there and a bit northward. Accordingly, I continued west on I-70 to Junction City, arriving just as the first towering cumulus began showing up on satellite to the southwest. It was an easy drive to get into position for these near Heringon. I arrived to find two updrafts with lightning, but with shriveling bases as they struggled against the strong cap. Finally, more robust updrafts started forming to the west and southwest. I moved down to Elmo to get into position on the southernmost one. While making this move, the storm produced a small tornado, which I shot from about 5 miles to its northeast. Storm obeservers who were closer confirmed a ground circulation under the funnel (most funnels that are this well-defined have ground circulations, therefore making them tornadoes by definition).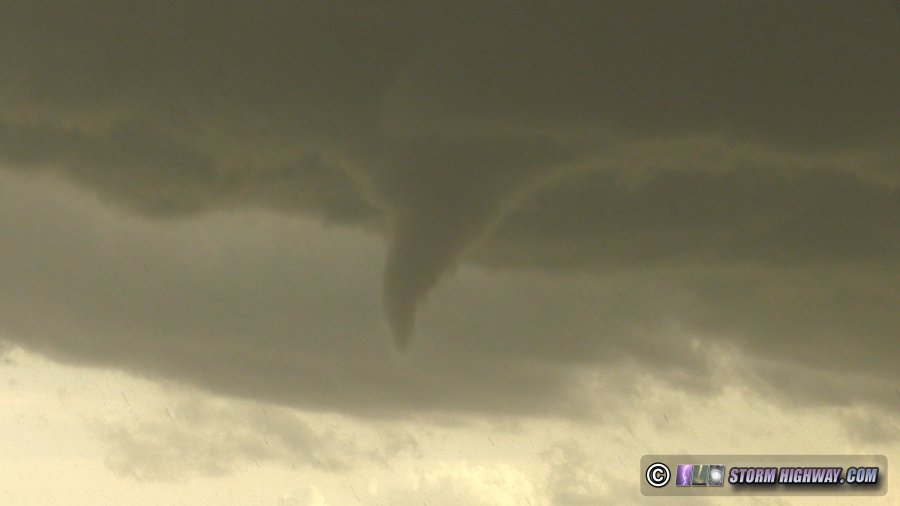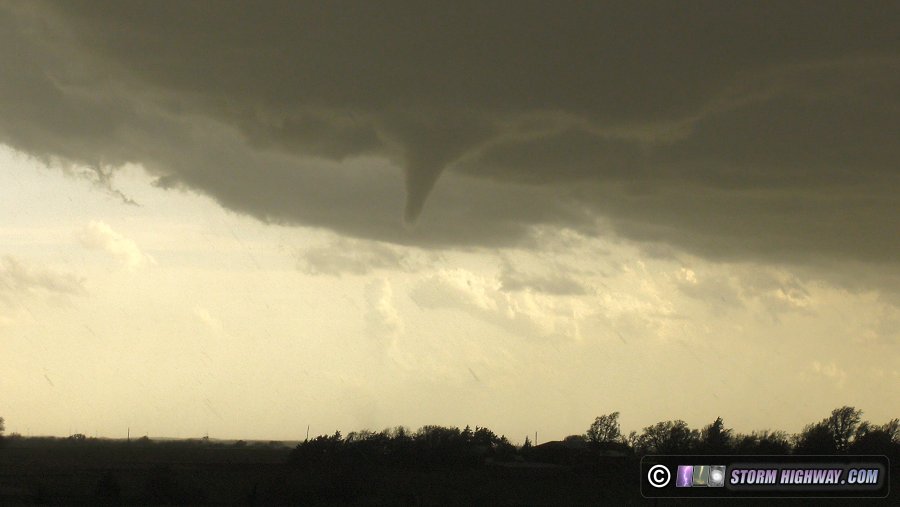 With the unusually-high tornadic base of the storm and the frequent cloud-to-ground lightning, the scene was reminiscent of the
Mulvane tornado and supercell
from June of 2004. I felt the storm had a good chance of producing something similar, so I stayed close to the meso all the way into Chapman. In doing so, I sacrificed what would have been some good high-speed lighting video here. Despite several circulations tightening to tornadic speeds, I saw nothing else come close to the first one. As the storm entered Chapman, the cold front was beginning to impinge on it from the west, and its appearance dminished. With the sun setting, I decided to head west to Topeka and wait for the back side of the storms. I hoped to try for upward lightning from the towers near the city. As I made this drive east, I saw a suspicious feature north of Fort Riley, but by the time I found a clear view to get a good look, it had dissipated. I later viewed my driver's side dashcam video to see that this may have been another tornado: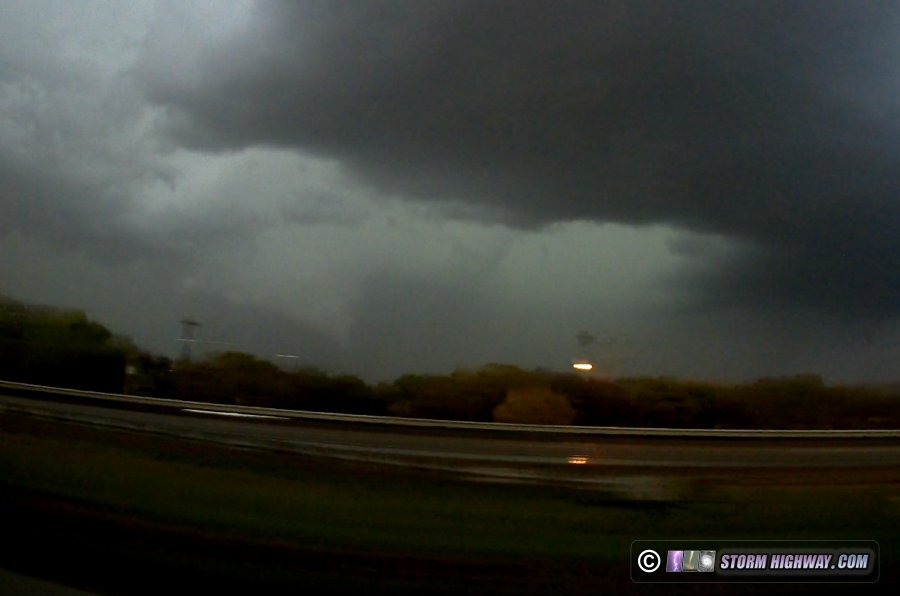 West of Topeka, I stopped at a location with a good view of one of the tall towers and let the storms pass overhead. I witnessed one weak upward discharge to the structure, but it was too faint for the high-speed camera to pick up.
I continued into Kansas City, catching up to the main cores of the squall line again. As I entered downtown, a barrage of upward lightning began occuring to the city's numerous tall towers in the eastern and southern parts of the metro area. There were at least ten upward lightning events all within a short 10-minute timeframe, every cloud flash was producing upward strikes to the towers. However, I could not find a place with a view of any of the towers until I reached I-435. I finally found a spot and set up for 15 minutes, but no additional upward flashes occurred - I had missed it all.
I decided to get back on I-70 eastbound, get ahead of the squall line and try again for upward lightning at one of the towers near Columbia, Missouri. The Kansas City upward events were all unusually right behind the squall line cores instead of deeper back into the stratiform precip area, so I figured I would need to be set up at the Columbia towers ahead of the storms. The battle to get ahead of the line was a long one that I didn't accomplish until Booneville. It was an exercise in futility, as the entire complex was weakening. Furthermore, if I stayed in Columbia for several more hours to shoot upward lightning, I would not be able to drive the rest of the way home without needing to stop for sleep. So, I made the choice to use the remaining awake hours to just get home and be rested up for Saturday's event in the Midwest.
Day 2, May 1: St. Louis to Vinita, Oklahoma (Trip #2 start)
The period of Monday, May 2 through Thursday the 5th looked like another trip-worthy active period as two back-to-back potent shortwave troughs ejected across the Plains. The original plan was to cover Monday's event in Oklahoma/Kansas, spend a down day in the Plains on Tuesday, then stay for the next big event on Wednesday the 4th. This would be followed by a potential on-the-way-home (or *at* home) event in the Midwest on Thursday. After the standard multi-day trip preps were finished, I left home late on Sunday night. With the expected target to be along or just south of the Oklahoma/Kansas border, I chose I-44 as the route out of St. Louis. I stopped for a short sleep interval at Vinita, Oklahoma.
Day 3, May 2: Hennessey, Oklahoma supercell; Broken Arrow, OK lightning
After starting the day in Vinita, Oklahoma, I stopped for breakfast in Sand Springs and to do the morning's forecast. It didn't take long to see that the day's setup was not looking as good as it had the night before. A persistent stratus cloud deck was stubbornly refusing to clear out behind the wave of early morning thunderstorms in central Oklahoma, with barely any clear skies in the area storms would mature. The second main negative for the setup was the speed of the cold front, which looked to risk undercutting the dryline storms soon after they formed. The supercell/tornado potential looked bad enough that I considered just turning around and going back home. What kept me in Oklahoma was the potential for a large line of storms to pass through either Tulsa or Oklahoma City later in the evening, which looked good for lightning opportunities. I decided to continue on west on Highway 412 toward Woodward.
My pessimism about the day continued as I made a fuel stop in Enid, where the gray overcast skies were still persisting at 1:30PM, and the air felt so cold that I almost needed a jacket. Not good signs for a Plains storm day! I finally broke into some sunny skies among the mesas west of Orienta, where temperatures started feeling more like a spring storm day. I stopped here to mount the hail shields (I'm keeping them stowed during non-storm times due to the high gas prices). As I did this, a cluster of cells began firing about 40 miles due west. Thankfully, I was in a good position on Highway 412 to simply wait for a dominant cell to emerge. The main consideration was the Cimmaron River crossing just to the east and whether to be north or south of the river. Eventually, the southern storm became dominant and the clear target, and I moved south to Fairview to watch it approach.
The Fairview storm had a solid wall cloud which developed a few instances of tight rotation that appeared to be minutes from producing, but the surging RFD was overpowering the inflow side of things - apparently a consequence of the late airmass recovery behind the early-day storms. The storm was also moving northeast at a good clip, and I was having trouble keeping up with it, especially after the passage back eastbound through Fairview. East of Fairview, I noticed two things happening - one, the cold front was on our doorstep. The bases of new storms firing on the front were not very far to the distant west. Secondly, new storms to the south were looking more interesting. The southern storm had also split, sending the "left mover" racing northward toward the original Fairview storm. The "right mover" of this split was rapidly intensifying, and looked like the obvious new target. I had a fairly long distance to cover to get to the storm. It was 30 miles due south, and I'd need to go at least 20 miles east to have a shot at getting in front of it.
Thanks to slow-moving trucks, the trek south and east took much longer than it should have. Before I lost visual of the storm's updraft due to its precip core, I had a faint low-contrast view of what looked like a low wall cloud and funnel. A tornado was reported shortly after this near the town of Loyal, but I can't be sure if I was seeing it at that point. I made it to Hennessey and was finally about 20 miles out from intercepting the updraft, but radar was showing that the cold front was already catching up to the storm. When I finally had a visual of the updraft south of Hennessey, it looked like it might have a shot of a tornado - if it could happen within 5 minutes. An occluded circulation appeared under the base, but the cold front was right on its doorstep: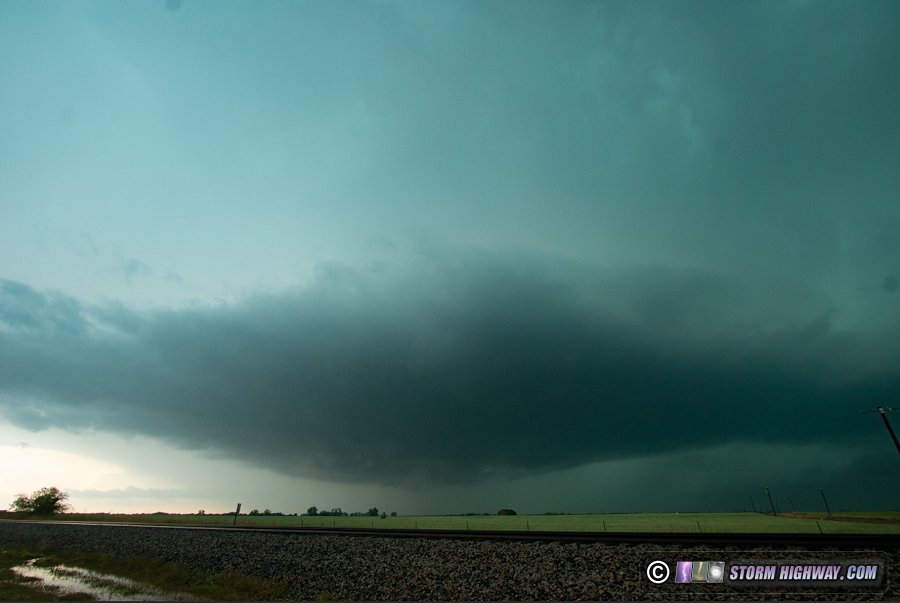 As the storm's base moved closer, all I could see was cloud material and rain bands all moving eastward: the cold front was in the process of killing the supercell. But as the rain bands overtook Highway 81 north of Dover, I saw a small debris cloud visible in the field just to the east. I got my camera on it, but quickly lost visual of it as the precip engulfed me. The small, tight circulation looked tornadic, but the all-westerly winds I could see suggested it was a gustnado. For now, I won't count it as a tornado unless I see more evidence from others who had a better/longer view.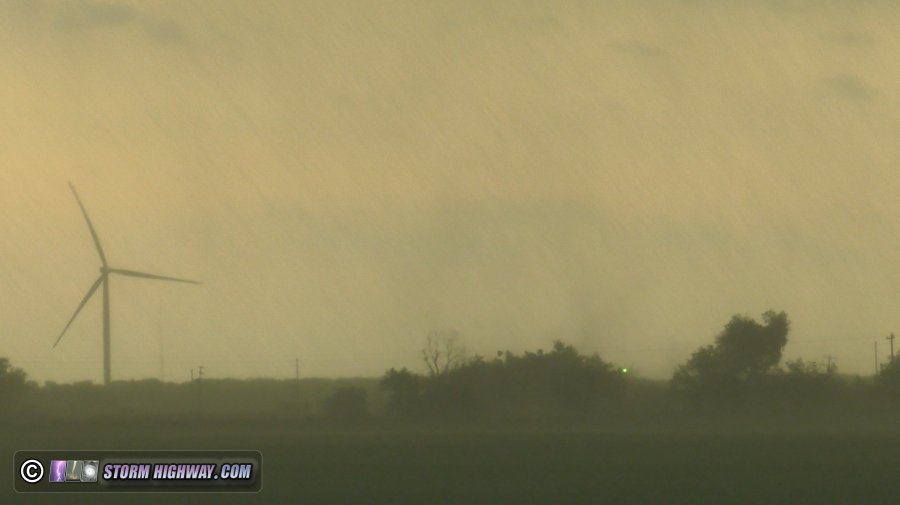 With the cold front now eating the supercell and the only other discrete storm that had tornado potential way down near Chickasha (south of Oklahoma City), I chose to call the tornado portion of the day and shift into lightning mode. Tulsa looked to get a better stratiform precipitation region than Oklahoma City, so I started heading east, staying just ahead of the advancing squall line behind me. Up to this point, there had been very little visible lightning, and I wasn't optimistic about that improving since the storms were moving deeper into the cold socked-in-with-clouds region from earlier in the day. At Guthrie, I stopped briefly for dinner and to take a quick look at the next day's prospects. Models were pushing the tornado risk much farther south, with another episode of persistent morning convection plaguing areas north of the Red River. I'd need to go even farther from home for Wednesday's target, something I was not very motivated to do with the high gas prices and the way this day's events were turning out. This solidified the choice to continue on to Tulsa to shoot lightning, then pass on Wednesday's setup and thus end the trip early.
My route eastward was on Highway 33 through Cushing and Drumright. Some kinks were developing in the squall line with QLCS circulations that prompted tornado warnings just behind me for most of the drive east into Tulsa. I stopped for each one to look back at the storm, but could see nothing in the rain. The outflow was also pushing far ahead of the storms, further reducing the chances for any visible tornadoes. The terrain in this region is also very difficult for observing storms, with forested hills and very few open views.
My main focus was getting to the tall broadcast towers near Coweta for upward lightning in the squall line's trailing stratiform region. But as I made my way east on the Creek Turnpike on the south side of Tulsa, visible positive cloud-to-ground bolts were starting to occur ahead of the storms. The rate of these increased to several per minute. I needed to find viewing spots at the towers, but the positive CG activity was just too good to pass up. I stopped at Broken Arrow to shoot high speed video of these. The thunder was also impressive enough that I started recording audio on the A-camera. As the zone of positive CGs moved overhead, I could feel the thunder shock waves in my chest with the closer strikes! As this region moved east over the Coweta towers, several strikes to the towers occurred. I assembled a Youtube video consisting of the strikes captured on dashcam and high speed (Chronos at 10,034 FPS) along with the thunder audio from my A-camera:
As this activity subsided, I let the squall line overtake me while looking for places to shoot the towers. This part of Oklahoma is also highly forested with very few open views, and it took me quite some time to find a view facing northward (winds were still southerly even behind the line). As I did this, two strikes occurred to the southernmost tower near Coweta, one a negative downward CG and a conventional positive upward. I finally found a spot near the Muskogee Turnpike, and rolled the high speed camera as the trailing stratiform region moved overhead.
After nearly 2 hours with no upward flashes and very little lightning activity in the stratiform region, I gave up on the upward flashes and started packing up to leave. Not a minute later, an upward flash occurred to the closest tower. My dashcam was the only camera that captured it: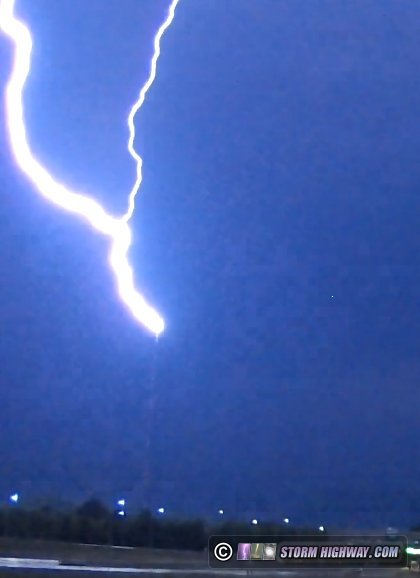 This prompted me to set the high speed camera back up and keep shooting for another 30 minutes, but the storm would not do it again. The lightning activity moved farther and farther east, and it was time to call it a day. I headed to Joplin to stop for the night, arriving at 1AM.
Day 4, May 3: Joplin, MO to St. Louis (Trip #2 end)
This was a leisurely travel day, with no storms within range in either the Plains or Midwest. I slept late, left Joplin at midday and arrived home by late afternoon.
Day 5, May 28: St. Louis to York, Nebraska; Eagle, NE lightning (Trip #3 start)
A major upper trough ejection with deep moisture in place would provide two consecutive days with tornado potential from Kansas through South Dakota, which I felt was worth a third trip to the Great Plains. I departed St. Louis at 6PM on Saturday afternoon the 28th, with a planned overnight stop in York, Nebraska. Right after crossing the Nebraska state line at Nebraska City after midnight, lightning flashes from new storms began to the north and east. I stopped to shoot high speed video of these for about an hour near Eagle, very close to the tower where I shot
upward lightning in 2018
. I captured two good sequences of negative leaders of intracloud flashes.
Day 6, May 29: Gorilla hail near Taylor, Nebraska
GALLERY:
Giant hail from near Taylor, Nebraska
A broad zone along and east of a stationary frontal boundary across Central Nebraska would have potential for supercells and tornadoes this day as an upper-level shortwave approached the region. The presence of a very strong cap meant that we would need both good daytime heating as well as the lift from the approaching trough to get storms. The first of those was in question at first morning light: visible satellite revealed extensive thick cirrus clouds across the entire threat area and upstream. Without good heating from the sun, there was no way the cap would break before dark, and no way to get good surface-based supercells once storms did fire. I initially headed north out of York to Norfolk, stopping in Columbus to stock the hail cooler with dry ice.
It eventually became apparent that the only play for a couple hours of daytime supercells would be just west of the edge of the cirrus cloud deck where the sun had managed to heat things up somewhat. The problem was that this area was behind the surface boundary, with cool northerly winds despite the sunshine. The overall supercell environment remained quite good, but storms would have trouble with low-level organization. Nonetheless, this was the only play for a pre-sunset storm, so I headed west toward Broken Bow, stopping near Ord to mount the hail shields.
As I moved west, a cluster of convection initiated a little earlier than expected west of Ord. The midde-most cell became dominant, and I made it underneath the updraft of this storm west of Taylor. I found nothing but cold outflow combined from the forward flank and RFD. Near this time, a report came in of 4-inch hail in the storm's core. Visually, the storm looked like it was not going to be able to overcome the environment north of the front and therefore would have little to no tornado potential. For this reason, I decided to forego keeping up with the storm's meso, and venture closer to the core to see if I could find some of the big hailstones that were being reported.
Along Highway 183 just north of the Calamus Reservoir, I started seeing a few golfball hailstones, followed 30 seconds later by numerous baseballs and softballs suddenly crashing into the pavement. I quickly turned around and bailed south to get out of the way, but it was too late: my car took at least 6 or 7 hits from baseball to softball sized stones as I moved back south. Three of those hit the windshield in quick succession, destroying it. I decided to just stop, lower the second-stage window guards and wait out the barrage. After the hail stopped falling, I got out and started collecting the larger stones on the side of the road. Encountering hail this large is truly a rare event (I've only seen softball-sized stones two other times in my career), so I just let the storm go and spent the next 2 and a half hours filling my cooler with hail collected from the roadside. This was the largest hail I've seen in my career, with the biggest stones in the 5 inch range. Even toward the end of that 2-hour period after the storm, I was still finding intact hailstones larger than 4" in diameter!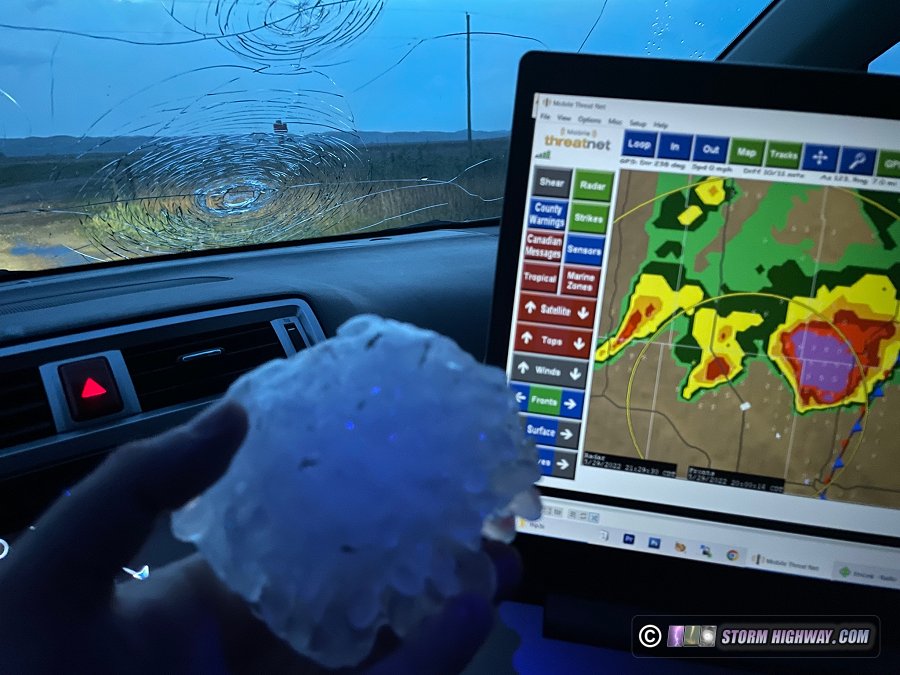 Thankfully, my windshield damage was all on the middle and passenger side, so I still had good visibility to drive and would not need to replace the glass until I arrived home. My hail shields also scored at least one solid window save: a large indentation in the mesh just above my rear window indicated a softball-sized stone was stopped successfully. (I had revised my hail shield rig to not provide as much protection to the windshield, since more protection required shields that protruded far enough to 1.) interfere with the view for front-facing video and photos and 2.) require vertical supports at their far end to prevent the cantilever from bouncing up and down during driving.)
By the time I had filled my hail cooler with these softball and grapefruit-sized stones, the storm was now well to my east and weakening. I decided to call it a night and head east. Back at Ord, I stopped to take a look at the next day's tornado prospects. A potent tornado event was shown from the main ejecting jet max over eastern South Dakota into Minnesota, but models also agreed on supercells firing along the dryline down into Kansas. I favored the Kansas dryline target for its convenience in bringing me closer to home at the end of the event, but wasn't ready to write off the northern target yet. I decided to head back to York for the night and choose my target in the morning. Right as I left Ord, a new line storms exploded on the front, but all of the lightning was inside of the clouds and not worth staying to shoot.
Below: baseball, softball, grapefruit and the largest-in-mass hailstone from Taylor, Nebraska on the 29th: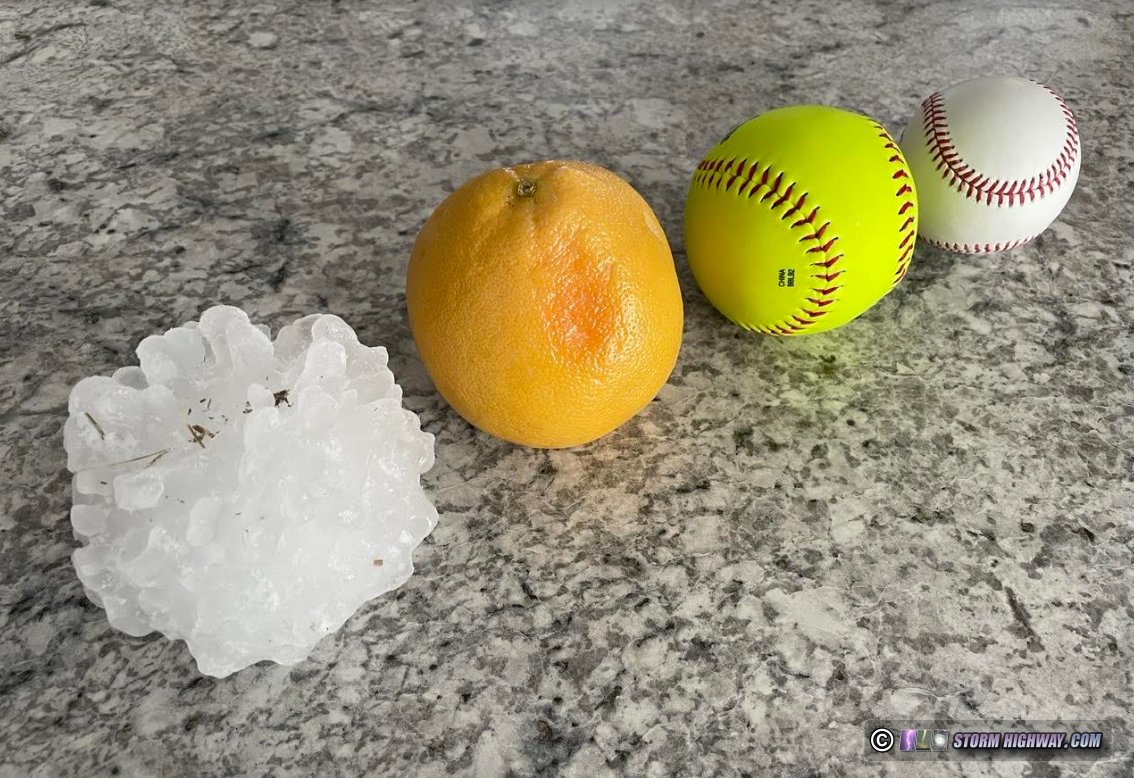 Selection of the the largest hailstones from the event. Yardstick, baseball and softball for scale: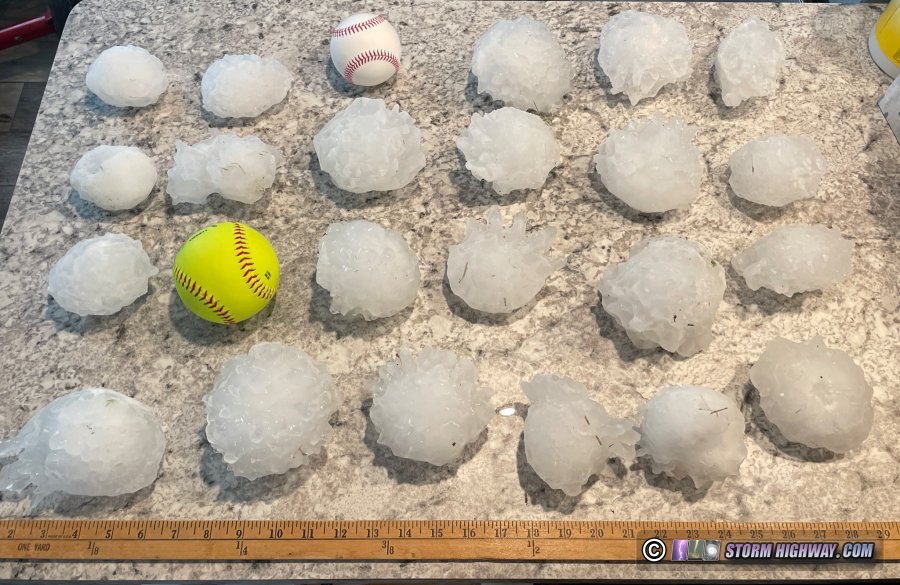 The largest-in-dimension stone was this one, with a spike making it a total of 6 inches wide: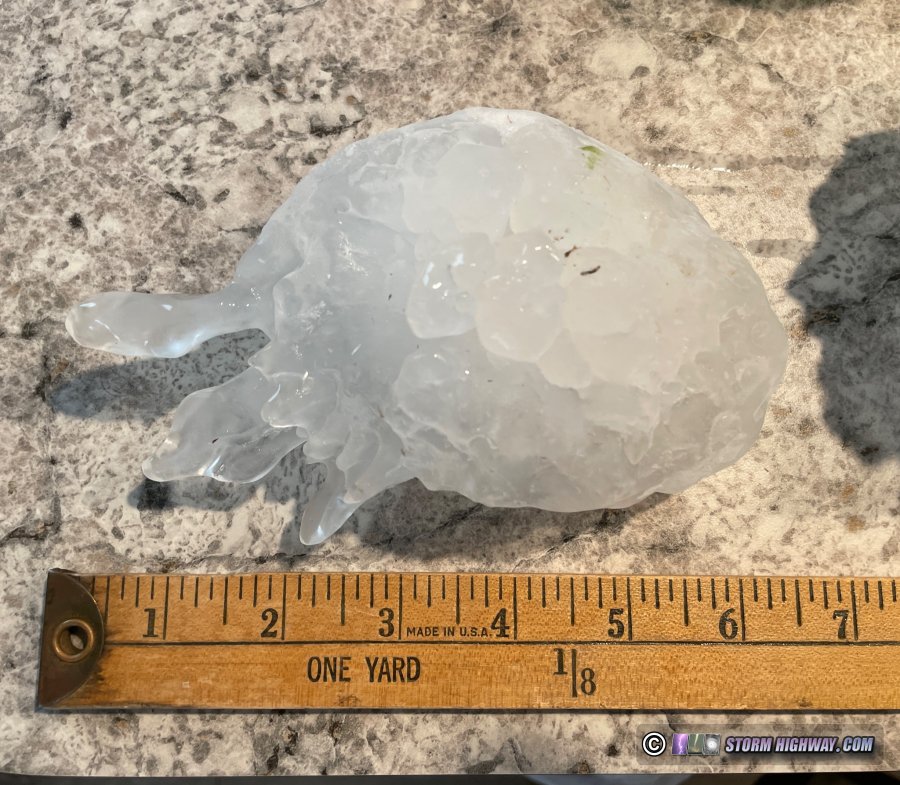 High-resolution photos of these hailstones taken once I was back home (click for full gallery):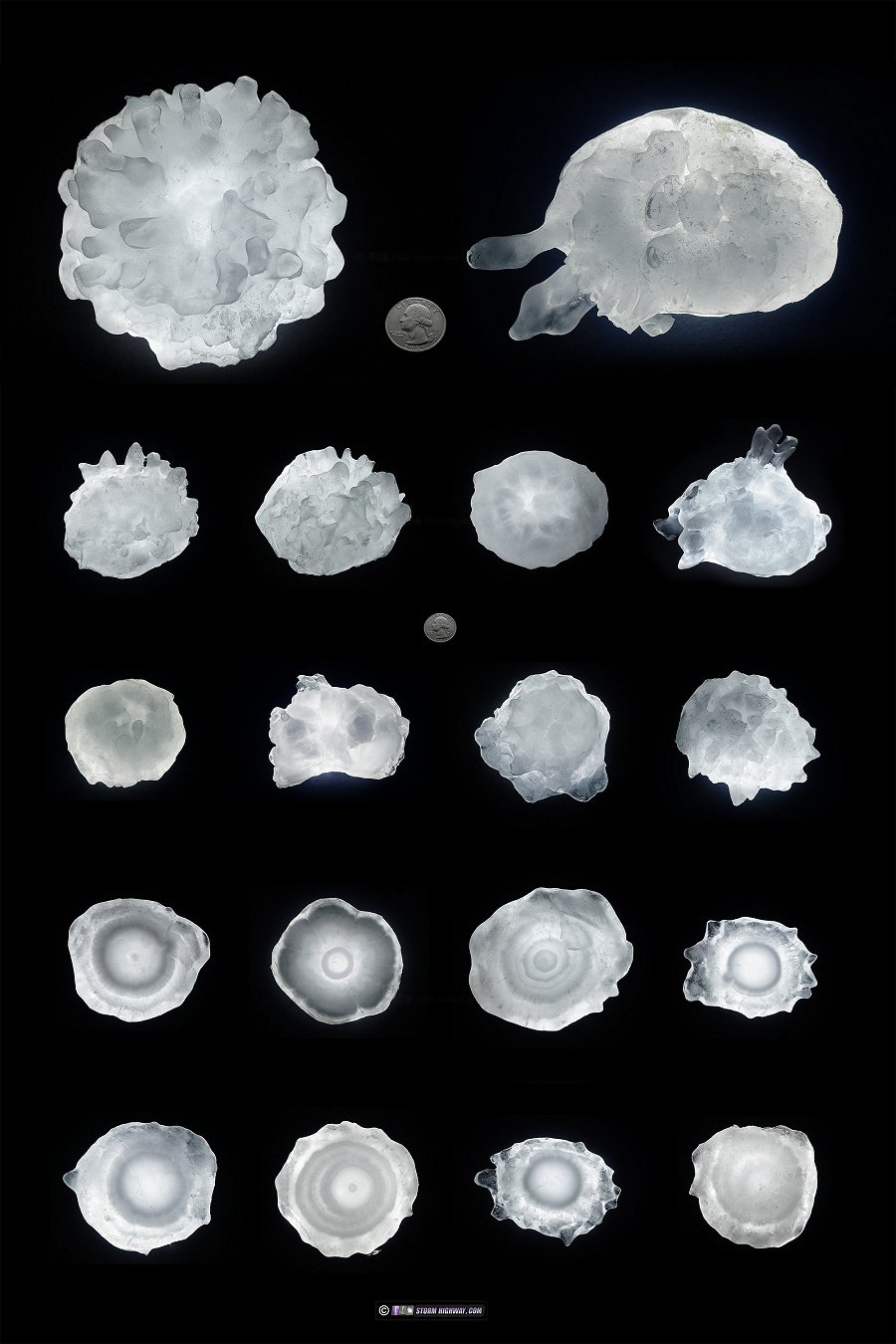 Day 7, May 30: Eastern Kansas severe storms and lightning (Trip #3 end)
I set my alarm for a 7AM in York to do my morning forecast. The early wakeup was just case I needed to make the long journey to the northern target (eastern South Dakota/western Minnesota) in time for the expected early-day storm initiation. Short-term models were in agreement on rapid storm motions and messy storm modes in the northern target and continued their depictions of supercells in a respectable tornado enviornment in the southern (Kansas) target. This solidified my earlier leanings on choosing Kansas. With that decision made, the potential long early-day drive was averted and I was able to go back to sleep for a few more hours.
The Kansas storms would be beginning around 6 to 7 PM, so I had plenty of time to make the a 3-hour drive to get into position. I stopped in Lincoln to top off the dry ice to preserve the previous day's hailstone haul, then slowly made my way south. The dryline was plainly visible on satellite and in person: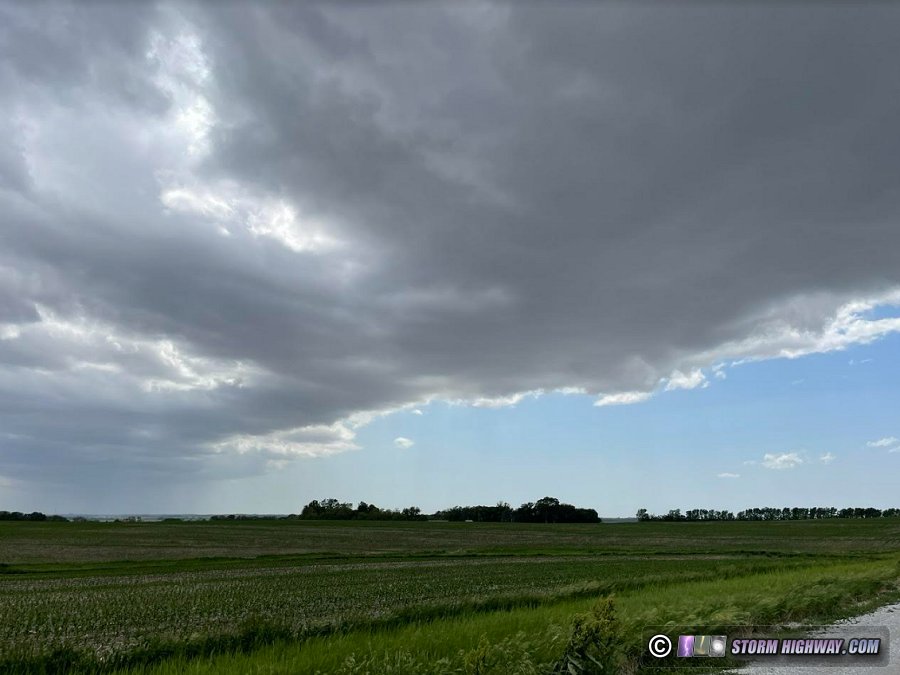 Convection started firing on this quickly-moving boundary early in the afternoon. I observed the first storm of the day at Johnson, noting a healthy RFD cut in the very high base, but weak motion. This storm raced off to the northeast at blazing speed. I tried to stay with it by crossing into Missouri at Rock Port, but by the time I reached I-29, the storm was already 40 miles to my north into southwest Iowa! There would be no way to keep up, so I set my sights on new storms now firing down in Kansas north of Manhattan.
I arrived on these new storms southwest of Holton to find them already outflow dominant with only sporadic lightning. I felt these could organize later as the low-level jet ramped up, but again, they were just moving too rapidly to the northeast and I did not have good roads to get back out ahead of them. I decided to make the trek to the next storm to the south past Emporia, about an hour away. This storm weakened as I arrived on it, but yet another new storm was organizing to its south. I took a gamble on intercepting this storm on the Kansas Turnpike, as there were no exits or routes east to stay with the storm once it crossed the highway. The only viewing spot was the isolated, landlocked Bazaar cattle pens overlook. I made it to this spot with some time to spare. The storm's supercell phase was waning at this point, with outflow again dominant. Cloud-to-ground lightning was good enough to shoot for a few minutes, but my camera was again suffering from focus problems and I missed capturing anything at this point.
I went north back to Emporia so I could get out ahead of the storms again on I-35. This was an arduous task with the blinding core of the storm overtaking the turnpike. Furthermore, the storm was rapidly bowing out and accelerating east. I took me until Lebo to finally break out of the rain, but I found just a full-length shelf cloud with little lightning. Well to the north, a new updraft had an interesting-looking base with a wall cloud that I felt might be far enough north of the main outflow to have some tornado potential, so I exited at Highway 75 and went north to Lyndon. This northern feature quickly faded, ending any hopes of seeing a tornado this day. Storms further to the southwest still had some potential, but at this point I wasn't willing to drive opposite the way home for what would likely be similar experiences.
Approaching Ottawa, I started seeing brighter and more frequent lightning flashes behind me. I pulled over on the west side of town to get a better look, and was surprised to see a nice barrage of negative cloud-to-ground bolts had begun. I shot high-speed video at this location, capturing several good bolts at my camera's 10,034 FPS setting.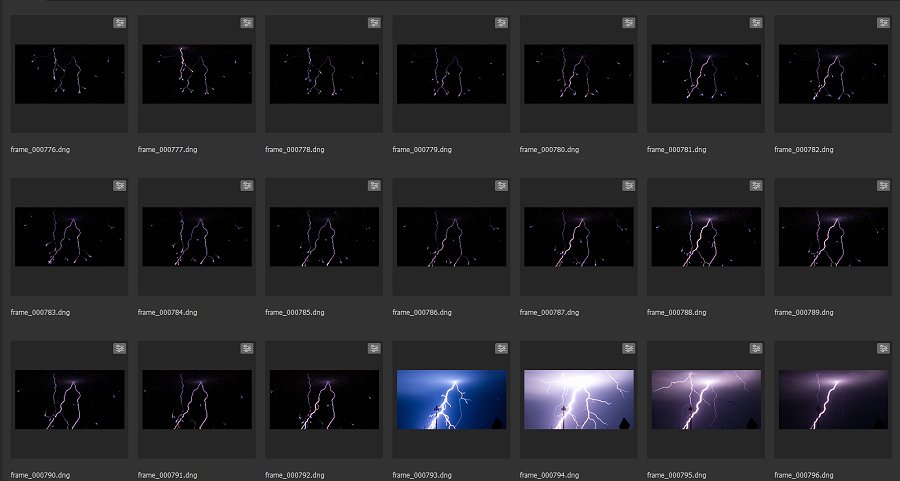 I had to move east to avoid getting overtaken by the rain. By this time, the lightning barrage had faded, with new stratiform activity beginning on the storm's northeastern flank. I felt this might have upward lightning potential in Kansas City, so I continued on to Overland Park. By then, the entire storm was on a permanent downtrend, and the lightning soon stopped altogether as the radar echoes shrunk to nothing. New storms were firing on the cold front farther west, but it would be hours before it would arrive at this location. I decided to call the active storm observation and begin the relatively short drive across Missouri to bring Plains trip #3 for the year to an end.
GO: Home | Storm Expeditions | Photography | Extreme Weather Library | Stock Footage | Blog
Featured Weather Library Article:
All content © Dan Robinson. All usage requires a paid license - please contact Dan for inquiries.

Web Site Design and Internet Marketing by CIS Internet