Home | Blog Index | Blog Archives | Christianity & Faith Essays
Sunday, April 30, 2023
March-April 2023 storm photography roundup
Here's a summary of events covered as the 2023 severe weather season gets going in March and April.
March-April 2023 Event List
March 23: St. Louis metro thunderstorms
A broad zone of elevated instability was present for this wave of storms and heavy rain moving through after sunset. We were well north of the surface boundary with low cloud ceilings, but a few visible bolts did make an appearance below the low cloud deck. I went out at home mainly to capture some thunder audio, and managed a couple of decent captures. One of the CGs managed to show on 4k video, albeit marred by rolling shutter: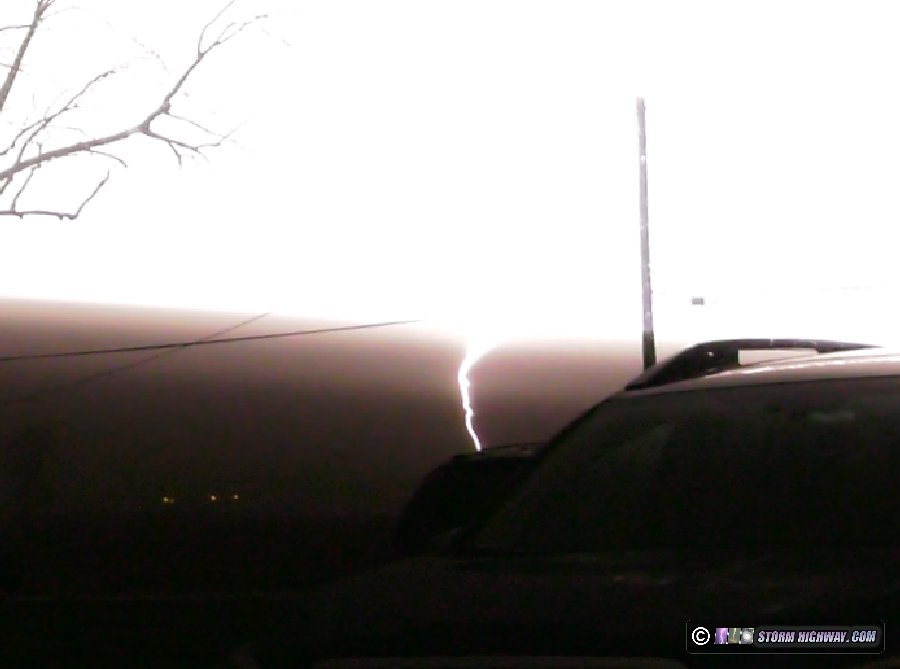 March 26: Southern Illinois storms
A few low-topped storms developed east of St. Louis. My parents and I (they were in town for a visit) headed up to Pierron after this crisp cell moving along I-70 at Highland.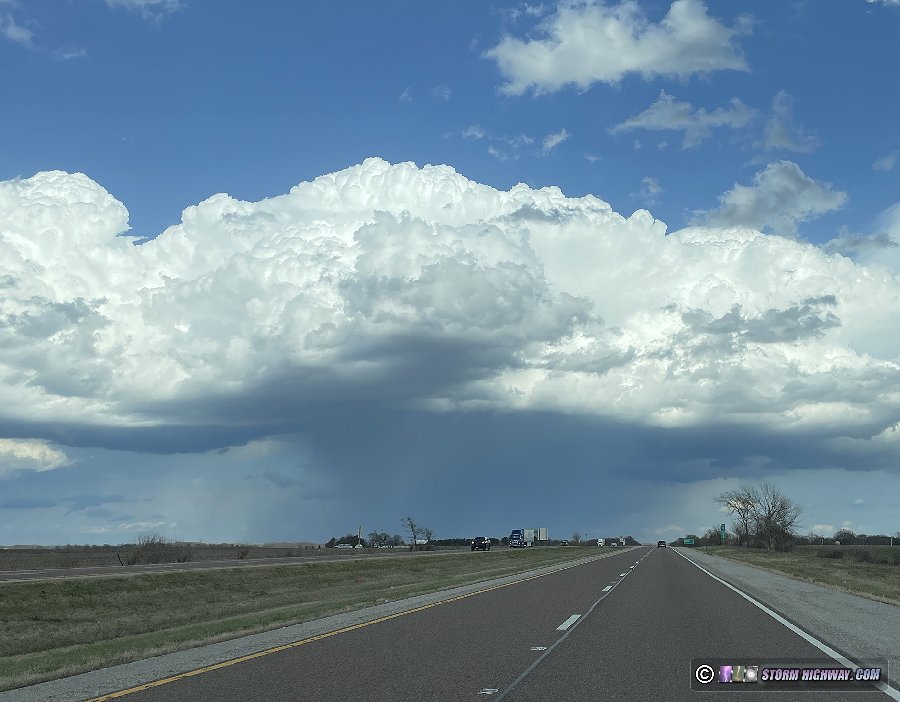 We dropped down to Trenton to take a look at new storms firing along the cold front, but didn't see anything else of note.
March 30: Eastern St. Louis metro lightning
I went out from Troy to Pierron this night as multiple rounds of elevated thunderstorms traversed the metro area. I encountered pea-sized hail in Troy. Some of the lightning was quite photogenic, particularly this storm near Trenton.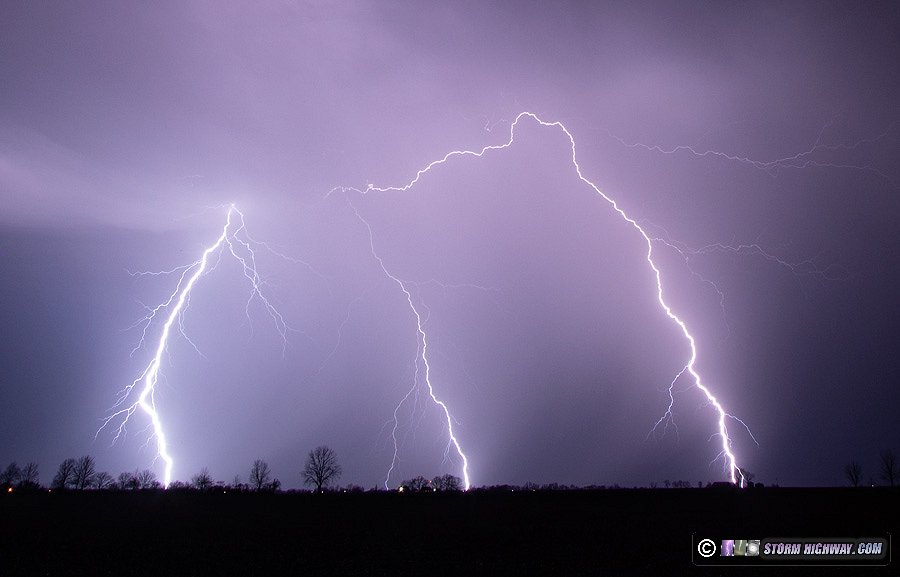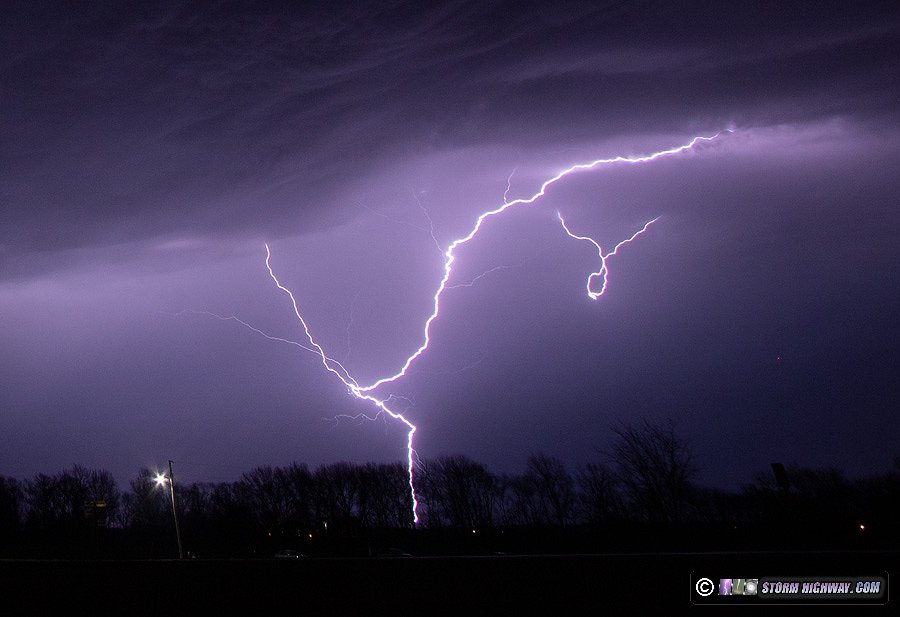 I was primarily shooting high-speed video, but was having the usual trouble with getting the focus dialed in. Focusing is incredibly difficult on that camera, requiring a trial-and-error process of capturing multiple lightning bolts while making tiny incremental adjustments until I get it right. Even after a dozen captures this night, I still hadn't been successful.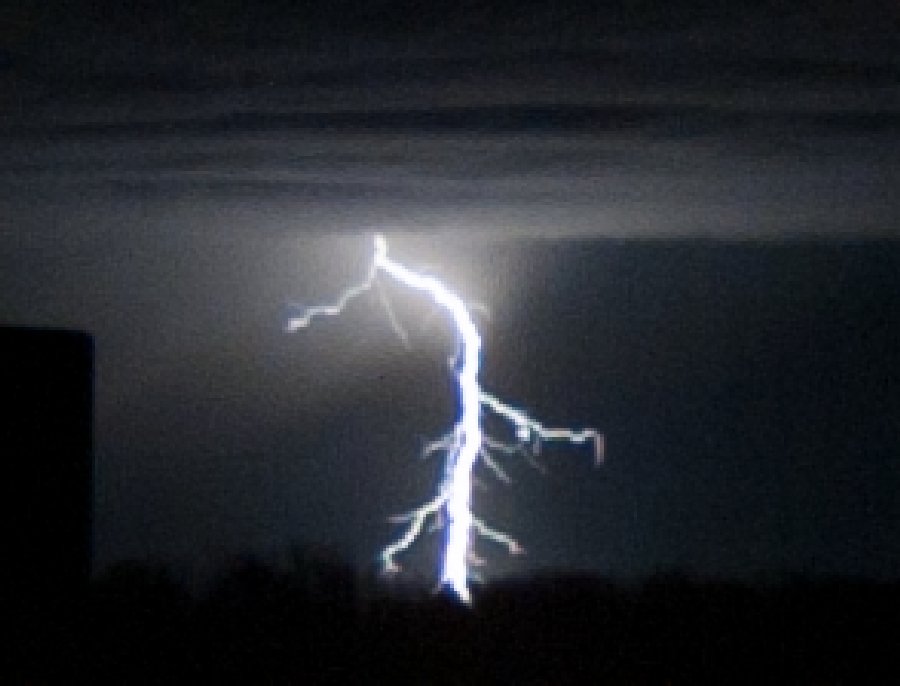 March 31: St. Louis area Moderate Risk
As I've said many times, if a tornado threat exists in the St. Louis metro area, I will always stay local even if better tornado targets exist farther away. This event was no exception, as a very potent tornado environment would exist metro-wide through the late afternoon and evening. Even though more certain tornado targets were evident in the High Risk areas well to the north and south, the potential in St. Louis was too high to consider venturing out of the area.
With the expected very fast storm motions, I was worried about only having one chance to intercept a storm. Since I preferred to catch a storm in the city, I waited near downtown for several hours. When it was finally clear that there were no upstream storms heading for the city, I moved northwest along Highway 61 to Troy, MO to intercept a strengthening circulation on a new supercell. The storm's meso beat me to the crossing point at Eolia: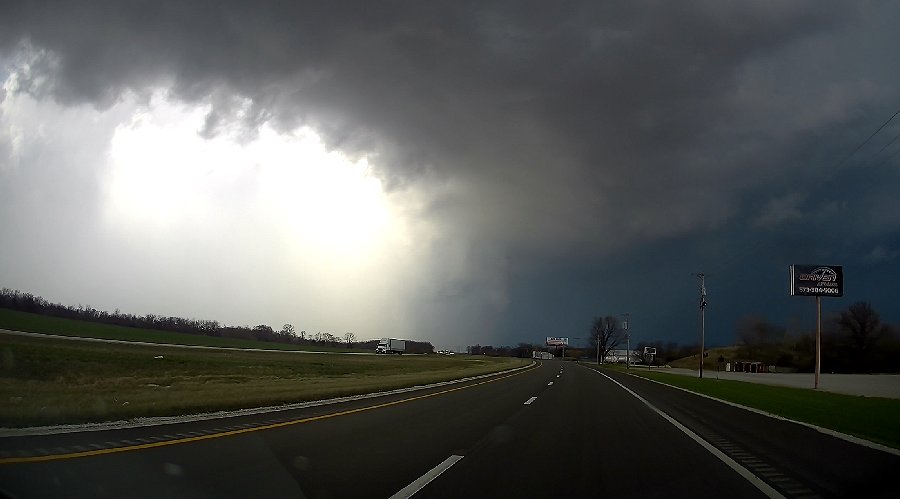 As the strong RFD surge overtook the highway, I turned around and headed southeast back through the metro for the next storm in the line that looked to cross I-64 near O'Fallon, Illinois. Due to the fast storm motions, I just barely made it through the cell's precip to get ahead at Shiloh. The storms were all left-moving, with updrafts on the north side (left movers have very low tornado potential).
At this point, the only option I had left for a daytime supercell was the lone right-mover in the line down near Perryville. I made my way down to Lively Grove to position ahead of it near the Prairie State power plant. Lightning was picking up, so I started recording high-speed video, though I still hadn't been successful in getting the focus dialed in. A close double strike to a high-voltage power line occurred in frame of the camera, albeit slightly out of focus. This is the resulting video of this event from both the high-speed cam and my driver's side dashcam:
The storm never displayed any supercell structure or low-level circulations while I had a visual on it, so I let it go and began heading home. This was the view of the storm to the southeast after I'd emerged from the west side of its precip near Venedy: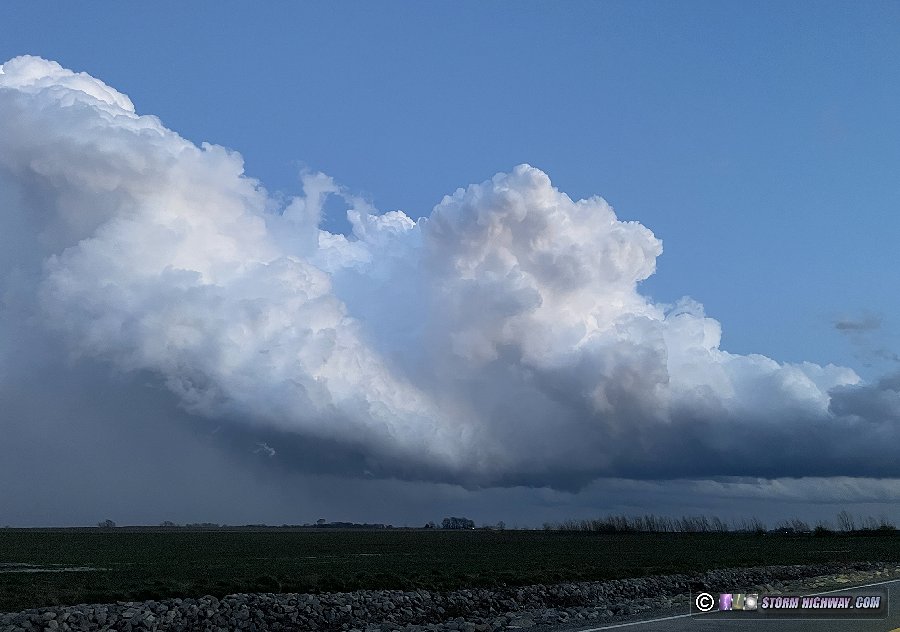 By now, a squall line had gone up in St. Louis and was approaching with several severe warnings for high wind. I stopped just outside of New Baden to watch this approach. There were no visible lightning channels despite plenty of flashes, but I expected some visible channels on the back side of the storms. A power flash occurred a couple of miles to the southwest as the gust front moved overhead with 50 to 60mph winds: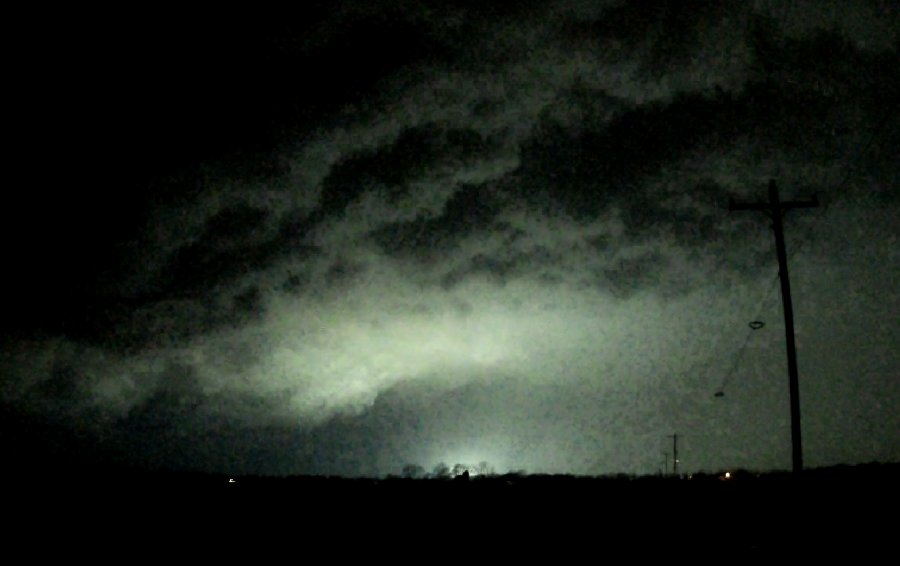 After the line passed, there was visible lightning on the back side as expected. I managed to use these to finally get the focus right on the high-speed camera while capturing a couple of interesting negative leader examples.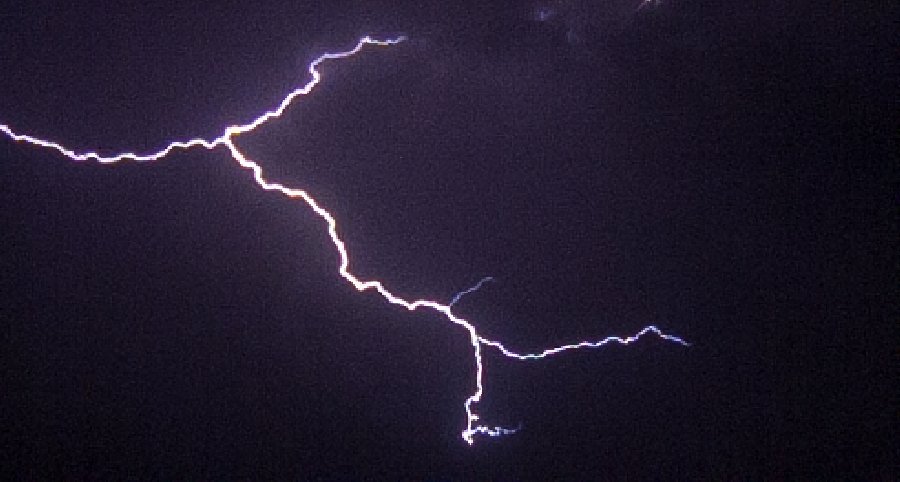 Meanwhile, the storm I had left at Lively Grove more than an hour earlier had started producing strong tornadoes along Highway 50 near the Indiana border area. There would have been no way for me to keep up with that storm, and I would have never considered following it that far east after dark.
April 3: Southern Illinois lightning
Models had backed off of the intensity of this overnight convection, and the initial radar echoes/lightning data before midnight showed meager activity in central Missouri. So, I was not expecting much in the St. Louis metro area. After midnight, I was surprised to see much stronger-than-forecast convection blooming about 40 to 70 miles to the south of us. I went outside to take a look, and could see the lightning clearly from all the way up at I-64. I stayed out for a couple of hours shooting with the 50mm lens. After a while, I moved down south of Mascoutah to get closer, but by then the storms were building even farther south with too much rain to the north blocking the view. About an hour later, I went back out from Mascoutah to just south of New Baden as additional storms developed closer. The following is a collage of the best DSLR captures.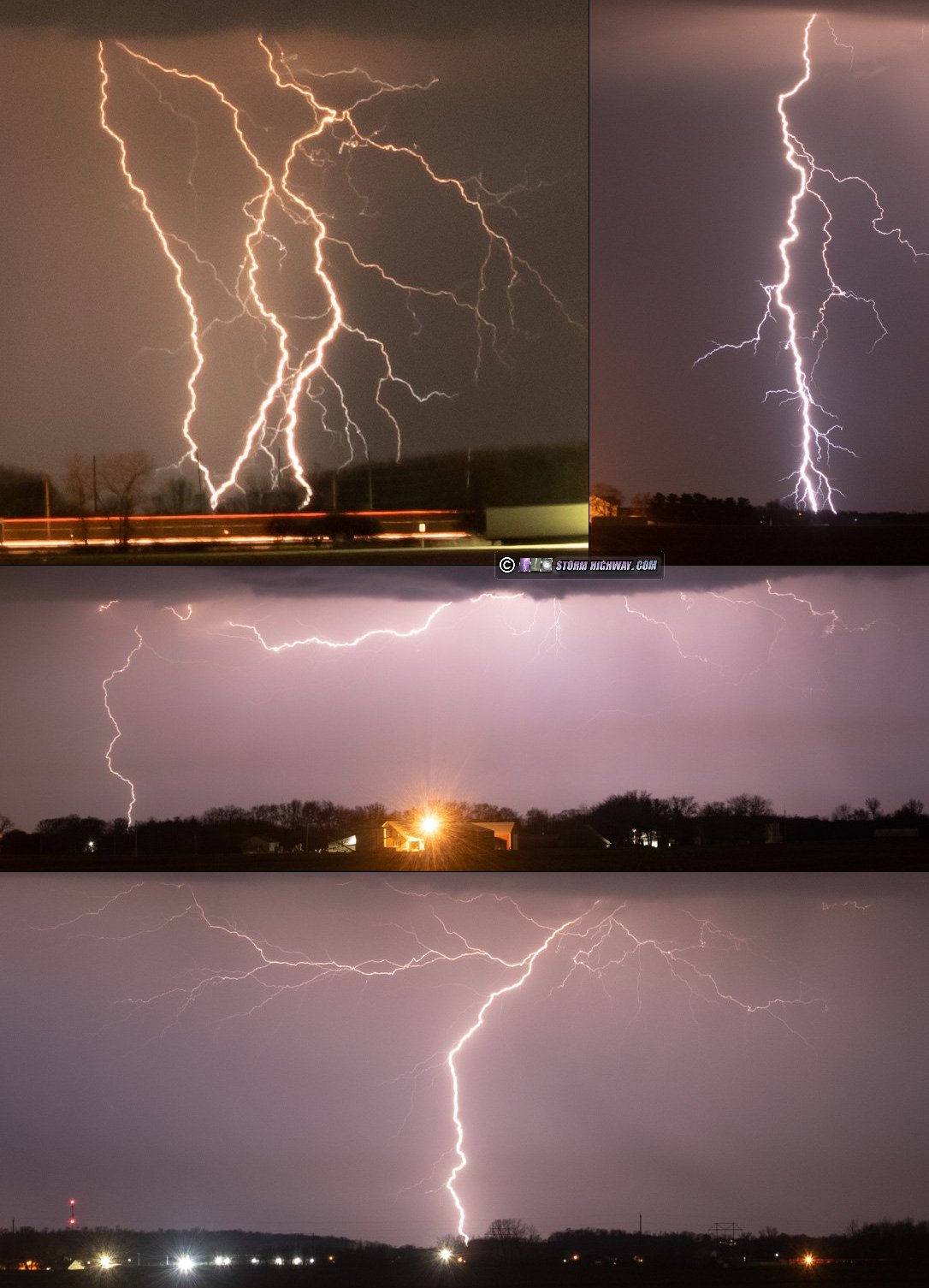 April 4: Western Illinois supercells and tornado
While this event looked very similar in risk area & synoptic feature placement to the one last Friday (March 31), the potential for daytime supercells in and around St. Louis looked low enough that I felt comfortable making the drive toward Hannibal area without worry about missing anything at home. The second round of storms the following morning would be St. Louis' biggest tornado threat, and I would have plenty of time to get home and be rested ahead of that second round.
I was initially pessimistic about storms in the Hannibal to Galeburg corridor thanks to a very strong cap. Additionally, nearly all of the newest short-term model runs completely failed to develop storms in that area. However, when storms initiated near Booneville in central Missouri and rapidly strengthened into a supercell, it was clear that the newest model runs were wrong and the original target would be in play.
I left home at 2pm and headed northwest. The storm, now northeast of Columbia, was struggling as it approached Hannibal. Instead of intercepting on Highway 61, I decided to divert at Bowling Green northeast into Illinois to keep ahead of the storm and give it a chance to improve. I caught it at Perry, IL and stayed with it to Beardstown. While it had some nice-looking structure, it was struggling in the low levels thanks to the cap and never really showed much of an organized midlevel meso: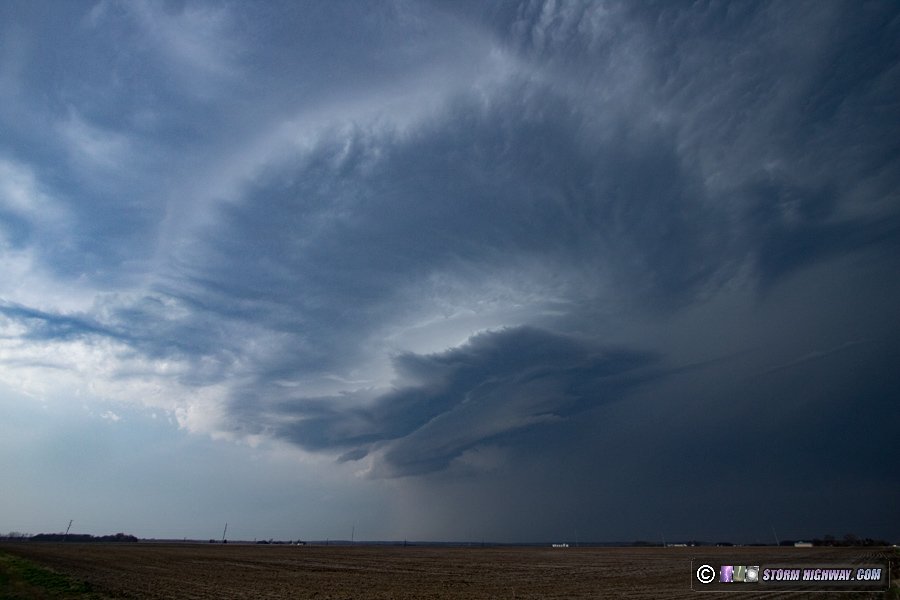 West of Meredosia, I passed a smoldering fire in one of the fields near the road apparently started by lightning. Meanwhile, a storm to the west in Missouri was rapidly strengthening and displaying a persistent mesocyclone on radar. I decided this would be the next play, and headed north on Highway 67 out of Beardstown for an easy intercept course. I caught this storm at Industry, and stopped to shoot high-speed video of the numerous positive lightning strikes occurring in the storm's forward flank. I captured two good examples of slow-to-fast positive leader transitions at 10,034 frames per second:
As the storm moved closer, it was taking on HP characteristics with a dense wet RFD. I chose to move up to north of Industry to maintain a good visual of the low-level meso. The storm, initially moving northeast, began turning hard to the right - and its primary circulation looked to be heading straight for the town. The storm's structure was quite impressive, and the RFD/forward flank tail cloud were quickly wrapping into an obviously-imminent tornadic circulation.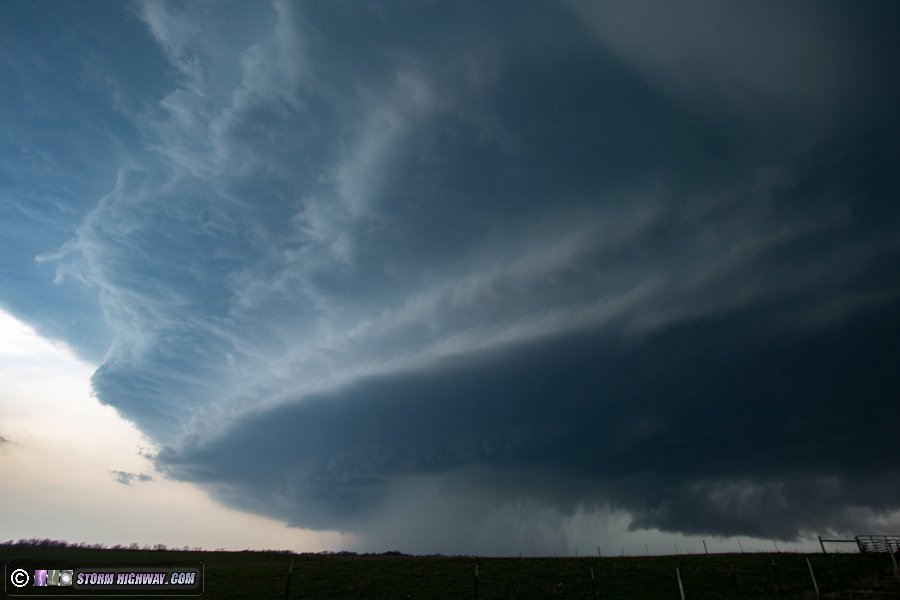 At this point, I suddenly realized that I might not have time to get back east ahead of the storm. I briefly entertained the idea of attempting to make it to the east road option to my south, but quickly thought the better of it as it would require a risky transect across the circulation's path. The very fast forward speed of the meso and the maxed-out VILs in the RFD precip (a sign of large hail) made it obvious that attempting that maneuver was just asking for trouble. So, I let the storm go at this point, barely threading the needle between the hail in the RFD and in the core to the north. Nonetheless, I did encounter a 30-second barrage of hail up to 2 inches in diameter in Industry that was big enough that I was concerned about losing my windshield (I haven't yet built my hail shields for this season). My windshield thankfully survived, but I did pick up a few new dents in my hood and roof.
I headed east behind the storm, encountering tornado damage along the road about a mile east of town that included destroyed grain bins and a house partially de-roofed. Just before the road curved south into the town of Vermont, I looked north to see a long, snaky rope tornado: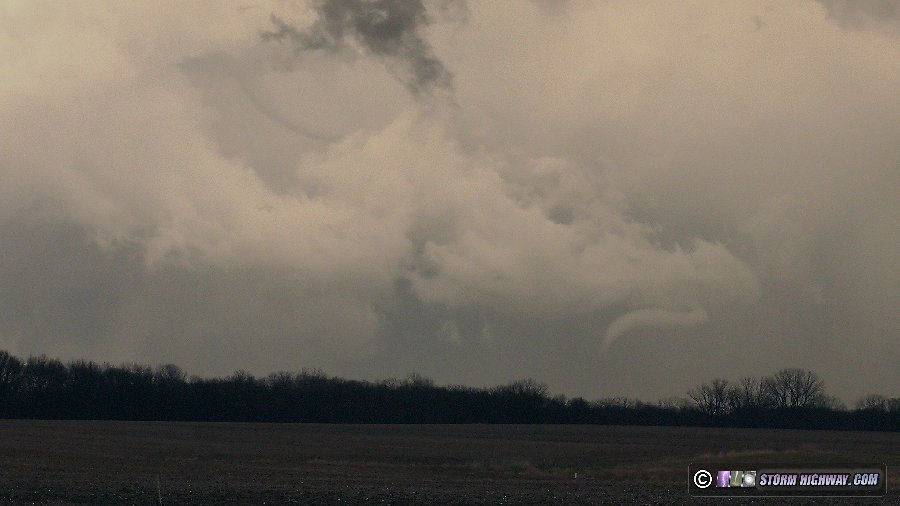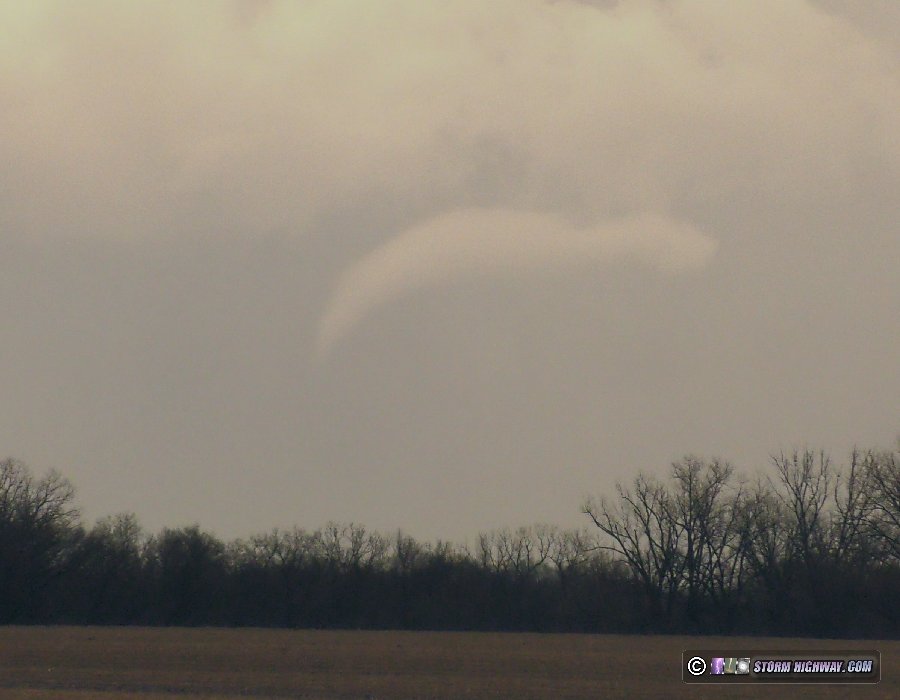 After conferring with other chasers, it's apparent that this is the rope-out of the tornado that struck Table Grove. The National Weather Service survey plots two tornadoes, one at Industry and one at Table Grove. The end of the first and the beginning of the second are very close together. The other complication is that the spot between these two paths is right at the border between the CWAs of the Quad Cities NWS office (DVN) and the Lincoln NWS office (ILX).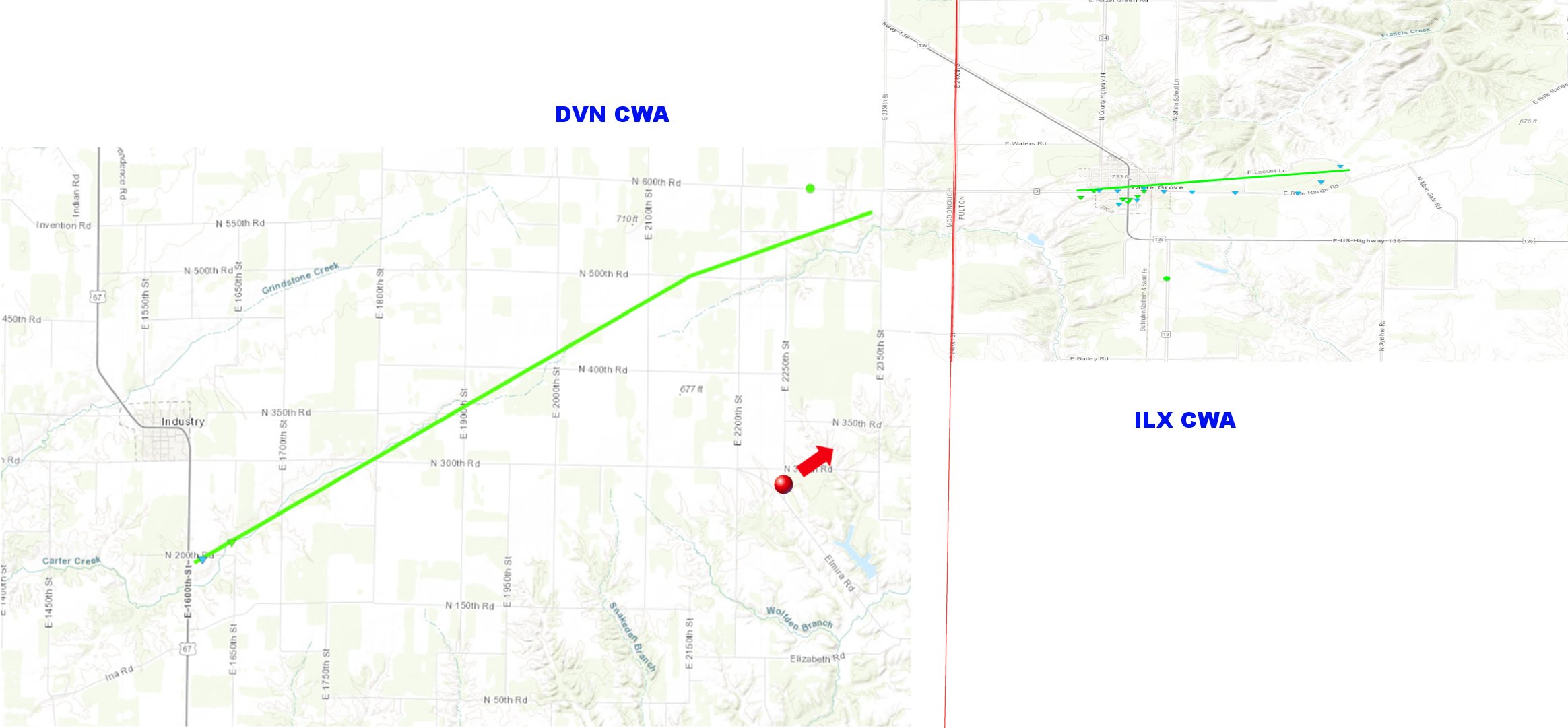 NWS damage surveys: DVN NWS for Industry, IL, ILX NWS for Table Grove, IL
This region behind the storm was also filled with numerous occluded circulations with rapid rotation and rising motion, but none wrapped up into additional tornadoes.
The fields here were full of 2 to 3 inch hailstones, validating my decision to hang back and not press my luck to stay ahead. It would have been an expensive maneuver that without hail shields, would have broken my windshield, sunroof and likely one or more of my side or rear windows.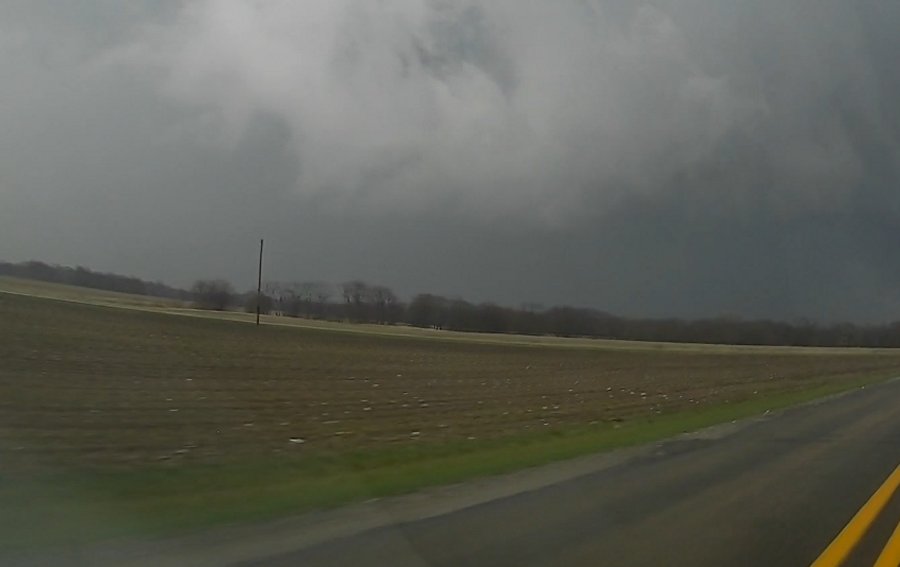 At this point, it was clear I was out of options for further intercepts. The storm was simply moving too fast to get back ahead of, and even in the unlikely event that I was successful, it would be after dark. I decided to just start heading home to get rested up for the next round in St. Louis in the early morning hours, arriving home at 10pm.
April 5: St. Louis metro storms
On paper, the second round of storms in St. Louis and southern Illinois looked like they had solid tornado potential despite their early-morning arrival. A strong tornado occurring to the southwest in Missouri with a cluster of storms ahead of the front seemed to validate those parameters. But as the storms crossed the Mississippi River, they were slowly falling apart. They didn't look worthy of driving down to Carbondale to intercept. I decided to drive east to Nashville to see what the lightning looked like on the back side of the cells. While there were several impressive flashes, none occurred in view of my camera while I was shooting.
I headed back home to await the final squall line approaching St. Louis. This area was slowly falling apart, with very little lightning. In addition, it would be after sunrise when it arrived in the city, meaning there would not be ideal conditions for still photography. I decided to just watch and wait at home.
Just before arriving in the city, the storms rapidly intensified. This happened too close to downtown for me to be able to make it in time, so I went out close to home to watch it approach. Despite the stronger radar echoes, lightning was still relatively meager. The best I saw out of this was a "whale's mouth" behind the gust front: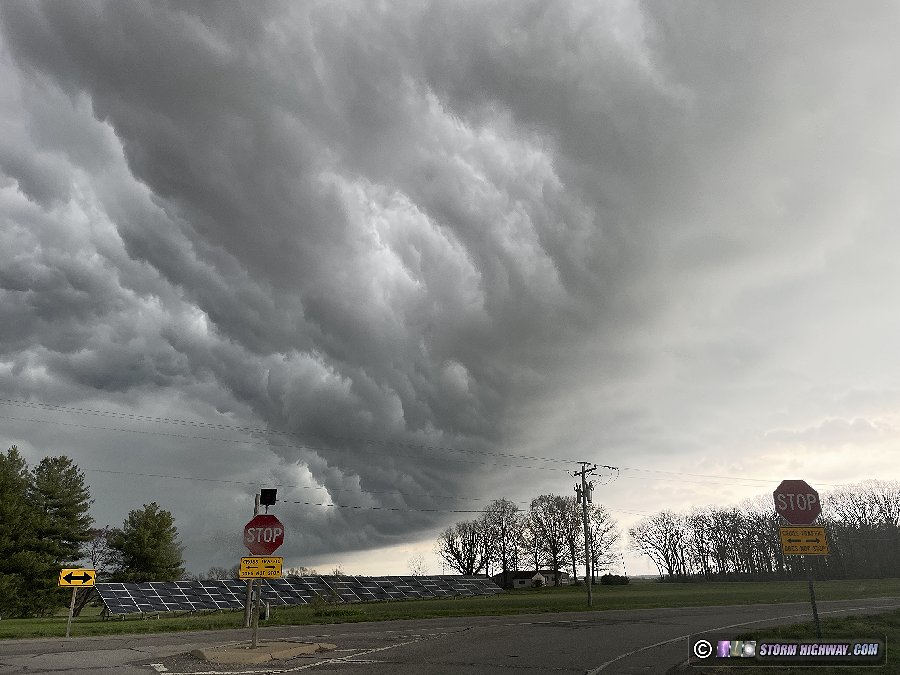 I went back to New Baden to set up for high-speed lightning video as a parade of additional cores moved over during the next 2 hours. The lightning was just too infrequent and randomly-placed to be able to shoot. I managed to capture one downward negative CG flash on high speed, and my dashcam caught a close bolt about a half-mile away in the field.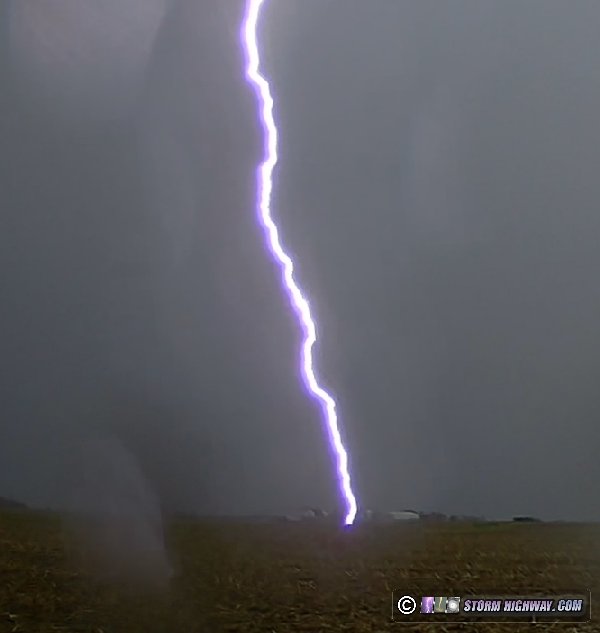 I was done with the storms at 10am, closing out this two-day event.
April 15: St. Louis supercell and upward lightning
This was yet another day where the threat for supercells and tornadoes in the St. Louis metro precluded traveling out of the area. Models had been consistently showing potential for at least one round of lead storms to fire well ahead of the main activity in western and central Missouri. This seemed reasonable, as a sharp cutoff from the early day precip would give us maximum sunny sky time to destabilize as the steep lapse rates moved overhead.
I went into the city at midday to take a look at the early round of storms. These contained better-than-expected lightning. I caught this close strike on the high speed camera east of downtown (video is included in this video):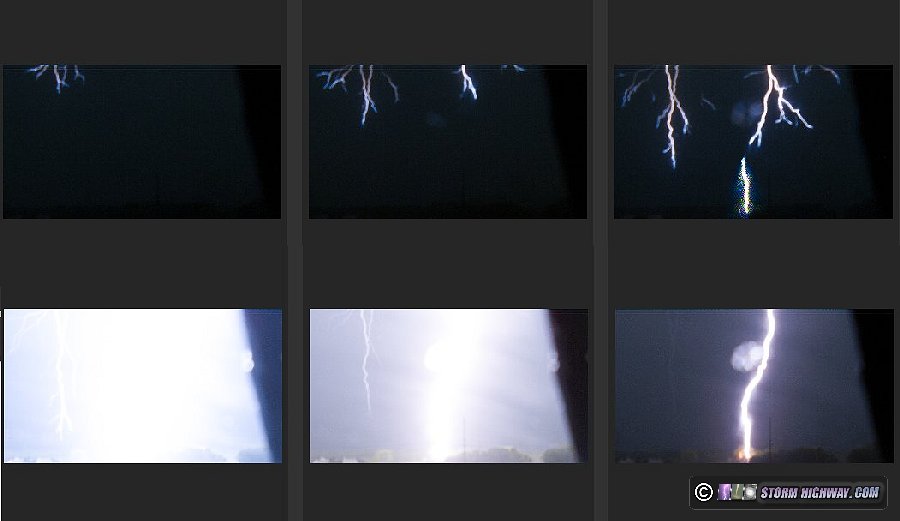 Sadly, this shot was horribly out of focus due to ongoing severe problems I've been having with my high speed camera lens this season. Infinity focus has been moving literally every time I touch the camera, so there is no set-it-and-forget-it - the lens must be refocused each time it is picked up. I later was able to temporarily fix this by massively tightening down the rail system the camera and lens are mounted on, but this will only work for a while. I may have to shell out the money for a micro four-thirds lens mount that the manufacturer has just released. The native c-mount is just too unstable.
After these early-day storms moved east, the sun quickly re-emerged. It was now just a waiting game for the main event later. Despite the first storms of the day firing all the way down across the border in Kansas, I was in no hurry to leave. Models and eventually visible satellite signalled the continued potential for new storms to fire very close to or in St. Louis by mid-afternoon, so I just held my ground in the city. Finally, the expected leading storms began firing near Union/St. Clair - a little farther west than I'd thought, but still in line to impact the metro. I positioned ahead of the southernmost storm which eventually became the dominant right-mover in the cluster, intercepting it at Eureka. The storm featured a strong RFD punch, but motion was weak.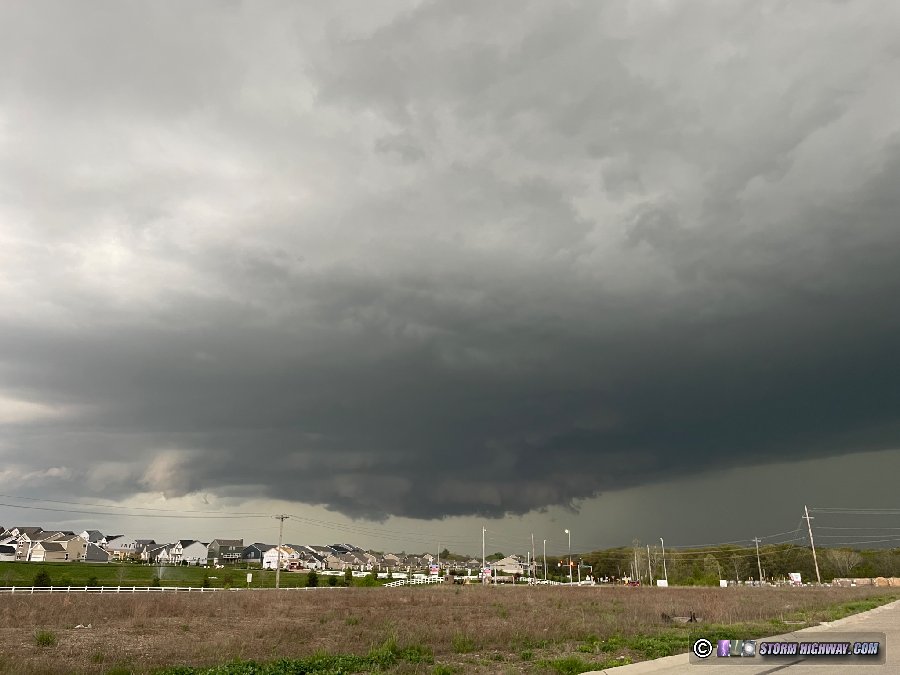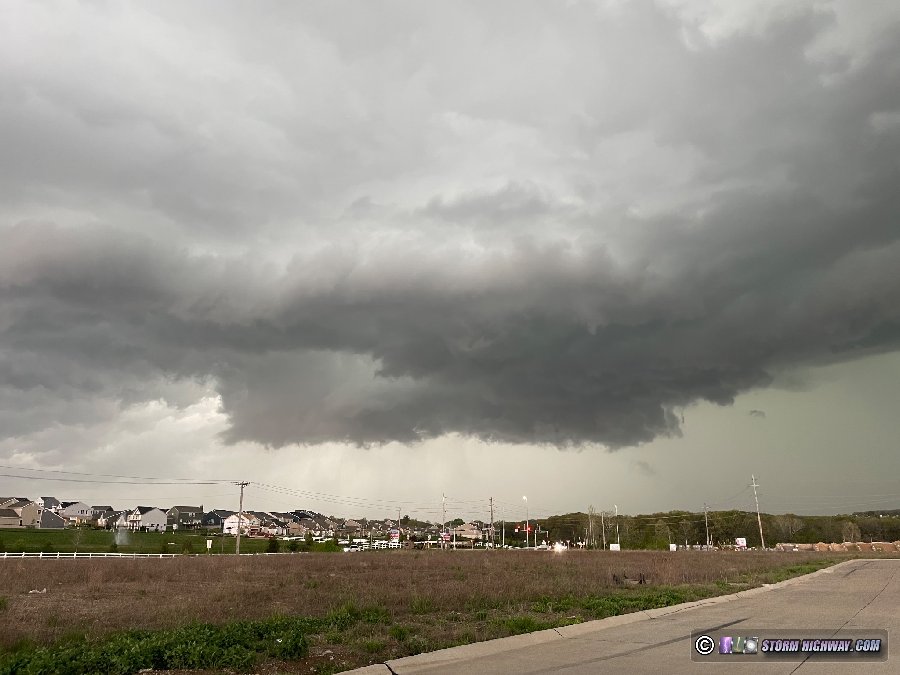 I moved ahead of the storm, stopping again at Fenton.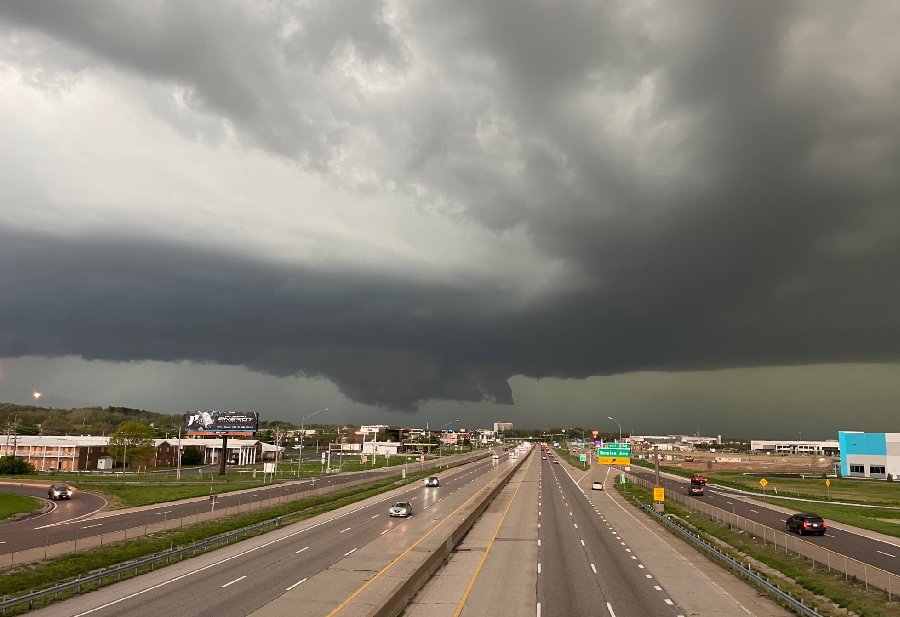 At this point, I needed to get far ahead of the storm to my usual downtown spots so I'd have time to set up. So, I left the storm at Fenton and headed east. As soon as I passed Big Bend on I-44, the storm's radar appearance improved and a tornado warning was issued for Valley Park. I stopped to look back, but I was too far away to have a visual.
I made it downtown in plenty of time and got set up. The storm's passage through downtown was uneventful, although tornado-warned with sirens sounding in the city. There was no visible lightning and no dramatic storm structure here. So, I packed up and headed back west to Brentwood to shoot upward lightning in the storms' now-extensive trailing stratiform region. This ended up being a good show, with 9 upward events to the towers as well as positive CGs and nice negative cloud flash leader activity. I captured 7 of the 9 upwards on the high speed camera, the highlight of which was a rare negative upward flash to one of the towers, the first example I'd witnessed and captured.
I arrived home at 10:30pm to make it a 12-hour outing, despite never leaving the metro area.
April 20: Jerseyville to Medora, Illinois storms
This was a fairly marginal event that I wasn't planning on spending much time on. The better wind fields would be far to the north between the Quad Cities and Chicago, but that target was unappealing thanks to questionable airmass recovery behind a wave of early-day precipitation and clouds. As usual, I felt that there was no good reason to leave the metro area and that I'd just see what we could get here.
Storms fired in central Missouri relatively early in the afternoon, and were moving east very slowly. Finally, the storms began organizing northwest of the metro area and looked worth of going up north of Alton to check out. The middle storm developed a decent look on radar, with a strong RFD surge, a menacing-looking core and a hook echo - though midlevel rotation was weak. I intercepted this storm at Jerseyville, but by then its gust front had already pushed about 5 miles ahead of the updraft, killing its tornado potential and making it devoid of any good structure or even lightning.
The storms were lining out, so I decided to head northeast to near Medora where the gust front curled back into the line. This area actually looked fairly decent for 15 minutes as it slowly tracked northeast: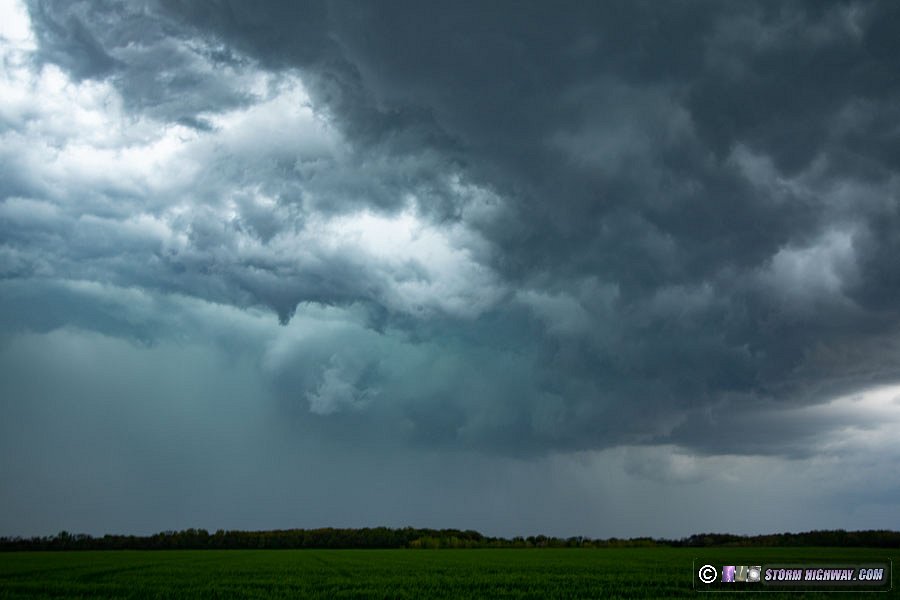 There was a good burst of lightning here also, but none was cooperative for my camera. This feature quickly fell apart as the outflow surged farther ahead of the entire complex. After the lightning activity slowed down, it didn't look like there was much reason to stay with the storm farther northeast. I started the drive back south toward St. Louis in preparation for the eventual passage of the line through the city. However, an expansive area of rain and weak storms had developed just east of the metro area, cutting off the inflow of the St. Louis segment of the incoming line. The storms were already struggling west of the metro, and it seemed obvious to me that they'd have little chance to recover. So, I called the day and headed home.
After I arrived home, the sky lit up with a surprisingly good sunset mammatus display: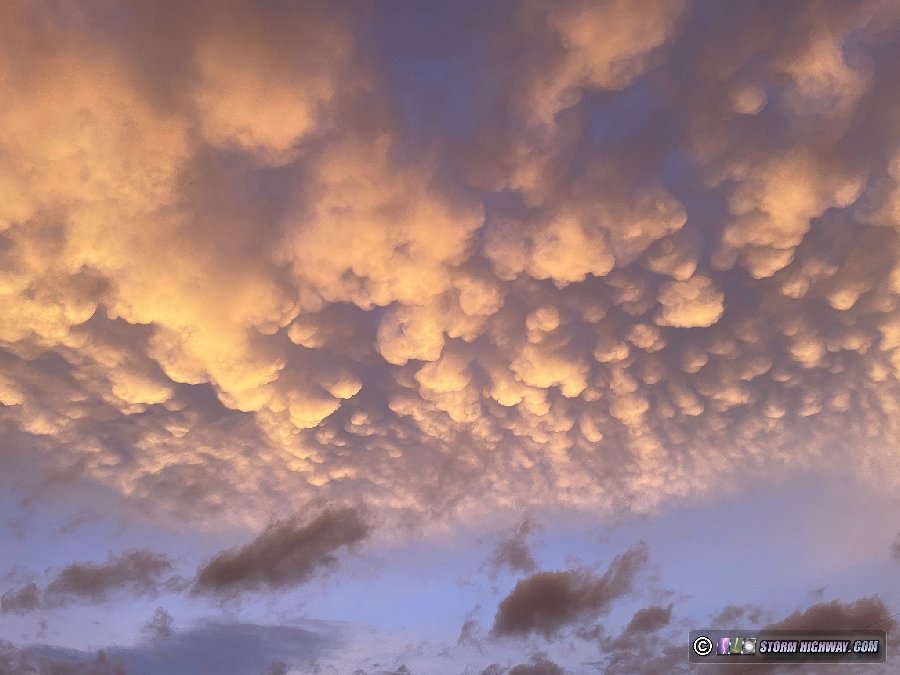 April 23: Auroras over southern Illinois
I haven't been as motivated to do much with aurora attempts in recent years, mostly because it always requires sacrificing sleep to wait outside for several hours for the best bursts of activity (that many times never happen). This night's potential seemed exceptional enough to at least go out for a while and take a look. I went down to a railroad crossing near Albers and captured a very bright interval of auroras that even my cell phone was able to pick up. These are each 2-frame stacks from my DSLR: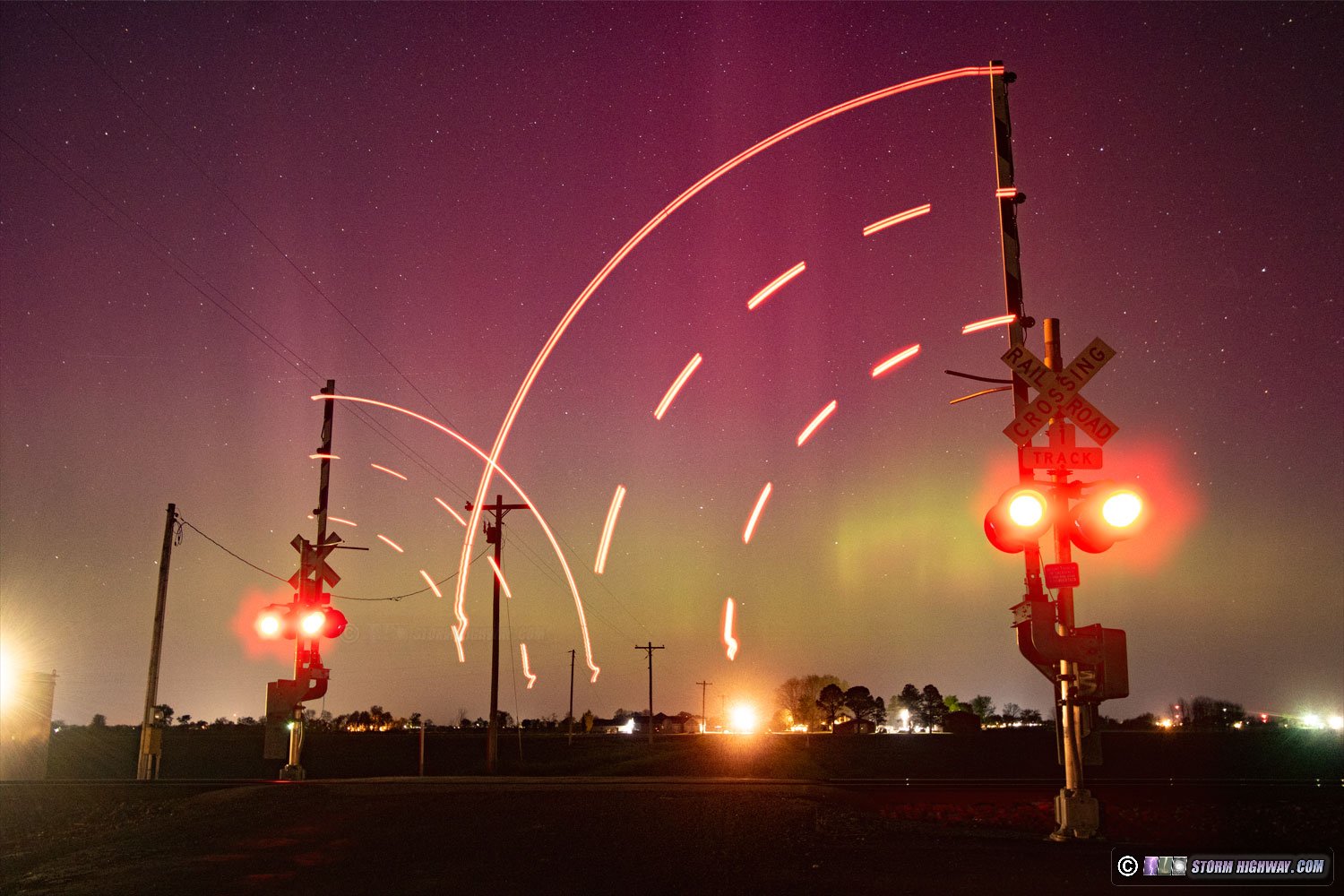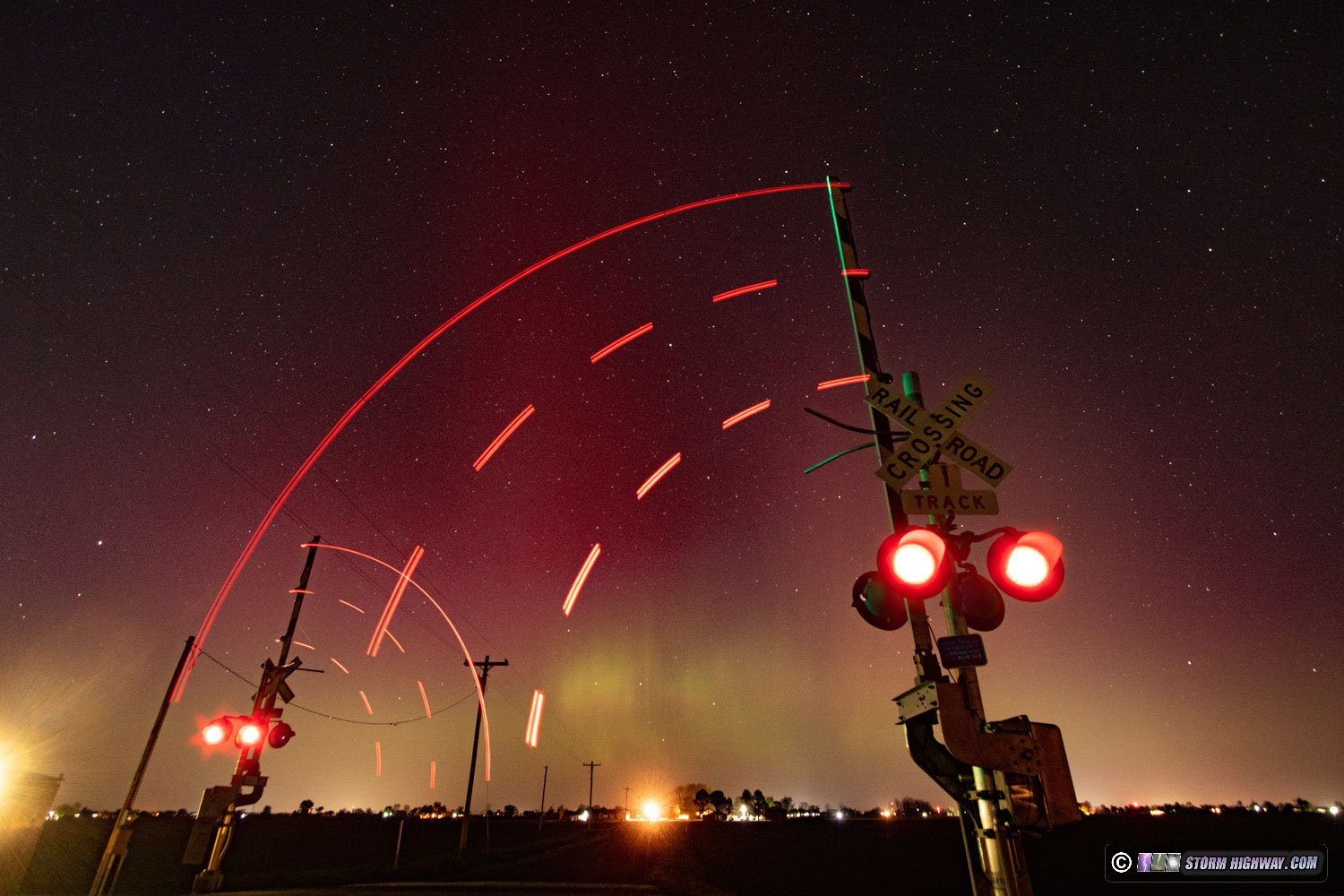 GO: Home | Storm Expeditions | Photography | Extreme Weather Library | Stock Footage | Blog
Featured Weather Library Article:
All content © Dan Robinson. All usage requires a paid license - please contact Dan for inquiries.

Web Site Design and Internet Marketing by CIS Internet