Home | Blog Index | Blog Archives | Christianity & Faith Essays
Tuesday, February 28, 2023
January-February 2023 Storms and Weather Roundup
While January 2023 was a busy month for weather travels, February was mostly quiet. The following is a recap of weather observed during the first two months of this year.
January-February 2023 Event List
January 2: St. Louis metro thunderstorms
I went out briefly south of New Baden after sunset to watch a cluster of thunderstorms moving up from the south. There was a good amount of lightning, but the cloud bases were too low for any channels to be visible. After this activity moved north, I drove into the city to await more storms moving up from the southwest in central Missouri. These weakened before arriving, and I didn't see any more lightning the rest of the evening. I shot with my high-speed camera for about 15 minutes in New Baden, but didn't capture anything.
January 3: Southern Illinois storms
A surprise tornado event materialized this day. The cold front lagged farther west than forecast, allowing a narrow corridor of surface-based instability to develop just ahead of the boundary as a powerful jet streak moved overhead. The parameters were quite decent, especially for a winter event. Surface winds were even backed just ahead of the slowly-advancing front. The downside is that most of the cloud breaks were behind the cold front, but pockets of clearing were finally developing ahead of it by mid-afternoon. Short-term models indicated thunderstorms should develop in this broad zone of supercell potential ahead of the front from central to southern Illinois. Storms were indicated close to the St. Louis area, and I didn't see any reason to stray very far from home.
Several weak showers developed just head of the front south of Okawville, so I headed in that direction to intercept them on Highway 177. I arrived on them to find no low-level organization and no lightning. With more clearing getting established to the south and east, I felt that new cells developing near Perryville, MO might mature by the time they arrived in the Pinckneyville, IL area. I headed south and parked at Rice along Highway 127 to await their arrival. Despite growing in intensity briefly after crossing the Mississippi River, the convection slowly dissipated as it approached and passed me. I didn't see any lightning, and ThreatNet didn't show that the cells had produced any even at their peak strength. I stairstepped northeast with them for about 15 miles, but abandoned them and headed back home via I-64 as reports of the tornadoes up along I-72 between Springfield and Decatur began streaming in. I didn't touch any of my cameras this day as my storms didn't give me a reason to.
A post-mortem of the event left me with the conclusion that I probably wouldn't do anything differently in a similar setup. I didn't see any real reason to drive the 2 hours to I-72 when I had what appeared to be a very comparable environment close to home. I've just conceded that in these situations, if my storm doesn't produce, I'm just going to miss out when the other areas do!
January 8: St. Louis snow
I was preparing to drive to Columbia, Missouri Sunday for forecast subfreezing snow of around an inch total. I ended up calling off the trip by midday due to models being too cold on surface temperatures and too early with the bulk of the precipitation. Any icy roads would be happening after nightfall and mostly north of the city where it would be too dark for video. Later that night, temperatures were falling rapidly around the St. Louis metro, so I went out to monitor conditions in the city. A brief burst of light snow moved through around 9:30pm, but with temperatures still in the 35-36°F range, there were no impacts.
January 9: St. Louis icy bridges from frost/freezing fog
After the light snow, I stopped at my office to work on a few things. About an hour later, I went out to my car to find a thick coating of frost already covering everything. This can be a sign of a rare frost/freezing fog icing event, and upon seeing the St. Louis NWS posting a statement about the same, I decided it was worth going out again to monitor the conditions. This type of event is rare (I'd only observed it 3 times before in 19 years), but I knew that it usually affects river valley bridges more. I made a few passes around the area on I-55, I-255, I-64 and I-44. Eventually, icing began developing rapidly on the Poplar Street Bridge after 1am, and by 2am it was already dangerously slick. I called this into MODOT and the NWS and posted the following picture to Twitter: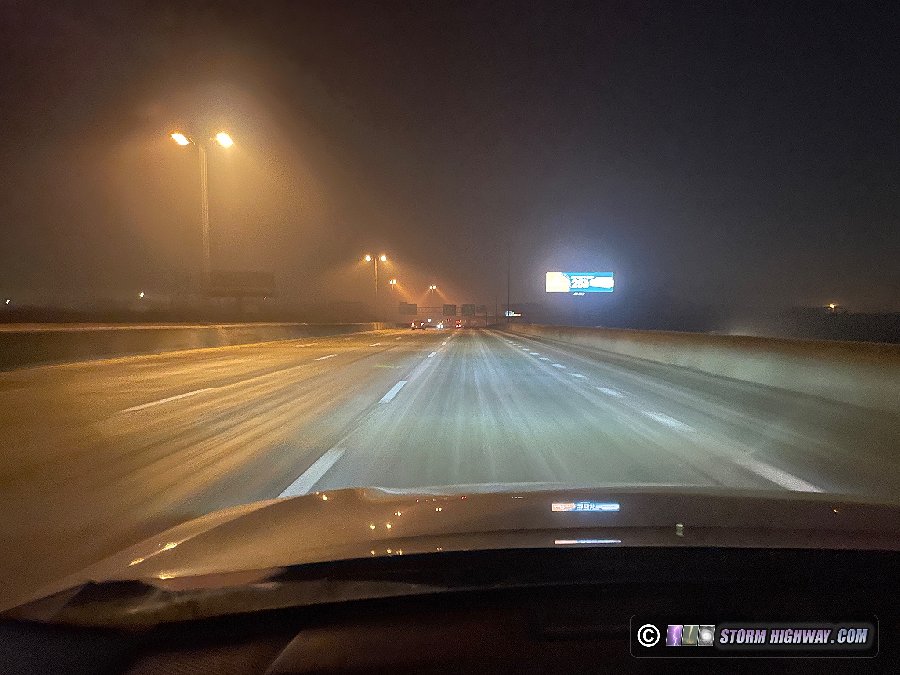 I made four round trips down I-55 to South County to check the condition of bridges there, but the icing was not occurring as fast in this area. I made a pass across the JB bridge and back to downtown via I-255, but I found no slick conditions in any of these locations. Accidents were already occurring on I-64 along the Poplar Street Bridge and farther west. I made my way over to Jefferson Avenue and parked at the new overpass with a view of the I-64 viaduct next to Union Station, where I captured this footage:
January 12: St. Louis metro thunderstorms
This was yet another severe weather event to our south with St. Louis just a little too far north of the warm sector for any decent lightning. Even though the main severe weather risk wasn't that far away (from Cape Girardeau/Sikeston through Evansville), it would be entirely after dark and didn't look impressive enough to make the drive to it. The MUCAPE (most-unstable CAPE) parameter is one I use often for discerning the potential for lightning, particularly in the cool season. Tonight's MUCAPE nose would barely be reaching I-64, which meant we would be right on the line for any respectable lightning. Furthermore, being this far north of the warm sector in the cool season usually means fog and/or low cloud bases anyway. Nonetheless, I went out for about an hour to watch storms approach from the south. Though I could see distant flashes as they approached, as expected, storms mostly fizzled by the time they reached me. There were a few sporadic flashes as the remnants of the cells moved overhead, but by that time I had decided to go back in to work. I turned on my high-speed camera for this storm, but didn't end up with anything worth attempting to shoot.
January 13: St. Louis freezing drizzle and snow
Surface observations and radar showed a blob of freezing drizzle getting started right over the St. Louis metro area at midnight, which prompted another trip into the city. I ended up going into St. Charles County where temperatures were colder and where radar showed heavier precip. Though my car started icing rapidly in St. Charles, I didn't find any ice on roads or bridges after making several passes on I-70 and Highways 370, 94 and 364. Once this area of precip weakened and moved south, I turned my focus on snow bands moving southward into southern Illinois. These were producing minor impacts per traffic maps in the Springfield/Decatur areas, but only briefly. Due to it still being dark, I opted not to drive the 45 miles east on I-70 or I-64 that would have been necessary to intercept these bands. This turned out to be the wrong choice: significant icy road impacts did end up developing at daybreak from Effingham to Mount Vernon and as close to home as Greenville-Vandalia on I-70.
January 21: Half-inch of snow east of St. Louis
Models had come into good agreement on a band of snow developing before midnight right over the St. Louis metro area, though temperatures would likely remain above freezing. The band began developing by early evening west of town, so I went into the city to meet it. As it moved through around 10pm, the dry low-levels resulted in none of the precipitation reaching the ground despite healthy-looking radar echoes overhead. I followed the band back east on I-64 toward home.
At Caseyville, snowflakes began appearing in my headlights, and by the time I reached Shiloh, I was in a pretty solid area of moderate snow. The grass next to the interstate quickly became covered. Temperatures had fallen to 34 degrees, but it wasn't cold enough for the snow to stick to the roads or bridges. By the time I reached Highway 4, the snow was heavy enough that the reduced visibility prompted a slowdown of traffic. Again, the highway remained clear. Even the bridges didn't develop accumulations thanks to the above-freezing temperatures. I drove up to Highway 161 at Albers to check on an indicated slowdown there, but again found no slick conditions. I used Haselhorst Road to get home, finding a few spots where the road was partially covered. I measured a half-inch of accumulation back home in New Baden.
January 25: St. Louis snowstorm
I had low expectations for this event thanks to temperatures forecast to remain above freezing for the duration. Nonetheless, I spent all night into the morning and 300 miles of driving to cover it. During the height of the event around 4:00AM, untreated and unplowed roads were surprisingly slick. By sunrise, the snow was winding down and roads rapidly cleared as temperatures rose higher. I set up my camera once near Otto along Route 21, but didn't capture any footage.
January 28-February 1: Texas winter storm
My first major winter weather trip of the season would be prompted by a significant freezing rain event affecting most of Texas. I left St. Louis on Saturday night and headed down to southwestern Missouri/northwestern Oklahoma to cover the first rounds of freezing drizzle. I encountered no issues here, so I continued down to Gainesville, Texas for the night. On Monday morning, I started my day at midnight, heading down to Fort Worth as the first rounds of freezing drizzle began icing bridges. I captured this footage before sunrise:
I spent the rest of the day around the Dallas-Fort Worth metroplex, but did not capture any more footage. I ended the day in Rockwall at sunset. On Tuesday, I again awoke very early as additional freezing rain moved into the area. Due to most of the metroplex's precipitation falling as sleet, I spent most of my time to the east around I-20 and I-30. I eventually decided to move up to Little Rock, Arkansas for a afternoon round of freezing rain. This precipitation fell mostly as sleet in temperatures just below freezing, and did not cause any significant issues.
I continued east toward Memphis where more freezing rain was occurring in colder temperatures. In Forrest City, my dashcam captured a distant view of a van crashing on a bridge. I encountered several treacherous sections of Interstate 40, but none that I could shoot video of safely. I turned north on I-55 toward home. Just north of the Missouri border after midnight, a tractor-trailer jackknifed into the median ahead of me on a siddenly-icy section where three other vehicles had already lost control. The dashcam captured it, but again, at a distance. There was a rest area at this spot that enabled me to stop and get the camera on this scene, but no further incients occurred.
I stopped for the night at Hayti, then resumed the rest of the trip home on Wednesday.
February 15: St. Louis metro thunderstorms
Like a broken record this winter, we saw yet another big cool-season storm system with the warm sector too far south to allow for good highly-visible lightning in St. Louis. The MUCAPE gradient did manage to get to the I-70 corridor, so we would at least hear some thunder. I went out briefly close to home to watch some of these storms move over, but as expected, the lightning was all inside of the clouds with the exception of the occasional random positive CG. No photos or videos captured.
February 22: St. Louis severe storms
St. Louis finally made it well into the warm sector of a cool-season storm system moving through the Midwest, resulting in a marginal severe thunderstorm environment in the region. My plan for this event was to set up for upward lightning in the trailing stratiform region of the storms. Alas though, the storms were producing zero lightning as they approached the metro after noon. With the paltry instability, I was surprised to see the line develop QLCS tornado potential, focused mainly along a warm front just to the north. As the first tornado warnings came out for Troy and Wentzville, I made the decision to head up to Jerseyville to intercept the strongest circulation. This faded as I passed Alton, so I moved east on Interstate 70 to Highway 4 for the next kink in the line that was developing a broad circulation. This was all embedded in heavy rain, with no cloud base features visible. The wind was strongest on the back edge of the rain cores, which produced some minor tree damage along Highway 4. No photos or videos captured this day.
GO: Home | Storm Expeditions | Photography | Extreme Weather Library | Stock Footage | Blog
Featured Weather Library Article:
All content © Dan Robinson. All usage requires a paid license - please contact Dan for inquiries.

Web Site Design and Internet Marketing by CIS Internet