Weather Logs Home | Expedition Logs by Year | Video Clips | Photo Gallery
May 22-24, 2002 Storm Event Log : May 22-24, 2002
Click any photo to enlarge
Wednesday, May 22
After an unusual week-long 'death ridge' of high pressure that kept severe weather out of the central Plains for the middle of May, the outlook finally began to look better for tornadoes beginning on Wednesday, May 22. I left Charleston at 8:00PM on Tuesday evening and headed west. After the long all-night drive that included a couple of quick sleep stops at rest areas in Indiana followed by St. Louis morning rush hour (below left), I finally crossed the Kansas border at 2:30PM (below right) on Wednesday as our chase team was getting into position for a possible severe weather event north of Wichita.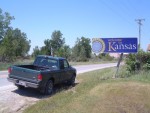 There was no way I was going to catch up with the group before the storms would begin to develop. I drove around southeastern Kansas enjoying the scenery, as I was hoping the storms to the northwest would move into my region and at least put on a lightning show later in the evening. At one point, I pulled off the road to look at the map, only to notice that I was on an interestingly named road for my trip (below right). There were lots of turtles in Kansas, daring to try and cross the roads (below right). The line of thunderstorm cells would end up staying well to the north into Nebraska, so I got a cheap hotel for the night after 21 hours of driving and nearly 36 hours without a good night's sleep. After checking the outlook for Thursday (which didn't hold much promise), I quickly dozed off.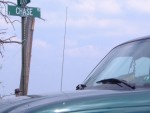 Thursday, May 23
Thursday morning, the forecast for the day's weather wasn't significant enough to warrant the 400 mile drive to northern Texas where the slight tornado risk was greatest, so part of the team opted to stay in Tulsa. The rest of the expedition team, however, was already in position in Western Oklahoma - and ended up filming a brief tornado in northern Texas. Later that evening, a line of storms with intense lightning moved through downtown, so I took the opportunity to grab a few lightning shots northeast of Tulsa (below left, center and right).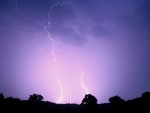 Chuck, Jesse, Crystal, Bill and Amy arrived late that night. The next morning, we were heading west to northern Texas, where a Moderate Risk for severe weather had been issued.
Friday, May 24
We met up with the rest of our chase team south of Childress, Texas, while storms with nickel-sized hail were already developing rapidly overtop of us (RealVideo clip, 1MB). As we considered our next target area, a cell just to our southwest put on a spectacular display of cloud-to-ground lightning (below left, center, and right). Frame-by-frame video of these strikes showed the stepped leaders descending just prior to each bolt's connection with the ground (click each photo below for details).
As we punched back east through the storms to an area of better instability, I had to slow down and drop back behind our convoy due to my truck hydroplaning dangerously in the heavy rain. It was this peril that cost me a brief tornado that the rest of our team witnessed an hour later in Vernon, Texas. Needless to say, I was very disappointed - that would end up to be my only chance of the trip. But I'd rather have missed the tornado because of slowing down, than to miss it because I fishtailed off the road at 70MPH and ended up in the hospital- or worse.
If you're a storm observer, you know that getting over the big disappointments like missing a tornado are well made up for by the other phenomena you get to see on the Plains - like these sights I saw near Vernon as I tried to catch up with the convoy: Double rainbows (below left), and spectacular lightning and mammatus clouds (below center and right)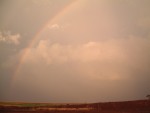 I finally met up with the convoy in Wichita Falls, Texas (below left) where we enjoyed a late Denny's breakfast before heading back to Vernon to spend the night. At the hotel, most of the team stayed up late to watch all of the video captured during this day's expedition (below center). In the morning, part of us stopped for a group photo in the Wal-Mart parking lot (below right).
Weather Logs Home | Expedition Logs by Year | Video Clips | Photo Gallery
This web site is made possible by support from CIS Internet.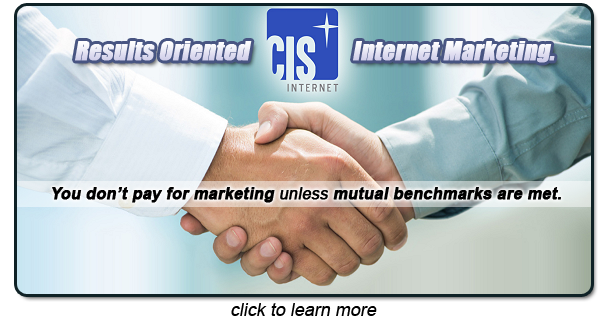 GO: Home | Storm Expeditions | Photography | Extreme Weather Library | Stock Footage | Blog
Featured Weather Library Article:
All content © Dan Robinson. All usage requires a paid license - please contact Dan for inquiries.

Web Site Design and Internet Marketing by CIS Internet