Nighttime EF4 tornado at Christopher, Illinois: February 28, 2017
ABOVE: Tornado at night illuminated by power flashes southwest of Christopher, Illinois
4K EXPEDITION VIDEO: EF4 tornado at Christopher, IL: Watch Video
HD EXPEDITION VIDEO: Close lightning strike at Lively Grove, IL: Watch Video

CHRISTOPHER, IL - There were several targets that presented themselves with this event: the warm front in central/northern Illinois, a prefrontal zone of high environmental tornado parameters in southern Illinois, and a dryline/cold front intersection in eastern Kansas. The areas in between those targets were also in play, as the entire warm sector ahead of the cold front featured robust upper support, adequate instability and very high storm-relative helicities. Models also supported isolated storms at every one of these targets.

My home target bias influenced my final choice: stay and cover the St. Louis metro and southern Illinois. After missing several past tornadoes here at home while observing hours away, I am reluctant to leave the area if the environment supports supercells and tornadoes here - even if parameters are better elsewhere. I'd rather miss something several hours from home than something coming right through my home city.

I did not leave my apartment until 3PM, when a supercell took shape in southern Missouri and headed in the general direction of Sparta, Illinois, only a 30 minute drive to my south. I arrived in Evansville, IL and watched this storm approach, but it rapidly dissipated upon crossing the Mississippi River. After this, there was an hour-long lull in the action. I went back to Sparta for dinner, then headed back out when a second storm approached in nearly the same location as the first. This one maintained intensity, and slowly gained strength as the low-level jet began kicking in. Unfortunately, the sun was setting, ending any hope for a daytime intercept. I followed this storm up to Marissa and almost into Nashville before breaking off the pursuit. Storm speeds were high, and I could not keep up. During this part of the expedition, a lightning strike hit in the field to my south near Lively Grove, which my passenger-side dashcam captured (click for video):

HD VIDEO: Close lightning strike, dashcam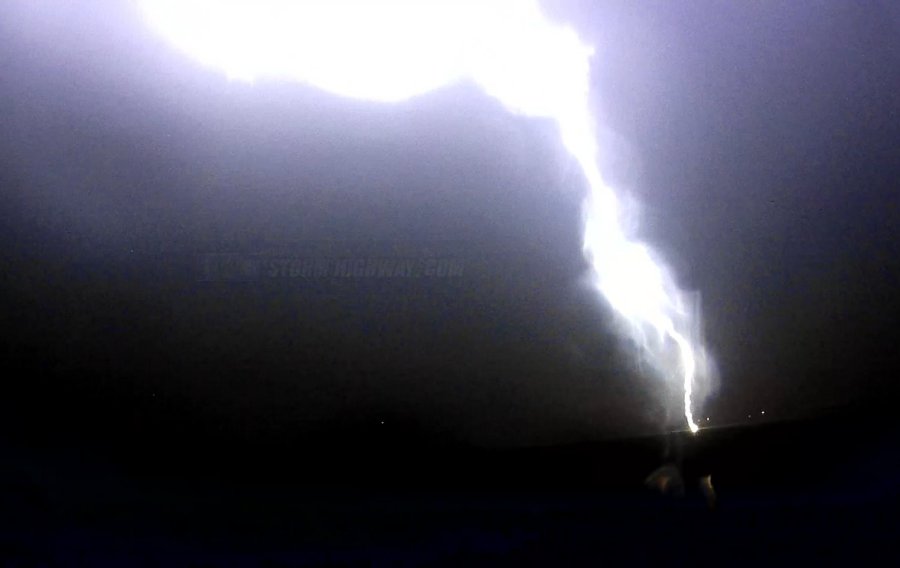 I headed back south in preparation for a third storm, an isolated supercell again in southern Missouri, tracking toward the Perryville area. I am familiar with this part of the region, having covered there many times, and I know the terrain is somewhat difficult with hills and trees. Consequently I chose to head to Christopher, Illinois to intercept the storm, arriving there in plenty of time. As I moved south, reports of a tornado in progress were streaming in on Twitter (I leave the Twitter feed up during expeditions, as it is very useful for realtime information).
Tornado sirens were sounding in Christopher as I drove through. Before the storm arrived in town, a cell merger took place - a new storm to the south developed and merged with the original supercell right at Christopher. As cell mergers often do, this disrupted the original circulation, causing the tornado to dissipate before reaching town. The cell merger also caused the storm's couplet on radar to become less defined and erratic. As a result, I was not confident on the tornado's path. I positioned south of town with a good view to the west and north. I could hear a loud 'waterfall' sound to the west that sounded very much like a tornado, but could not see anything visually. This sound did not last as the circulation passed to my north. The couplet on radar suggested any tornado would be directly impacting the town, but I did not see any power flashes.
After the circulation passed, I drove back north through town. Small bits of debris were falling from the sky as I did. I did not see any damage in Christopher, meaning the tornado had likely dissipated well before then. The cell merger had really saved the town.
At this point, the next option was to wait for yet another supercell to approach Carbondale. I decided that I was not comfortable with the situation (observing fast-moving tornadoes at night in an urban area with many trees), so I called the expedition and headed home.
The cold frontal squall line arrived in the St. Louis metro at around 2AM, with pea-sized hail and very strong winds roaring through the trees.
So, I went home thinking the expedition was a tornado bust. But one week later, I transferred all of my camera's memory card files to my computer and did a quick run-through of the files. To my amazement, I discovered the camera captured clear images of the tornado in a narrowing cone/rope stage as power flashes illuminated it southwest of Christopher. I had missed seeing this with my eyes by a split second, as it occured as I was beginning to turn to flee south upon hearing the very clear tornado sound to the west.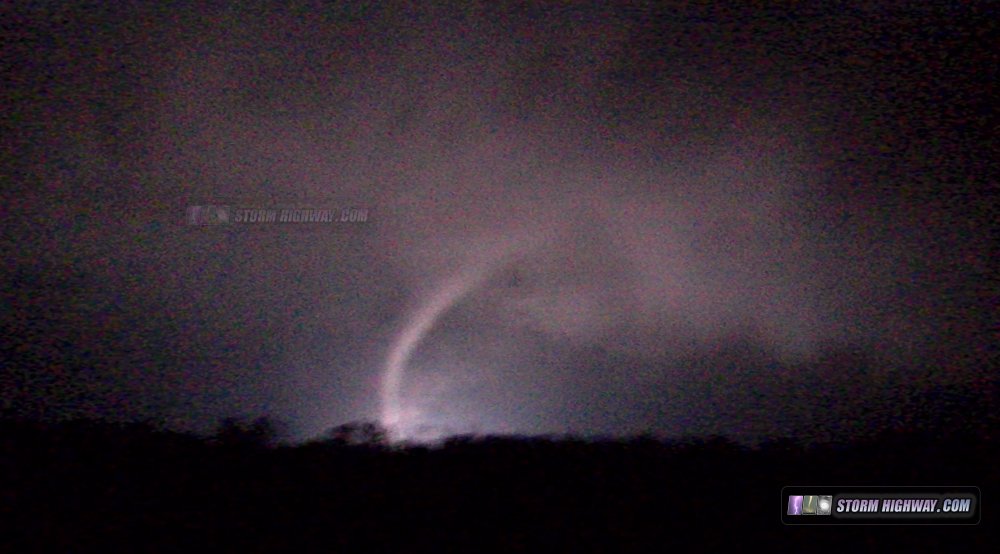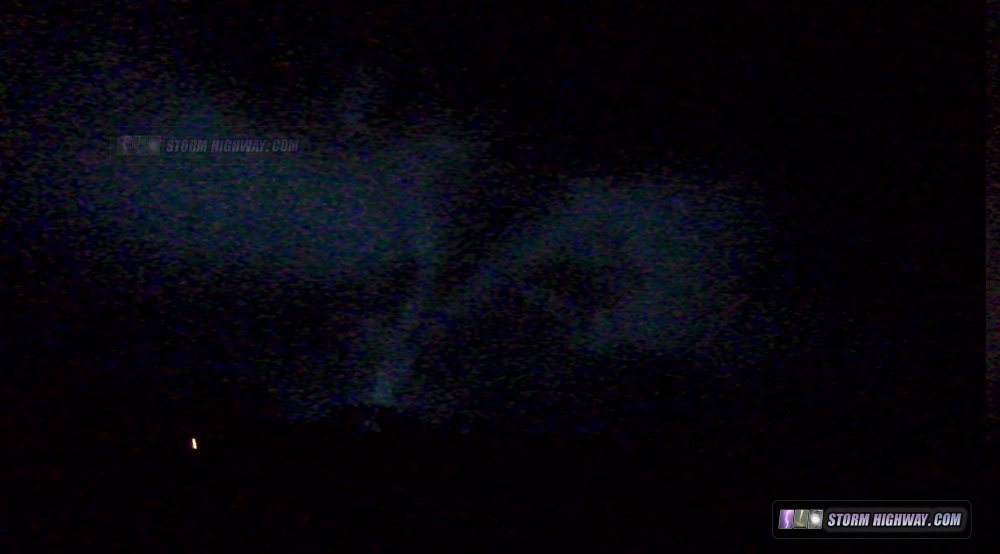 Other observer accounts from this event:
All content © Dan Robinson. All usage requires a paid license - please contact Dan for inquiries.

Web Site Design and Internet Marketing by CIS Internet