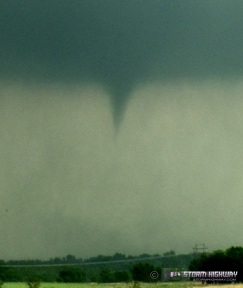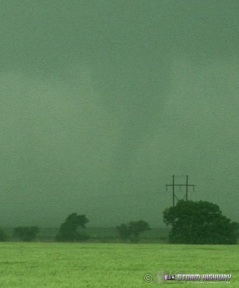 May 10, 2010 Oklahoma tornado outbreak: May 10, 2010
ABOVE: Tornadoes near Medford and Red Rock, OK on May 10, 2010.
HD EXPEDITION VIDEO 1: Tornadoes near Medford, OK: Watch Video
HD EXPEDITION VIDEO 2: Tornado near Red Rock, OK: Watch Video
Click any thumbnail on this page to view a larger version.
MEDFORD, OK - A significant tornado outbreak occured in Oklahoma and Kansas on Monday, May 10. The following is a log of the day's expedition. On Monday morning in Tulsa, I met up with Kurt Hulst and Bill Oosterbaan (who had driven down from Michigan the night before) and headed to our initial target of just west of Perry, Oklahoma. We suspected the cap would break farther south, but wanted to keep the northern target within striking distance as well. Just before and as we arrived at our first stop near Garber to watch the unfolding situation, two horseshoe funnels were observed near Perry, a sign of the shear and vorticity present. We watched the development to our west for about 30 minutes, waiting to decide whether to intercept a storm heading to our north or a newer one that would pass close to our location.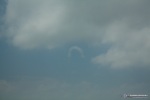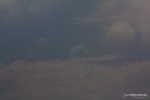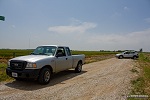 We eventually decided to go for the northern supercell, since it had likely had enough time to mature to the point of producing tornadoes. In addition, we felt that we would be able to later drop south and catch the newer storm as well. For about 15 minutes as we approached the supercell near Medford, my WxWorx display indicated a fairly constant strong circulation with it, indicitave of an imminent or in-progress tornado. For this reason we decided to go ahead and move in on the storm at Medford, as opposed to intercepting it farther north and east.
Our first view under the base of the storm revealed what could have been a large tornado in progress, but my own visual confirmation was not possible due to the area of interest wrapped in rain: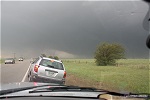 As the rain began to clear out, we observed three separate and fully-condensed tornadoes apparently occuring from the same circulation: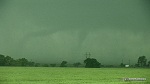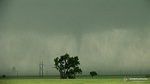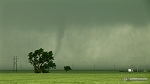 After some careful review, I feel confident calling these separate tornadoes rather than a single multiple-vortex tornado, as they were not orbiting around one another. A fourth needle funnel occured just to the right of these tornadoes, and may have likely made ground contact, but I can't confirm it was indeed a 'countable' tornado as well. This sequence of events happened too fast for me to exit my truck and set up the tripod, so I had to hand-hold the video camera. In the strong winds, this made stabilization difficult, so the video is less than pristine. RFD winds soon kicked up a fast-moving plume of dirt as the tornadoes lifted: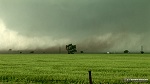 At this point, we turned around amidst a flurry of storm photographers and headed east to try for a second intercept of the storm. It was at this point due to chaser traffic and storm speeds that Kurt, Bill and I could no longer safely caravan together, so as it happens on many expeditions, I ended up solo for the rest of the expedition. To my north at Medford, it appeared a large tornado could have been in progress in the rain, but again, I could not visually confirm one way or another. As I headed east, the storm was very evidently pulling ahead, as well as moving farther north. It was obvious I'd have no chance to re-intercept due to the insane forward speed of the storms, so I chose to head for the next storm in the line to the south. I headed down I-35, then exited east on US60 toward Ponca City, since it appeared I wouldn't have time to beat the large hail zone across the interstate. I was passed by the Twistex caravan on the Interstate. Just after turning east on 60, I passed their convoy again stopped on the side of the road after one of their vehicles lost its instrument rack.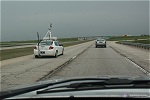 At Ponca City, I dove south on Highway 177 through the storm's forward-flank precip, stopping just east of Marland after exiting a brief region of quarter-sized hail. The storm's base was in view to the southwest, and looking healthy. Some RFD dust plumes rose up underneath the base, but I saw no apparent tornado while the meso was west of 177.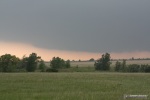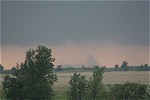 Rain curtains rapidly filled in under the base as the meso neared 177, and crossed about a mile or two to my south. This would be just to the east of Red Rock.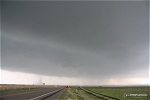 By some observer accounts, a tornado may have been in progress at this point. A casino at the crossing point sustained heavy damage, with small tree debris on the road and snapped power poles nearby. As the meso continued east, I was amazed to see that I had completely avoided precip at my location, aside from a few brief curtains of rain sweeping across. Since I was just north of the meso, I had been on high alert for large hail approaching my location, ready to bail south at the first sign of it. However, it appeared the northern portion of the hook region passed over me, sparing me any rain or hail.
The storm speeds were still absolutely unreal at this point, so I made no attempt to reposition to keep up with the storm. Instead, I simply stayed put and watched it move eastward. The main circulation appeared to be just to my east, with what appeared to be a flanking line base extending southward along the RFD gust front. It was from this area that a funnel rapidly dropped, with a light swirl on the ground underneath.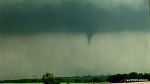 The tornado's ground circulation became more obvious as it encountered plowed dirt, though the funnel had lifted: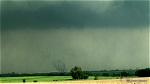 I turned my attention at this point to the next supercell of interest down the line, and began heading south - then east on the Cimarron Turnpike. There were two storms within easy reach to my southwest, but they appeared to be seeded heavily by the respective cells their south. Eventually, these cells dissipated as they approched their crossing point on the Cimarron. The only other option was the supercell moving east out of the Oklahoma City area. Unfortunately for me, this storm was moving in a more easterly direction, requiring covering a considerable distance southeast to intercept along I-40 south of Tulsa via the Muskogee Turnpike.
Due to the observed surface temps and the fact that the storms near me were quickly dying, I felt that there was a generally more stable environment in eastern Oklahoma that might also begin affecting the I-40 storm. For this reason, I decided not to make the frantic drive south to try to catch it. Instead, I ended the expedition in Tulsa with a dinner with Justin Teague, Steve Bluford and Joseph Tyree. Meanwhile, Kurt and Bill had decided to make the valiant trek southward to I-40, observing more tornadoes near Henryetta.
All in all, despite the incredible tornado parameters and SPC High Risk, this was a "high bust potential" chase - with impossible storm speeds and a high chance of missing tornadoes altogether and by a few miles - so I'm grateful I was able to come away with four tornadoes at the end of the day.
On the way back home on Wednesday the 12th, I crossed the damage path from one of the Medford storm's tornadoes near Renfrow, Oklahoma: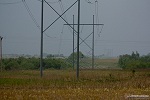 NEXT EVENT: Supercell near Woodward >
GO: Home | Storm Expeditions | Photography | Extreme Weather Library | Stock Footage | Blog
Featured Weather Library Article:
All content © Dan Robinson. All usage requires a paid license - please contact Dan for inquiries.

Web Site Design and Internet Marketing by CIS Internet