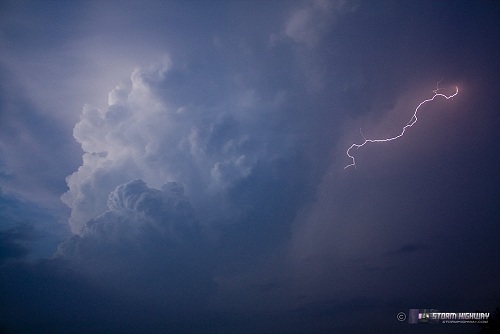 Vici/Woodward, OK supercell: May 10, 2010
ABOVE: Supercell updraft with lightning near Woodward, OK on May 11, 2010.
Click any thumbnail on this page to view a larger version.
WOODWARD, OK - Respectable parameters supportive of supercells and tornadoes were in place on the afternoon of Tuesday, May 11, with shear, moisture, instability and a triple point setting up in western Oklahoma. The main negative factor was the cap, which risked supressing storm development until after dark. I normally would not drive all the way from St. Louis for a conditional setup such as this, but since I was already in Tulsa following the previous day's expedition, I decided to give it a go. I left Tulsa after noon, reaching the warm frontal boundary just west of Clinton. About that time, convection was beginning to fire to my southwest. Radar showed it barely creeping northward, so I dropped south to Burns Flat to watch it develop a few miles to my southwest. It looked good for about 20-30 minutes, with a sharp, healthy anvil streaming to the east.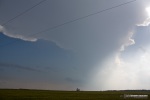 The cap was winning, however - and the cell quickly dried up to literally nothing. I could see new cumulus congestus towers to the northwest, so I headed due north to the Canadian River at Aledo, at which point I decided to wait and see if the cap would win before deciding on going west or calling off the expedition and heading east. Soon, convection finally grew into storms to my west, so I headed in that direction to Leedy, then north on Highway 34 to Vici. This was the view to the west: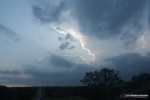 The roads had been observer-free until I got to Route 60 at Vici, where an endless stream of chase vehicles was heading west toward the storm. I decided to keep going north on 34 to a paved east-west road out of Sharon to intercept there. I drove slowly west until I began encountering golfball-sized hail, which prompted me to back off to the east about 1/2 mile to wait on the base to come into view. A couple of tennis-ball sized stones crashed into the pavement, but I didn't take any major hits. Once I was out of the large hail, I stopped to wait on the meso to cross about a mile west. I got out and found a few interesting hailstones, including this one shaped like an arrowhead (or a Goldfish cracker).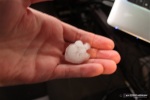 The storm's base finally came into view: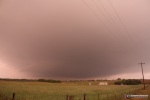 I observed a brief wall cloud with some non-rotating funnel-like protrusions, but nothing ever came of it.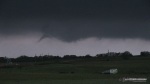 Inflow just above the surface seemed rapid, with clouds streaming fast into the base - but winds at the surface were nearly calm. The storm seemed to be becoming elevated. I stayed put as the storm's base moved over the road and to the north, apparently not in any danger of producing: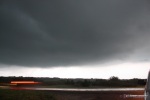 I had been in relative seclusion since Vici, but suddenly a long 'Field of Dreams'-like stream of storm photographers arrived and passed me on this normally-desolate road heading east.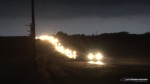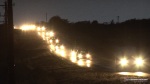 I waited for the procession to pass, then headed east. As the storm moved farther away near Woodward, I could now see its updraft tower - glowing in the twilight with periodic lightning flashes in and around it.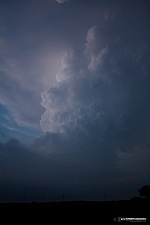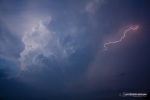 The storm was weakening further, so I decided to call it a day and head back to Tulsa, since I expected the next day's expedition to be an on-the-way-home event in the Kansas City area and north-central Missouri. However, it turns out that I'd be back in the same general area in western Oklahoma 24 hours later.
NEXT EVENT: Outflow-dominant storms in Oklahoma >
GO: Home | Storm Expeditions | Photography | Extreme Weather Library | Stock Footage | Blog
Featured Weather Library Article:
All content © Dan Robinson. All usage requires a paid license - please contact Dan for inquiries.

Web Site Design and Internet Marketing by CIS Internet