Strong cap keeps severe weather at bay: Significant forecast outbreaks fail to materialize in Kansas, Iowa: May 17-19, 2004
OMAHA, NE - Vacationing storm observers began to get excited about a long string of potential severe weather days in the Plains beginning on May 18. However, a strong cap kept severe weather at bay for the first two days of the period, bringing on two bust days in a row. The following is a journal of the three-day period from May 17 to May 19. Times (CDT) are approximate. Photos can be enlarged by clicking on each thumbnail image.
Monday, May 17 - Ashland, KY - After carefully studying the upcoming forecasts for the Great Plains for several days, it became clear that it was time to make a second trip to Tornado Alley for another week or two of observing. I left Charleston, WV at 3PM EDT, with a destination of eastern Kansas for a possible cover the next day. Leaving my home state and entering the Ashland, KY area, I saw new popcorn convection going up to the south of I-64 in eastern Kentucky displaying a few nice pileus caps:
Digital photos:
As is typical on such a long drive, it's common to pass through several storm-producing weather systems on the way. But, the destination's prospects are always better, so I rarely stop to film unless there is something remarkable to be seen.
After a nice evening drive across Indiana and Illinois, I rolled through St. Louis just after sunset and spent the night in High Hill, MO along Interstate 70.
Tuesday, May 18 - Kansas City, MO - I woke early and was on the road west again by 9AM CDT, with a target of east-central Kansas for a possible tornado threat. A dying overnight MCS was coming through western Missouri, and I hit its leading edge near Marshall at around 10:30PM:
Digital photo: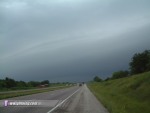 In the middle section of the storm complex in east Kansas City, a high-based shelf cloud-like feature drifted overhead:
Digital photos:
I was finally out of the rain on the western fringes of the MCS in downtown Kansas City, where mammatus was visible overhead:
Digital photo:
I finally broke out of the rain west of Kansas City and headed for Independence, Kansas where I would meet up with the Tulsan expedition crew (consisting of Dave Crowley, Justin Teague, Kristal Kissinger, Matt Stroup and Grant Johnson). Around 3PM CDT, the latest MCD from SPC came out and our target appeared to be verifying. We drifted west to Burden, KS where we waited for the cap to break for the rest of the afternoon. For a while, a few cumulus towers tried to get going, but by 6PM the skies were beginning to clear - signalling a bust. The rest of the group headed back to Tulsa, and I started the trek north back to KC to get into position for Wednesday's event in Iowa. Despite the bust, the drive through rural central Kansas north to I-35 was particularly scenic. There was practically no one on the roads but me - with the sun going down on the green prairies behind struggling cumulus:
Digital photo:
I encountered some weak convection along the surface boundary all along I-35 back toward KC at dusk, some of which were producing scud 'fakenadoes' and spectacular shelf cloud/quasi-inflow structure features around the Emporia area:
Digital photos:
At Ottowa, I decided to go check out a cluster of active storms that were exploding just across the Missouri border south of Kansas City. Lightning was constant, but there were very few visible bolts. Seeing no 35mm opportunities, I headed back to Kansas City through the storms. The sporadic bolts that did come out of the cloud were spectacular though, but I wasn't able to capture any due to the heavy rain. With extremely heavy rain, near zero visibility and hydroplaning at 30mph, I had to slow to around 25mph. I saw several instances of low-lying flooding as well as a jacknifed 18 wheeler along US 71.
Meanwhile, Dave Crowley had decided to observe storms Iowa the next day also, and was headed back north from Tulsa. We stayed in Lawrence in preparation for Wednesday's drive further north into a Moderate Risk area that looked ripe for supercells and tornadoes.
Wednesday, May 19 - Council Bluffs, IA - We left Lawrence early with an initial target of Council Bluffs, Iowa. SPC had a 15 percent probability area for tornadoes over much of western Iowa. We made it to northern Missouri early, and ended up stopping for data and waiting for a while at a truck stop in Rock Port, MO. Meanwhile, Fabian Guerra, Pete McConnell and Damon Shaw were on their way to our location and met up with us a short time later.
Digital photo:
Now a three-vehicle, 5-observer convoy, we eventually decided to drift north toward Council Bluffs, stopping once or twice to observe some struggling towers to the west. Finally a stronger group of cells began to take shape east of Omaha, so we headed up to the I-80 corridor in western Iowa. We finally caught up to one of the struggling cells near Audubon. The cell looked vaguely organized but never really passed the rain shower stage:
Digital photo:
The cap was winning the battle as cell after cell struggled and died in the late afternoon Iowa skies. At one point a small observer convergence formed in a remote spot near Carrol, Iowa with storm observers representing 8 different states. From left to right below: Doug Kiesling (MN), Neal Rasmussen (TX), Sara Johnson (MD), Dave Crowley (OK), Pete McConnell (MO), Damon Shaw (AR), Fabian Guerra (IL) and me (taking the picture, WV):
Digital photo: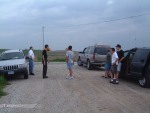 After a nice steak dinner at Outback, we stayed in Omaha that night in preparation for a cover the next day in western Nebraska.
NEXT EVENT: Long drive west to Colorado for storms on May 20
This web site is made possible by support from CIS Internet.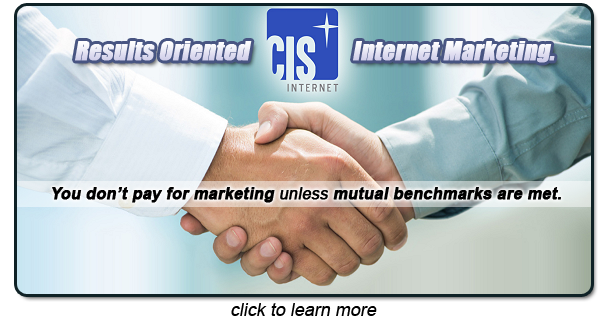 GO: Home | Storm Expeditions | Photography | Extreme Weather Library | Stock Footage | Blog
Featured Weather Library Article:
All content © Dan Robinson. All usage requires a paid license - please contact Dan for inquiries.

Web Site Design and Internet Marketing by CIS Internet