Severe weather outbreaks continue: Tornadoes reported in Nebraska, Kansas and Missouri: May 24, 2004
EXPEDITION VIDEO: Lightning near Melvern, Kansas: Storm Highway Video Clip
LYNDON, KS - Yet another outbreak of tornadoes and severe weather occured in the Plains on May 24. The following is a journal of the day's expedition. Times (CDT) are approximate. Photos can be enlarged by clicking on each thumbnail image.
This chase really began for me late on May 23. We (Dave Crowley, Justin Teague and I) had returned from our short expedition to Bristow, and were reviewing video from the day. Checking data for the next day confirmed a large outbreak would be possible over western Missouri, northern Kansas and Nebraska - with a high risk likely. Dave and Justin initially were not planning to observe storms. At midnight, I was still wide awake, and decided to make use of my late-night alertness by starting the long drive toward Nebraska from Tulsa. I stayed overnight in Joplin, awoke early in the morning and resumed the drive north. Meanwhile, Pete McConnell, Damon Shaw, and Fabian Guerra were on their way back from their expedition in Illinois the previous day. We planned to meet up somewhere near St. Joseph, then continue into Nebraska.
I got to St. Joseph first around 1PM and waited about 20 miles north of town on I-29, keeping a close eye on new cells that were already firing to the west. It was going to be an early-initiation day. Pete, Damon and Fabian reached my location about 15 minutes later as the cells 10 miles to our west became tornado warned. We continued north for a few miles, knowing that a critical decision had to be made as storms were closing in. The storms to the west, while tornado warned, looked disorganized at worst and HP at best. We headed west toward Falls City to get a better look, but could not make out any organized features. Meanwhile, a better looking, more discrete storm developed west of Beatrice and looked like a more viable target.
A hail core blocked our only river crossing westward to intercept the west-of-Beatrice cell (which turned out to be the storm of the day) so we retreated back to I-29 and dropped south. A secondary target was the dryline in Kansas. Dave and Justin decided to observe storms after all and were already in southern Kansas. Given the messy HP nature of the storms at our location, we opted to bail on the Nebraska target and head south to meet up with the Tulsa gang. After this expedition was over and I learned of the tornadofest near Beatrice, I lamented our decision at first. However, looking back, we would have had quite a distance to cover to intercept that cell, and I doubt we would have made it in time to see the last tornado it produced.
Dave and Justin had identified a dryline bulge progged to push into southeastern Kansas and fire storms by late afternoon. Given the high CAPE and excellent wind fields, any storms that fired would be monsters. We made it to Ottawa by 5PM and hovered around I-35 waiting for initiation. Around 6:30PM we noticed hard towers to our northwest that showed up on radar almost instantly. The storms grew explosively and were heading on a course directly at, and south of, the city of Topeka. To our south, where the best conditions were, skies were still clear. Due to the late hour, we decided to jump on the Topeka cells as they seemed to be a sure bet. There were two supercells to our northwest, and we chose the southern storm as it would be an easy intercept. We got our first view of the base as we closed in on the cell near Lyndon:
Digital photos: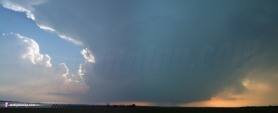 We zigzagged north and west on gravel roads as the meso developed smooth inflow bands:
Video capture: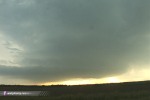 We stopped about 7 miles from the base to film as a ragged wall cloud tried to form. Rotation was well-defined, but the storm could not seem to get organized. The cells began to line out as new development continually took place on the southwest flank. We finally caught up to an area of weak rotation in Burlingame just as a tornado warning was issued for the town and sirens were sounded. We couldn't see any features from our location. Visually and on radar, the convection looked to be lining out.
We decided to keep cell-hopping southwest to try and stay with the new development still building on the end of the line. We caught up to a large rain-free base north of Melvern Lake as frequent, intense CG lightning rained down around us:
Video captures: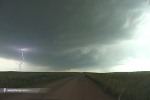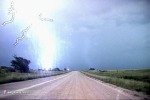 By then, darkness was quickly falling and it was getting difficult to make out base features. We spotted what appeared to be a large wall cloud to our north near Lyndon. We encountered increasingly larger hail trying to get closer to it, and decided to turn around and call off the expedition. We didn't want to risk hail damage to get closer to something we weren't sure of and wouldn't be able to see anyway due to nightfall and the hilly terrain.
The line of storms intensified and filled in as it moved southeast. We finally got out of the rain near Lebo, where we stopped for some lightning shots on the back side of the cells:
35mm slide:

After a nice 30 minute lightning show, we called it a day and headed to Emporia for the night.
Tuesday, May 25 turned out to be a down day with only marginal thunderstorms possible in the Plains. We decided not to cover, and headed to Tulsa for the legendary Crowley observer steak cookout that had been postponed due to the May 23 storm. A big thanks to Dave for the steaks and the hospitality. Unfortunately, the trip was ending for Pete, Damon and Fabian due to work responsibilities and they headed back home on the morning of the 26th.
The severe weather situation looked to be quiet until the weekend, so we decided to take the rest of the week to review video, develop film and get some other work done. But little did we know that just like on May 23, the Plains had yet another surprise in store on May 26.
NEXT EVENT: Two unexpected tornadoes in northeast Oklahoma on May 26
This web site is made possible by support from CIS Internet.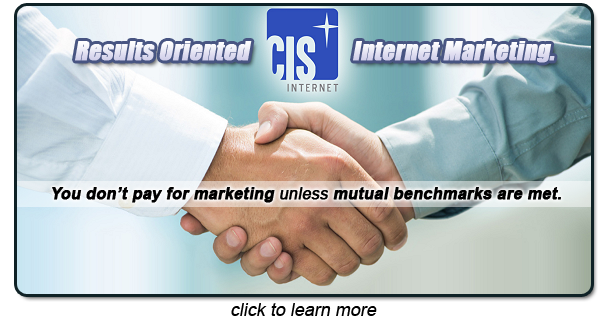 GO: Home | Storm Expeditions | Photography | Extreme Weather Library | Stock Footage | Blog
Featured Weather Library Article:
All content © Dan Robinson. All usage requires a paid license - please contact Dan for inquiries.

Web Site Design and Internet Marketing by CIS Internet