Close call with the historic 2.6-mile-wide El Reno, OK EF5 tornado: May 31, 2013
ABOVE: The El Reno EF5 tornado on May 31, 2013, at its beginning stages and later at maximum width.
HD EXPEDITION VIDEO 1: EF5 tornado at close range, El Reno, OK: Watch Video
HD DASHCAM VIDEO: Escaping the El Reno EF5 tornado - dashcam/transcript: Watch Video
DASHCAM VIDEO: Tornado strike - side camera: Watch Video

Click any thumbnail on this page to view a larger version.

EL RENO, OK - This was by far the most significant event of my career, and not in a good way. This was the closest true brush with disaster I have had with a tornado, and the first time a storm has both directly injured me and (aside from hail dents) damaged my vehicle and equipment. I sustained about $2,000 in damage. It is my hope that by sharing this and collaborating with others who were there, we can determine exactly what happened with this event, and move forward with lessons we can apply for the future.

TORNADO RATING: Statement on the rating of the May 31, 2103 El Reno, OK tornado
FAQ: El Reno tornado incident questions & answers
GPS TRACK: GPS log track
SPREADSHEET: Event time analysis from cameras - download in Excel, OpenOffice or CSV.

Like many others, I began the expedition in El Reno, targeting the dryline/outflow boundary intersection to the west. When storms initiated, a dominant cell was apparent taking shape along I-40. I chose to utilize the county road grid to observe the storm rather than main highways.

I observed and filmed the start of the El Reno tornado for several minutes on Jensen Road about 1/2 mile east of S Heaston Road. The tornado exhibited multiple vortices, horizontal vortices and extremely rapid motion (the fastest I have observed to date). The tornado was approximately 1.5 miles to my due south.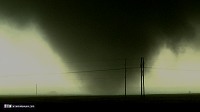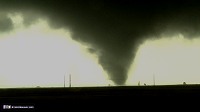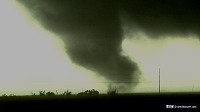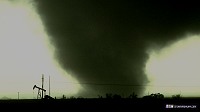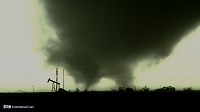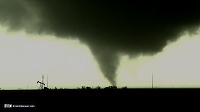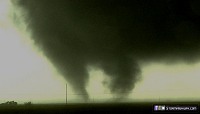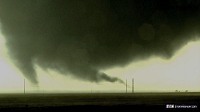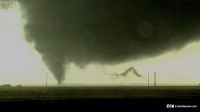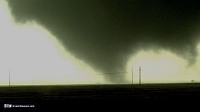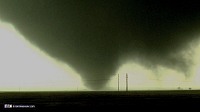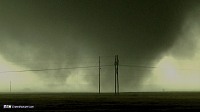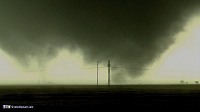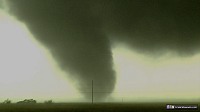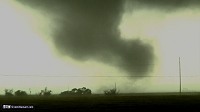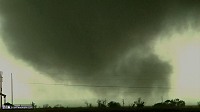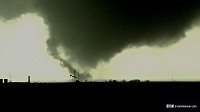 As heavy rain began falling at my location, I then proceeded east on Jensen Road. The tornado was still ongoing to my south, and was clearly moving farther away as I paralleled it heading eastbound on Jensen. From this I derived that the tornado was moving in an east-southeasterly direction.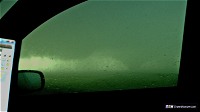 The tornado soon wrapped completely in rain, but moments later was faintly visible as a large wedge, still moving farther south away from Jensen Road. This appearance continued as I approached S Choctaw Avenue. Due to the tornado's apparent southward component of movement, I chose to turn south from Jensen onto S Choctaw for one mile to position closer to maintain a good visual.
I estimated at this point that it was two miles to the south. It was heavily rain wrapped at this time, but its outline was still easily visible. Here was my view looking south on S Choctaw at this time at 6:17:07 PM CDT: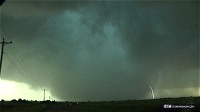 Power flashes were visible as I traveled south on S Choctaw at 6:17:44 PM CDT. I was also monitoring another wall cloud with rapid motion visible just to my north.
I chose to turn east on NW 10th Street (Reuter Road) at 6:17:59 PM CDT to position safely northeast of the tornado to obtain a better contrasted view. At this stage, it appeared the north edge of the tornado was approximately 1.5 miles to the south. At this time, the tornado gave no indication that it had deviated from its eastward movement.
At the intersection of NW 10th and Highway 81 at 6:19:21 PM CDT, I briefly considered turning south again on Highway 81, but could see that the tornado was already beginning to cross the highway to the south by approximately 1 mile. For this reason I chose to continue east on NW 10th to maintain a safe distance. At this point at 6:19:25 PM CDT, the white Chevy Cobalt occupied by the Twistex crew was immediately behind me.
Other than the Twistex Cobalt and a red pickup truck parked along Highway 81, there were no other vehicles in our immediate vicinity. In other words, chaser traffic was a non-factor at our location.
At this stage, my last visual assessment of the tornado was that it was continuing its general eastward movement while crossing Highway 81. However, after traveling approximately 1/2 mile on NW 10th/Reuter east of Highway 81, I observed the rain curtains rapidly approaching the road from the south at 6:20:01 PM CDT. This is visible on the front-facing dash camera. At the same time, the ill-defined wedge tornado suddenly appeared to the south rapidly approaching the road. At this time, the tornado is not yet visible on either front or rear cameras.
This was my first indication of trouble, and I began accelerating eastward to escape. The rain curtains and inflow winds into the tornado quickly enveloped the car at 6:20:23 PM CDT. My car's wheels were struggling to grip the gravel road against the force of the wind, and the vehicle's traction control was continuously engaging and reducing power to the wheels. The vehicle was struggling to maintain speed and was difficult to control. I made several unsuccessful attempts to disengage the traction control.
My rear-facing camera shows three satellite tornadoes or subvortices during this time. The first satellite is visible as a brief rope tornado just south of due west 6:20:17 PM CDT. Another brief rope satellite is visible due west at 6:20:33 PM CDT. The third satellite or subvortex emerges from the rain on the left side of the screen as a large barrel/cylinder tornado 6:21:48 PM CDT. At this stage, the main tornado is still off-camera to the left. Jeff Piotrowski's video at this time, shot from the north, shows this barrel tornado as the only fully condensed vortex (at around 3:40 in his video). The large barrel satellite/subvortex then merges or expands very rapidly into the main condensed wedge tornado at maximum width, which then is visible overtaking NW 10th/Reuter at 6:22:19 PM CDT. Nearly the entire rain curtain zone condenses into a wedge at this stage, this happens very rapidly.
I finally abruptly emerged from the winds and rain curtains just east of the Evans Road intersection on 10th/Reuter, and could now see that I was out of the path of the tornado's core clearly behind me. I stopped briefly to observe the wedge tornado now crossing NW 10th/Reuter a few hundred yards to my west. Violent motion was apparent.
This was my view (video captures) looking due west 6:23:50 PM CDT down NW 10th/Reuter Road at what I had just barely escaped from. The east edge of the tornado is right at Evans Road: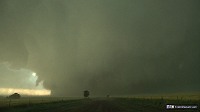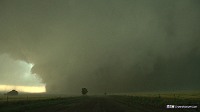 After 40 seconds, I repositioned east again to maintain a safe distance from the tornado. Now out the path of its core, I then exited the vehicle to obtain video and photographs. I was not aware that the tornado's actual outer circulation was still over me, as I would discover later. These are the two DSLR still images I obtained at this time, both at 10mm on the Canon 10-22mm wide-angle lens (click each to open a full screen view):
This still image was taken at 6:25:37 PM CDT: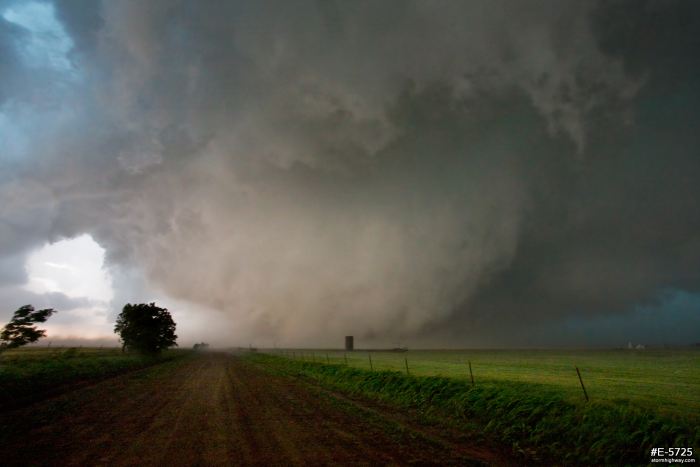 This still image was taken at 6:25:43 PM CDT: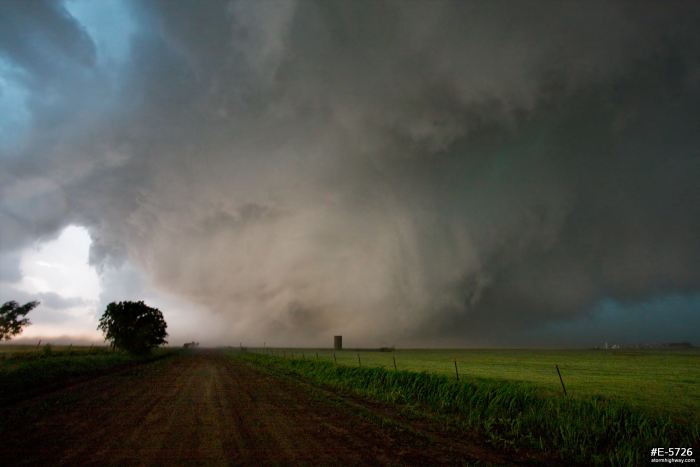 Video captures: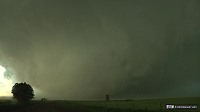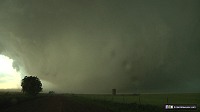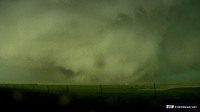 After a few seconds, the winds associated with the outer circulation of the tornado - in excess of 100mph - struck me and the car. This was confirmed by University of Oklahoma RaXpol mobile radar data to be tornadic winds, not RFD or an inflow jet as I initially believed. The force of the wind caused me to stumble across the road and into a fence. One of my loose-fitting shoes was blown off and into the field. One to two inch hailstones, driven sideways by the wind, began impacting me and the car. The first impact to me was directly into my left eye, opening a 1.5" gash above my eye. Several other wind-driven hailstones and debris objects impacted me in the seconds following. I ran and dove into the ditch on the south side of the road to escape the hail and any other wind-driven debris. I remained lying flat and covered my head with my hands for about 45 seconds until the hail and wind subsided.
During this time, my car also suffered damage to the rear window and both external mirrors. My laptop screen in the front of the car also suffered a hailstone strike and was cracked. Most of the glass from the rear window blew into the front half of the car, with glass piling up at the bottom of the windshield.
At this time, I chose not to continue the expedition due to my injuries and vehicle damage. My eye was bleeding, face half covered in blood and dirt, and arms and back with bruises and scratches. I tried to drive south away from the storms (noticing another tornado off to the northeast that turned out to be anticyclonic), but had considerable difficulty due to heavy traffic from fleeing local residents. I eventually made it safely out of the path of the storm complex to Chickasha, Oklahoma to assess my injuries and the extent of the damage.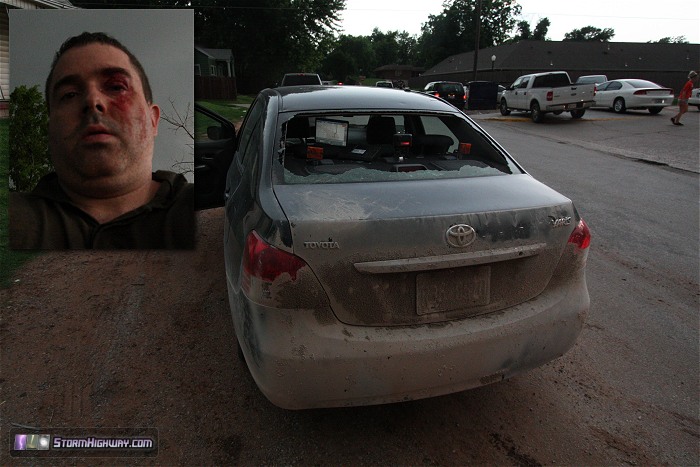 It was not my intent to get into the path of this tornado. I expected its eastward movement to continue with a gradual curve toward the north when it weakened. One moment it was due south of me by at least a mile, the next it was right on me.
Some may think witnessing an F5/EF5 tornado at close range - and getting swiped by its outer circulation - would be the ultimate catch. But this has been a rather traumatic experience for me - not so much at the time, but to later realize what was taking place right behind me and how close I was to the same thing. At last count, this tornado has taken 19 lives. The damage to my car is repairable, and my very minor injuries are already mostly healed. I've spent the last several days having trouble sleeping and difficulty concentrating on work, as what happened to the Twistex crew and many others that day has been constantly on my mind.
Additional resources
I understand how this close call is effecting you. Thank you for this explaination. I think it explains a lot.
- Posted by Ann
Dan. My sincerest kudos to you for sharing such an open, honest, and detailed account of what you observed and experienced on that tragic day! I am sorry that you endured injuries and damage to your car, as well as substantial emotional/psychological trauma - which is most understandable given your own experiences and your awareness of the fate of the Twistex team. I am very impressed by your willingness to cast aside any consideration of pride or ego in order to provide your very professional account to the entire day community. Not only does your story fill a need to visualize the situation for future safety, but you have helped fill in many pieces of the puzzle for those looking for answers regarding the death of such cautious, experienced, and savy storm photographers on the Twistex team. I will be looking over your videos when there is an opportunity. Please accept my heartiest thanks and most enthusiastic compliments on your generous and helpful efforts Dan! here!
- Posted by Derek Baker from Milton, Ontario, Canada
Dan your story was very well said and I can relate to the to your emotions, I myself was in my home in Joplin Mo, May, 22nd 2011. We all appreciate your words of the events and thank you for keeping us informed and prepared in bad weather with your information. My heart goes out to the families who lost loved ones on that tragic day.
- Posted by Susan from Joplin Mo.
Dan, it's good to see your new blog, I worried very much after reading your last blog. And I'm sorry for what you are feeling and your trouble. I don't know what to say and which words can comfort your mind. At least, but very importantly, your experience will save lot of lives and other storm photographers from such dangerous situations, you made a great decision to post this blog. Currently, I know, it's very hard time for you, but later, you can help and advise many people with wise and realistic solutions. "I will both lie down in peace, and sleep; For You alone, O Lord, make me dwell in safety." Psalm 4:8
- Posted by Luka from Arizona
Thank you so much for posting this account. I hope setting it down helped you make some sense of what happened. I am sure it contains valuable information about both the El Reno tornado and the tragic fate of the Twistex crew which will help everyone to understand what happened that day. It sounds like you are experiencing some PTSD, you need to give yourself time to heal and to recover. Maybe some mild sleeping pills to allow you to sleep and your mind to recover.
- Posted by hazelmaryjackson
Please forgive me if I'm only stating the obvious.. but perhaps a more substantial vehicle would've considerably helped your failed escape maneuver. (After all, a Yaris is pretty light-duty for EF-5 country.. isn't it?) What happened to the Ranger pickup you used to drive?
- Posted by JM from BC, Canada
Thank you for sharing. This shows plp how big and erratic this thing became. Sometime is there is no rhyme or reason for how nature morphs
- Posted by patty
That is the reason I was there with my 4x4 and not my Mazda3. It sucks on the cost of gas (especially from KC), but the safety factor in tight situations is worth the cost. Plus, I was able to get through some flash flooding later that night when I was forced into some flooded intersections with cars stalled out. Great job on documenting and recounting your chase. It helps with my investigation into where the fatalities occurred. And glad you weren't included in those statistics. Thanks..
- Posted by Cary from Plattsburg, MO
Dan, Thank you for posting your experience. Tim/Paul/Carl are missed by all who knew them or met them. Without intending, you are an important part of the healing by sharing your perspective and what happened. You are helping storm photographers too, who maybe thought their radar/internet/GPS, or their education, will make them able to outsmart/outguess the weather...to see that that is a lie, and think twice about staying safe. I pray this, and hope we never experience another El Reno event.
- Posted by Jeff from Chicago
Dan, Your account of the May 31st El Reno, OK tornado was probably the most detailed account from anyone that I have seen. I want to thank you for posting the details of your chase during that terrible day. Stay safe out there and my God continue to Bless you. Thank you... Tim McNeill - scmem.org
- Posted by Tim McNeill from Memphis, TN
Truly amazing experience! I have watched your full dashcam video many times already. One of the most memorable tornado videos I have ever seen especially knowing now how close you were to the Twistex team and how close you were to not making it out. It becomes even clearer after watching Scot Talbot's great account of where you, Twistex and the tornado were. Tim and his team will be greatly missed, but your video helps one understand what really happened. Thank you for sharing this remarkable footage and story.
- Posted by Tom
My deepest thoughts and prayers go out to all the families who lost their loved ones in the el reno tornado. With all due respect...I was wondering if tim samaras video cameras or probe/ turtles have been recovered?
- Posted by Seth from Atl
well every one out there on an expedition stay safe with out you i can not inform every one what is going on in there part of usa take care as we care the girls and guys on tornado ally stay safe .
- Posted by rod scott
I posted a comment on your "full dashcam" youtube video but I didn't see it appear so I will post here. That video shows the outer circulation of the tornado from your front dash cam rotating around the far eastern side of the meso. It is seen in the video three times before it overtakes you: when you turn left onto 10th/Reuter, when the car curves around the approach to 81, and when it appears you momentarily consider going south on 81. In the last one, there are a couple seconds, so you can actually see the rotation of the rain shafts. You can clearly see the vertical rain shafts are tilted due to the fast speed of the cloud rotation. The video shows you driving east into the outer circulation of the tornado. You concur?
- Posted by 70s Girl At Heart
Sorry you had to go through all that. I think there's a point where a storm's considered too dangerous to photograph storms. CAPE of 4000+, dew points in the 70s and temperatures in the 80s made the atmosphere highly unstable (which was why the storms explosively developed), and the cold front and dryline all came together west of OKC. However, there's no predicting when a tornado makes a turn. Some do when weakening. In the case of el reno, it turned as it was near its peak strength and width, which caught many people off guard. The least we can do as storm photographers is to have the same regard for safety as Tim Samaras did. We lost one of the best that day, but he'll never be forgotten.
- Posted by Tim
Hello Dan, I was wondering if your unedited rearview camera video will eventually be released ? I know that footage is very dramatic and sensitive for you, the families who lost their loved ones. Please know my question is with full respect and has NO bad intentions. I have done a ton of research on the twistex group on that fateful day. My wishes are... Your footage will make future storm photographers more cautious and safe. Thanks for sharing your footage and detailed events Dan. I hope you are doing well now and continue to photograph storms safely
- Posted by Seth from Atlanta
Hello Dan, I was wondering if your unedited rearview camera video will eventually be released ? I know that footage is very dramatic and sensitive for you, the families who lost their loved ones. Please know my question is with full respect and has NO bad intentions. I have done a ton of research on the twistex group on that fateful day. My wishes are... Your footage will make future storm photographers more cautious and safe. Thanks for sharing your footage and detailed events Dan. I hope you are doing well now and continue to photograph storms safely
- Posted by Seth from Atlanta
I will really miss Tim and Carl.
- Posted by Sarah Kasey
You did an amazing job, of keeping it together, most people would of panicked and died. Hang in there
- Posted by Sequoyah Quinton from Oklahoma
I have just recently began watching tornado videos, and I had noticed a distinction between yourself and many other storm photographers. There is always a quiet reverence in your work... I see now, having gone through your site, that we share faith in Christ, and the mystery is explained. Keep showing us our Creator's awesome handiwork, Mr. Robinson, and stay safe while you do it... you are being a powerful testimony, far and wide. Regarding El Reno and the colleagues you grieve... take comfort in the sovereignty of our Lord, and that while we may never know the "why," He will bring good out of even the tragedies of this life. Praying with you, for the families.
- Posted by Deeann Mathews from San Francisco
Dan. your video of the El Reno tornado is a classic. Much MUCH respect :)
- Posted by Michael from Australia
All content © Dan Robinson. All usage requires a paid license - please contact Dan for inquiries.

Web Site Design and Internet Marketing by CIS Internet