Low-topped supercell chase from New Baden to Irvington, Illinois, 9/21
Ah, the Midwest, where storm season is year round! My recent switch to day shift was a blessing, as I was able to cover this surprise low-topped supercell event in southern Illinois on Friday, September 21. Today came close to giving me another September Illinois tornado (the last being in 2006). No tornado today, but quite a storm and a great chase nonetheless. This was essentially a 'sleeper' event that I admit I wasn't paying any attention to until I saw SPC's slight risk upgrade for the day. A strong midlevel jet was overspreading the area, with moisture nosing back northward after a couple of very dry days. A surface low was tracking just north of the St. Louis region, with its attendant warm front up in the Springfield/Decatur area.
Storms fired early in the afternoon up north, and were essentially out of my reach by the time I left work at 3PM. This ended up being a blessing in disguise, as my first impulse was to get up to the warm front where low-level shear along the boundary would maximize the tornado potential. Storms up there seemed to not be rooting south of the boundary, remaining somewhat elevated north of it. Surface winds here around STL were veered, but storms had a better chance of being surface based in the heart of the warm sector. With short-term models showing storms firing right here at home by sunset, I opted to stay at home and take my chances with cells down here. Gas at $4/gallon played no small part in that decision, with a trip up to the warm front likely putting me back $60. That kind of money is not easy to spend on a whim these days. This season is one of the first that gas prices are really starting to affect my expedition targeting decisions on even local expeditions - but that's a topic for another post sometime.
The thickening cumulus field finally erupted into storms over downtown St. Louis, heading directly toward me at home. I was able to leisurely sit in town and watch their approach. The dominant storm in the cluster established itself starting right here at New Baden, and I was able to easily follow it east along the I-64 corridor. Passing Okawville, the storm began to get its act together, with a large rain-free base developing. Near New Minden, a strong RFD (rear flank downdraft) cut began to take shape, with lowerings developing along it.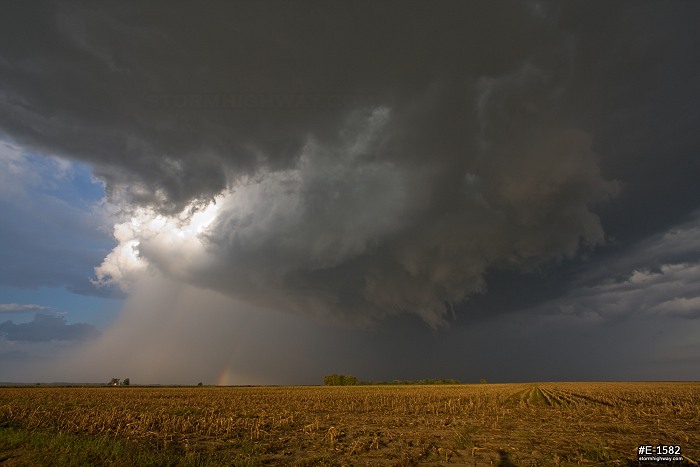 Rapid rising motion was evident as the lowered area continued to condense downward, with intermittent short-lived needle funnels observed: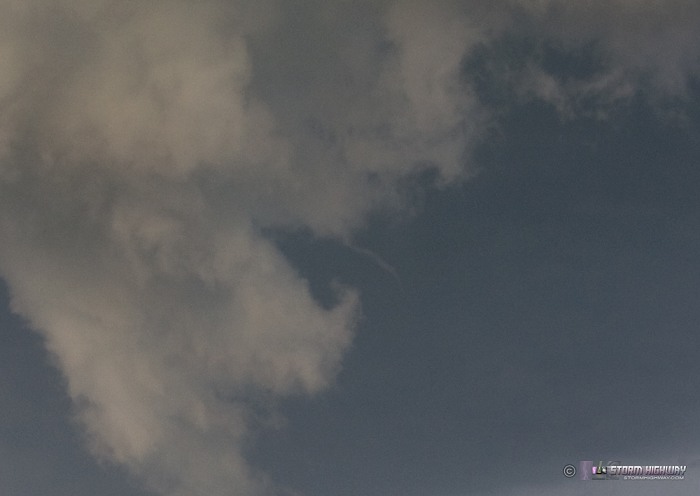 The RFD clear slot became pronounced as sunlight began hitting the precip: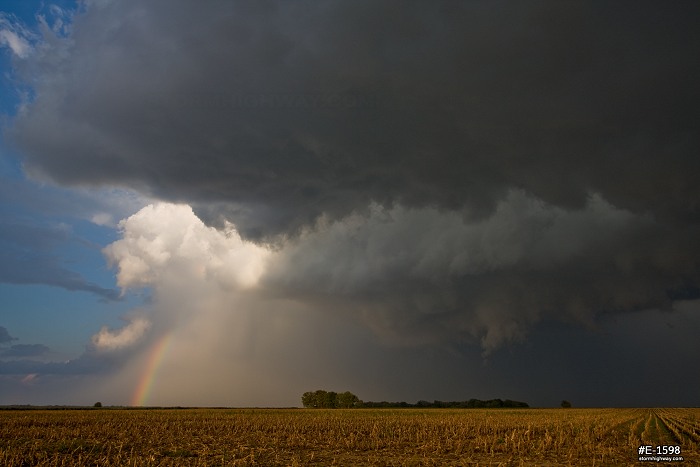 As I began repositioning east, the storm developed a small rotating wall cloud as the RFD cut further into the base. This was the best the storm looked all evening and the closest it came to producing a tornado. I believe with higher instability, this storm would have easily produced tornadoes. The first cloud-to-ground lightning strikes began at this point, which gradually became frequent.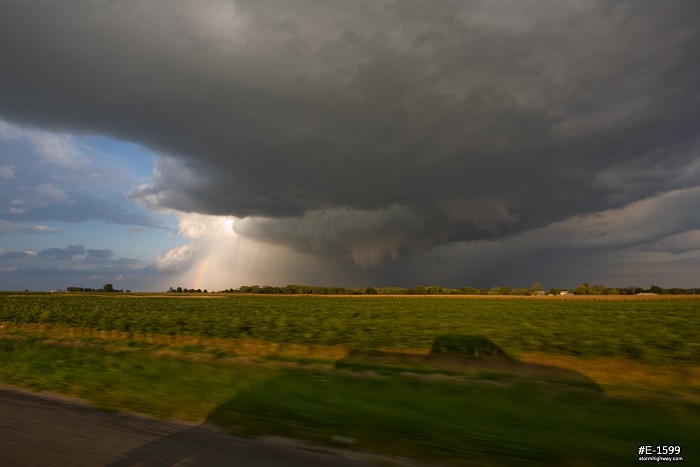 Soon after, precip began filling in the RFD and lowered area, with full sunlight and clear skies to the west. The lowerings continued to look ominous for the remainder of the expedition, but no strong rotation was observed after this point.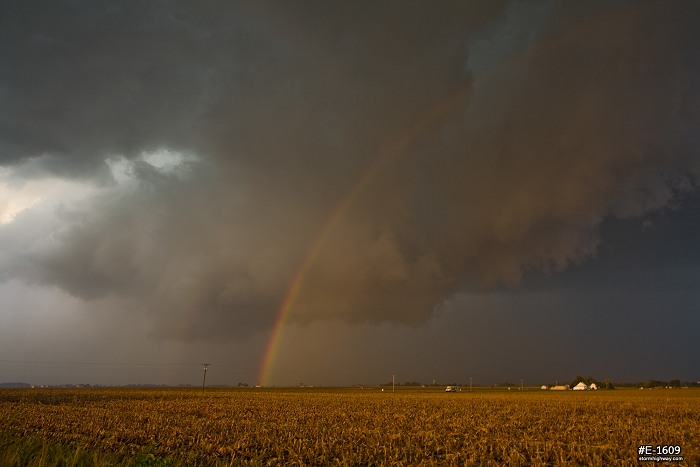 At Irvington, I was forced to break off the expedition to head up to Centralia to get gas. I stopped to get a few shots of the back side of the storm and its lowerings, dramatically lit by the setting sun. It now appeared that the RFD had completey eroded the back side of the updraft. Strong downward cascading motion was observed in the cloud material along the back edge of the storm (beginning above the orange-cast lowered area):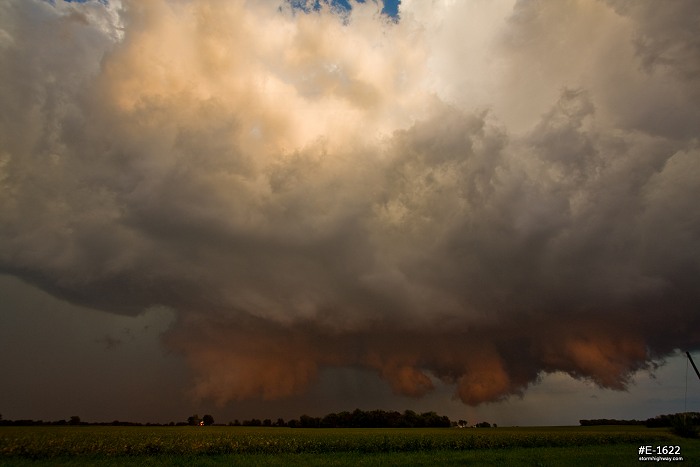 After a quick fuel stop on the south side of Centralia, I headed back to re-intercept the storm. I could still see the base features clearly as the storm moved to the east, thanks to the clear skies west of the storm. The lowerings were gradually breaking apart and did not appear to be re-organizing, and with darkness setting in, I chose to not try and catch up to the storm again. Instead, I pulled over and grabbed some shots of the highly contrasted cumulonimbus towers, lit up bright orange by the setting sun: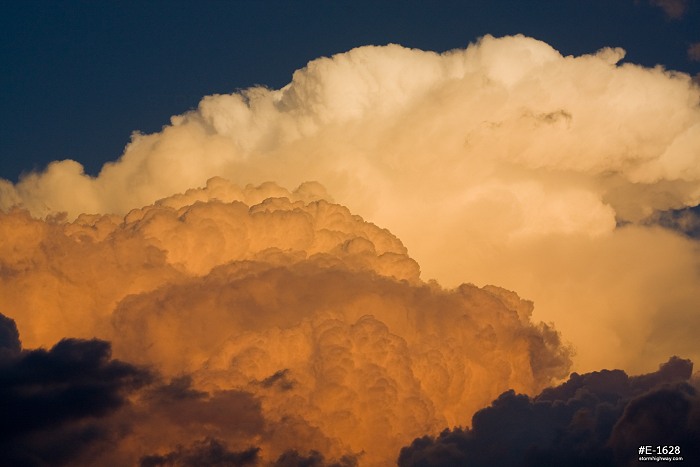 As I passed back through Irvington on the way home, the town was filled with thick smoke. I investigated the source and found a large grain bin storage complex, with smoke pouring from one of the large bins! I assume a lightning strike was the cause. I was about to call 911 when I saw the first fire truck approaching in the distance on Highway 161. I wanted to stay and document this potentially dramatic scene as it unfolded, but the realities of waking up at 5:30AM for work on Saturday forced me to call it a day and start heading home. I passed a long caravan of fire trucks and police vehicles heading to the scene.
Storm season in the Midwest never ends, and this was yet another example of how the weather works out here. Good storm photography days can pop up any time of year, many times out of the blue.
Radar imagery
That was our youngest son's first birthday. We live in irvington mobile home park. I got some great shots of the clouds too and glad it didn't develope more. It was surprising!
- Posted by jamie bivens
This web site is made possible by support from CIS Internet.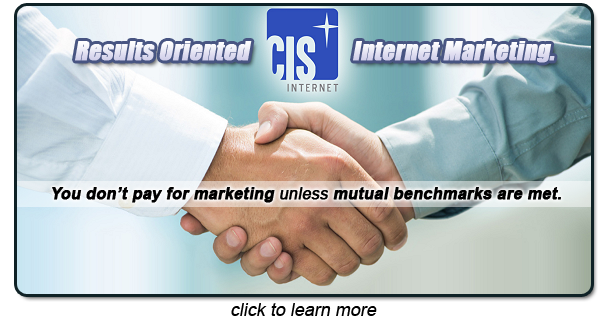 GO: Home | Storm Expeditions | Photography | Extreme Weather Library | Stock Footage | Blog
Featured Weather Library Article:
All content © Dan Robinson. All usage requires a paid license - please contact Dan for inquiries.

Web Site Design and Internet Marketing by CIS Internet