Home | Blog Index | Blog Archives | Christianity & Faith Essays
Saturday, March 13, 2010 - 4:12PM CST
Week in pictures; 2 month mark
I'm a little past the 2 month mark of being moved in here in the St. Louis area, and everything is going well. The apartment and town is a quiet place (aside from the trains, which of course I'm OK with). In fact, I heard an ambulance last week, and realized I hadn't heard one siren since I got here in January! It feels great to make the even normally mundane errands surrounded by the huge sky and flat land that I love to see. For the most part, I haven't been able to venture outside much for leisure (thanks to the brutal winter), but that's about to change. This evening I'm heading to a bike shop to get 'slick' tires for my mountain bike, which will make it easier to ride on the roads. Once the weather allows, I plan to use my bike as a primary mode of transportation around town, as well as go on one or two-hour rides at least two or three times a week. Back at my WV house, a huge hill (in all directions) was a psychological barrier to riding regularly - the thought of having to come back up that mountain at the end of a ride was a motivation-killer. Now that I'm surrounded by flat land, I don't have an excuse to not get out and ride.
Changing the subject - here are a few photos from this past week that don't fit anywhere else and wouldn't typically warrant their own post otherwise:
Oklahoma/Kansas state line near Baxter Springs, KS on Wednesday. Being in these two states this week marks my 10th straight year of making it to the Plains region in the spring. Hopefully there will be many more to come.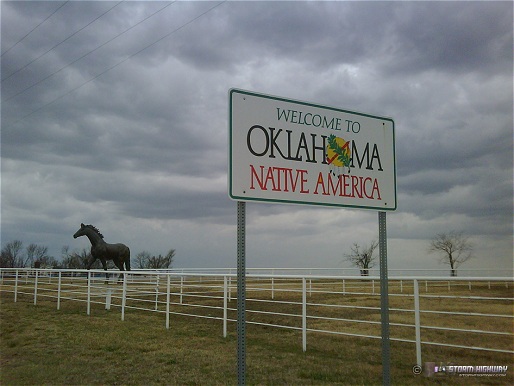 click to enlarge
Not all of Kansas is flat! Yes, this is actually Kansas here - extreme southeast KS, near Baxter Springs. You might be suprised to learn that many parts of eastern OK and KS are like this. Though there are still flat areas around here, the 'classic' Great Plains landscape (flat, treeless prairie for as far as you can see) doesn't really start until you get to the I-35 corridor (around Oklahoma City and Wichita).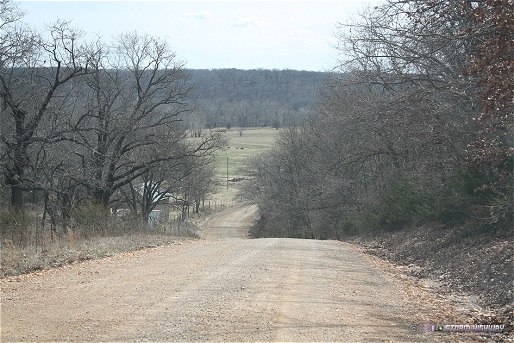 click to enlarge
I saw what I first thought was a contrail-distrail combination at the 'anvil cirrus' altitude near Springfield, MO on Wednesday. However, it looks like the black streak is from a separate exhaust, as the trails twist around each other.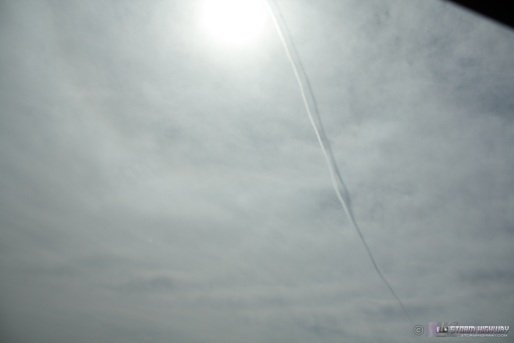 click to enlarge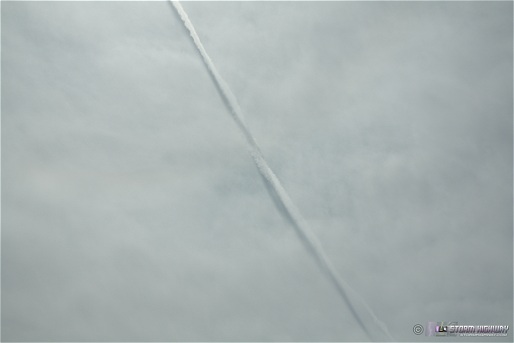 click to enlarge
Morning rush hour in downtown St. Louis just before 7AM, on the way to a storm target on Wednesday. Inbound traffic is not too bad coming in from the east, the only backups I've seen are here at the Poplar Street bridge (the I-70/I-64 Mississippi crossing). Morning rush traffic seemed a lot worse on the other highways around the city - I-270 (on the west side of town) was pretty bad when I passed it.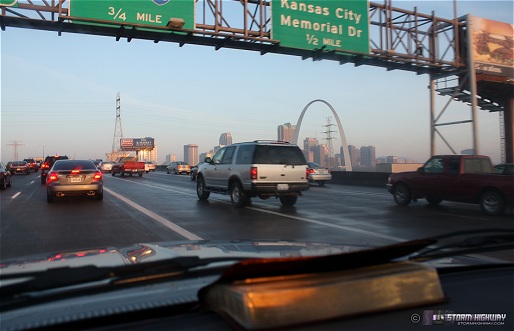 click to enlarge
The 'walk in the woods' was one aspect of observing that the movie "Twister" was right about. GPS sofware often doesn't make a distinction between paved/unpaved roads - or even passable/impassable, often to a storm photographer's chagrin. This is near Baxter Springs, Kansas on Wednesday. I wasn't stuck here, I just stopped to take a picture because I thought it was a classic storm photography GPS moment. It's times like this that I'm thankful for the high ground clearance of a truck.

click to enlarge
Sunrise last Thursday near Mascoutah, with some blackbirds. The majority of our sunrises/sunsets have looked like this lately.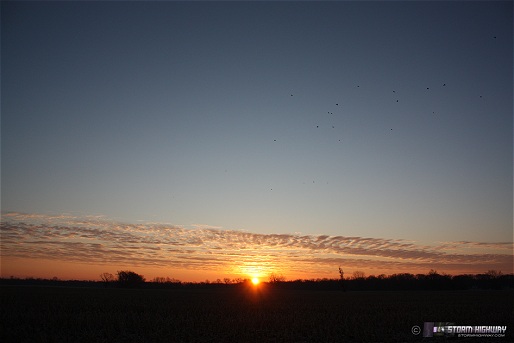 click to enlarge
Westbound Norfolk Southern train at the County Line Road crossing in New Baden, again with the ubiquitous blackbirds: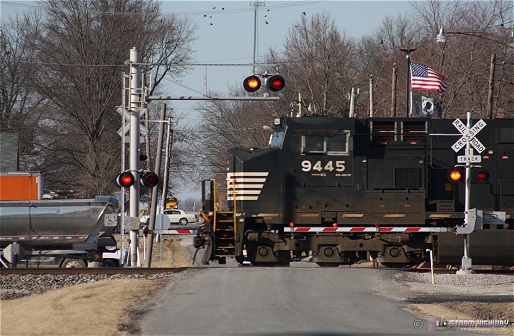 click to enlarge
Good pics; nice vignettes; and superb usage of "ubiquitous". Welcome to the great Midwest!
- Posted by Karisa
In regard to GPS software showing paved/unpaved roads properly, it is not intended to do so. It bases roads on whether they are federal, state, or locally maintained. Locally maintained roads, whether paved or not, will all show up as "local" roads.
- Posted by Scott
Scott, thanks for the info - never heard that before. Just a little weird that the gray lines can mean anything from a 70mph two-lane highway to a rutted path in the woods only passable via ATV.
- Posted by Dan R. from New Baden, IL
Thanks Karisa! I think that's the first time "vignettes" has been used here too!
- Posted by Dan Robinson from New Baden, IL
All content © Dan Robinson. All usage requires a paid license - please contact Dan for inquiries.

Web Site Design and Internet Marketing by CIS Internet