Home | Blog Index | Blog Archives | Christianity & Faith Essays
Monday, June 4, 2012 - 8:28PM CDT
Photos/expedition account from Plains trip 2 - June 3-4
I didn't plan on a second Plains trip this weekend. A setup for supercell hailers along a boundary in far western Missouri and eastern Kansas was close enough for an all-day chase on Sunday, but I wasn't even sure I'd end up in Kansas. To make a long story short, after I had already covered about 5 hours of the drive, the target shifted much farther to the west into central Kansas. It became apparent that clouds would not clear out in eastern Kansas in time to allow for sufficient desabilization. Since I'd already traveled the distance I had, I opted to just continue the rest of the way. What I didn't expect was to end up all the way at the dryline in the Oklahoma panhandle by the end of the day!
So back to the start. I left home at 5AM and headed west down I-44. I saw these Kelvin-Helmholtz waves at the leading edge of a dying MCS near Springfield after sunrise: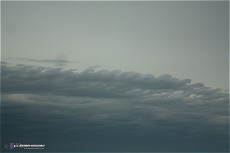 Click for larger version
I exited I-44 at Baxter Springs and began heading due west on Kansas 2-lane highways, opting to stay close to the border in case a deviation north or south was needed later. Again, to make a long story short, things just kept looking like they were shifting farther and farther west as the day wore on. Eventually I found myself all the way in northwestern Oklahoma. Interestingly enough, I ended up retracing (in reverse) much of my April 14 tornado intercept path. I stopped at the spot that the Ingersoll tornado crossed the road, and took this photo at the location the building once stood. The site had already been bulldozed and cleaned up (the image on the right is the site during the tornado strike):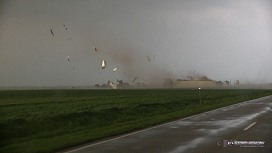 Click for larger versions
I had ended up as far west as I did due to the lack of a cumulus field to the east and the much better parameters in northwestern Oklahoma. Weak mid and upper level flow were going to be a problem most anywhere though. By late afternoon, cumulus started bubbling on the dryine out west. I met up with Greg McLaughlin, Susan Johnston and Liam Johnston in Mooreland, OK after our paths intersected there, and we caravanned the rest of the day. We also met briefly with Terrence Cook. We headed up to a storm firing near Slapout, OK (yes, that's its real name) in what appeared to be the only place a storm had a shot at doing something - along a nose of low-level moisture that appeared to be resisting mixing better than areas to the south.
The storm looked impressive as we approached from the west: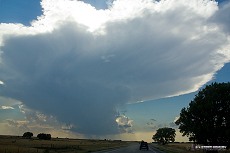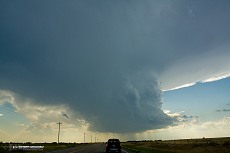 Click for larger versions
We skirted the core to the south, encountering a few 1.5" stones (possibly larger). Hail up to 3" was found in this area. Finally, we reached the updraft area of the storm, which was struggling visually. At times, it seemed to cycle up and consolidate, but for the most part it never had the look that it was about to really take off. The best scene of the day was this corkscrewing updraft attempt, which slowly fell apart: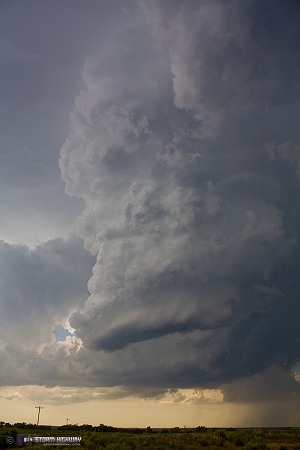 Click for larger version
Our storm's inflow trajectory was contaminated by its own anvil precip, and the weak upper-level winds were also not helping matters. With our storm finally fizzling altogether and nearly all short-term models insistent on storms breaking out to the east (in better instability) as the low-level jet started kicking in after dark, we opted to begin our trek east toward home and hopefully catch something on the way. I grabbed this final shot of our storm's last gasp: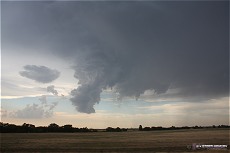 Click for larger version
I had to stop in Enid to get some cash for tolls, since I hadn't expected to be using any of the Oklahoma Turnpikes this day. At this point, I parted ways with Greg and crew as they headed back to Tulsa. I moved east at a leisurely pace, waiting to see if storms would fire on the boundary. A cumulus field was already visible in the moonlight. Storms never fired in north-central Oklahoma, but storms north of Tulsa were really taking off. I decided to just jump on the Cimarron Turnpike and catch them in the Tulsa metro.
When I reached the storms (now a big squall line MCS) at Owasso, they were full of lightning, but none of it was visible (all in the cloud). This shelf cloud was the only mildly-interesting feature I saw here: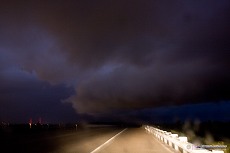 Click for larger version
I suspected there to be some visible CGs and anvil crawlers on the back side, as is typical in this configuration. I punched through the storms to get back to I-44 at Verdigris, an agonizing process that took forever due to constant blinding rain and wind. I could not see the road most of the time, and the wind-driven rain was really throwing off my sense of directional motion. I was repeatedly almost driving off of the road, and therefore could only inch along at 25mph. I was also wary of flooding, as these storms had been sitting/training in the same spot for over 90 minutes. Though there were widespread flooding issues reported, I thankfully didn't encounter any.
As I finally exited the back side of the heavy core at Claremore, I entered a barrage of close cloud-to-ground strikes. The wind and rain were still too heavy to set up a camera outside, so I shot a few exposures handheld out the front windshield. I missed a few good ones, but got the closest one. In the last two, you can see return stroke separation due to camera movement.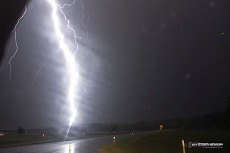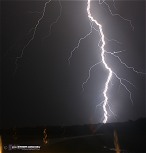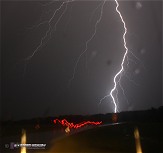 Click for larger versions
After this activity moved off, I resumed the trek eastward on I-44. The lightning show was spectacular during this time, with massive anvil crawlers and CGs coming both from the main line (now over Tulsa) and from new storms to the northeast. With no safe places to stop on I-44, and wind/rain remaining a problem at every exit ramp I stopped on, I wasn't able to capture any more of the display. I finally reached my stopping point for the night east of Springfield, MO at around 4AM.
I awoke at 1PM and resumed my travel toward home, keeping an eye to the northeast for a hail-risk setup taking shape in the STL metro. A single dominant storm eventually emerged and tracked south through the western St. Louis metro area. I caught it at Allenton-Eureka along I-44. These two images are of the storm at the Six Flags amusement park in Allenton: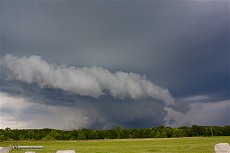 Click for larger versions
I dropped southeast to dive into the storm's core, with algorithms indicating possible 2-inch hail. The largest stones I saw were not much bigger than one inch, with most being around dime sized.
I finally arrived home at 7PM, after 38 hours on the road. This should be my last Plains trip of the 2012 spring season, unless a pattern surpises us all in the next few weeks.
All content © Dan Robinson. All usage requires a paid license - please contact Dan for inquiries.

Web Site Design and Internet Marketing by CIS Internet