Home | Blog Index | Blog Archives | Christianity & Faith Essays
Sunday, July 29, 2018
Storm Photography roundup for July 2018
This July has been full of notable events in the Midwest, but I have struck out on the vast majority of them. Losing streaks like these are painful, but they're part of storm photography. Here is a roundup of the events:
July 1: St. Louis storms
A typical outing into downtown for storms over the city. No photos or videos captured.
July 3: Gateway Arch museum grand opening day storm
4K VIDEO:
Sights and sounds of storms during Gateway Arch museum opening day
I went to see the new Gateway Arch museum and entrance during its opening day on the 3rd. A storm moved over downtown while I was there. I did a low-angle timelapse of the gust front, followed by the usual Arch lightning strike shot attempt: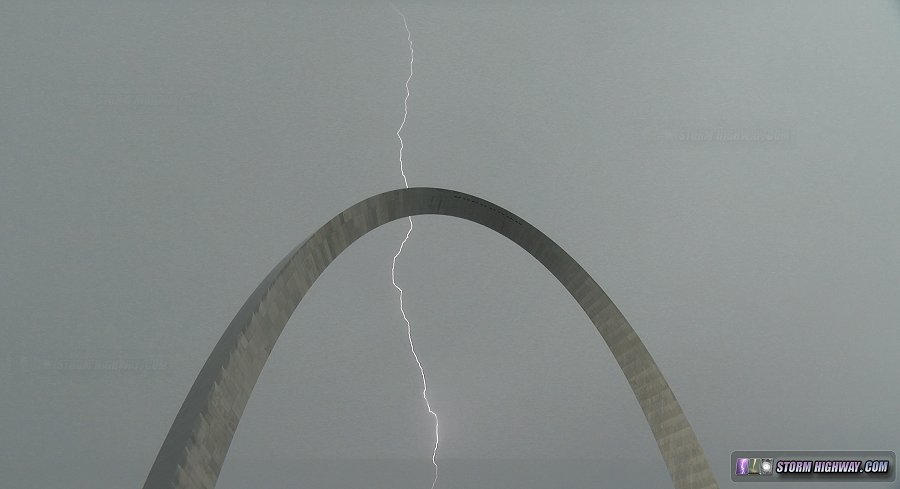 July 14: Severe storms, close lightning and another missed Arch strike
4K VIDEO:
Shelf cloud and close lightning, July 14
I knew storms would be potent lightning producers this day, but they first fired much earlier than expected - and right over downtown St. Louis. I could not make it there in time, and missed a strike to the Gateway Arch again. The last 4 strikes to the Arch over the last 4 years have been during bizarre-behaving or sudden storms that were impossible to predict, ones I'd have caught only if I lived right downtown or if I set up there from morning-onward every day storms were forecast. I can't afford to do that, nor would I be able to keep an income coming in if I did. I just need an Arch strike to happen during a storm with *some* advance notice, but those have been exceptionally rare since I moved here. This day's strike was captured by several people at the rain-delayed Cardinals game at Busch Stadium. It started going viral the day it happened, but quickly became overshadowed on social media by news of the firing of Cardinals manager Mike Matheny.
After the St. Louis storm faded, new storms went up over the Metro East. These I was able to jump on, beginning at home as the shelf cloud raced east (a timelapse of this is in the video). Adding to the theme of July 2018 fails, I discovered here that my DSLR's battery was missing. So, I shot these panoramas with my phone:


Noting that lightning activity was really picking up on the south flank of this complex, I headed down to Marissa to get into the middle of it. Here, I was treated to a lightning barrage of great quality. I set up for a strike to the Prairie State power plant smokestack - and I think I got one: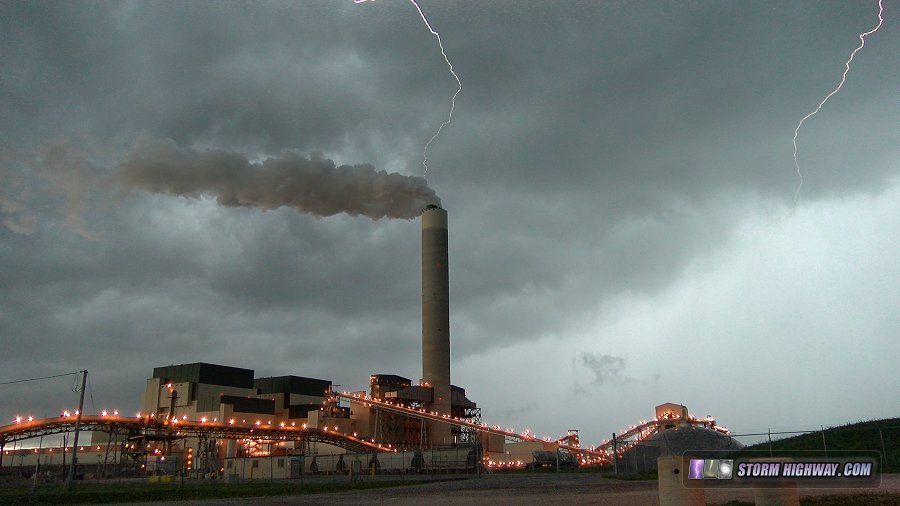 The tapered appearance of the bolts here is due to rolling shutter - a well-known bug with CMOS video cameras. The lower part of the channels always taper off like this on my 4K camera, meaning that unless bolts have some "hang" time, they will appear tapered and ending in mid-air when in reality they continue all the way down. For this reason I can't say for certain that this was a smokestack strike, but the thunder and channel placement makes it 90% likely (video is here).
The lightning barrage continued as the storm evolved into a supercell, probably tornado-capable if it weren't for the constant forward flank downdraft undercutting the base. The lightning was mainly single-return stroke bolts, which would have been amazing for still photography after dark - but was useless for video. My rolling shutter-plagued dashcams and 4K camera did not capture much, despite a flurry of close bolts near Coulterville. I encountered a downed tree on Route 13 on my way home, likely due to the storm's RFD.
July 19: Supercells on the Iowa/Missouri border
Another huge bust for July 2018, missing the best Midwest tornado show in years thanks to storms initiating hours earlier than I expected. I gave this day's expedition account its
own page
since it was quite a long and eventful trip to Iowa.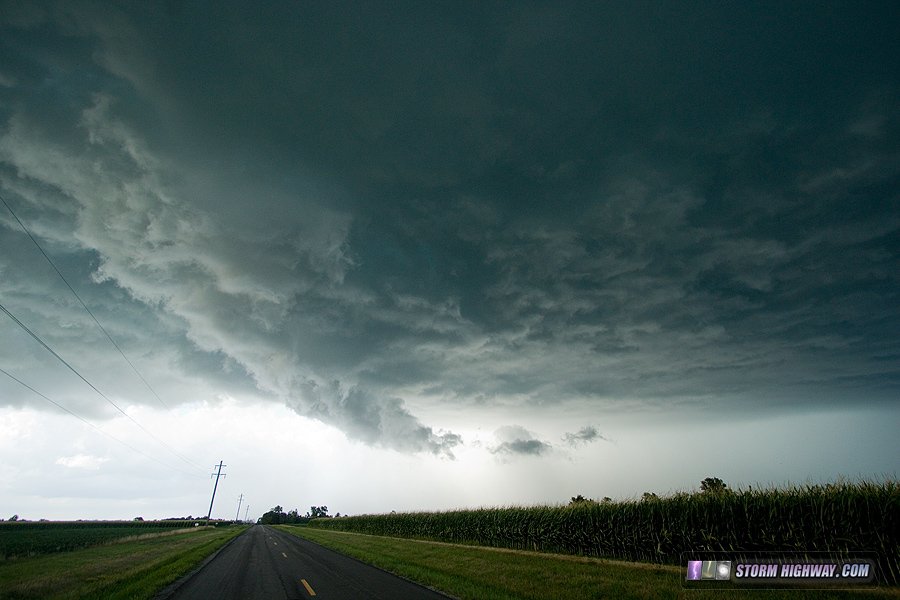 July 20: Supercells on the Kentucky/Tennessee border
Another long expedition to a state line storm intercept, this time southeast of home. I missed a tornado this day, again thanks to earlier-than-expected storms that fired in southern Indiana. Like the 19th, I gave this day's expedition account its
own page
due to its length. The highlight was some incredible explosive convection with storms in southern Kentucky, and another close lightning strike.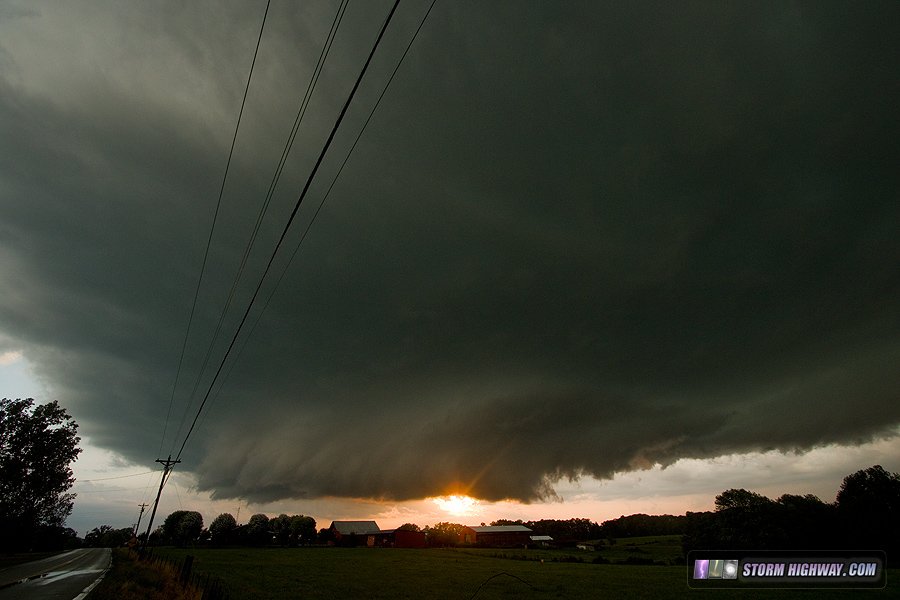 July 31: Southern Illinois storms
A short trip east to Nashville for storms east of the St. Louis metro. No photos or videos captured.
GO: Home | Storm Expeditions | Photography | Extreme Weather Library | Stock Footage | Blog
Featured Weather Library Article:
All content © Dan Robinson. All usage requires a paid license - please contact Dan for inquiries.

Web Site Design and Internet Marketing by CIS Internet