Home | Blog Index | Blog Archives | Christianity & Faith Essays
Saturday, June 2, 2018
2018 Great Plains trip #3: quick summary
I just returned home from Great Plains storm photography expedition #3 of the 2018 season, which ran from Sunday, May 27 to Saturday, June 2. This was an uncharacteristically long trip: 6 days and 5 nights, the most consecutive days I've been out since June of 2005. This was also a high-mileage expedition, covering ground in 7 states: Nebraska, Texas, Oklahoma, Kansas, Missouri, Colorado and Illinois. The trip was a good one despite the challenging pattern: I netted a total of 7 tornadoes and came away with some nice imagery and video.
The long distance driving every day meant there was not enough time to post blog updates from the road (some nights I barely had time for a quick 4-5 hours of sleep). So, I have a lot of work to do in the days ahead to get images processed and video edited. Stay tuned for those! In the meantime, here is a quick summary of each day with a few highlights and teasers:
Day 4 - May 27: St. Louis to WaKeeney, KS
The first day of trip #3, Sunday, was a travel day. With the target in northwest Kansas or northeast Colorado, it was too far to make with an early morning same-day departure from home.
Monday the 28th may go down as the best of the season, barring this June producing something better. It was certainly one of the most prolific landspout events in storm photography history. I witnessed 5 landspout tornadoes north of Seibert, CO, including two instances of at least two at once.
Full detailed expedition log from this day >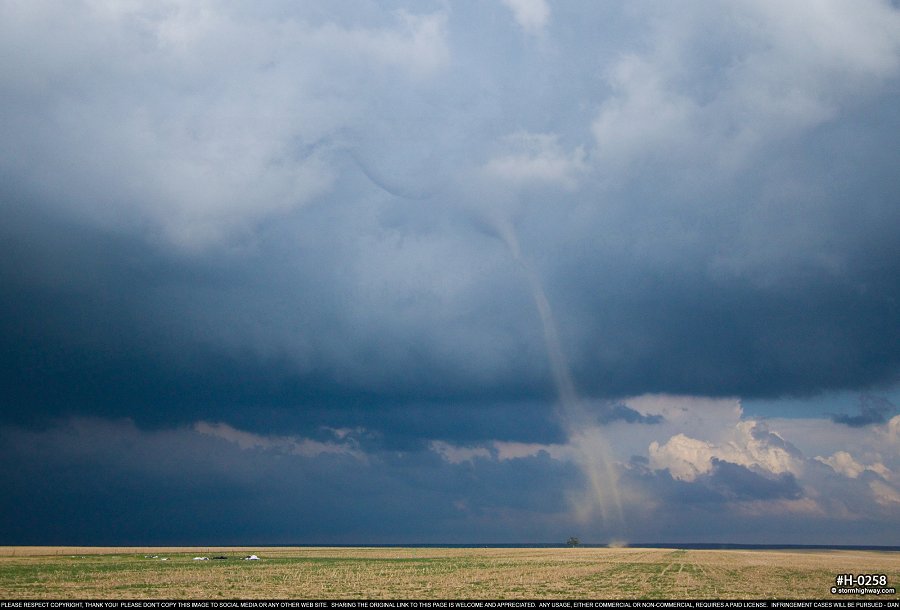 I ended up staying in Colby, Kansas this night.
Day 6 - May 29: HP supercell and tornado at Waynoka, OK
From Colby, it was a relatively easy drive south to Tuesday's target of Buffalo, Oklahoma. There, a supercell developed and morphed into a high-precipitation monster tracking east-southeast along an outflow boundary from the previous day. The storm finally managed to wrap up and produce a brief 10-second rope tornado and several funnels at Waynoka, the tornado of which I saw but did not capture any good imagery of. I ended up getting some stills of nice lightning at sunset before heading to Enid for the night.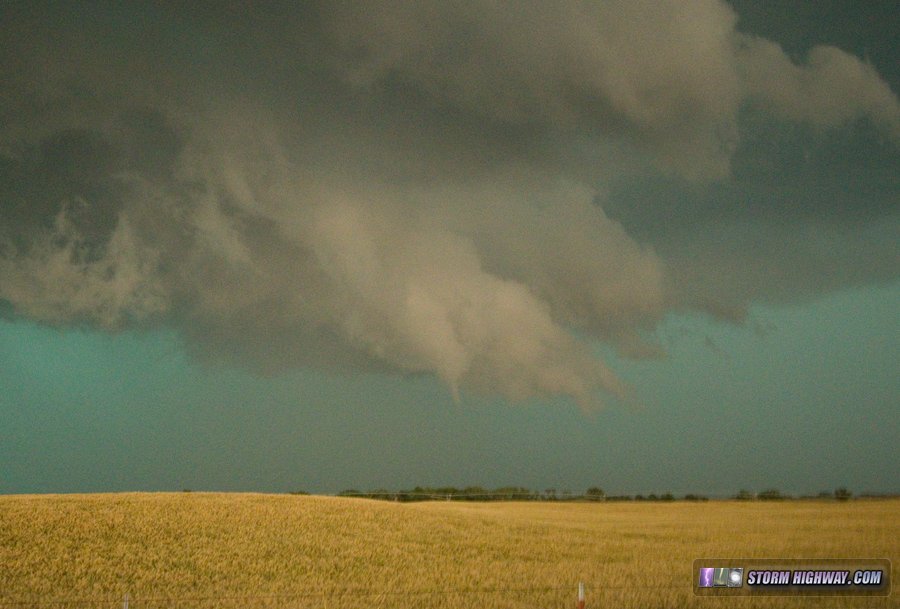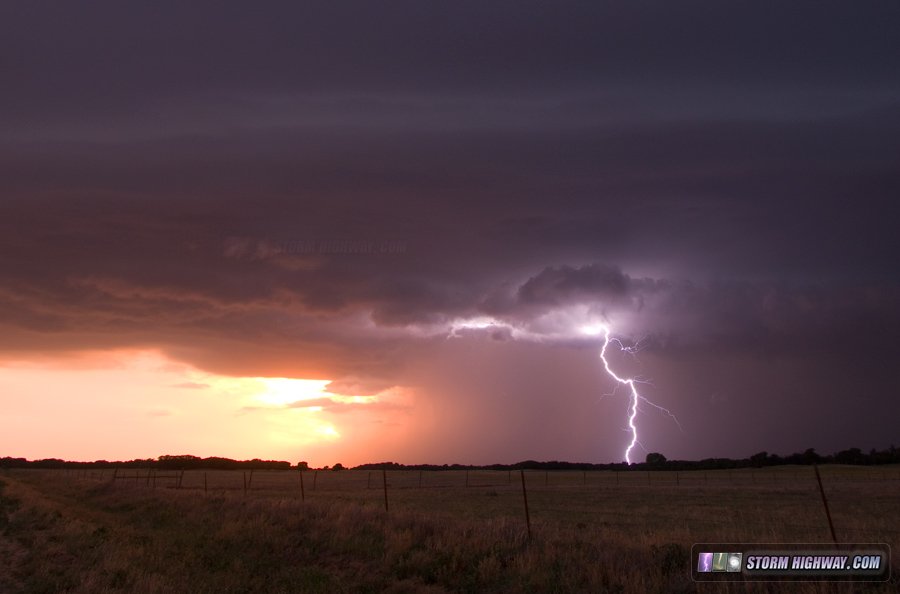 Day 7 - May 30: Severe squall line from Perryton, TX to Seiling, OK
Wednesday's setup for storms was marginal, with a low threat for tornadoes and therefore little impetus to drive very far. The best tornado threat was as the storms first initiated way out in New Mexico, which I did not see as being worth the 5 hour drive. Instead I headed slowly west to Perryton, Texas to meet the incoming storms at sunset. The storms intensified just west of town, with dramatic structure as an outflow-driven dust storm raced across the landscape.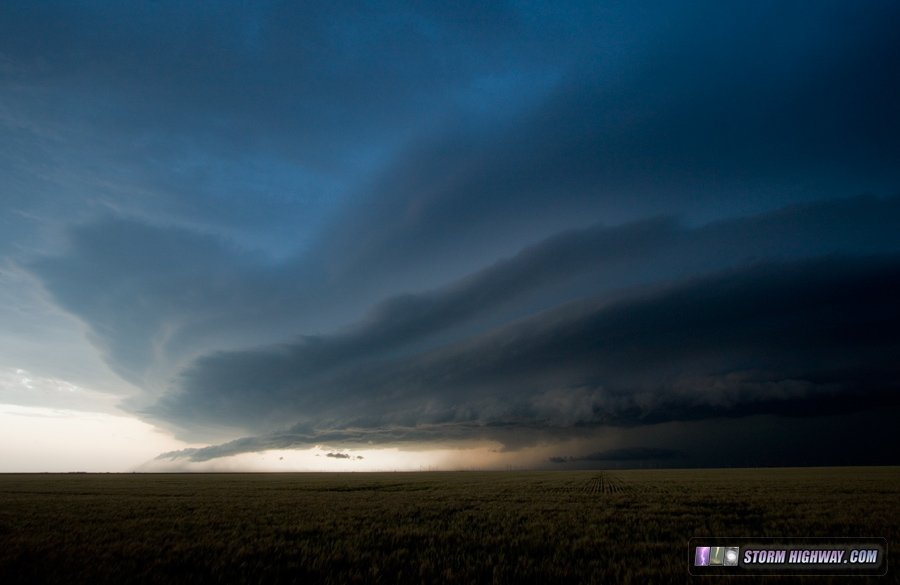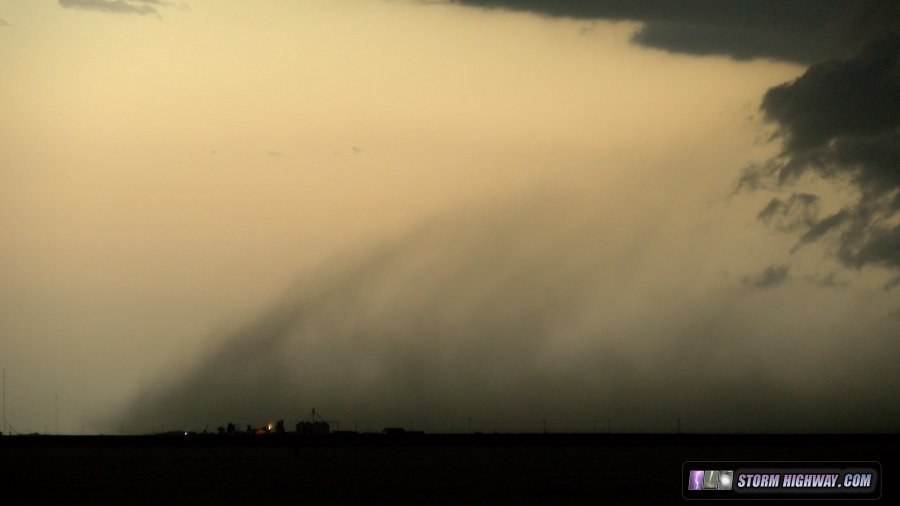 I stayed ahead of the fast-moving line eastbound, stopping to take pictures now and then. New storms fired ahead of the line at Arnett, OK just across the state line, one of which briefly went supercellular with a wall cloud and a cloud-to-ground lightning barrage. For a brief interval, the orange rising moon was visible in the background under the storm base!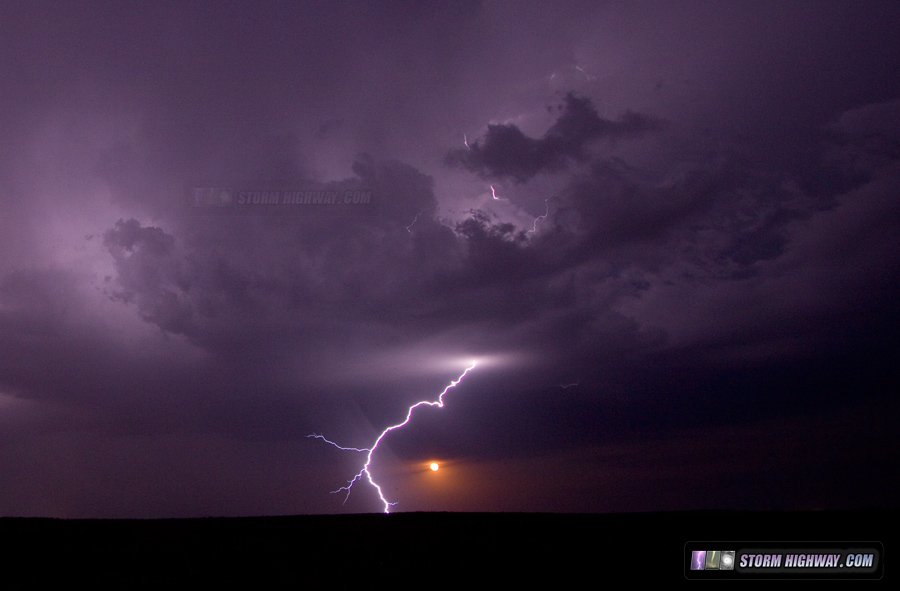 Next, I captured this very close lightning strike hitting a power line east of Arnett, which you can see sending arcs across all of the insulators on the poles: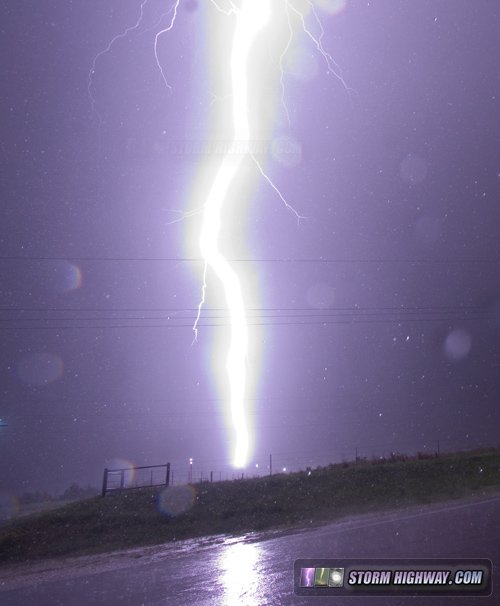 Video: Close lighting hits power line near Arnett, OK
I decided I was done with the storms at Seiling, and managed to stay just ahead of the rain all the way to my hotel stop for this night at Claremore.
Day 8 - May 31: Supercell and close lightning in southern MO
This was a somewhat marginal event that I chose to observe storms on my way home from Oklahoma (I had not yet made the decision to go back to Nebraska for Friday). I ended up on a storm from Mountain View to Poplar Bluff that seemed minutes from producing a tornado at one point. I captured a very close lightning strike on video while shooting a slowly rotating wall cloud near Winona.
4K Video: Lightning strike within 50 yards, southern Missouri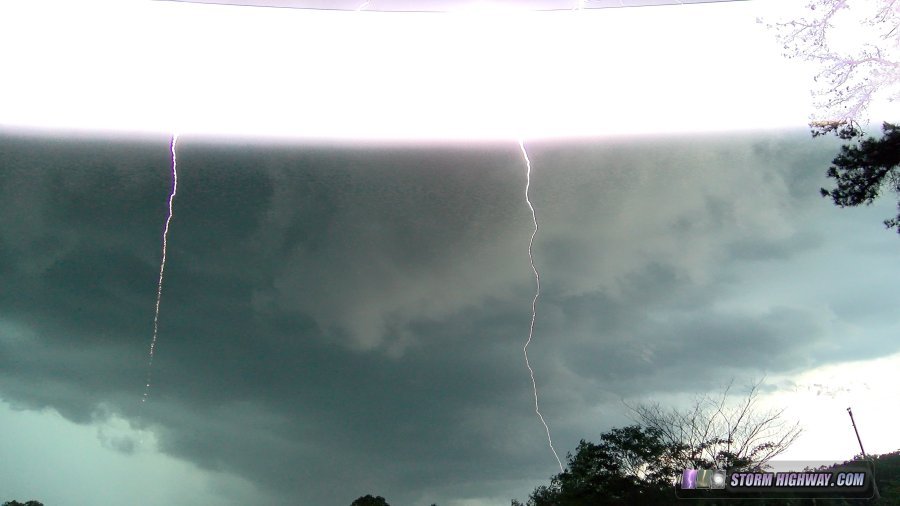 The storm died at Poplar Bluff, where I ended the expedition. Instead of making the 3-hour drive north to home, I did a data check and decided the Nebraska setup on Friday was worth observing after all. I headed back northwest to Clinton, MO (near Kansas City) for the night.
Day 9 - June 1: Severe storms, tornado and upward lightning in Nebraska
This had the makings of a potential big day that I did not feel was wise to miss. I headed up to Broken Bow to watch a new storm struggle and finally explode into a severe squall line at sunset. There were at least two QLCS tornado cycles within the line. I managed to witness and photograph the first one at Ord, though at the time, I did not realize there was a tornado there until closer storm photographers posted their reports: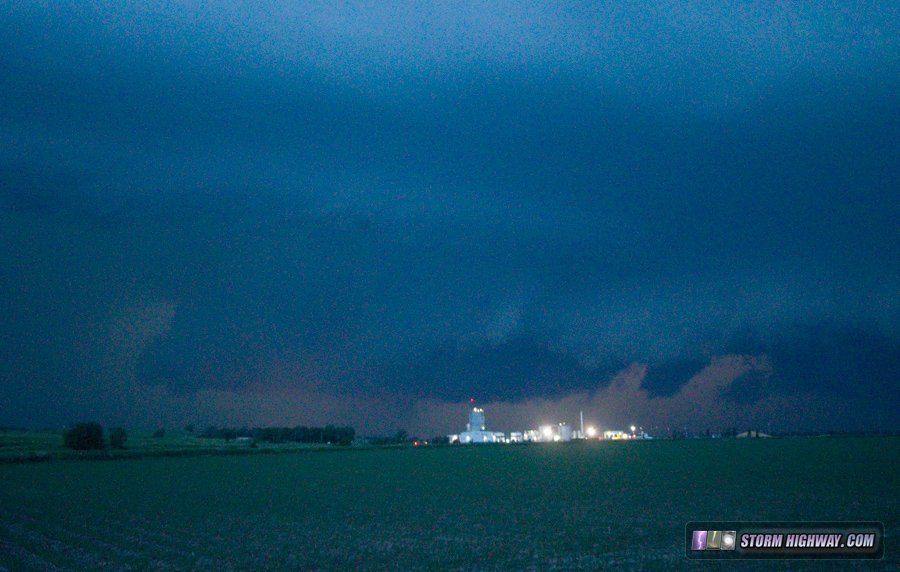 After the squall line sent outflow way ahead of the storms - ending the tornado threat - I turned my attention to upward lightning in the expansive trailing stratiform precip region passing over Lincoln. I ended up at the nearly 1,200-foot tall KFMQ tower near Eagle - just east of Lincoln - where I witnessed more than 20 upward lightning discharges to the structure. I managed to capture 10 to 12 or so of them from various angles on both video and stills. Here are a couple of teasers:
My favorite angle from this event was looking straight up from just next to the tower - it was hard keeping raindrops off of the lenses, but worth the trouble!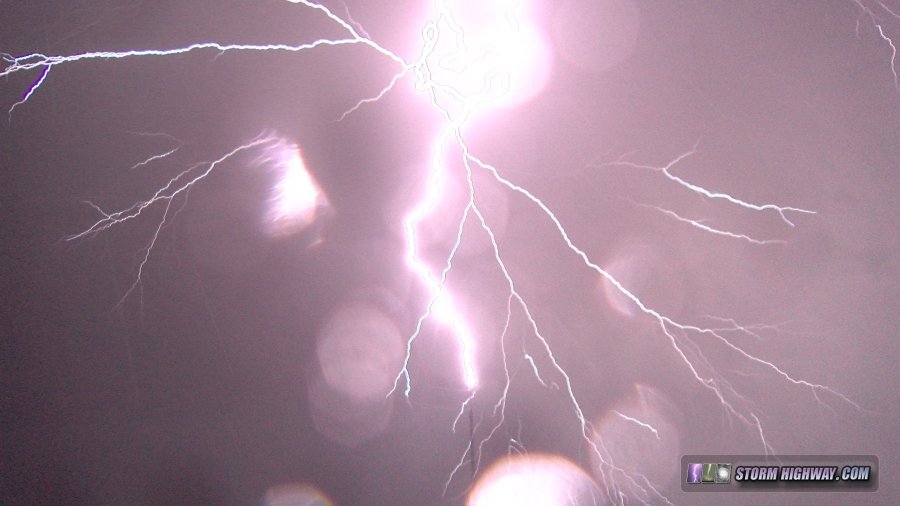 Day 10 - June 2: Nebraska City, NE to St. Louis
Another marginal setup for severe storms would impact Missouri, once again on my way home. I kept an eye on the situation during the trip, but didn't see anything worth diverting from the route home. I arrived just after 5pm to bring 2018 Plains trip #3 to a close.
This web site is made possible by support from CIS Internet.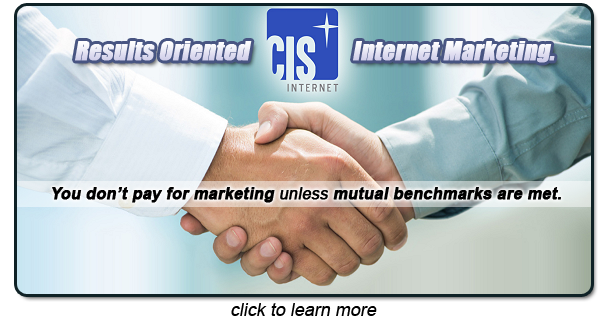 GO: Home | Storm Expeditions | Photography | Extreme Weather Library | Stock Footage | Blog
Featured Weather Library Article:
All content © Dan Robinson. All usage requires a paid license - please contact Dan for inquiries.

Web Site Design and Internet Marketing by CIS Internet