Home | Blog Index | Blog Archives | Christianity & Faith Essays
Sunday, October 31, 2021
September-October 2021 storm photography roundup
While September was a relatively quiet month in the St. Louis area, October was active with multiple fall-season severe weather events.
September 4: Predawn storms south of St. Louis
Models generally were correct about meager storms arriving before dawn across the St. Louis metro. I went out from Valley Park, MO to Columbia, IL around 4:30AM, but lightning was infrequent and mostly buried in rain. No photos or videos captured.
September 14: Storms across the St. Louis metro
Storms were beginning to develop areawide by early afternoon, so I parked across from downtown awaiting eventual activity over the city. A cell went up right over downtown, but produced no lightning. I moved back west for additional rounds of storms, encountering a barrage of close bolts at Brentwood that sent me hurrying back to downtown for a possible Arch strike. Two very close bolts struck just off to my side in Brentwood and again at the I-44/I-55 split, but my dashcams didn't capture usable images of either one thanks to rolling shutter. I got a camera on the Arch as the barrage continued, but the activity moved east of downtown without any additional visible bolts.
September 19: Weak storms east of St. Louis
Storms were moving in from an unusual direction - the southeast - this Sunday afternoon. The nice thing about this is that I can get an idea of the character of storms at home before they impact downtown St. Louis. Despite a few lightning strikes east of town and some mean-looking precip cores, the storms didn't provide anything of photogenic value.
September 21: Overnight St. Louis metro storms
Models had a good handle on some lightning-active storms passing through the metro ahead of a cold front during the predawn hours Tuesday morning. The storms contained only short 20-minute bursts of good cloud-to-ground bolts, none of which happened at the places I intercepted them from Bridgeton to Brentwood. No photos or videos captured.
October 11: Chicago upward lightning
My sister ran her 5th Chicago marathon on Sunday the 10th, so drove up and I spent the weekend in the city. A good fall severe weather event was slated to move through the Midwest on Monday. Despite the tornado risk to the south closer to St. Louis, I decided to stay in Chicago for the upward lightning potential on the north side of the event. I caught two of the four upward discharges that occurred to the Hancock and Trump buildings on 1,500 FPS high speed video:
October 23: Fogged-in thunderstorms in the St. Louis metro
All-night warm advection thunderstorms in advance of a potent fall storm system were slated for the St. Louis area this night. I went out for lightning photography and video, but low clouds and fog (common with cool season storms north of a warm front) made the effort a lost cause. I did manage to capture some quality thunder audio from the storms at home.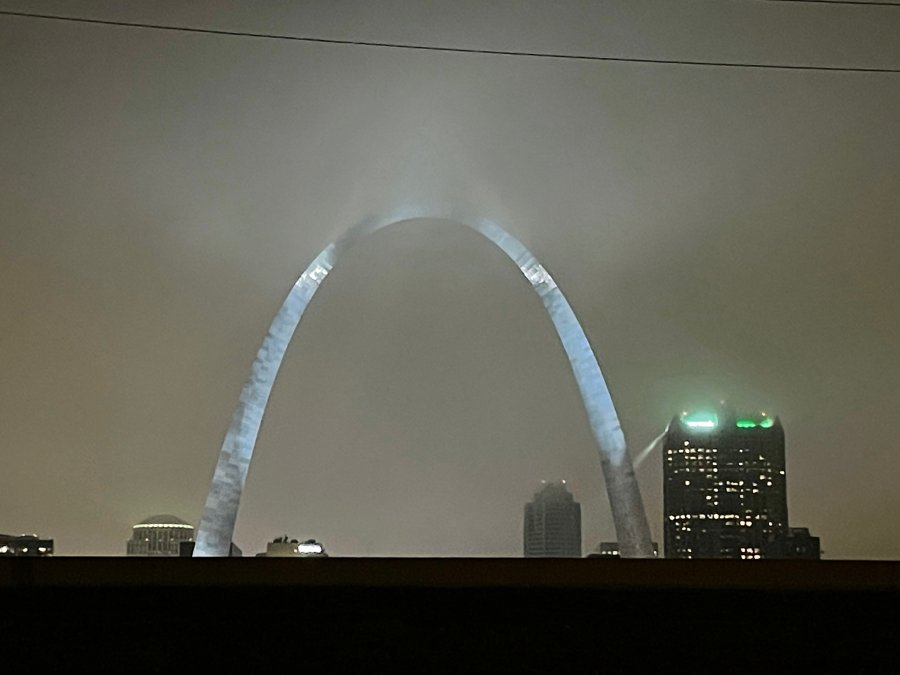 October 24: Lightning and severe storms across Missouri and St. Louis
The main event from this system was Sunday the 24th, with a respectable tornado risk across much of Missouri. I initially planned to stay close to the warm front along and north of I-70 near Columbia, but a massive traffic backup on the westbound interstate at Williamsburg necessitated stopping farther east. I eventually made my way north to New London for the first storm intercept of the day. Unfortunately, a large ground-scraping arcus cloud indicated outflow dominance, and also hid the nice lightning activity that was in progress behind it.
I dropped south on Highway 61 to Frankford for the next two storms. The arcus was less pronounced with each successive storm, with better lightning visibility. I had set up my high-speed camera to shoot at 10,000 FPS for this event, and finally had some worthwhile bolts to start recording. On high speed cameras, increasing the framerate means decreasing the area of the sensor that is recording, resulting in a much narrower field of view. This makes getting a lightning bolt in frame much more difficult. I missed several nice bolts for this reason, but caught a good one squarely in-frame:
The only storms I had available in the remaining daylight were down near Columbia. Due to the ongoing traffic jam on I-70, I used the county road grid to drop southeast to Auxvasse to catch the northernmost cell right at sunset. Although the setting sun created a dramatic scene, the storm was disappointing with no visible lightning bolts.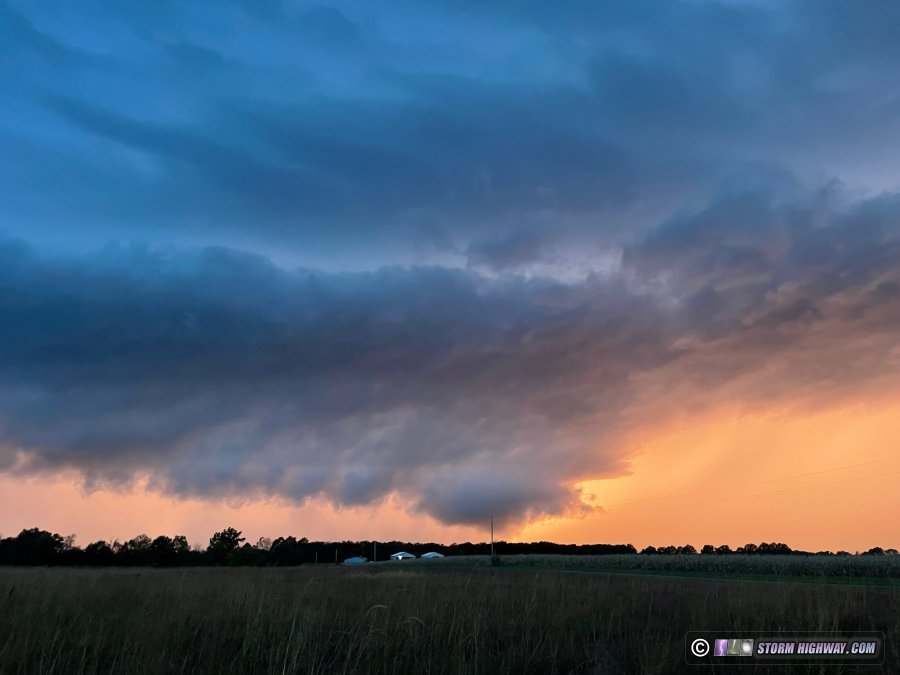 The next area of worthwhile storms was in southeastern Missouri. There, a cluster of potent tornadic supercells was taking shape, but all in the horrible terrain and road network west of the Mississippi River south of St. Louis. Iinitially started heading east on I-64 with the intent of dropping south ahead of the northernmost storm at Chester. However, new development was rapidly taking shape southwest of St. Louis and was in line to impact the metro area, so I headed back to downtown. These storms turned out to have impressive lightning, and I captured a decent shot from the Malcom Martin Memorial Park overlook: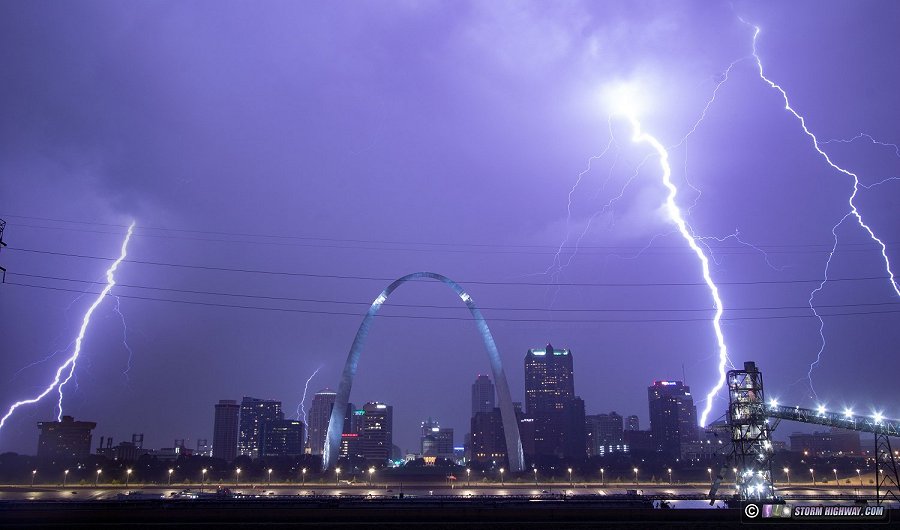 I jumped back on I-64 to try and stay ahead of the storms, but I was already too far behind. Driving through the blinding core eastbound, I witnessed power flashes at Caseyville and Fairview Heights as a circulation rapidly developed ahead of me. The power was already out in East St. Louis as I began the trek east, and was completely out all the way to Fairview Heights. I made two passes of the outage zone on IL-159 and IL-157 looking for tornado damage, but found none.
GO: Home | Storm Expeditions | Photography | Extreme Weather Library | Stock Footage | Blog
Featured Weather Library Article:
All content © Dan Robinson. All usage requires a paid license - please contact Dan for inquiries.

Web Site Design and Internet Marketing by CIS Internet