Home | Blog Index | Blog Archives | Christianity & Faith Essays
Saturday, April 30, 2022
March-April 2022 Storms and Weather Roundup
Both March and April 2022 were below average for storm photography activities in the lower Midwest, with only three outings for convective storms in March (lightning and/or tornadoes). Despite that, I was blessed with a couple of good lightning captures on my high speed camera. March also saw an unusual tornado attempt trip east to my old home area of West Virginia on the 23rd. During this period I opted not to go after a couple of what turned out to be good tornado days in Iowa, mainly because of the drive and/or the prospect of storms closer to home. April 29 brought the first Great Plains trip of the season, which yielded the season's first tornado in Kansas.
March 5: St. Louis metro lightning
I was not motivated enough to travel to Iowa for the tornado event, opting instead to stay home and shoot high-speed video of any lightning we got in the St. Louis metro area. I went up to Wentzville at 9PM to intercept storms moving in from the west, shooting from along Highway 61. I captured a nice 10,000 FPS shot of a meandering, branching intracloud negative leader with a ground connection (video below). I dropped south to Town and Country and then Brentwood to shoot the next storm moving up from the southwest. Despite this one producing some nice vivid cloud-to-ground bolts, I wasn't able to capture any more shots.
March 6: Storms from Cape Girardeau to Dexter, MO
For my first tornado outing of the spring, I headed down to the stationary/warm front between Cape Girardeau and Sikeston, MO on Sunday afternoon. I was anticipating a lead storm to get established and track along the boundary draped more or less along U.S. 60.
Too much convection went up in this area, and everything moved north of the boundary without latching onto it. The large upstream cluster of storms to the southwest developed a cold pool and strong outflow long before arriving along the front, eliminating the rest of the daylight tornado chances in this area. At sunset, I headed back to St. Louis to shoot lightning from the clusters of elevated storms moving through the metro area, but this activity wasn't very photogenic with very few visible channels poking out of the clouds. I went back outside a few times after arriving home to look at some of the nearly-continuous thunderstorms that kept going well after midnight, but it was the same story: no photographable lightning in these heavy rain producers.
March 11: St. Louis winter storm
Starting at 2AM, I spent the morning monitoring road conditions around the metro area as freezing rain and sleet transitioned to snow. I encountered very few problems, and I didn't set up for video once. I took a quick phone image of this example of bridge icing in St. Peters before sunrise: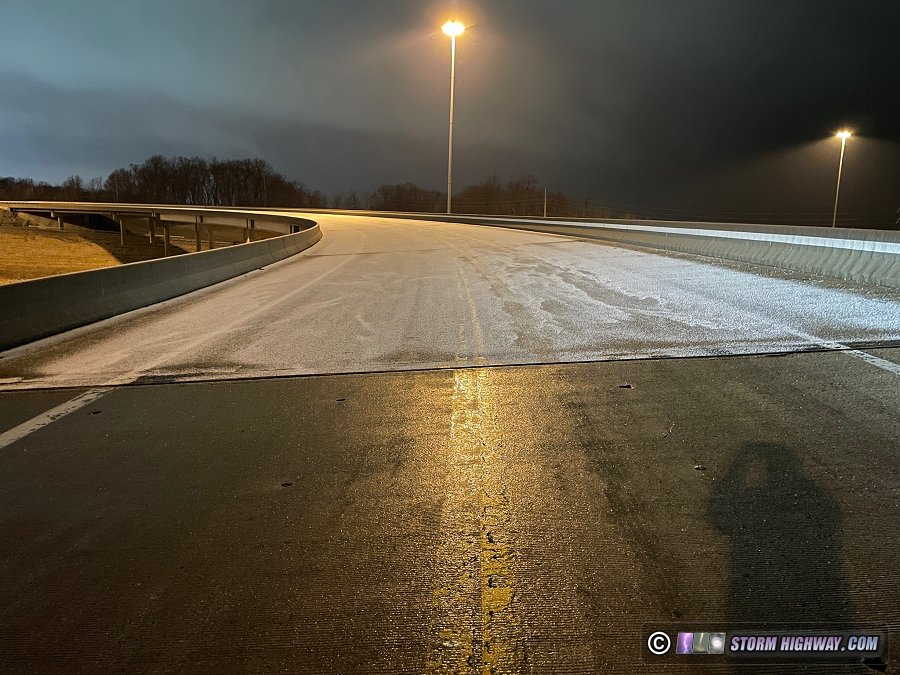 March 18: Storms from Woodlawn to Litchfield, IL
Another round of tornado potential as a surface low moved northeast just west of St. Louis. A better tornado risk was present in the deep south, but the numerous breaks in cloud cover evident on morning satellite near the low were enough to keep me close to home this day. I initially went east on I-64 to Woodlawn to take a look at storms moving up from near Perryville/Chester. There was no supercell storm structure evident and only sporadic lightning. The second storm in the line fired off a volley of visible cloud-to-ground bolts, allowing capture of one of them on the high-speed camera at 10,034 FPS:
After these moved east of me, I decided the next play was a surface convergence zone showing up on obs that paralleled Interstate 55 north of St. Louis. This area had also received about 90 minutes of sunlight so far, likely giving it some low-level instability to work with. I headed up to just north of Litchfield where several bands of very-low-topped convection were starting to form just west of the interstate. There was no motion anywhere in the cloud tags at the bases, and the inflow felt very cold.
Meanwhile, a sneaky warm front shown in a SPC mesoscale discussion was just to the south along I-70, with a line of weak convection and rain tracking along it. I admit I had not previously noticed evidence of this boundary. It was very diffuse, with no backing of winds along it nor a drastic temperature/dewpoint change across it. Updrafts along the southern side of this boundary seemed like they were trying to slow down and root on it, so I headed south to Coffeen to take a look. Despite better-looking motion under the updraft of this storm, it was short-lived and completely dissipated about 30 minutes after I arrived.
March 23: West Virginia supercells
An unusual twist to the spring severe weather season happened with this potent supercell tornado environment taking shape over my old home territory of southeast Ohio and western West Virginia on Wednesday the 23rd. It looked good enough for a storm observation trip in the complete opposite of normal: heading east at midnight on Tuesday night on I-64 from the Midwest to the Appalachians. I jumped on the first storm of the day in Huntington, watching it approach from across the river in Proctorville. Despite a ragged wall cloud, low-level organization was nonexistent. I abandoned this storm for the next one south, unfortunately that would be crossing the highway in the mountains on the turnpike near Mahan. Predictably, I couldn't get a good visual on this due to the terrain, but I tried. This view looking north of the RFD clear slot in the updraft was the best I could do: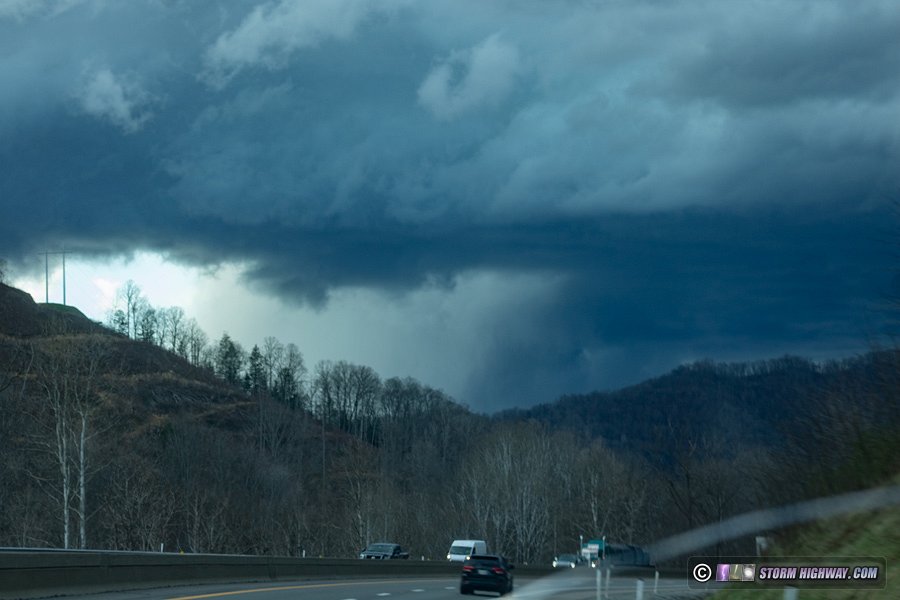 I headed back to the Charleston area for new development getting started at sunset. I had a great view of this updraft at Dunbar, but it failed to organize any further: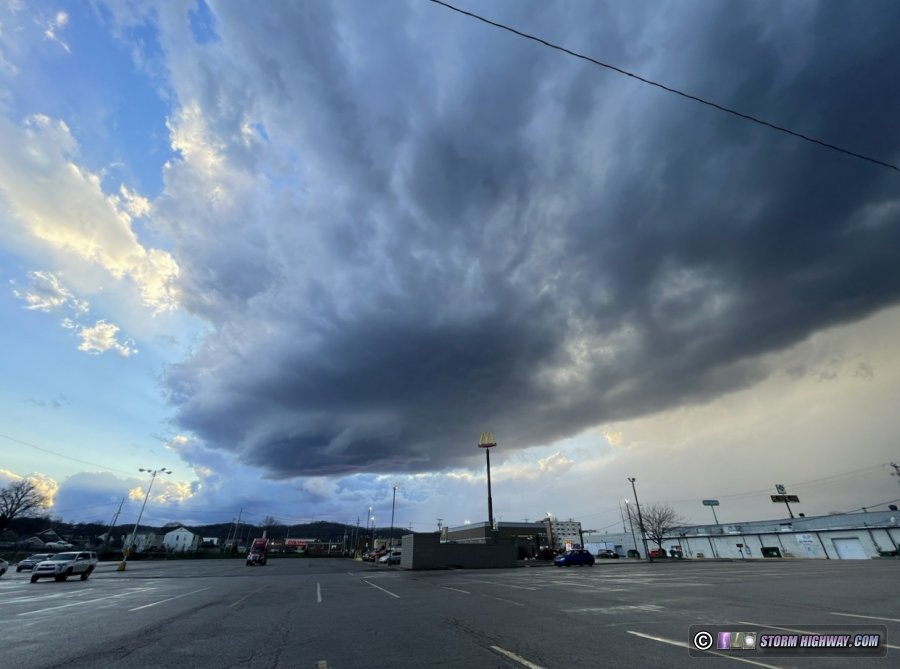 At the same time, these anticrepuscular rays appeared to the east: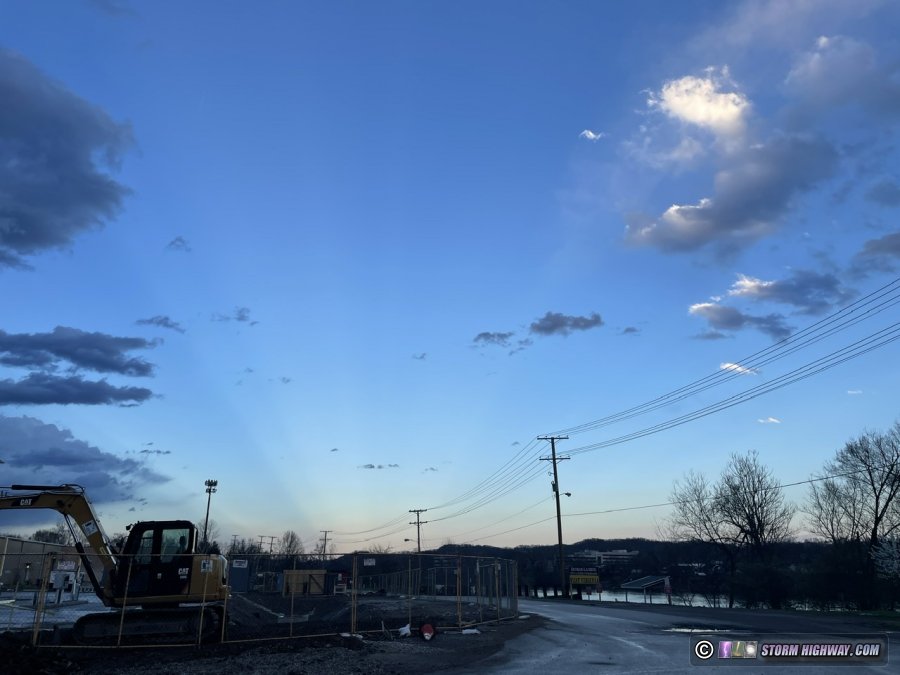 A final round of convection fired in earnest after sunset, producing some decent lightning (all of which eluded my high speed camera). Winds had turned westerly in advance of them thanks to outflow from the previous storms, which ended the supercell tornado threat in the region.
April 8: St. Louis snow
Models had been insistent about temperatures staying above freezing for this morning's snow showers, but some of them looked heavy enough to potentially cool things down and give roads short-lived coatings (bridges in particular) at around daybreak. I went out a couple of times before and after sunrise to monitor conditions. Though the snow pellets that fell in the heavier bursts piled up on grass and on the edges of roads, I encountered no impacts.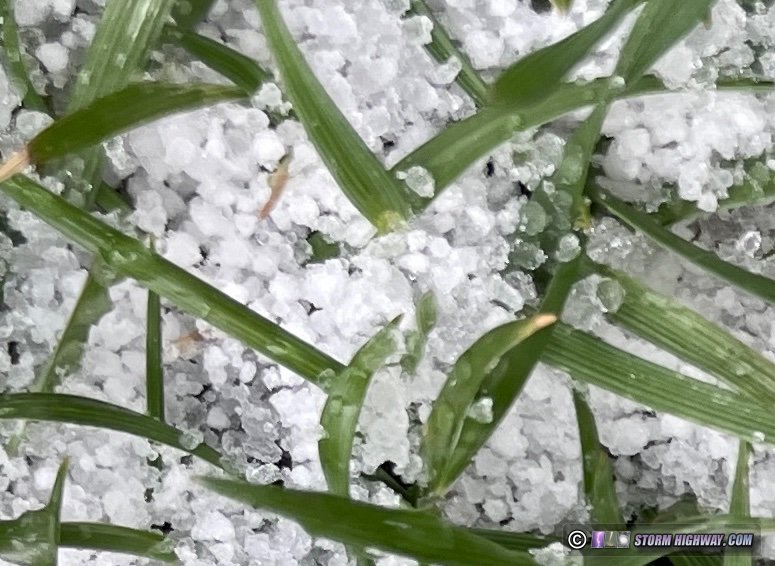 April 10: Mascoutah, Illinios lightning
Storms along a cold front approached the metro area from the southwest for hours this night, but all were dissipating thanks to convective inhibition present. Finally, a small line of cells moving in at daybreak maintained intensity. It was going to miss downtown St. Louis, so I just drove a few miles from home to near Mascoutah to watch them. The lightning was quite good, but mostly uncooperative for my cameras. Several spectacular strikes occurred as the line got close, but outflow-driven rain blasting the camera lens with raindrops made it impossible to shoot. This was the best capture of the morning on the DSLR. I was of course also shooting high speed video, but didn't manage any shots on that camera.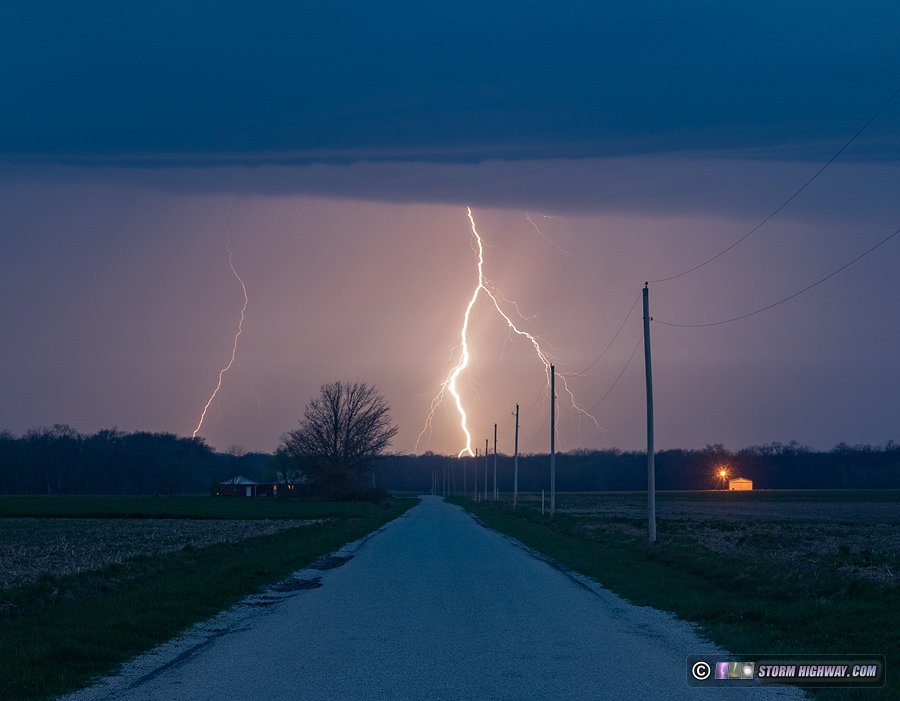 April 13: St. Louis metro storm letdown
The prospect of the 7-hour drive each way to Tuesday's Iowa target convinced me pass on that event, even though it looked like a certain tornado producer (and it verified). With Wednesday's setup in St. Louis and surrounding region looking potent and starting early, I wanted to be well-rested and caught up on work instead of trying to scramble back here from Iowa on less than 4 hours' sleep.
As it turned out, Wednesday's system was completely trashed before sunrise, with continuous convection through the morning using up what little instability we had. Target options away from St. Louis also didn't look worthy of spending money on the high gas prices, so I just chose to stay in the city and hope for some lightning. I went out 3 separate times between 8:30AM and 2PM from Dardenne Prairie to Brentwood, but the storms were completely uncooperative. I only set up my cameras once for about 15 minutes, battling wind-blown rain and giving up when no lightning occurred during that brief interval.
April 20: St. Louis metro lightning bust
After multiple rounds of thunderstorms failed to reach the St. Louis metro during the day, a solid squall line finally formed around 10PM. I went into the city to try for lightning captures, but the flashes were infrequent and the channels were all inside of the clouds. The line was also moving east at blazing speeds. I departed downtown just ahead of the northernmost cells, intending to try and set up again closer to home. Despite traveling at 65-70mph, I never broke out ahead of the light rain on the leading edge of the line during the 28-mile trek back home (I later estimated via radar that the line was moving east at faster than 60mph). That was of no consequence, as the lightning frequency/visibility issues didn't improve and there was no reason to attempt any more shots.
April 24: St. Louis metro lightning bust
For the third local event in a row, storms fail to produce anything photogenic in the St. Louis metro. I had opted to pass on the first real setups of the season in the Plains, a decision that ended up being the right one as copious blowing dust obscured the storms from Kansas through the Texas panhandle. Furthermore, we'd see a tornado risk here in the St. Louis metro from this system on Sunday evening that would at least offer some local lightning if not something more. But once again, early-day cloud cover and weak convergence on the front led to another letdown in terms of worthy photo/video subjects. Nonetheless, I went out east to Beckmeyer as several storms went up, but none produced any lightning. I saw a few flashes from more active storms to the east near Mount Vernon, but even those weren't worth making the extra 45-mile drive east to get closer. I was back home within 45 minutes.
I made my first trip of the season to the Great Plains on Friday the 29th. This log is on the
2022 Great Plains logs
page.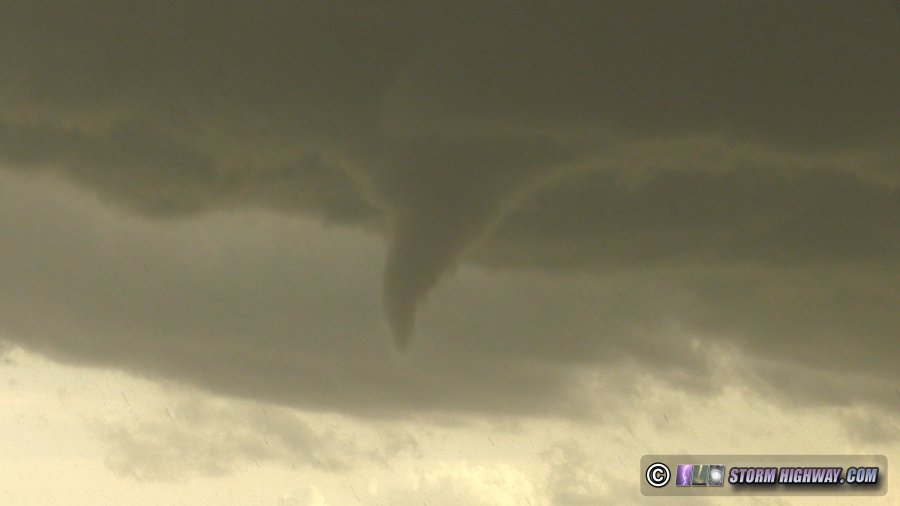 April 30: Breese, Illinios lightning
Models had been consistent about discrete supercell storms firing near (or in) St. Louis as early as 1PM Saturday. Storms did not actually begin firing in the metro area until 4PM, and none of the activity was taking off: all had weak, mushy updrafts and no lightning. I finally decided to head down to the supercell storm crossing into Illinois near Chester. I made it into position on this storm south of Pinckeyville, but found nothing of interest and almost no lightning. With new storms firing back in St. Louis that already were producing lightning, I bailed on the Pinckneyville storm and headed back toward home.
I arrived on the southernmost cell of this new activity north of Breese. It was already outflow-dominant and was only producing sporadic visible lightning every 15 minutes or so. I stayed with this storm until just north of Carlyle Lake before dropping south to another new storm taking shape near Trenton. This new storm was also lackluster, so I started heading home. Soon after, the storm started producing lightning that increased to a rate of a flash every 10 seconds. I stopped along highway 50 north of Aviston, west of the storms, to set up my cameras for a short interval. The lightning was mostly inside of the clouds, with no substantial visible channels available for high speed video. I managed a few stills, this one was the best of the series.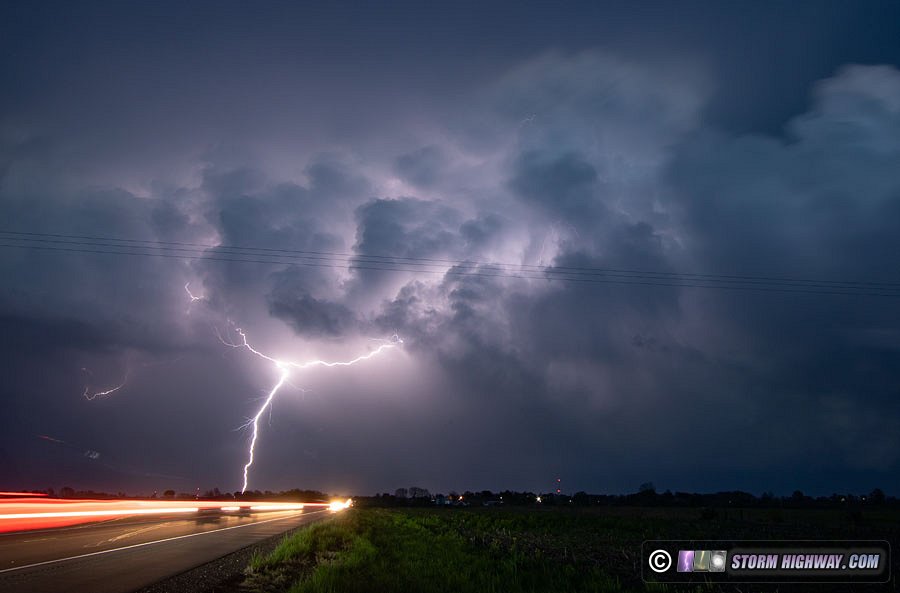 That does it for the first two months of meteorological spring 2022. Now we await what the peak severe weather months of May and June will bring!
This web site is made possible by support from CIS Internet.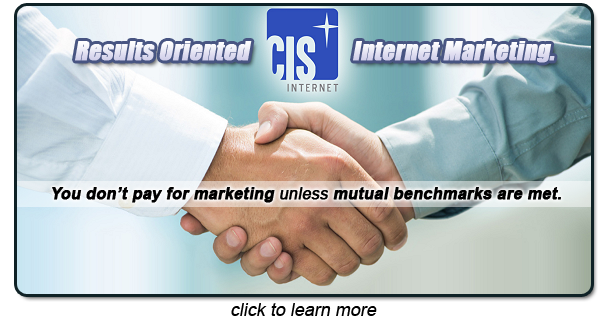 GO: Home | Storm Expeditions | Photography | Extreme Weather Library | Stock Footage | Blog
Featured Weather Library Article:
All content © Dan Robinson. All usage requires a paid license - please contact Dan for inquiries.

Web Site Design and Internet Marketing by CIS Internet