Home | Blog Index | Blog Archives | Christianity & Faith Essays
Monday, February 28, 2022
February 2022 Storms and Weather Roundup
The active stretch of winter weather we saw in the USA during January extended into February. In fact, this was by far the most prolific winter of my career, with 20 events covered since January 1 between St. Louis and out-of-state trips including Alabama, North Carolina, Texas and Arkansas. Most of those involved 12 to 24 hour days out in the elements shooting video. This season has yielded a large amount of footage captures, but it's required a lot of miles, work and long days! This previous post covers January's events and trips, and this current post logs the events observed during February:
February 1-5: St. Louis winter storm
I spent five days covering this two-day storm across the St. Louis metro area. I had been considering a trip to DFW/Houston, Texas to cover the road impacts there, but decided to stay local to shoot the storm at home. I started on Tuesday night in St. Charles County at 9PM, monitoring roads as rain slowly changed to freezing rain during the falling temperatures. Aside from stops to get some sleep, I was out continuously shooting this event until Friday evening. Though the accumulating snow stopped on Thursday night, road impacts lingered throughout the day on Friday. This was followed by a few hours of covering lingering road impacts into Saturday morning. All told, a long marathon of monitoring road conditions and shooting video. I released this video of the storm, all shot during the day on Thursday:
February 13: Snow from Springfield to Lincoln, Illinois
I spent the morning covering snow between Springfield and Lincoln, Illinois along Interstate 55. No footage captured.
February 15: St. Louis meteor
I witnessed a meteor fireball while driving home on the morning of the 15th. This is the view from my front dashcam:
February 17: St. Louis winter storm
Another all-day winter storm coverage event around the St. Louis metro starting with freezing rain in St. Charles at 10AM, ending with the last round of snow just before sunset. No footage captured.
February 22-24: Dallas-Fort Worth winter weather trip
I chose to travel to north Texas to cover another freezing rain bridge icing event instead of staying local for yet another St. Louis winter storm. I departed St. Louis on Tuesday morning the 22nd, stopping for the night in Gainesville, Texas. Beginning at 3:30am, I spent the day on the 23rd shooting video at several bridges in the eastern DFW metroplex. Nearly every bridge was ice-covered and experiencing loss-of-control incidents. I captured this footage at Seagoville and Lawson:
The road crews were finally catching up to the day's problems by evening, so I stopped for the night in Rockwall. I awoke at 5:30am on the 24th to freezing drizzle that had spread beyond the bridges to cover all roads. I made a few passes around Dallas area in the morning, but was finding few problems. This was thanks to aggressive road treatment and a mostly-aware driving public finally traveling at appropriate speeds for the conditions.
Less road treatment appeared to be causing more problems on the highways east of the metroplex, so I headed east on I-30, stopping to shoot video a few times but seeing few issues. My front dashcam captured a pickup losing control some distance ahead of me near Royse City.
An interesting phenomenon I encountered was the effect of the warm ground temperatures clearly seen in the pattern of icing on the concrete center divider, the warmer concrete evident in between the drainage slots at the base of the barrier: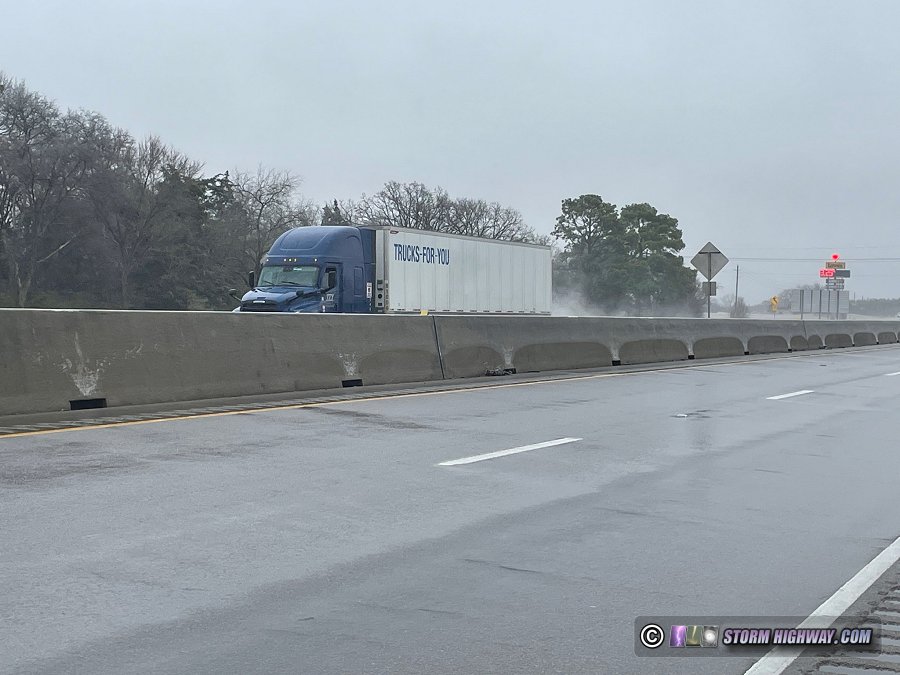 I made it to the eastern zone of road impacts at Texarkana, and decided to begin the journey home. I passed through a zone of significant icing along I-40 between Little Rock, Arkansas and Memphis, Tennessee. I stopped to get a few measurements and photos, finding a maximum of 3/4" of ice at Wheatley, AR. Power was out across this area as well.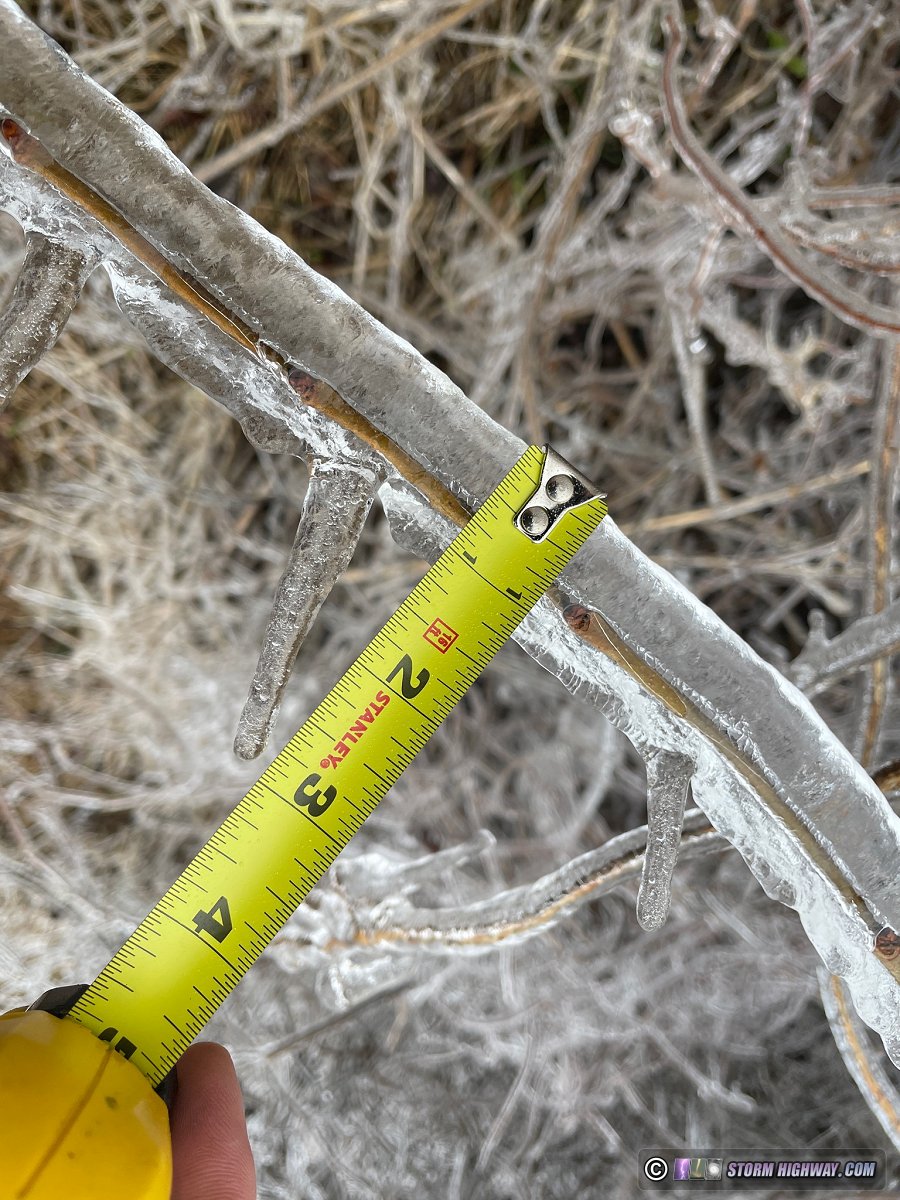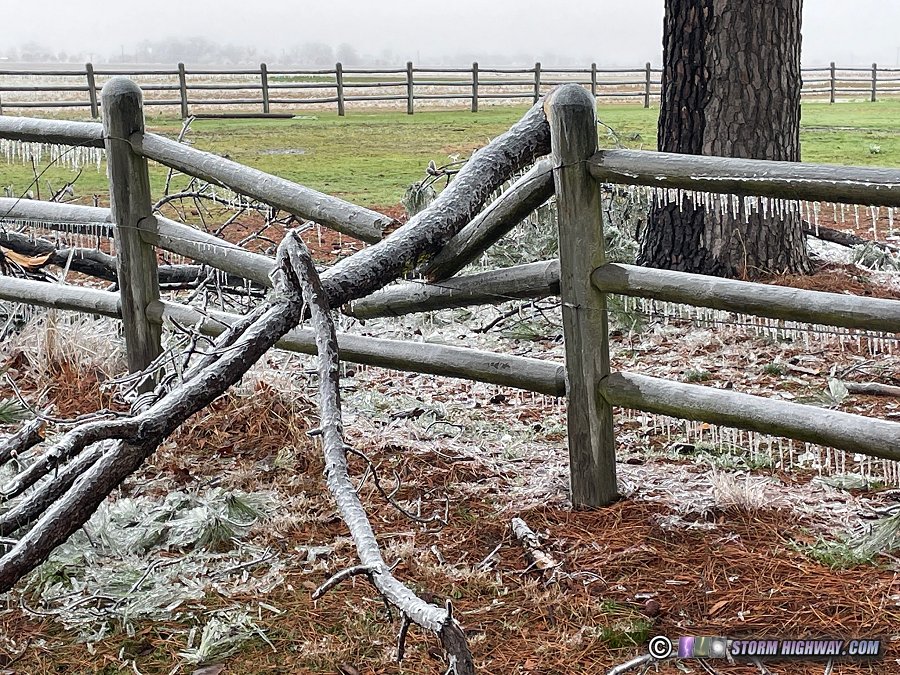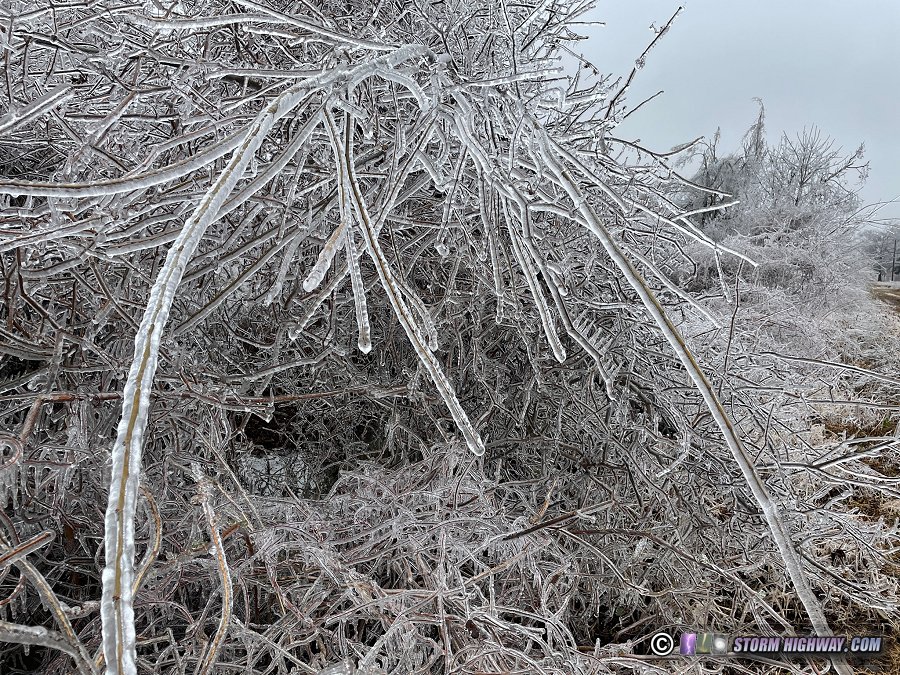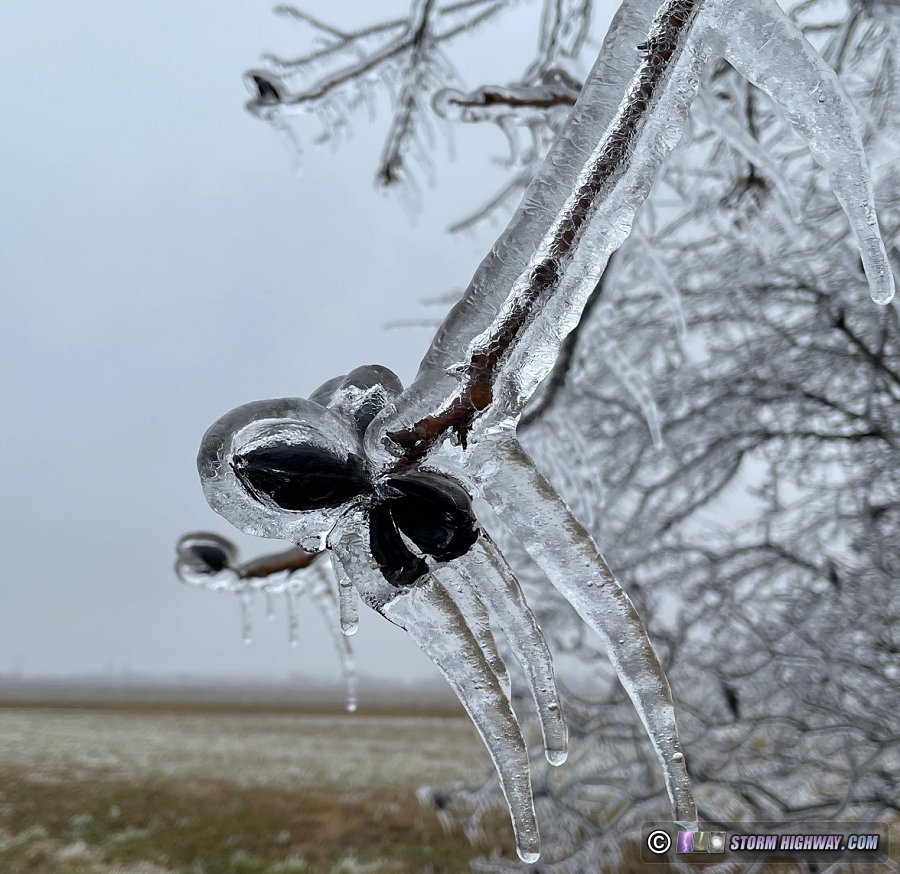 I passed into above-freezing temperatures at Little Rock, which continued on my trek on I-40 and then I-55 in Arkansas. This kept the still-falling rain in liquid form in this area. That changed after I crossed the freezing line again at Cape Girardeau, Missouri.
Near Perryville, my car started icing again in the continued precipitation, and I began encountering icy bridges on Interstate 55 from this point northward. Bridges were treacherous north of Perryville, causing active loss-of-control incidents. I stopped and set up my camera at a northbound bridge at St. Mary, capturing several tractor-trailers sliding. One semi jackknifed into the median into a unoccupied pickup that had previously lost control, then breached the cable median barrier into the oncoming lanes. I spoke to law enforcement and the tow truck drivers on the scene that both confirmed that thankfully, no one had been hurt in the incident.
Because I returned to the scene to check on the occupants of the vehicles, I was stuck in the ensuing shutdown of the interstate, which lasted 3 hours. I encountered more bridge icing at Crystal City, but was not able to find suitable vantage points to shoot video. I made it home at 1:30AM, bringing the 20-hour day and this 3-day trip to a close.
GO: Home | Storm Expeditions | Photography | Extreme Weather Library | Stock Footage | Blog
Featured Weather Library Article:
All content © Dan Robinson. All usage requires a paid license - please contact Dan for inquiries.

Web Site Design and Internet Marketing by CIS Internet