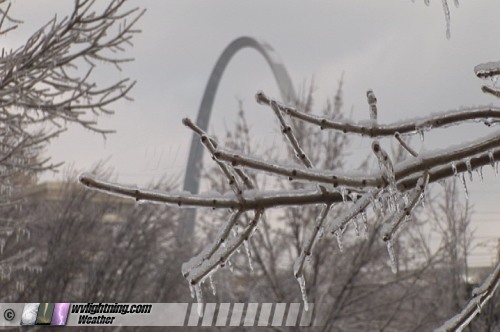 Winter storm slams midwest, ice shuts down St. Louis: Ice, sleet, snow, wind hit from Oklahoma to Michigan
December 1, 2006
ABOVE: Ice and snow coated everything in St. Louis, including the Arch.
EXPEDITION VIDEO: Ice Storm hits St. Louis: Watch Video Clip
ST. LOUIS, MO - A significant ice storm affected the St. Louis metro area on Thursday night into Friday. Below is a log of this 'winter storm chase'. Photos may be enlarged by clicking any thumbnail image.
We (Tom Mullins and I) made a literal last-minute decision to document the impending winter storm in the midwest. We left Charleston just before 11PM and drove all night to arrive in St. Louis by 7:30AM central time on Thursday morning. At downtown St. Louis, we reached 34F - and finally hit the freezing mark at Lambert Field on I-70, at which time the rain began its transition to a prolonged sleet/freezing rain fluctuation.
The temperatures held steady at 31-32F for much of the morning, and bridges and overpasses slowly became coated with sleet pellets and ice. A few cars skidded on the ice but managed to avoid an accident (see video clip). Salt trucks were out in force on the interstates and major roads, which remained clear. However, by early afternoon, temperatures finally began falling into the upper 20s - at which time the entire ground surfaces cooled to the freezing mark and began rapidly accumulating ice and sleet.
As the sleet continued to pile up on the roads, plows worked harder while cars had trouble climbing hills (see video clip). By 8PM, the heavy sleet was giving way to heavy freezing rain. Our temperatures had risen back to the 30F-31F range, from the upper 20s earlier in the afternoon. But despite the borderline temps, the raindrops were still very efficient in freezing on anything they touched. Iceicles on trees, power lines and signs were becoming numerous and growing fast - the ice storm was gaining momentum. Around 10PM, during a heaver burst of rain/sleet, we observed three lightning flashes with thunder. As we approached the I-70 / I-170 interchange, we saw the first power flash light up the sky in the Florrisant area, just east of I-170. Then another. And another! We exited the highway and headed in the general direction of the flashes.
The power flashes increased in frequency during the next hour, at a rate of one every 10-20 seconds, at times continuous for 20 seconds at a time. Lines were failing everywhere. The flashes were emanating from a large number of sources in random locations, each flash signalling another area losing power. As we continued criscrossing the Florissant neighborhoods, power outages were becoming widespread fast. Finally, we stopped on one of the few streets which still had power. Trees and branches could be heard breaking and falling (see video clip). I set up the camera and caught a power flash occuring less than 1/4 mile away, which knocked out power to the street (see video clip):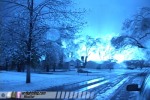 We spent several more hours shooting scenes in what remaining lights were left before returning to the hotel around 2AM, at which time the changeover to snow finally started. By morning, the storm was over. Skies cleared, casting sunlight on the dramatic and spectacular icy scenes.
ST. LOUIS ICE STORM PHOTO GALLERY: A power flash explodes nearby in a residential neighborhood with other flashes flickering, cutting power to the homes on the street. Long iceicles dangle from highway signs and tree branches. The Gateway Arch is topped with ice and snow. Click thumbnails to enlarge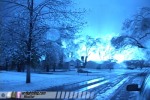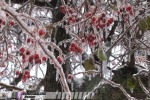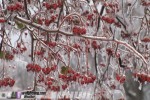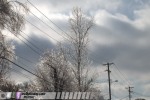 All content © Dan Robinson. All usage requires a paid license - please contact Dan for inquiries.

Web Site Design and Internet Marketing by CIS Internet