Weather Logs Home | Expedition Logs by Year | Video Clips | Photo Gallery
November 10, 2002 Storm Event Log : November 10, 2002
Major Severe Weather Outbreak in Eastern USA One of the largest severe weather events of the past 25 years occured across much of the eastern United States on Sunday, November 10, 2002. At least 35 people were killed as tornadoes and damaging thunderstorms raced across the region from the Gulf of Mexico to the Great Lakes. Heavy damage was reported in Jackson County, West Virginia as well as other locations in our state.
A rare and serious High Risk severe weather outlook was issued Saturday night by the Storm Prediction Center and was updated throughout the day. Eventually, the High Risk covered a jaw-dropping area from Ohio to Louisiana, locally including parts of Kentucky and West Virginia: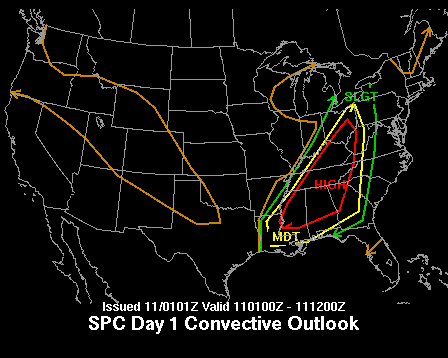 A widespread outbreak of numerous tornadoes was expected from Kentucky south into Alabama and Lousiana. Devastating tornadoes actually occurred as far north as Ohio. West Virginia's events were largely related to high wind gusts. The following map shows the locations of a staggering 479 severe weather reports, an astonishing 61 of which were tornadoes: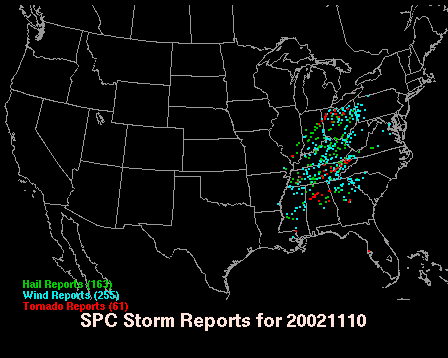 The following is a chronological log of the events during the expedition into Kentucky where tornadoes were expected to develop:
12:30PM - After church, left Charleston and headed west on I-64. Skies are clear, looking good for heating.
2:00PM - Pass underneath interesting isolated stratocumulus line/cluster oriented northeast to southwest between Morehead, KY and Lexington. A few of the clouds seem to be trying to go vertical, but none are succeeding. No precip despite the ominous appearance from underneath. South of the feature, isolated small Cu are visible. To the north, skies are completely clear. Some type of convergence zone/boundary? I guessed that it was an outflow/cold pool boundary from Saturday's convection, but can't be sure. Should have taken a snapshot of this, but wanted to save batteries for the potential day ahead.
3:15PM - East of Lexington, skies are clear with a few tiny isolated Cu. A small but distinct horseshoe vortex develops in the clear sky to the northwest, starting out as a slight arc and morphing into almost a full ring before dissipating. Its lifespan was about 2 minutes. I tried several times to take a snapshot while on the Interstate, but as I had to shoot blindly while opting to give attention to the road, I missed all but the very top of it.
3:30PM - Arrive in Lexington at the northeast corner of the High Risk, with three road options available (I-64 due west, I-75 south, and Bluegrass Parkway southwest). In this part of the country, four-lane highways generally are the only roads suitable for storm observing as far as sky visibility and speed of travel are concerned. After discussing the situation over the phone with Bill Coyle in Va Beach, it appears Louisville is the best bet to see anything before dark. The 'meat' of the high risk is to the southwest, but this area will not become active until well after sunset. Pre-squall line supercells are already closing in west of Louisville, so we opt for I-64 west. Stop at McDonald's for a late lunch.
4:20PM - Anvils from line of storms in IL, IN, and OH become visible on northwestern horizon. After new tornado watch is issued for the region (video, 488 KB), I stopped at abandoned shopping mall parking lot west of Lexington to reassess the developing situation. By now the sun is behind the storms and the 'shadow' of the cells has darkened things quite a bit. Sharp-edged anvil stretches across 180 degrees of sky from west to east: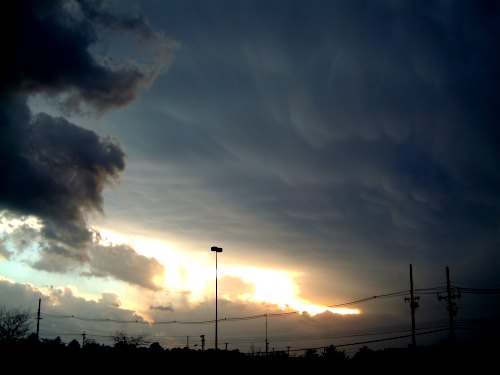 4:45PM - Distinct mammatus develops as several cells in the line become tornado warned. One such cell southeast of Louisville is on track to pass over the city in the next 20-30 minutes, so we decide to head in that direction.
5:30PM - Arrive in downtown Louisville as the sky is growing darker at a seemingly exponential rate. Fairly constant lightning is now visible. Through the ominous mess, a ghostly shelf cloud can be slightly made out. Suddenly, just west of town, the rain hits and completely obscures visibility of the sky, so I turned around and headed back east. Bill calls and informs me of the PDS watch back home in WV.
5:45PM - Now out of the rain, I have a better view of things. The sky is one big scuddy mess, with several conspicuous lowerings that got my attention, particularly one to the northeast of the city just across the Ohio River that bore a striking resemblance to the Crosbyton, TX wall cloud of May 27 of this year. I was on the elevated freeway downtown in moderate traffic with no way to keep a close eye on this feature, so I won't say for sure that this was a wall cloud. Every offramp took me down into a dungeon of trees, and it turned out that the elevated interstate had the best visibility. As I re-entered the freeway for the second time, a blind merging ramp caught me by surprise - and a car was right there at the merge point. I had the yield, so I hit the brakes - but I slid like I was on ice, coming to within 5 feet of the merging car. Close one.
Immediately after entering the interstate again, tornado sirens were activated and could be heard clearly over highway traffic. Of course, the NWR had been going crazy since 4:00 and I noticed several warnings for me and for a few surrounding counties in KY and IN.
I decided that I needed to get out of the Louisville metro area if I was to have any chance of a good, safe place to stop and make some observations, so I stayed on I-64 east until I was clear of the city.
7:00PM - Night has set in, and with cells moving at 50-60mph it is clear that the tornado expedition is now becoming a lost cause. So the focus turns to lightning, and with a nice active line advancing eastward, I started looking for a good setup spot. It appears for the time being that the tornado threat is diminishing for this region, but every cell in the line is now prompting a severe warning for each county they enter.
7:50PM - I stop in Georgetown, KY west of Lexington and let the line overrun me and my camera, catching one CG lightning strike in the process (below). Power flashes are more frequent than lightning, occurring every few seconds. The precip onset is sudden and menacing with copious amounts of pea-sized hail. I was soaked before I got back in the truck.
8:45PM - I finally get back ahead of the line east of Lexington, blue-green power flashes abounding behind me. NWR reports up to 56mph winds in Lexington with numerous trees down. The rest of the drive home is a drag race with a speeding severe line of cells north of the interstate, but no more photo opportunties are had for the rest of the night.
11:00PM - Arrive back in Charleston, WV, ahead of the main squall line. Some sporadic lightning and wind gusts as it passes over. The cells die quickly in the next hour, and with that the outbreak and chase is over in WV and KY.
Weather Logs Home | Expedition Logs by Year | Video Clips | Photo Gallery
This web site is made possible by support from CIS Internet.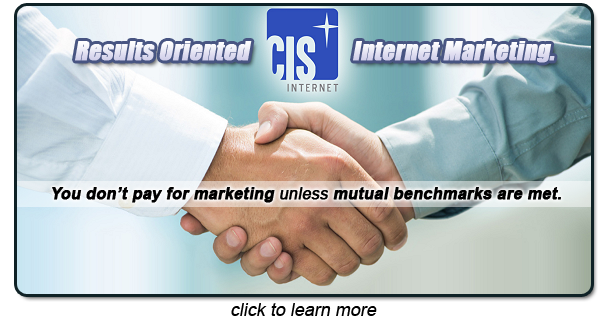 GO: Home | Storm Expeditions | Photography | Extreme Weather Library | Stock Footage | Blog
Featured Weather Library Article:
All content © Dan Robinson. All usage requires a paid license - please contact Dan for inquiries.

Web Site Design and Internet Marketing by CIS Internet