Gateway Arch lightning strike during downtown St. Louis lightning barrage: June 30, 2023

VIDEO: 4K Video
PRINTS: Order Prints
FAQ: How often does the Gateway Arch get struck by lightning?
I had originally planned to leave for a 10-day family trip in Pennsylvania on Thursday the 29th. In the days leading up to that, models had been steadily increasing the severe storm threat for the St. Louis area for a 3-day period from the 29th through July 1. Thursday morning's model runs continued that trend. I was all packed up and ready to go on Thursday morning, even stocking the cooler with a big block of dry ice to take a batch of Imo's pizzas east for one of our dinners. I just had a foreboding feeling that I'd be missing something significant if I didn't push back my departure a couple of days, so that's what I did. I decided to leave for Pennsylvania on Sunday afternoon and stay in the St. Louis area for all three of the upcoming storm events.
The outing on Thursday afternoon for storms in southern Illinois was uneventful. Friday's event looked to be focused right in the St. Louis metro. Models showed several rounds of storms firing close to and after sunset along a boundary oriented northwest to southeast just south of the metro area. Convection finally fired during the late afternoon south and west of the city, slowly advancing toward my downtown vantage point, but never arriving. These storms fell apart, leaving me with nothing to shoot - so I decided to just go home for a break.
After arriving home and finishing dinner, I looked outside to see some new storms had fired just northwest of town and were beginning to produce lightning. Back out the door I went, setting up just north of town to discover some very nice lightning was in progress with sunset colors in the background: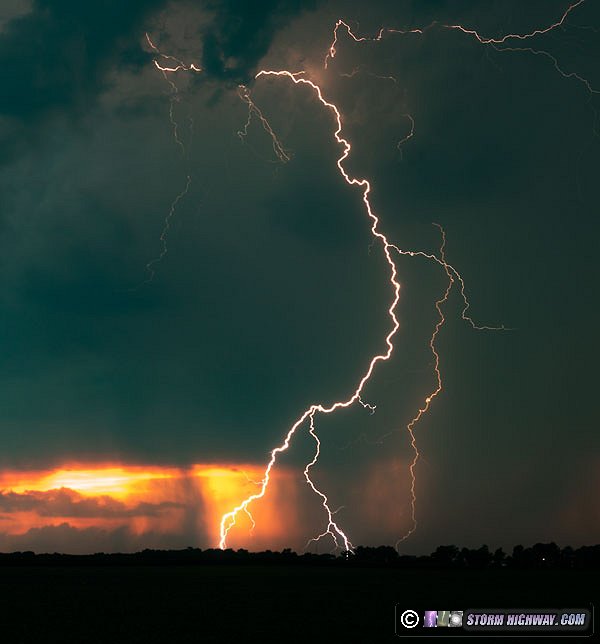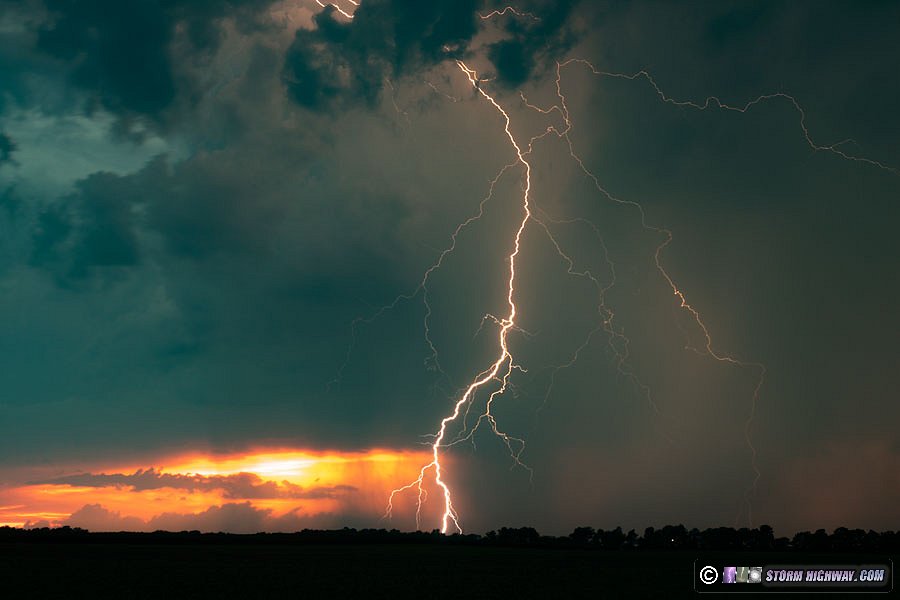 This evolved into the storm producing some very tall positive cloud-to-ground bolts at regular intervals. After the first one, I set up the high-speed camera to capture the next few. This was the first time I'd had the chance to use my new 4mm fisheye lens on the high speed camera (the one I'd forgotten to bring with me the previous day):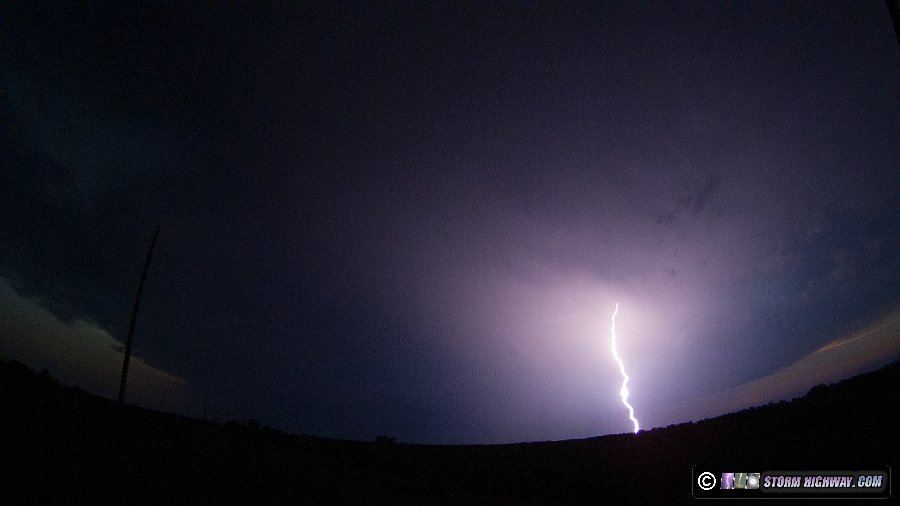 I was happy to end the day with at least a few good stills and high speed sequences. While wrapping up my last few shots of this storm, I failed to notice a new cell that had developed just west of downtown St. Louis near Brentwood/Clayton. When the tall and frequent cloud-to-ground bolts this was producing finally got my attention, I checked the radar image - and my heart sank. It was already in clear view behind the city at my normal downtown vantage point, producing an endless show of tall, vivid bolts over the St. Louis skyline that I could see clearly from New Baden, 28 miles away! I knew there was no way I would make it in time, but I got back on I-64 and headed west anyway.
The flurry of top-quality bolts continued during my entire agonizing journey back into downtown St. Louis. I was missing the best nighttime lightning show behind the skyline that the city had seen in probably a decade. As I'd predicted, the storm was long over by the time I reached my normal vantage point across the river from the Gateway Arch, with the storm and its lightning already northeast of the city and its precip core already enveloping the area. I'd missed it all.
I was fuming that I'd let this happen. I had learned many times to stay close to downtown when storms were ongoing in the metro, and I'd let the other storms cost me what could have been my best-ever series of photos I'd taken here. As the rain poured down outside, I sat in the car for a while in an incredulous daze as the crushing reality of what had just happened kept sinking in deeper and deeper. For most, this kind of defeat is hard to understand. But if you're a storm photographer, you know. You know how rare these events are and what it means to miss one.
The rain outside slowed. Radar showed a second storm trailing the first by about 15 miles, but lightning appeared meager. I dejectedly decided it was time to go home and just take the L for the day.
As I made the right turn out of the parking lot, a bright bolt from the second storm flashed behind the city, out of the rain just as the first storm had done. Then another. I stopped and got the DSLR set up within a minute. Once that was up and running, I grabbed the video camera - but had no time to tripod it. The following is a pictorial display of what occurred over the next 7 minutes:
The Gateway Arch was struck at approximately 9:50PM as the precip core's rain shaft cascades down: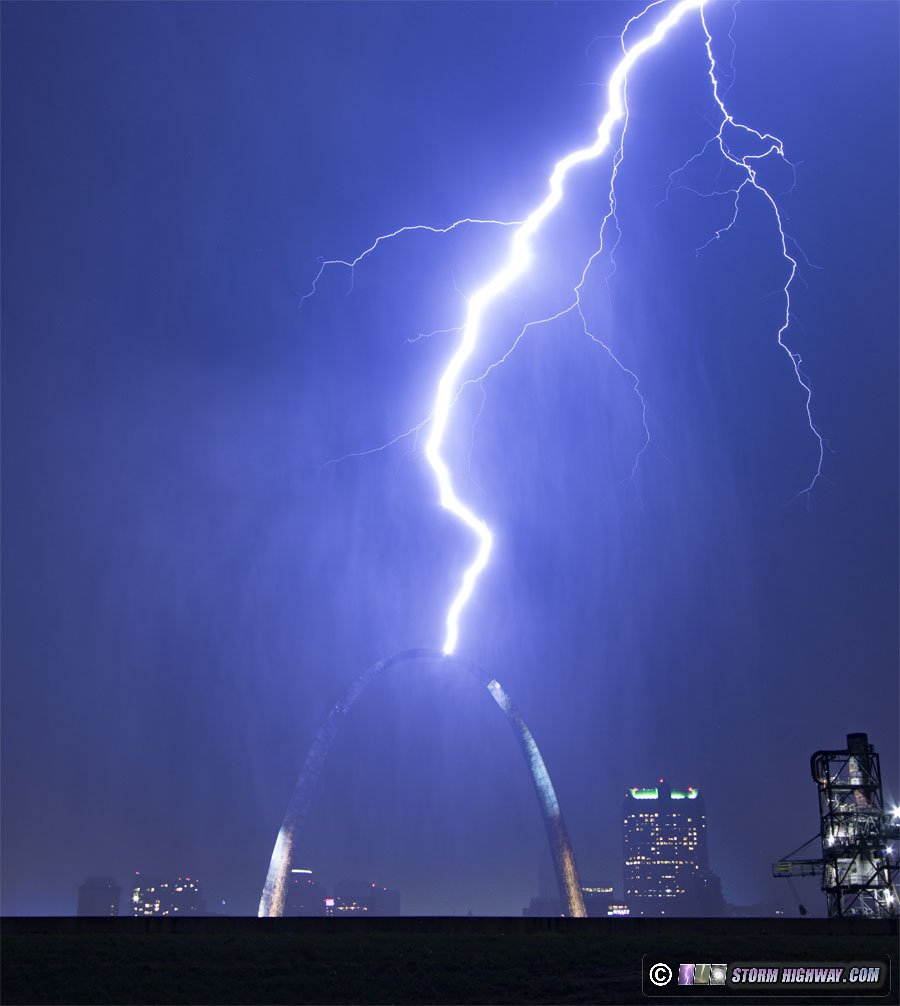 Crop showing upward and downward leader branching: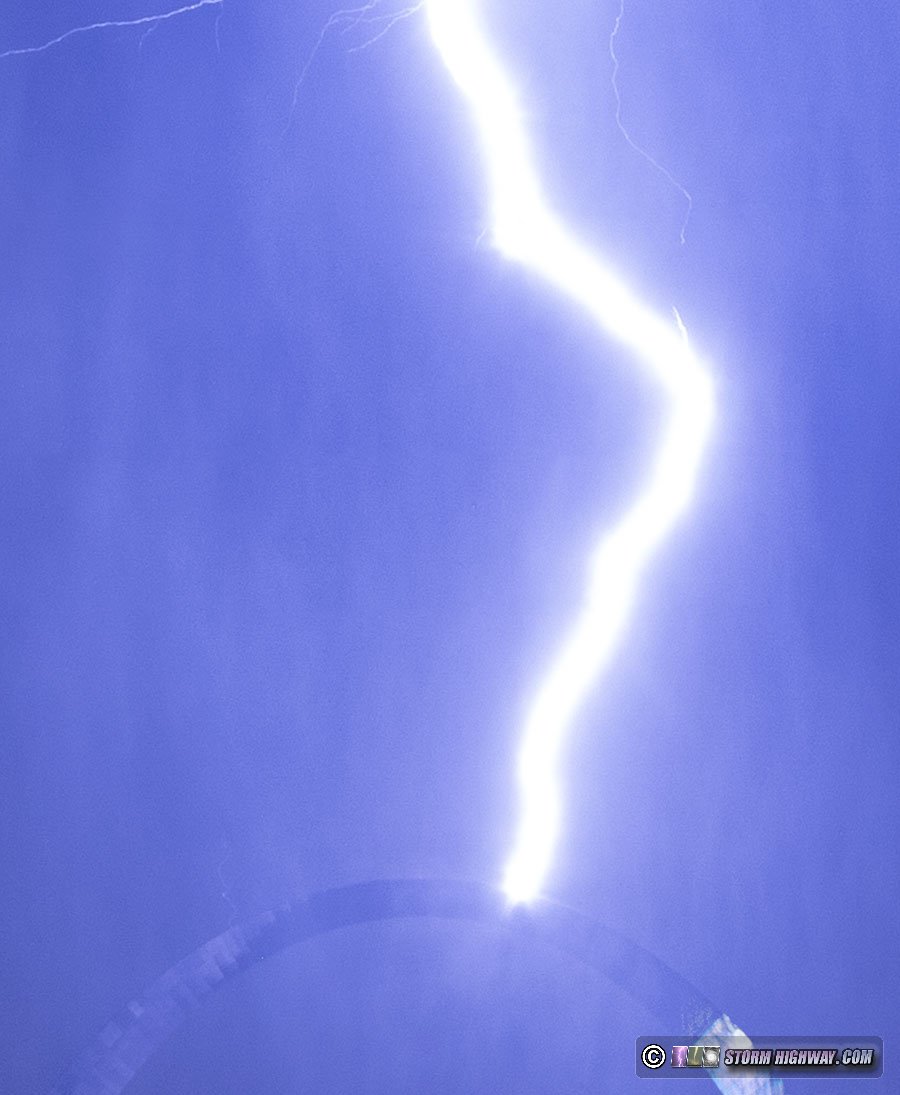 8-frame stack of some of the bolts from the second storm: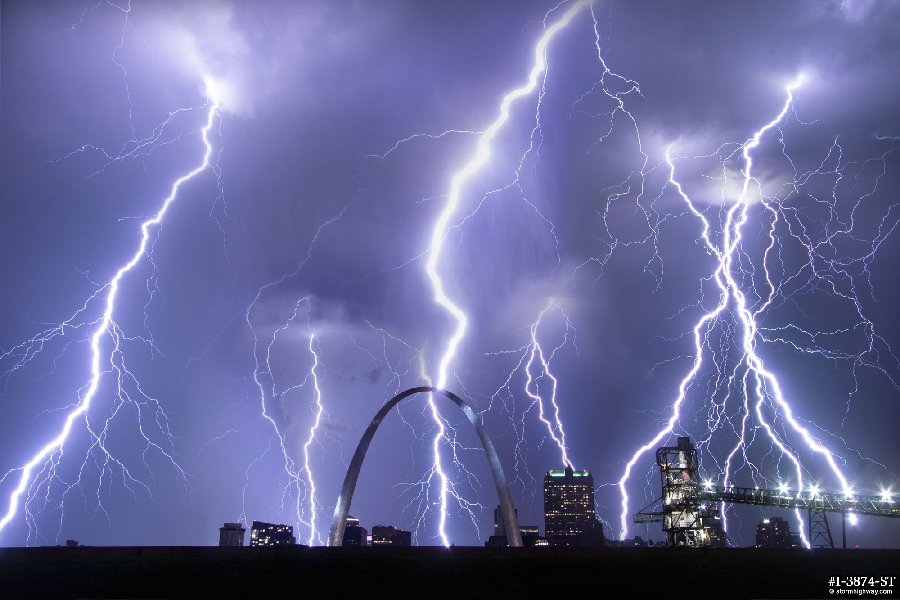 Video clip:
One Metropolitan Square strike just after the Arch was hit: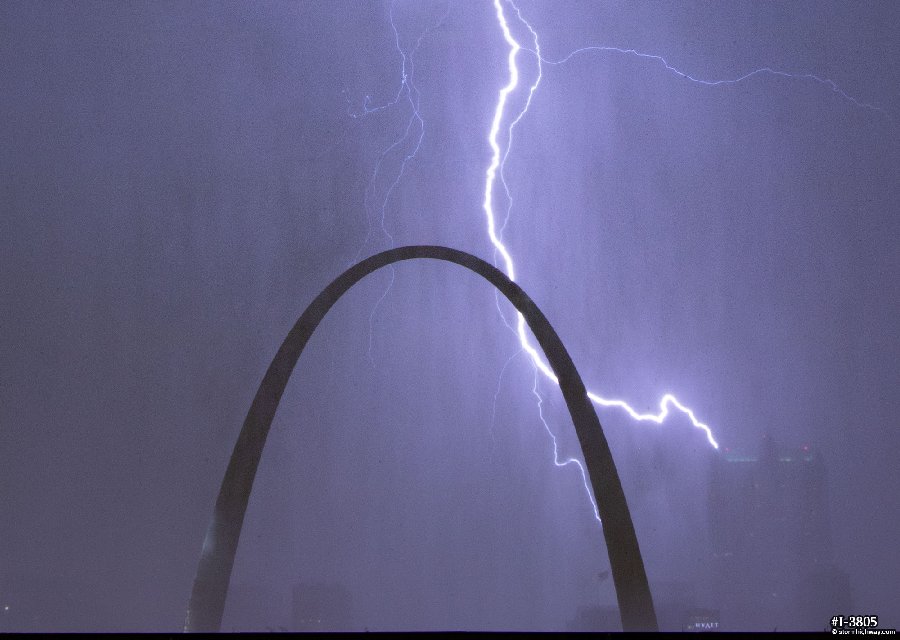 Bolts behind the Arch: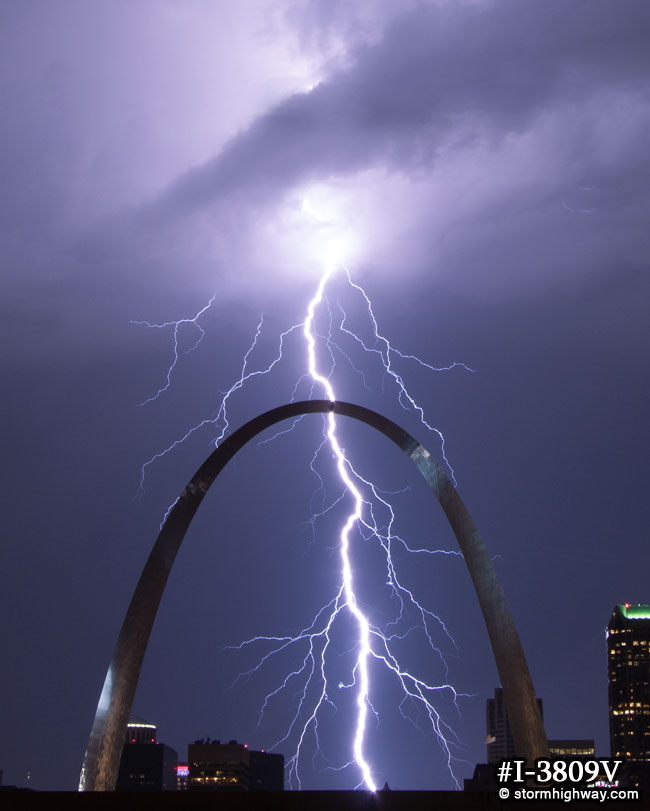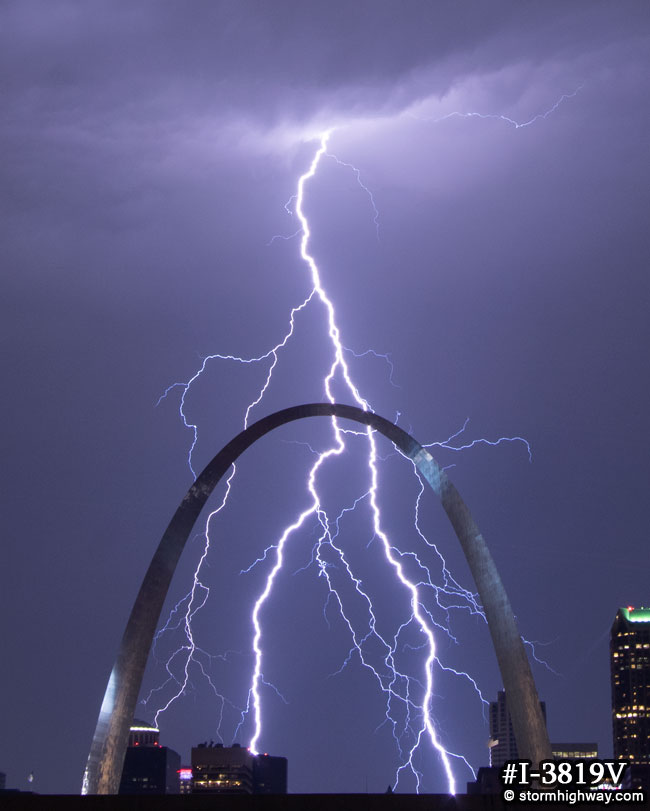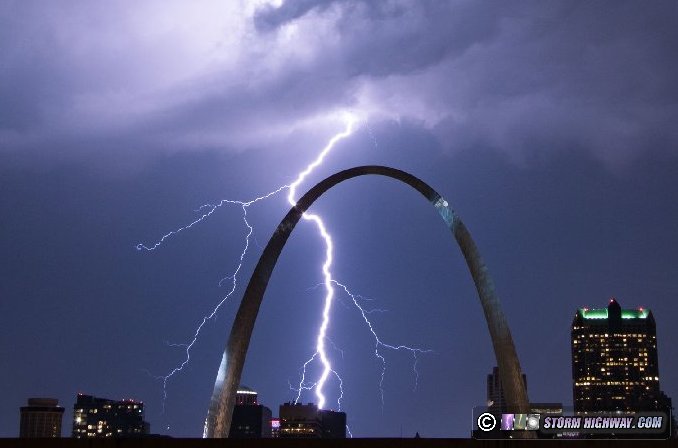 More bolts: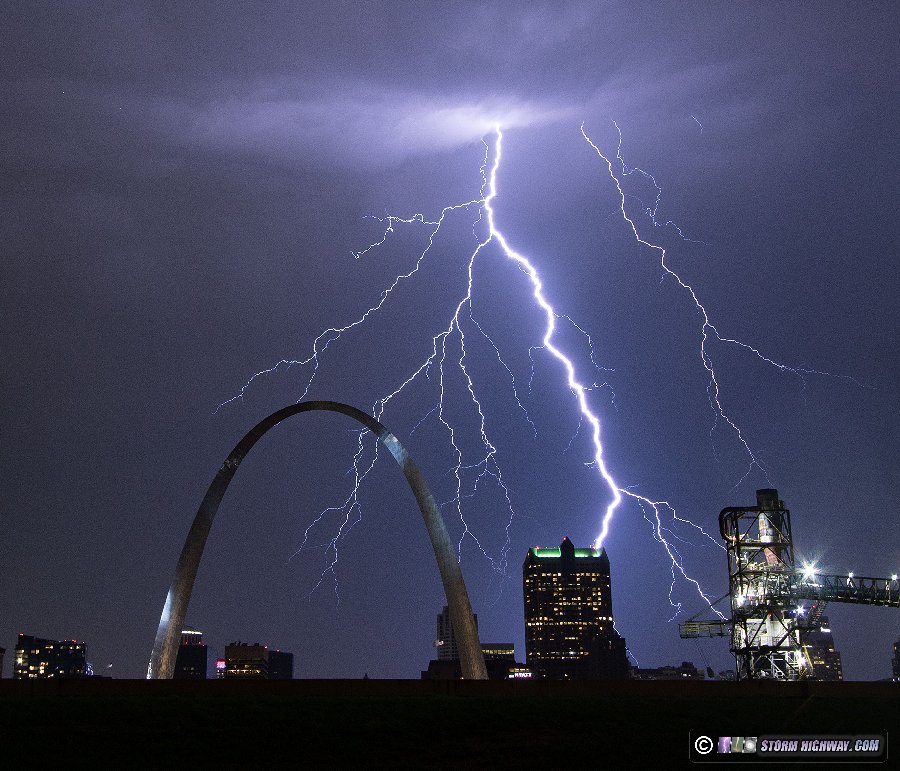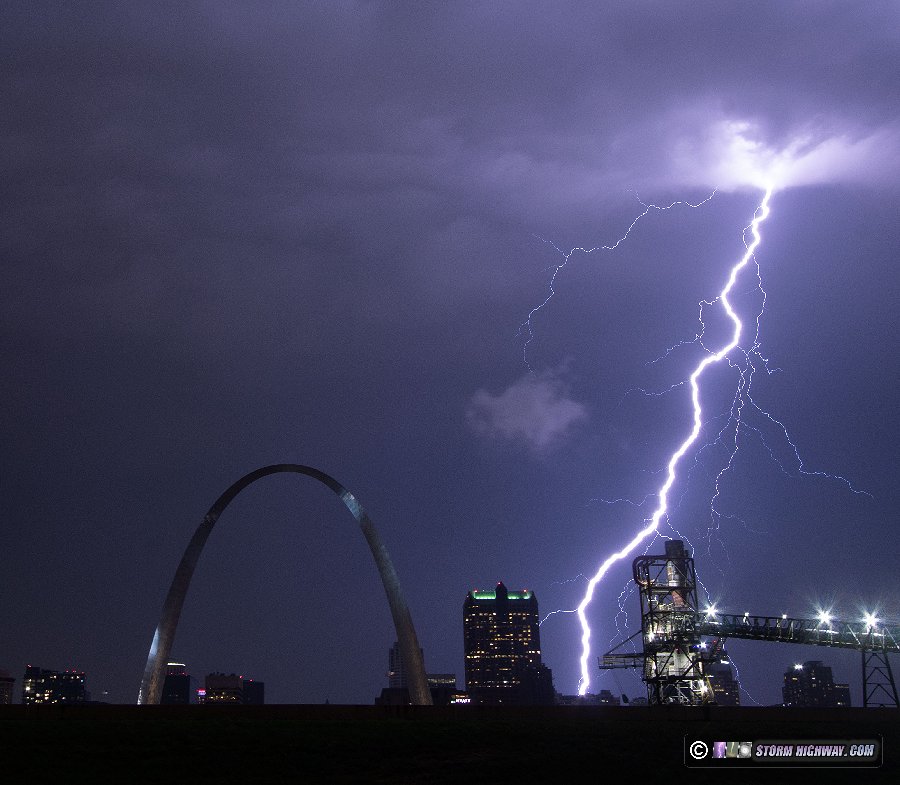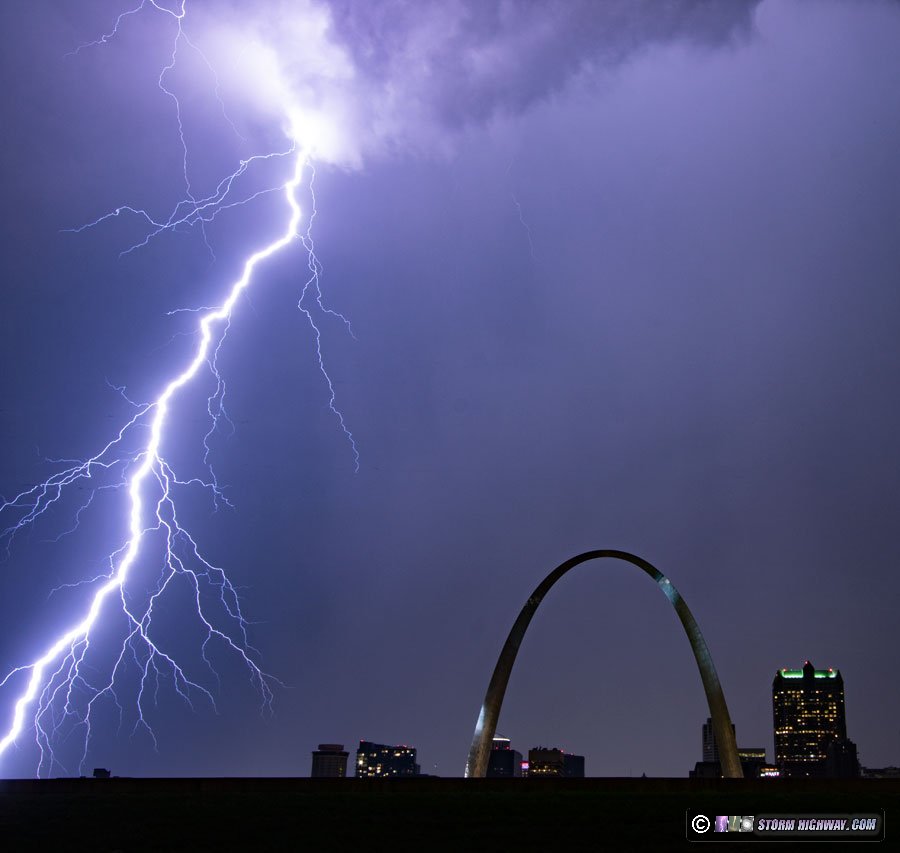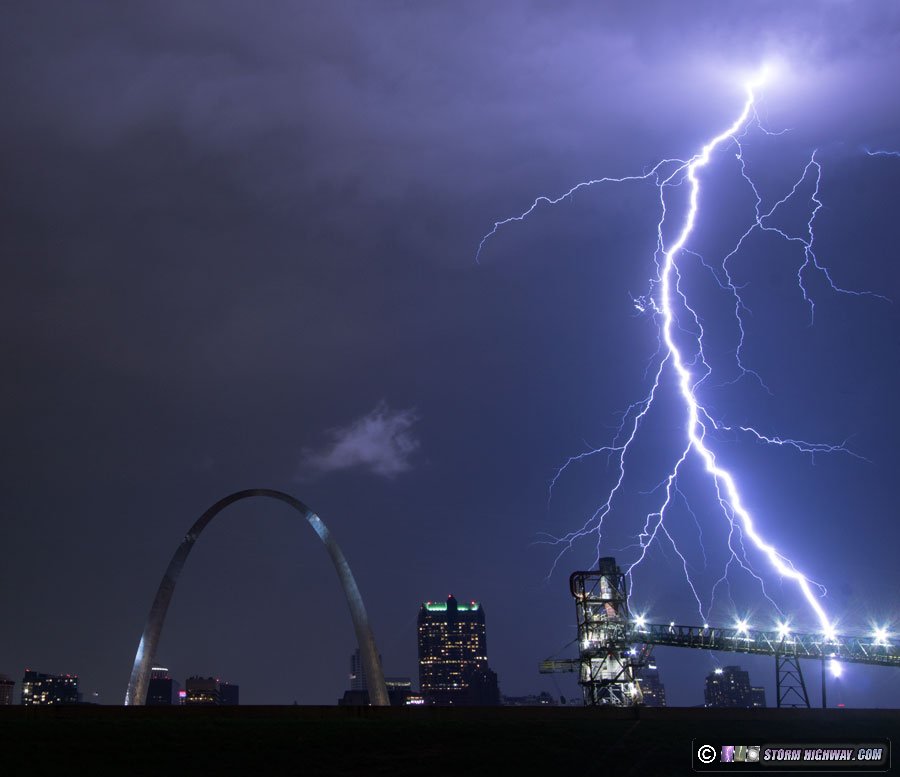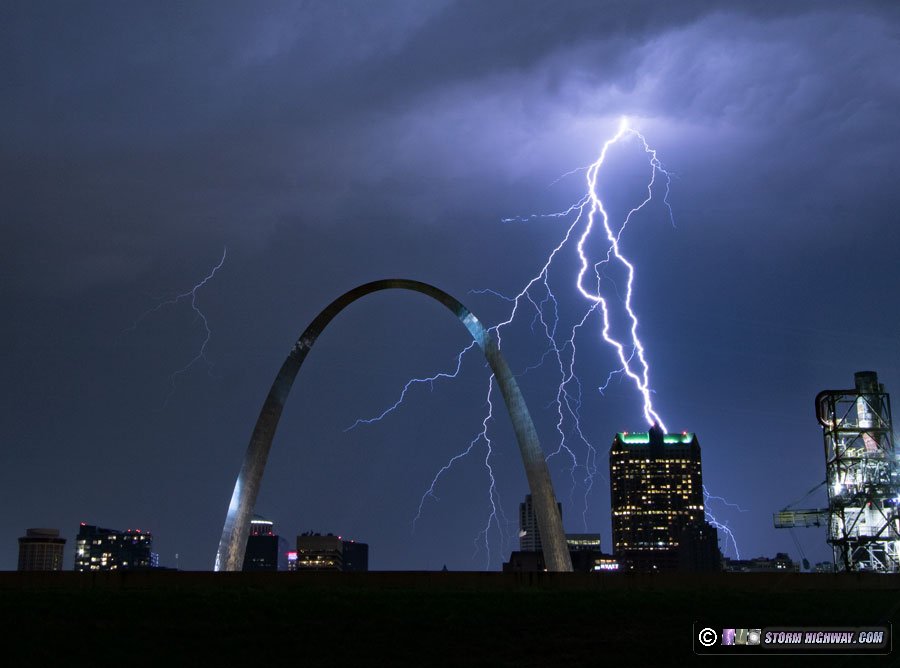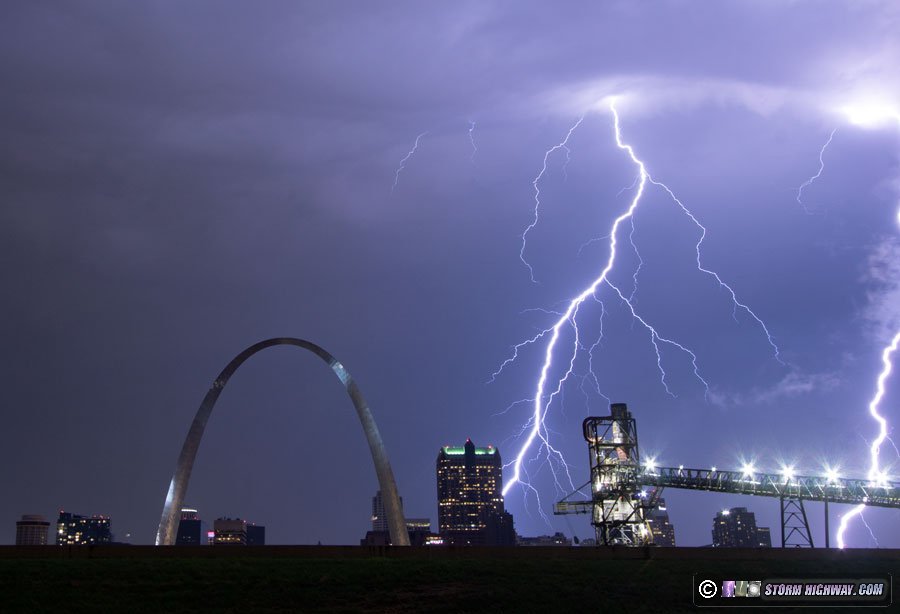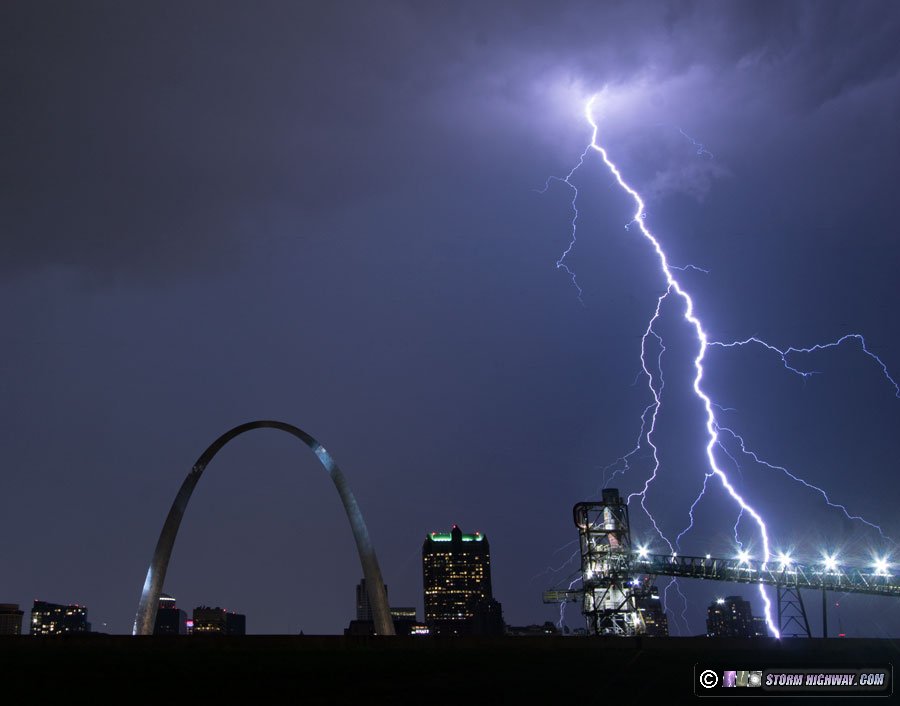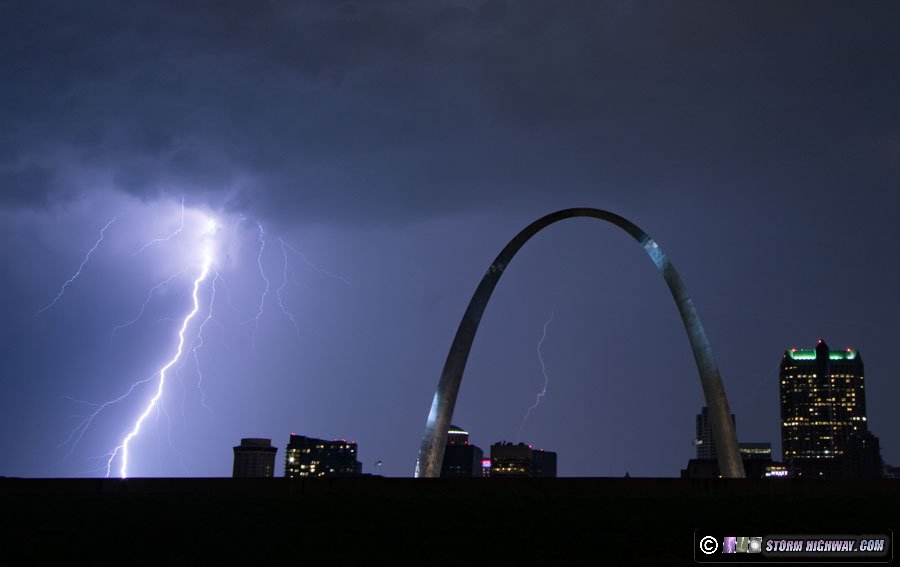 GO: Home | Storm Expeditions | Photography | Extreme Weather Library | Stock Footage | Blog
Featured Weather Library Article:
All content © Dan Robinson. All usage requires a paid license - please contact Dan for inquiries.

Web Site Design and Internet Marketing by CIS Internet