Hurricane Michael intercept in Panama City, Florida (Category 5): October 10, 2018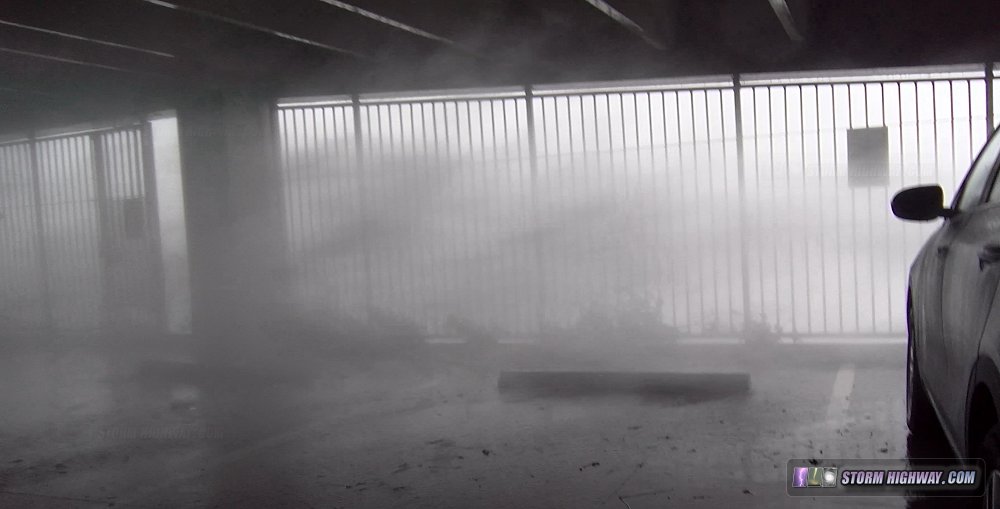 ABOVE: Hurricane Michael roars through Panama City, Florida
4K EXPEDITION VIDEO: Hurricane Michael's eyewall roars through Panama City: Watch Video
4-WAY DASHCAM: Finding a way out of devastated Panama City: Watch Video

Click any thumbnail on this page to view a larger version.

PANAMA CITY, FL - Up until this year, I had been on a decade-long hiatus of tropical cyclone observing. My last such expedition was more than 11 years ago for the virtually nonexistent Gabrielle in Beaufort, North Carolina in 2007, a short jaunt while I was staying in Raleigh for several-week intervals. Prior to that, I covered Tropical Storm Ernesto at Carolina Beach in 2006, after observing four hurricanes total in the 2003-2005 period: Isabel (Cat 2), Frances (Cat 2), Ivan (Cat 3) and Rita (Cat 3).

In the decade following all of those, there simply hadn't been a US hurricane landfall that I felt was worth covering. Category 1s or 2s are fairly uninteresting events: they're essentially extended versions of a summer severe thunderstorm. At times they can make for interesting video, but they generally aren't something that I want to expend a multiple-day trip and vacation days from work on. Adding to that is the fact that many of our landfalling hurricanes over the past dozen or so years have come in at night, which limits the visuals that you can see and capture on video. And finally - in 2010 I moved from West Virginia to the Midwest, making Atlantic/Florida landfall trips more than a day's drive away - adding more baseline expense for each potential expedition.

And so, for 11 years I waited on the sidelines for a storm I felt was worth observing. This Sunday (October 7, 2018) it looked like that would finally be happening. Michael's intensity forecasts were steadily trending upward from what was originally expected to be a tropical storm at landfall. By Monday (the 8th), we had a solid daytime landfall of a major (Category 3) hurricane expected - and that captured my full attention.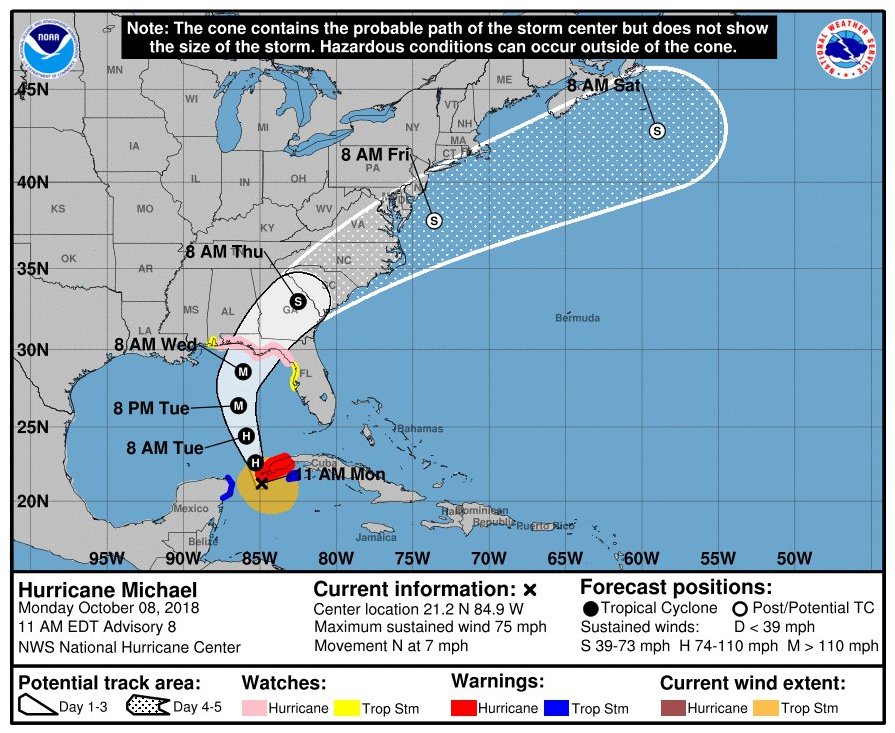 The main complication with Michael was its forecast track. To intercept a major hurricane, you need a substantial shelter to take refuge during the strongest part of the storm: the eyewall. The ideal for this is a steel-reinforced concrete parking structure, which provides protection for both you and your vehicle while allowing good views of the surrounding area. This factor was the reason I didn't cover Hurricane Irma last year - that storm's track took it across the very vulnerable Florida Keys, then into the Everglades where there weren't even any suitable roads for an intercept, much less any shelter.
Initially, Michael's track appeared to be trending toward a gap in infrastructure east of Panama City, where no satisfactory shelter near the coast was available. Storm Photography in those low-elevation regions also brings with it a risk of damaging your vehicle (or losing it entirely) in the surge as the storm comes inland. For that reason, I hesitated on making the call for an expedition until Tuesday morning, the day before landfall. At that time, all of the available model guidance had shifted Michael's track westward close to or right over Panama City. There is at least one parking garage there that could provide shelter during the eyewall. So, Tuesday morning, Michael was finally meeting my three main criteria for an expedition: strong (major) hurricane, daytime landfall and adequate shelter options. It was time to go.
After mounting the rear hail guard and the main guard mounting rails (to protect the rear window and as a place to secure the fuel containers), I was on the road by 10AM. My first stop was the Walmart in Mount Vernon, Illinois for supplies. When observing a hurricane, you are becoming a part of a major disaster with flooding and impassable roads. As such, you need to be fully prepared to be stuck for several days while being completely self-sufficient. The bare minimum supplies for a hurricane expedition are at least 5 days of non-perishable food and water, plus extra fuel reserves in containers. Fix-a-flat or similar product is also an essential, as multiple flat tires can result from driving through debris-filled streets during your escape after the storm. I picked up three 5-gallon fuel containers that provided an extra 1.3 tank of gas for the escape after landfall, using the hail guard rails as an improvised mounting rack for the containers.
Resuming the trek south, I passed through Nashville and Birmingham before sunset. Montgomery was the stop to fill the fuel reserve containers, as the fuel shortage zone would be starting soon to the south. I passed the last gas station that still had fuel in Troy, Alabama, about 2 and a half hours from the coast. After that, all stations were completely out.
I arrived in Panama City just before midnight, with a full 12 hours to do a little scouting for filming locations and try to get a couple hours of sleep. Michael's outer bands were starting to graze the coast, with a few embedded thunderstorms flickering and rumbling offshore through the night. At 7am, I awoke from a short night's sleep in my car, used one of my fuel reserve containers to top off the tank and headed out to begin the expedition.
With most hurricanes, the wind steadily ramps up beginning with the outer bands, culminating with the peak in the eyewall. With Michael, however, the outer bands and main outer core of the storm were fairly uneventful. I had found a few filming locations, but was not finding anything particularly interesting for video. As the eyewall steadily approached with no real increase in winds, it was clear that the hurricane-force wind field with this storm would be quite small and therefore would ramp up very fast.
At 9:40am, the first power flashes and sparking lines began as hurricane-force gusts accompanied some of the stronger inner bands. I moved east and south to Callaway as the bands immediately outside of the eyewall arrived, finding increasing damage at and south of Callaway. This gas station canopy was already in the process of being shredded: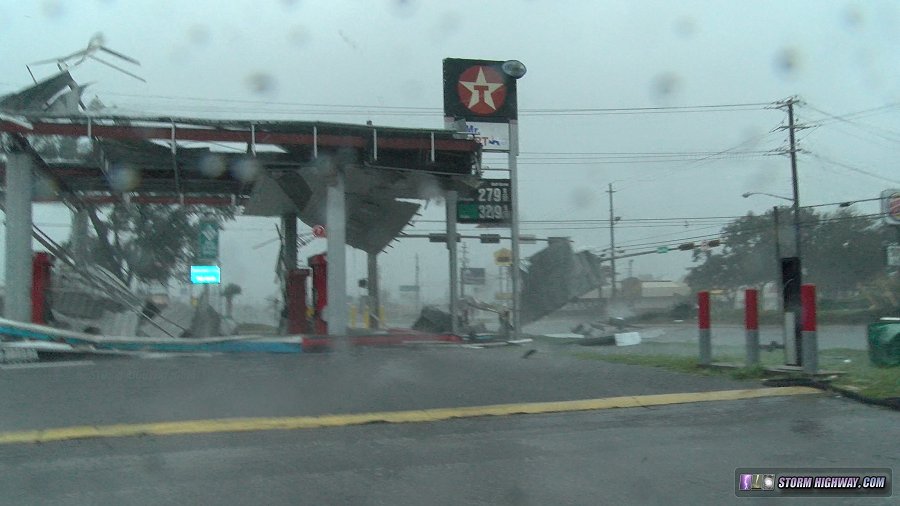 At 11:30AM, the eyewall was getting close, so I decided it was time to start heading back toward the First Baptist Church parking garage that I had chosen for shelter in downtown Panama City. As I approached downtown at around noon, the winds began ramping up very rapidly (as expected). The resulting spectacles were astonishing, so I stayed out filming around the downtown area and just to the east. The scenes of debris-filled air resembled Jim Edds' famous video from the streets of Punta Gorda during Hurricane Charley in 2004, some of the most intense hurricane footage ever shot. And I was witnessing the same thing firsthand now!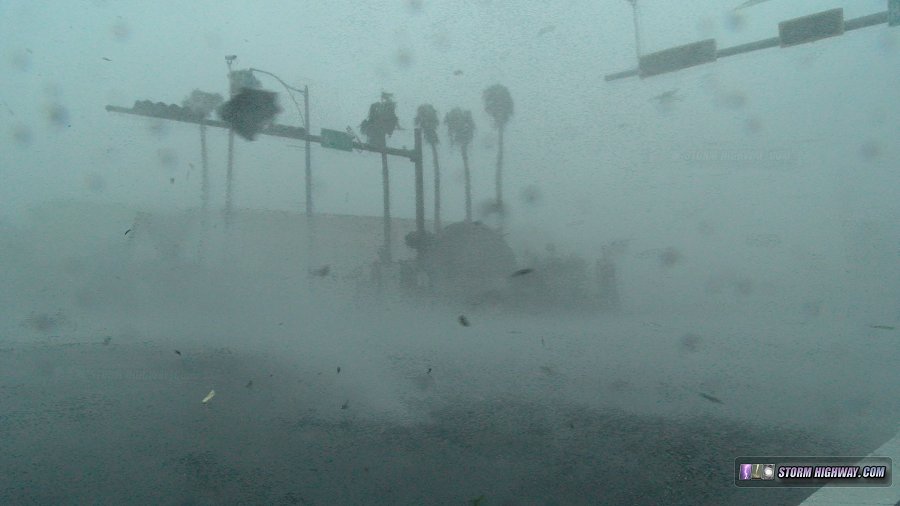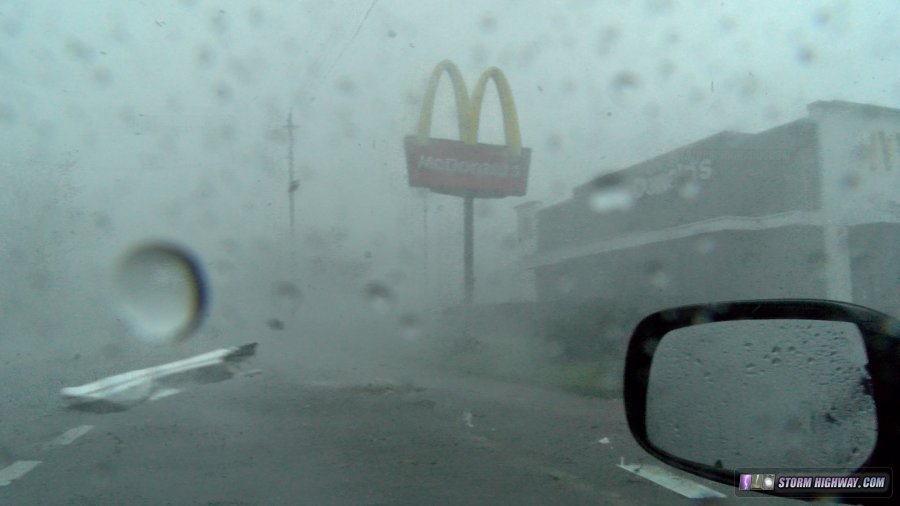 Mesmerized, I stayed out in this just a little too long. The cue that it was past time to get to shelter was when I encountered storage containers being blown across the road. While I was turning around, one of them tumbled and slid toward me, coming inches from hitting the car: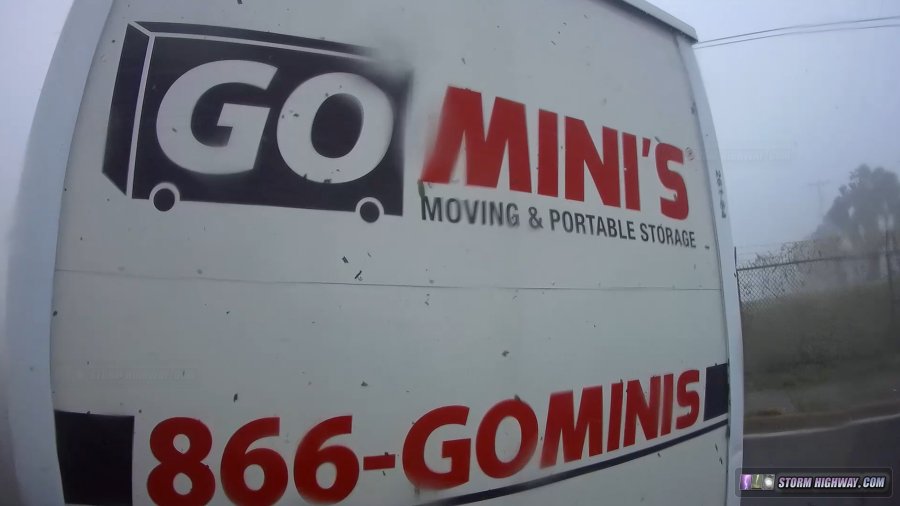 I completed the k-turn just in time before the container was tossed across the road just behind me: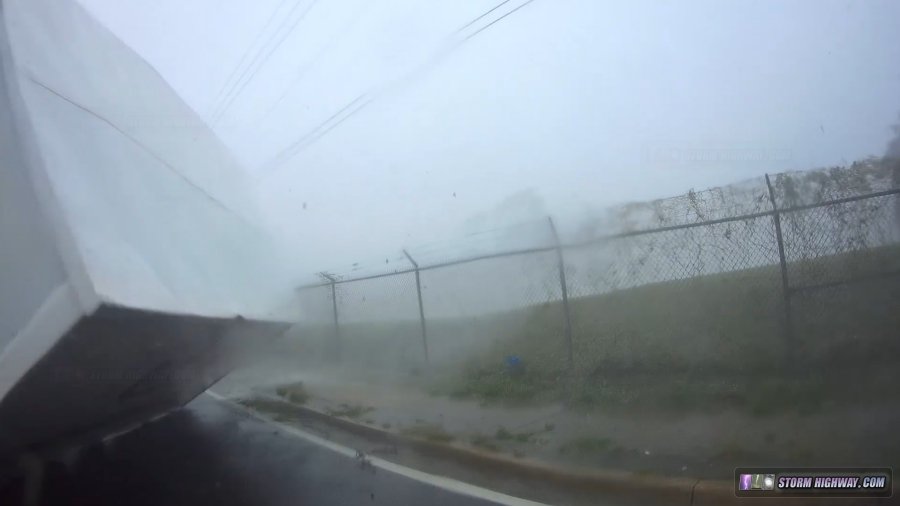 This was followed by the container being sent tumbling violently across a field and periodically going airborne: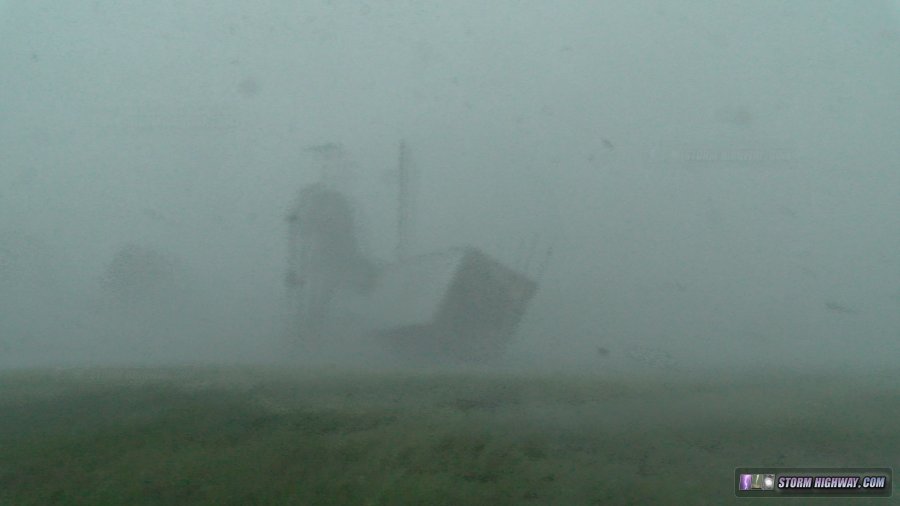 It was clear now that being out in this environment was asking for major trouble. I quickly made my way back to the parking garage as small debris almost continually pounded the side of the car.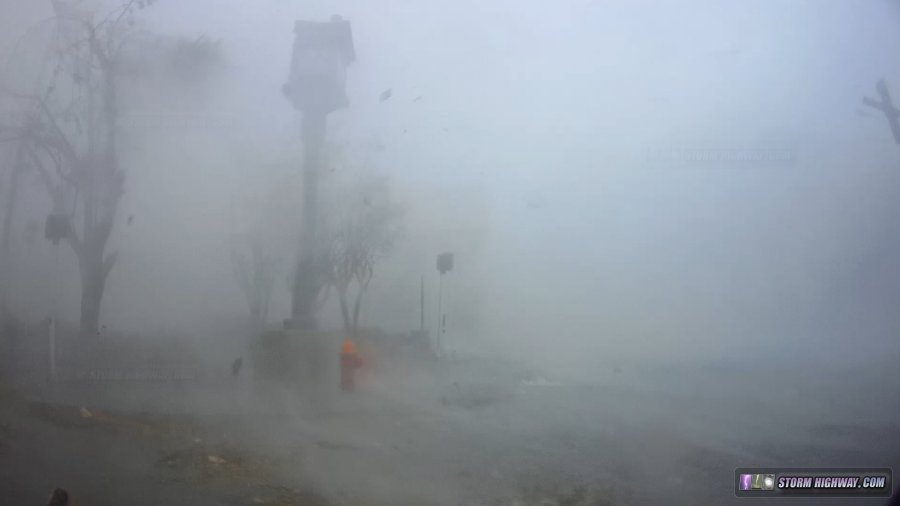 When I arrived at the parking garage, I exited to find that my fuel containers had been blown off of the roof despite being ratchet-strapped down. They were still hanging on by the hook at the end of the strap! The front cowling and bumper of the car was also pulled away, and the passenger side mirror thrown forward. The air dam under the bumper was dislodged and dragging. I picked up countless new dents and scratches mostly on the passenger side of the car.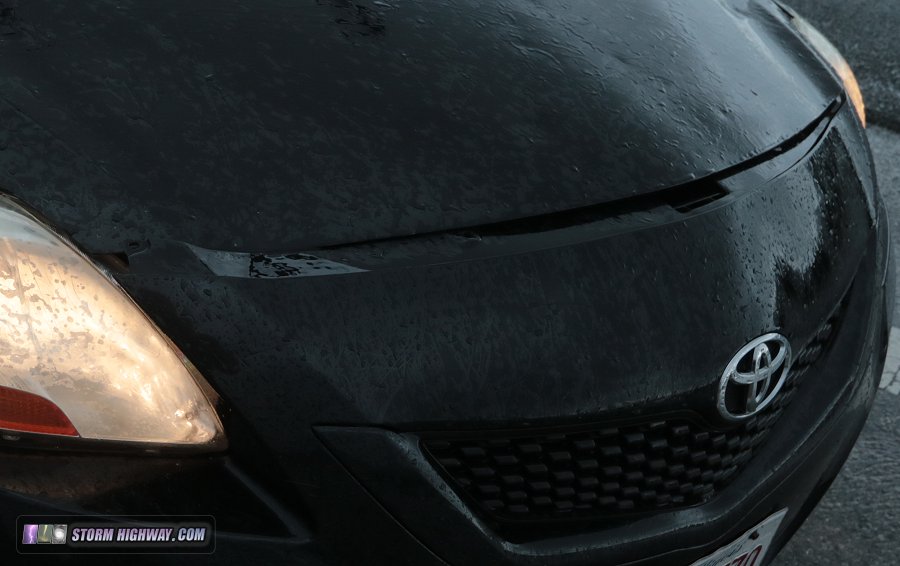 Now safe in the parking garage, I could get out and take in the show. The sights and sounds of the Category 5 eyewall winds roaring past and through the parking garage was some of the most intense and awe-inspiring displays of natural power I have ever seen. The wind effortlessly moved large tree limbs, sheet metal and other debris which at times filled the air.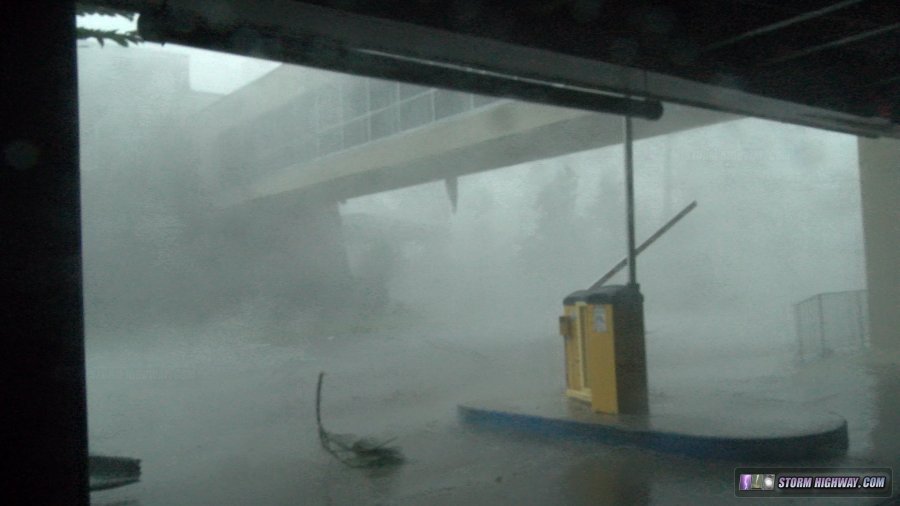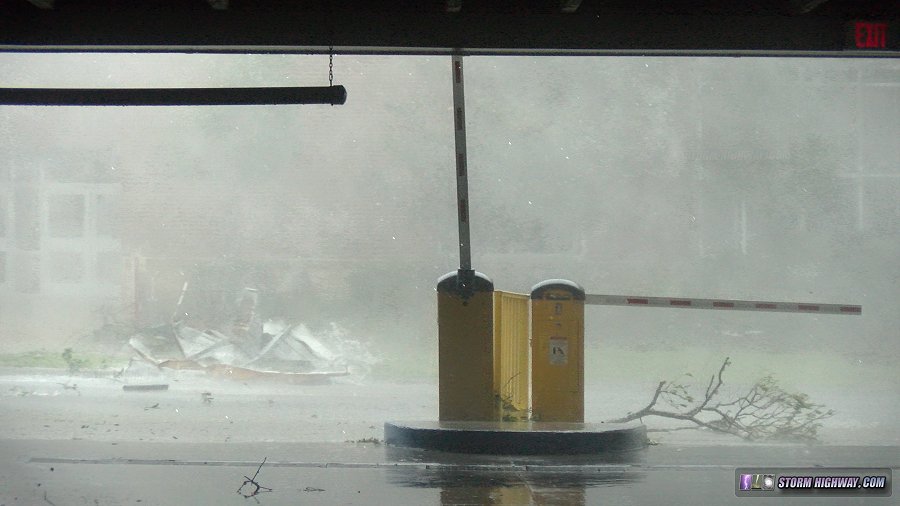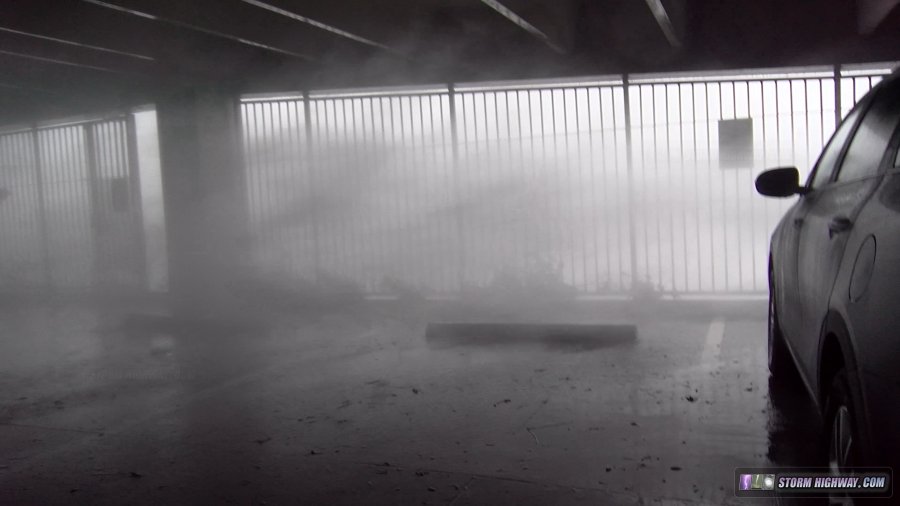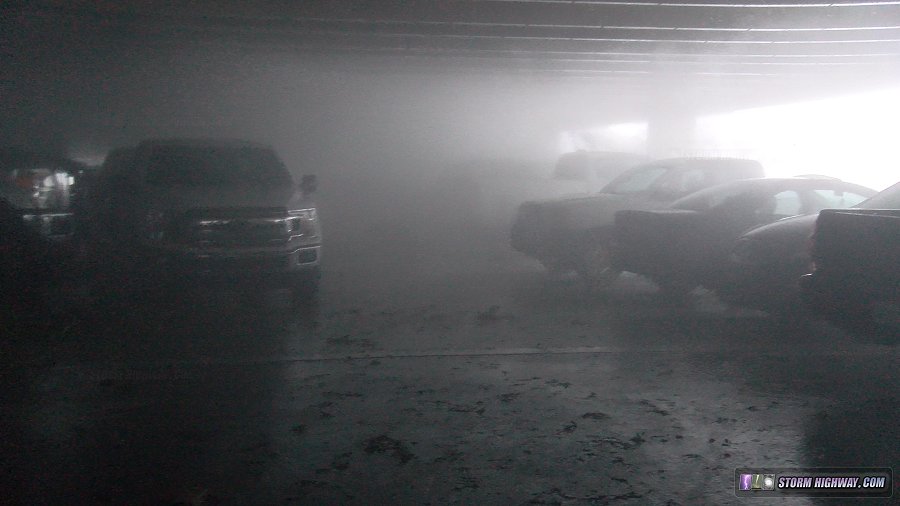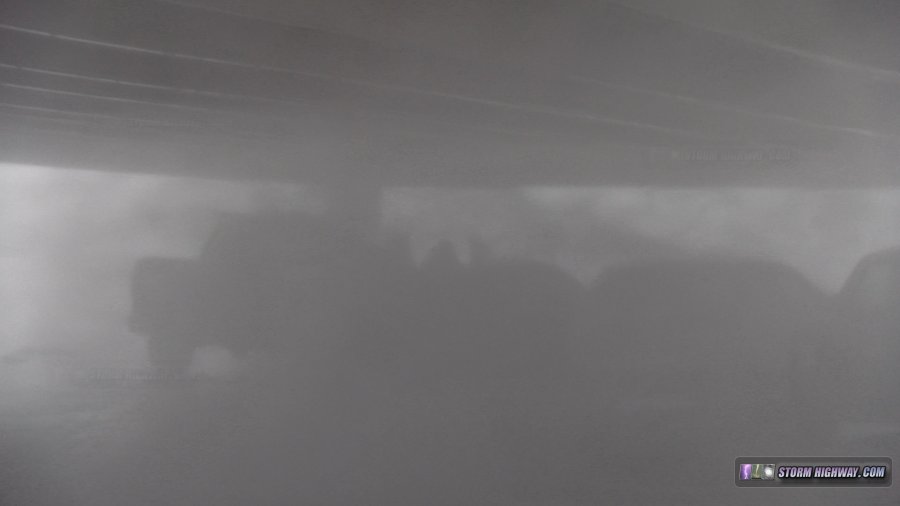 The winds of this intensity continued for a good 90 minutes or more, ravaging the city outside.
By 1:30PM, the winds were slowly subsiding. The cellular network was now offline, so I went up to the top level of the parking garage for 5 minutes so that my satellite-based WxWorx receiver could download a new radar image. I turned to face the wind as a few violent gusts continued to rock the car.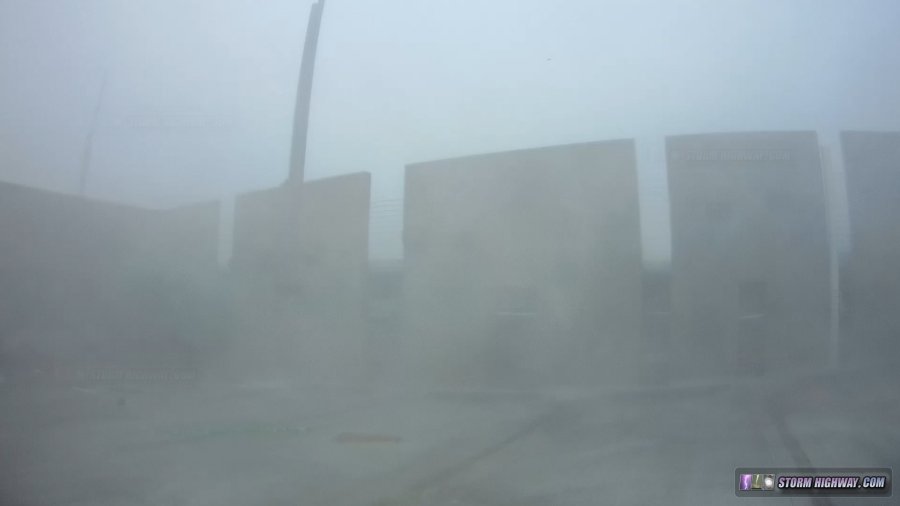 I returned to a lower level to wait for the intense winds to move away. Finally, by 2:00PM, the winds were back down to levels that were relatively safe to venture back outside.
Now, as with any post-hurricane expedition, the question was could I make it out, or would I be trapped for hours or days? I decided that the best chance to escape the city would be to the west. Radar showed that the western extent of Michael's eyewall was in the vicinity of the Hathaway Bridge on the west side of Panama City, only about 6 miles to the west. I felt if I could just make it to the bridge, the roads would be likely passable west of there.
The journey across the decimated city was very slow and methodical, inching through a literal maze of streets blocked by flooding, power lines, trees and structural debris. Ubiquitous boards with nails sticking up threatened to effortlessly flatten tires with one wrong move. During this process, I got the first views of the massive scale of the destruction.
Scenes downtown. These two huge HVAC units blew off of the roof of the four-story church building at left: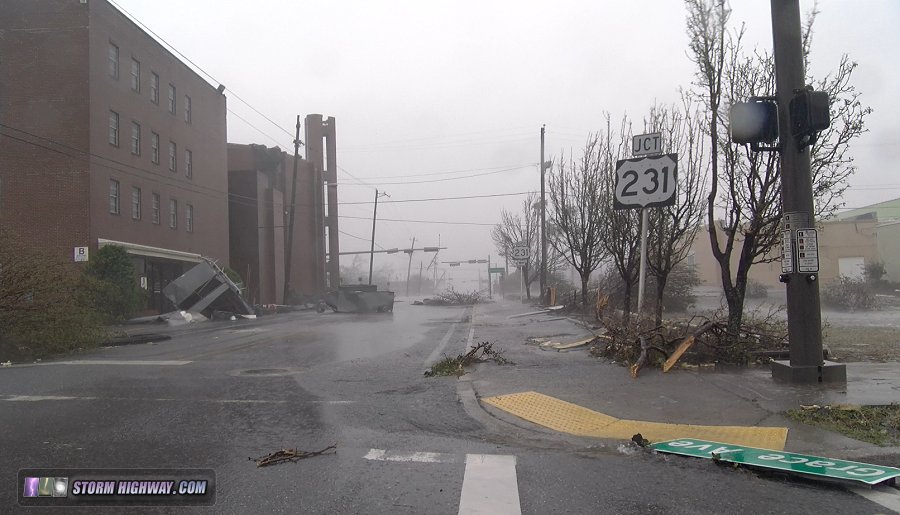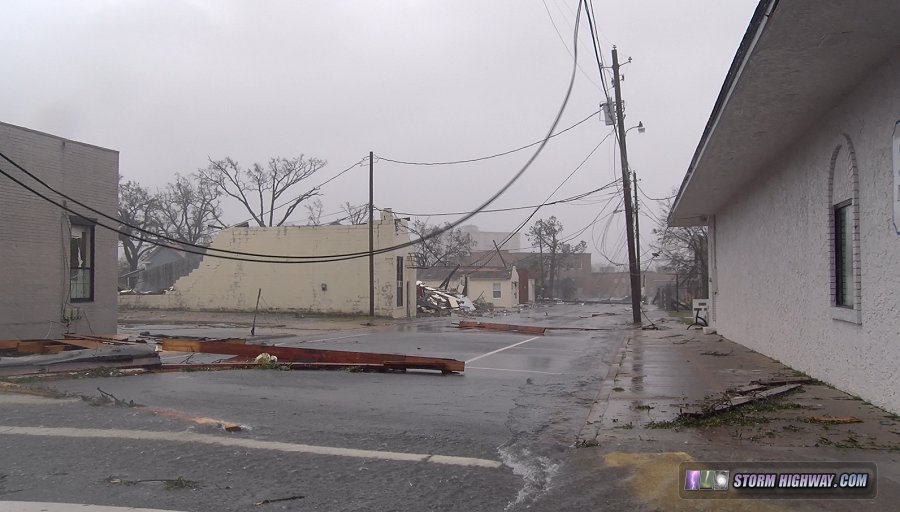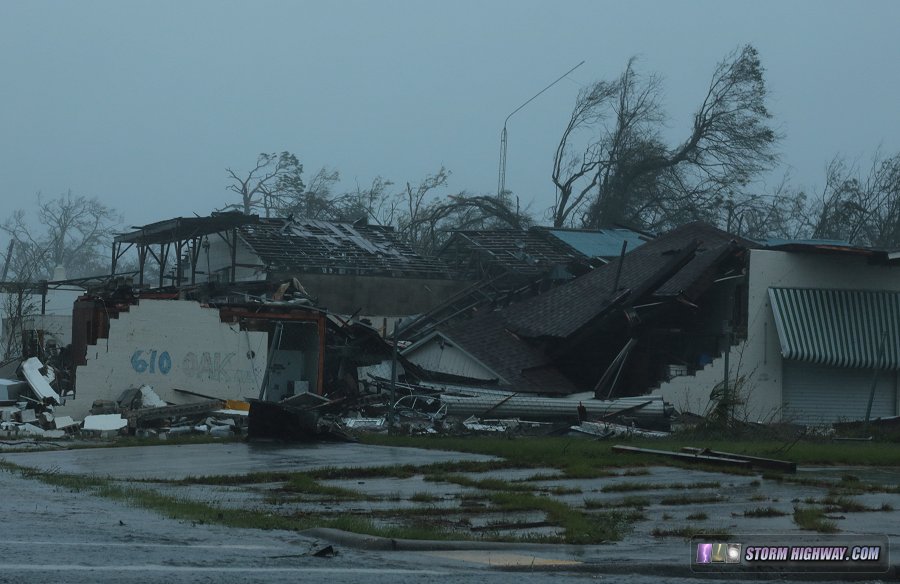 O'Reilly Auto Parts store on Route 98: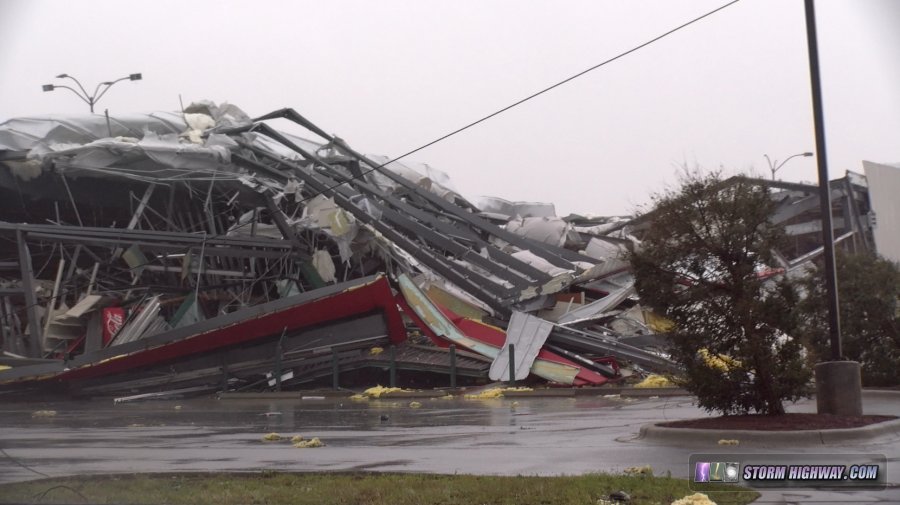 Firestone Tire and Service store: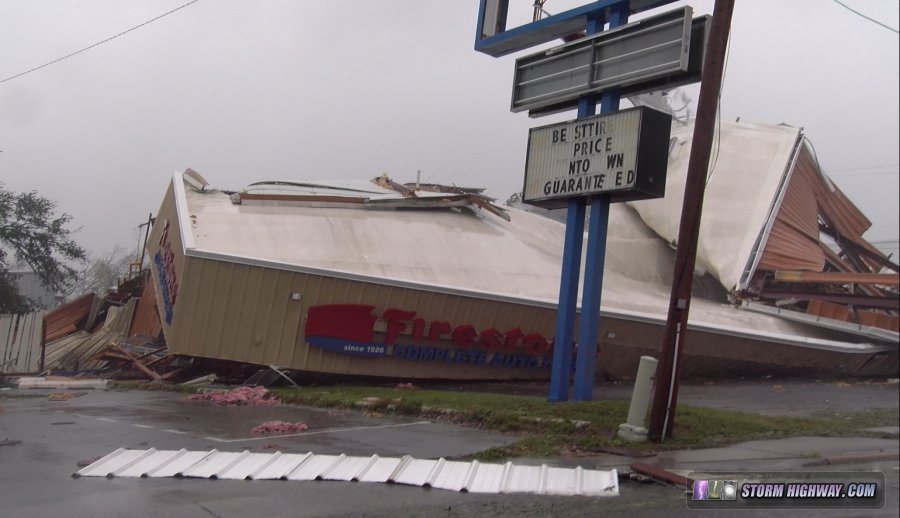 Groves of pine trees snapped in half: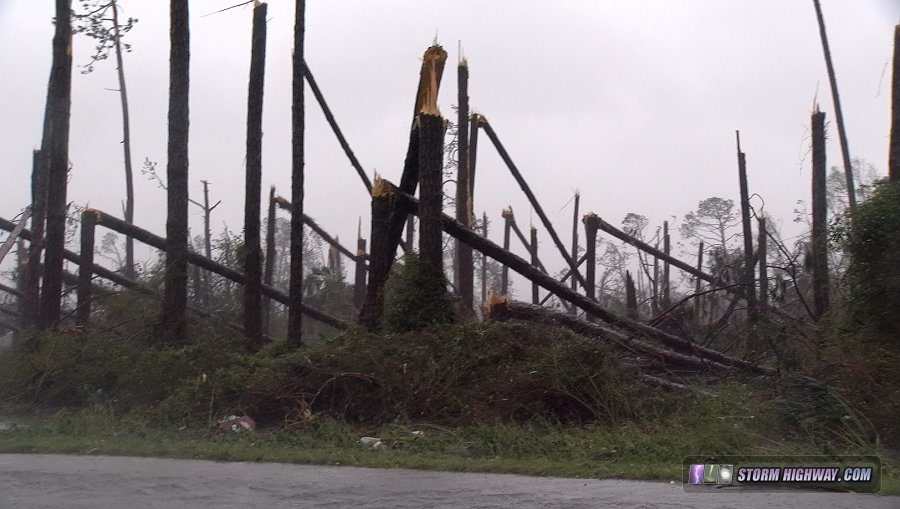 Walls of J. Richard Post Sr. gymnasium blown out: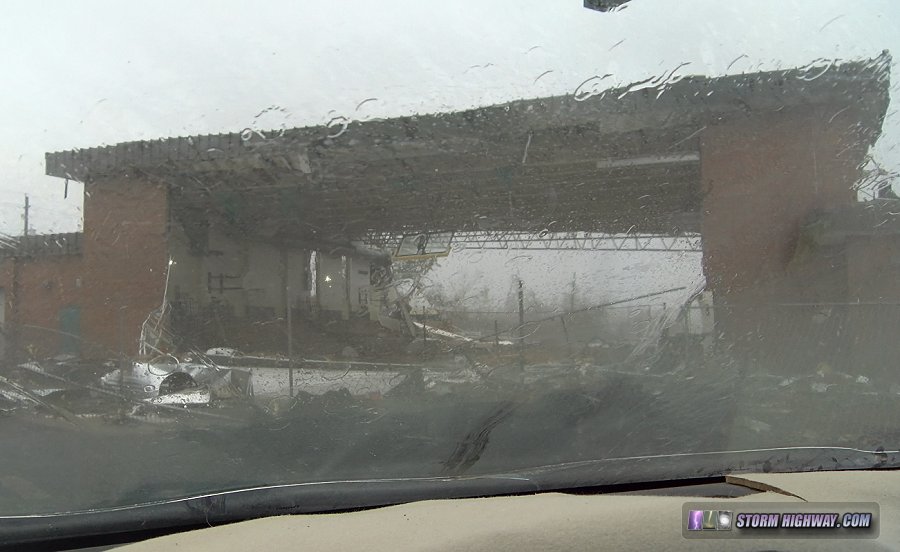 This 4-camera view video from my dashcams shows this part of the expedition.
I finally made it to the bridge, and as expected, it was relatively smooth sailing from there westward. I was thankful and relieved to have made it out so soon. Internet service became available again past Laguna Beach, and I stopped to edit a quick video for the Youtube channel. I arrived at my hotel in Destin at 8:00pm.
Despite being well out of the areas directly impacted from the storm, I was still very much inside of the fuel shortage zone. This is what my fuel reserves were for, so I used another 5 gallons from the containers to reach Pensacola. From there onward, I was outside of all impacts from Michael and "home free". I arrived back home just before midnight Thursday. The most intense hurricane I've documented ended up being a remarkably short 3-day trip.
All content © Dan Robinson. All usage requires a paid license - please contact Dan for inquiries.

Web Site Design and Internet Marketing by CIS Internet