Windy and stormy day in South Dakota: Wind causes trouble for travelers, storms move across state: May 11, 2004
All photos, video and text © 2004 by Storm Highway. Unauthorized use prohibited - see site copyright statement
EXPEDITION VIDEO 1: Wind near Mitchell, SD on May 11: Storm Highway Video Clip
EXPEDITION VIDEO 2: Lightning near Aberdeen: Storm Highway Video Clip
ABERDEEN, SD - My original plan was to leave at 8AM on Monday morning for Souix Falls, South Dakota, possibly making the drive in one day. But when I woke up Monday morning and checked the Day 2 outlook, I started having second thoughts. That's a long drive to make for a marginal setup, so I decided to wait for the 1730Z update. The 1730Z looked a little better, but not by much. I finally decided that this is vacation time, I'm going to the Plains this week, *something* will fire out there! I left Charleston at 2PM EDT - which put me 6 hours behind my original schedule. This would make it a marathon trip with little sleep, but I'd just tough it out. Little did I know how thankful I would be to have decided to make the trip a couple days later, but that's another report.
Since SD is so far north, I took a totally different route west than I'm used to on my expedition vacations, Rt. 35 out of WV through Ohio via Cincinatti, up through Indy to Chicago, then cutting across the SW tip of Wisconsin, across lower Minnesota into SD. Was cool finally getting to see those areas/cities/states I'd never seen. Hit some convection at Cincy and south of Chitown, a few CGs but not enough to stop and film - too much driving ahead of me. Got to Chicago around 10:00PM, then got a hotel just across the border at Beloit, WI for a short night's sleep. I figured I had time for a 6-hour sleep stop, then at 6AM had to hit the road again to barely make it to the target. Left WI on time. I started getting sleepy after crossing the MN border, so pulled over to ZZZ for an hour. Really needed to get west, but safety had to come first. Finally crossed the SD border at 2:30PM CDT and targeted the Mitchell area. About 3:30PM on WxWorx I saw the first cell fire in western Nebraska and quickly get its act together, forming a hook echo soon after. Plotted an intercept route on StreetAtlas, ETA of 7 hours! OK, not making that one....
Decided to just make it as far west as possible. South winds were getting extremely strong, I stopped at a rest area near Mitchell and recorded a 45mph gust on my anemometer. The wind was very intense. 18 wheelers on the highway were leaning like crazy, looking like they would tip over if the wind gusted 5-10mph more:
Video frame captures: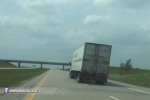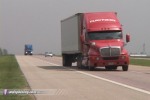 It was very hard to keep a straight path, my wheel was turned slightly to the left to keep my truck on the road. Encountered a lot of blowing dust, sometimes reducing visibility:
Video frame captures: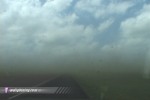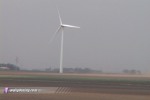 This sign at a rest area was waving violently in the wind, reminiscent of the shaking yield sign (in one of Shane Adams' videos, I think). Got some cool video of the sign going nuts, it looked as if was about to break under the stress.
Video frame capture: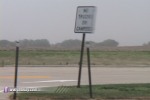 By 4PM, convection begain to fire along the warm front to the north, and a classic triple point became visible on radar. The surface obs showed clearly where the low was, a lot farther north than I expected at first. Don't know why I wasn't paying attention to this initially, because I should have been way north a long time ago. I wanted to be at the warm front, so I took the first north road east of Pierre to try to get to it before dark. I heard on the NWR that we had a TOR watch, but it wasn't very descriptive about the counties covered. I called Dave Crowley who gave a quick helpful update on the watch and mesoanalysis situation. I was already in the watchbox, so I decided to get to Aberdeen which was closest to the core of the low and near the warm front.
Squall line just to the west was trying to break up into cells but was looking ragged, storms along the warm front in ND and MN looked best but were way out of my reach. I arrived in Aberdeen sometime around 6:30PM, and spent some time crossing boundaries and waiting for something to fire close to the center of the low near the WF. The warm front was just south of Aberdeen, and had a distinct boundary that could not have been more than 100 feet wide. I drove back and forth across it with my arm out the window, feeling the temps go from a warm, muggy estimated 80F to a very cold 55F north of the front. It was like standing in front of a refrigerator and opening the door! Low clouds hugged the ground just north of the boundary, clear to the south of it.
Eventually, it was beginning to get dark and nothing was firing where I wanted it to, so I just parked south of Aberdeen and waited on the squall line. Nice shelf cloud appeared to the NW with a big dust cloud on the ground underneath:
Digital photos: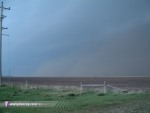 A possible gustnado appeared due west, but I could not confirm rotation:
Digital photo: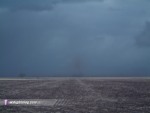 The shelf cloud passed overhead with a sharp drop in temps and a huge ominous whale's mouth:
Digital photo: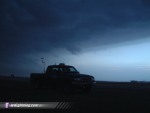 Almost continuous lightning illuminated the cloud features, but nothing was coming out of the clouds - just flashes. Still a dramatic sight:
Video frame captures: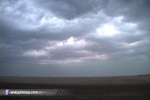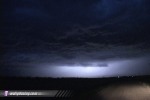 I worked my way south, staying just barely out of the advancing precip waiting for some photogenic lightning to appear. I saw one CG just north of Redfield:
Video frame capture: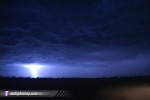 But that was the extent of visible lightning bolts I saw the whole day. I decided to call it a night and start the drive south to Kansas. Stopped at the Country Inn and Suites in Watertown, SD, went to bed at midnight. Storms rumbled outside all night, with a few close CGs - but I HAD to sleep if I was going to make Kansas by the next day. I was on the road to the big day in Kansas by 6AM.
NEXT EVENT: Three tornadoes in southern Kansas on May 12
This web site is made possible by support from CIS Internet.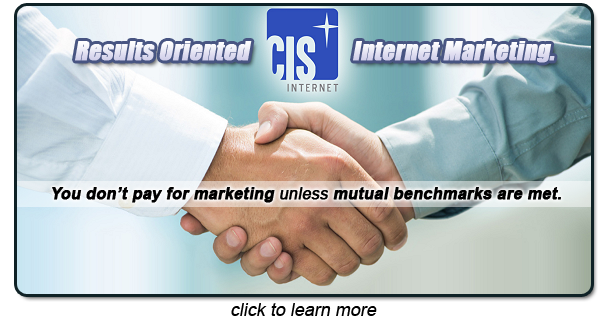 GO: Home | Storm Expeditions | Photography | Extreme Weather Library | Stock Footage | Blog
Featured Weather Library Article:
All content © Dan Robinson. All usage requires a paid license - please contact Dan for inquiries.

Web Site Design and Internet Marketing by CIS Internet