Home | Blog Index | Blog Archives | Christianity & Faith Essays
Wednesday, September 21, 2016
Top ten tornadoes
All tornado sightings are memorable, so it was difficult to pick just ten for this list of the best events I've been a part of. These rankings consider a combination of factors like the ease of the expedition, the quality of the resulting images and the novelty/rarity of each experience.
#10. Attica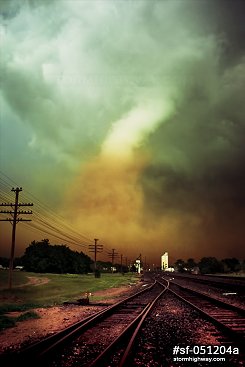 The memorable Attica, Kansas event on
May 12, 2004
featured my first high-quality photogenic tornado at relatively close range. Its white funnel was accented by the bright red Kansas dirt making up the debris cloud, all with an audible waterfall sound. This is my best tornado image captured during my slide film years.
#9. Okawville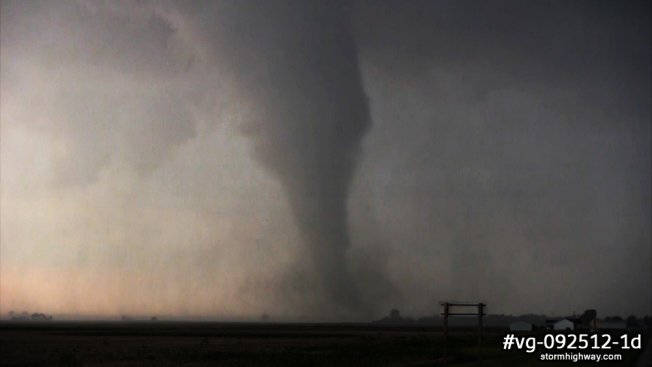 Imagine a supercell ramping up just as it passes over your home, then producing a nice fully-condensed tornado 20 minutes later just down the road - and you being there to see it. For some reason, there is something enigmatic about close-to-home tornadoes. They are some of the most enjoyable when I see one, and also my most painful to miss. The Okawville, Illinois event on
September 25, 2012
is the best and my most favorite of the several tornadoes I've seen in the St. Louis metro, and a prime example of "Midwest magic" that Missouri, Iowa and Illinois storm photographers occasionally can enjoy at all times of the year. So while there are other Plains tornadoes that could probably exceed this one in visual impressiveness, its "in my backyard" location in late September earns it the #9 spot.
#8. Ingersoll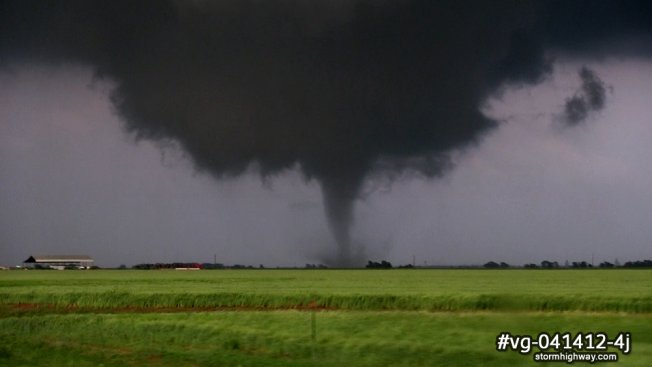 This tornado at Ingersoll, Oklahoma during the
April 14, 2012
outbreak is one of the first in which I was able to make a calculated close approach. The classic dark wall cloud, the sounds as it shredded sheet metal alongside the road next to me, and its later sinuous funnels earn this tornado its place at #8.
#7. Rozel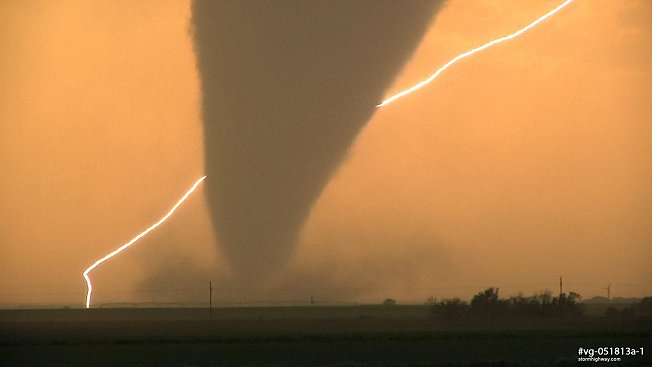 The Rozel, Kansas event on
May 18, 2013
was a tornado for the ages, one that would be much higher on my list had I been in a closer and higher-contrast position.
#6. Bennington II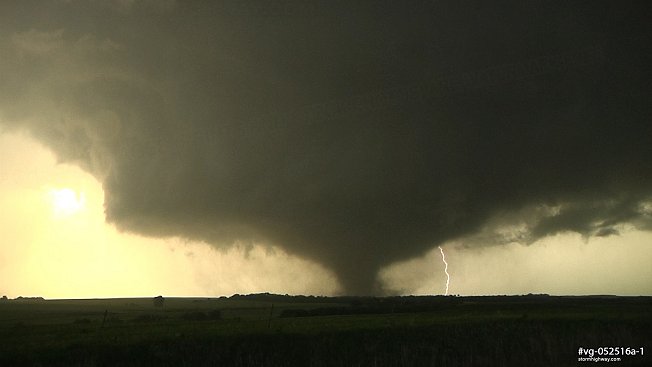 The
May 25, 2016
tornado from Bennington to Chapman, Kansas would provide an unforgettable sensory smorgasbord of visuals, thundering sounds and up-close passes. The chase and tornado had several eerie similarities to the 2013 Bennington event.
#5. Mulvane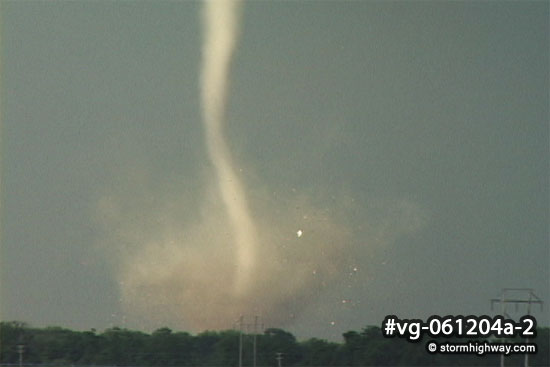 One of the classics of the Kansas Plains from
June 12, 2004
, Mulvane's high-based, sun-bathed funnel surrounded by an impressive-on-its-own lightning barrage set the bar very high for later events to rank better!
#4. Sanford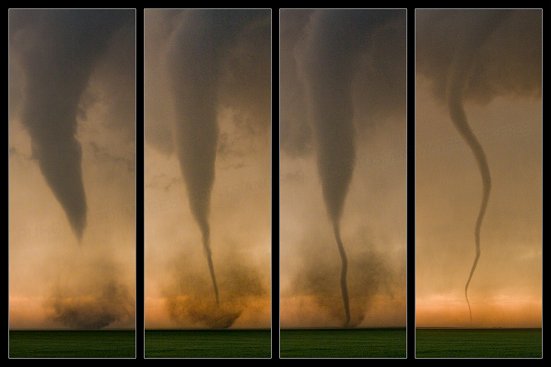 Combine sunset colors, a narrow but well-defined and persistent tornado, and the clearing skies around an occluding meso - and you get the ethereal Sanford, Kansas event, the second tornado produced by the Rozel supercell on
May 18, 2013
. This uncharacteristically photogenic tornado posed for lengthy intervals in a setting rich in color, yielding some of my favorite still images and earning the #4 spot in my list.
#3. Dodge City Classic I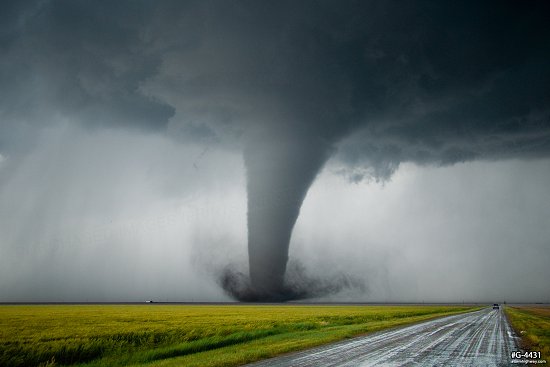 It was hard to give this tornado a less-than-second-place spot, as storm photography doesn't get much better than this. A perfect display of classic tornado shapes over the most flat and open terrain you could ever wish for during such an event at Dodge City, Kansas on
May 24, 2016
.
#2. Bennington I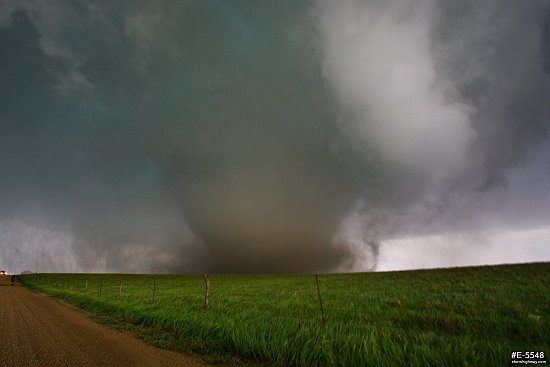 The tornado at Bennington, Kansas on
May 28, 2013
was one of the storm photography experiences I'd dreamed of, and never expected I'd actually one day get. This huge, dark, menacing, roaring and mesmerizing vortex - at times a quarter-mile away- lasted for nearly an hour, allowing a nearly unprecedented amount of time for photos, videos and just standing there and watching in awe. This front-row seat to one of the greatest shows put on by nature makes 2013's Bennington my next-to-best tornado catch.
#1. Dodge City Classic II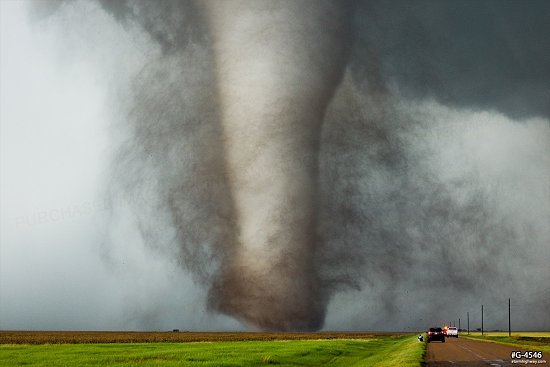 The holy grail of photogenic tornadoes, this picture-perfect spectacle at Dodge City, Kansas on
May 24, 2016
can't adequately be described with our petty adjectives. To make the scene even more exceptional, it was accented by simultaneous tornadoes to its east. It yielded the photos I'd always dreamed of capturing.
GO: Home | Storm Expeditions | Photography | Extreme Weather Library | Stock Footage | Blog
Featured Weather Library Article:
All content © Dan Robinson. All usage requires a paid license - please contact Dan for inquiries.

Web Site Design and Internet Marketing by CIS Internet