Home | Blog Index | Blog Archives | Christianity & Faith Essays
Monday, July 29, 2019
Midsummer 2019 storm photography roundup
Busy - but mostly frustrating and unproductive - storm photography has continued throughout the month of June, precluding frequent updates to the blog. Here is a recap of expeditions and events through the end of July.
A completed log of the 18 Plains storm photography days I logged this spring is
on this page
.
May 28: Central/northern Illinois storms
I had only one night home after my Plains expedition before I was back out on the road for another long trip, this time for a Moderate Risk in northern Missouri and central Illinois. I headed up to Hannibal, MO to intercept the first round of storms moving across northern Missouri. These dissipated before they arrived, so I headed back into Illinois and north to Pontiac to get ahead of the severe squall line approaching from Iowa. There was nothing photogenic and no stratiform lightning to shoot, so I headed home having not touched any of my cameras.
May 29: Weak storms in the STL metro
I spent the afternoon covering storms across the St. Louis metro that were uncooperative in terms of photogenic lightning or other phenomena, an ongoing theme that has plagued my 2019 storm season.
June 1: St. Louis severe storms
I initially drove up to near Pittsfield, IL to intercept a supercell with a strong RFD tracking southeast right on the Mississippi River. Thanks to high water road closures, I had to lose the storm and backtrack through Pittsfield to get back south ahead of it, which I accomplished at Alton. By now the storm had evolved into a severe cluster heading straight for downtown St. Louis, so I set up on the east riverfront to capture it moving in.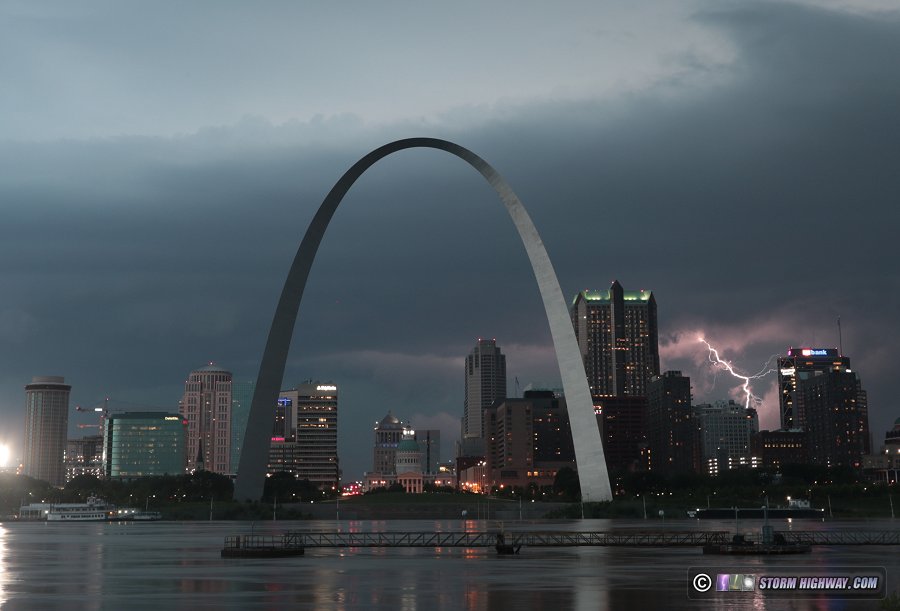 June 4: Messy storms from Washington, MO to St. Louis
Another long day shooting lightning west of St. Louis, with very little captured of use.
I spent some time shooting the flood crest at Alton both at ground level and via drone.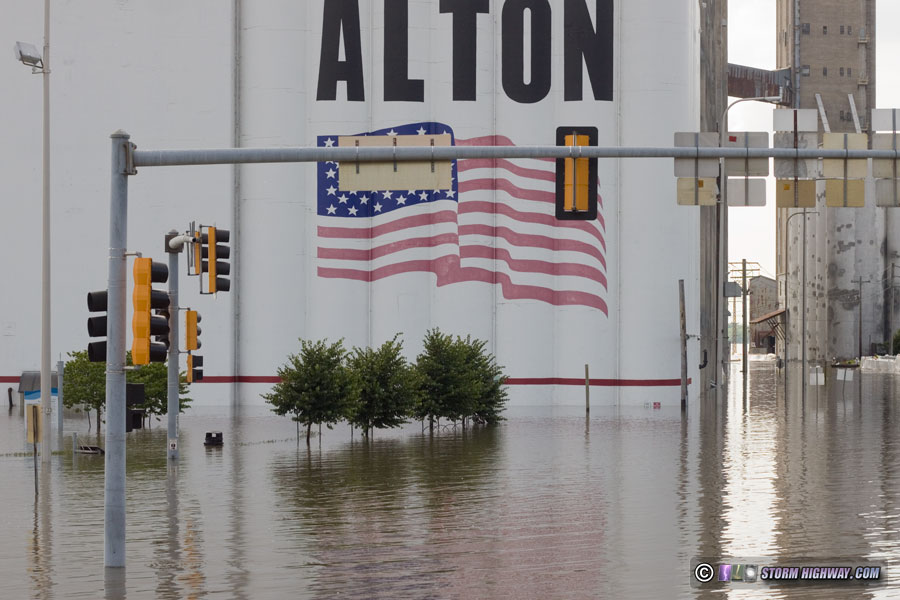 June 7: Mississippi River flood crest in downtown St. Louis

I made this GIF image of the June 7 high water level in front of the Arch compared with normal flow: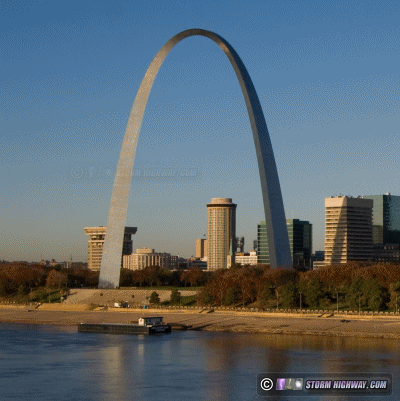 June 12: Storms and Blues Stanley Cup win
I went out to look at a few marginal storms that had developed on the western edge of a large rain shield that had been over St. Louis for much of the day, capturing some storm structure at Bowles Avenue along I-44. Later, I went downtown to record the crowd reactions to the Blues winning the Stanley Cup. Video of both is below:
June 14: Pocahontas, IL lightning
A three-hour outing north of home for some nighttime storms yields a couple of somewhat-OK captures.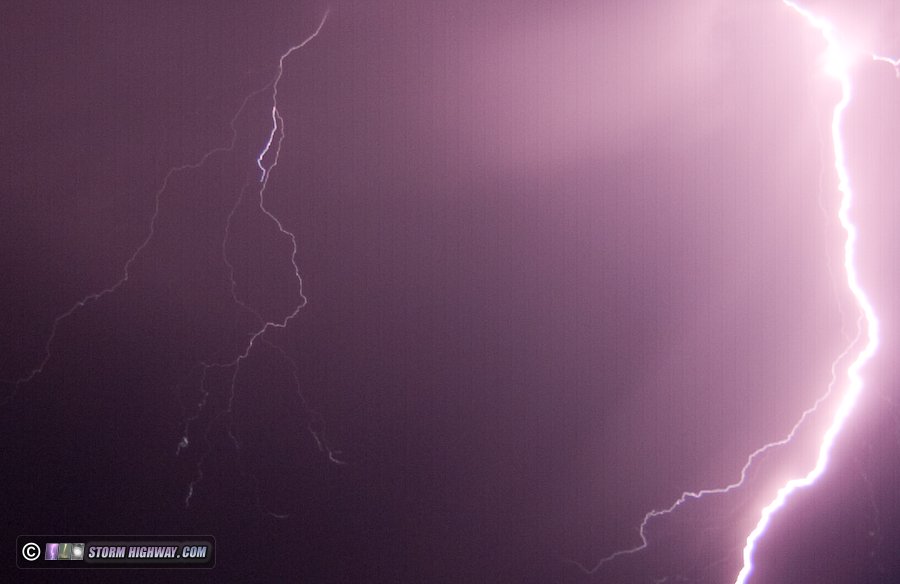 June 15: Tornado near Mt. Olive, IL
I tracked a very weak tornado with a supercell associated with an MCV and weak warm frontal zone east of I-55 near Mount Olive, IL. Later, I tried shooting lightning with some uncooperative storms around the St. Louis metro. Video below:
June 16: Severe storms from Bartelso to Fairfield, IL; STL night storm
A marginal day with some upper support for supercells resulted in a few severe storms I tracked east of home to Fairfield, IL, but nothing worth shooting photos or videos presented itself. Later that night, some strong storms moved into the St. Louis metro with decent but very uncooperative lightning.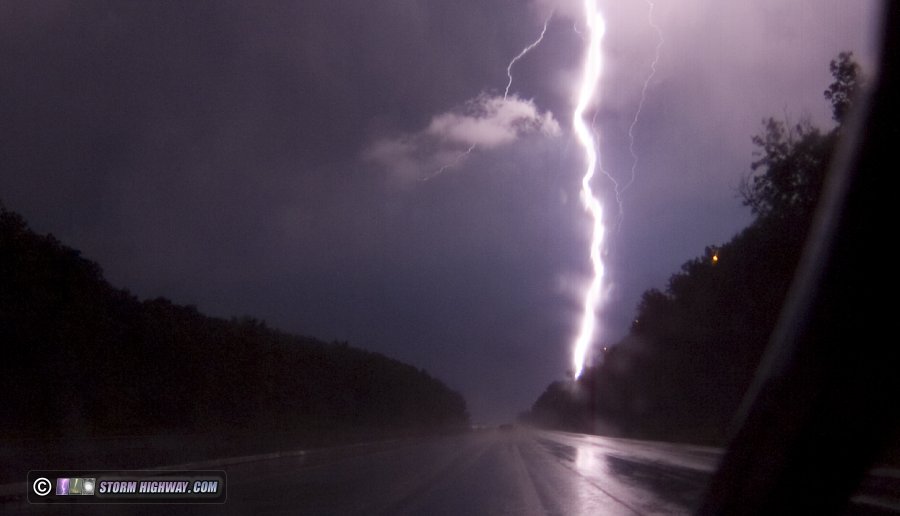 June 17: St. Louis storms
Storms in the metro at midday fail to produce anything photogenic.
June 19: Trenton, IL storm
Storms between Trenton and Highland again prompt an expedition, but fail to deliver..
June 21: STL metro storms
Like a broken record, storms use up half a day's worth of time but produce only one decent bolt of lightning - which a camera malfunction missed.
June 22: South St. Louis storms
Rinse and repeat: more St. Louis storms this day with completely uncooperative lightning.
June 23: Chicago lightning bust
Another trip to Chicago for storms that fizzle.
June 24: Tornadic supercell in downtown Charleston, WV
In a surreal circumstance on the way to my uncle's funeral in North Carolina, I ended up passing through my old hometown of Charleston right as a tornadic supercell moved through. This was an exceptionally rare event for the city. The storm produced a highly visible tornado tracking through the Southridge shopping center along Corridor G, but the circulation became completely rain-wrapped before reaching downtown. I at first thought I was looking at a new tornado on a kink in the RFD gust front, but later data disproved that first assumption. The storm structure over downtown was something I hadn't seen in all my years I'd lived there between 1997 and 2010, and I heard tornado sirens downtown for the first time.
The storm's RFD produced significant wind damage, including in my old neighborhood of Shadowlawn and right in front of my old house. Video is below.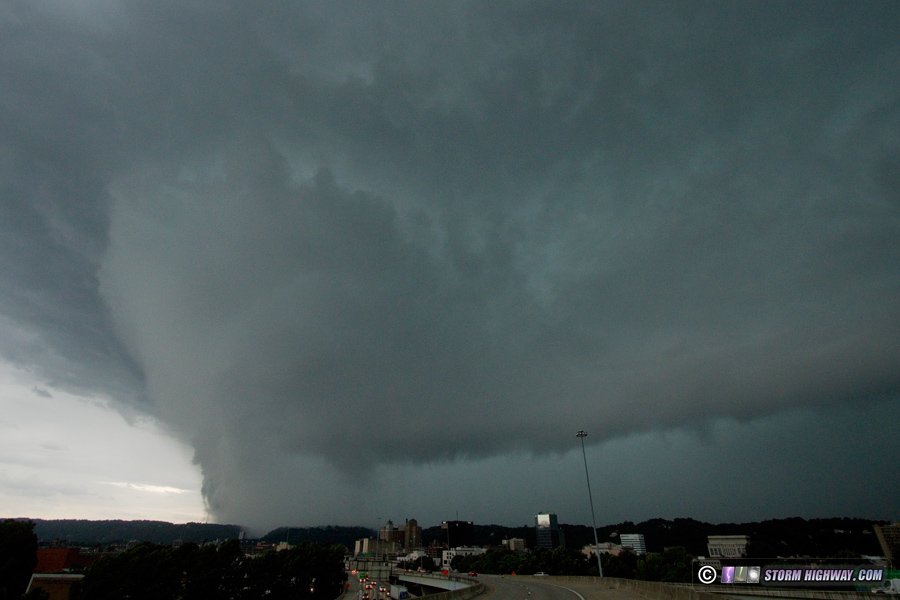 June 27-28: Chicago lightning bust
Another trip to Chicago (coming straight from North Carolina), this time a two-day stay with no results to show for it.
June 30: Chicago lightning
Yet another trip to Chicago for lightning. A storm finally produced a building strike, but only one.
July 1: Trenton, IL lightning
Finally, a storm cooperates with the best cloud-to-ground lightning show of the year so far near Trenton, IL.
July 2: Lebanon, IL lightning
Another cooperative storm with some nice daytime lightning near Lebanon, IL.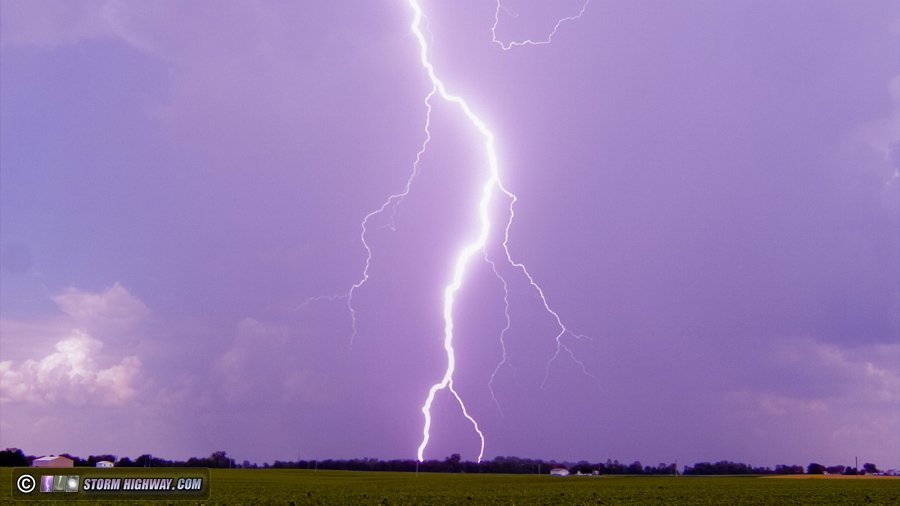 July 5: Washington, PA lightning
A storm south of Pittsburgh produces a few nice bolts, though the camera focus was off due to a backfocus ring coming loose.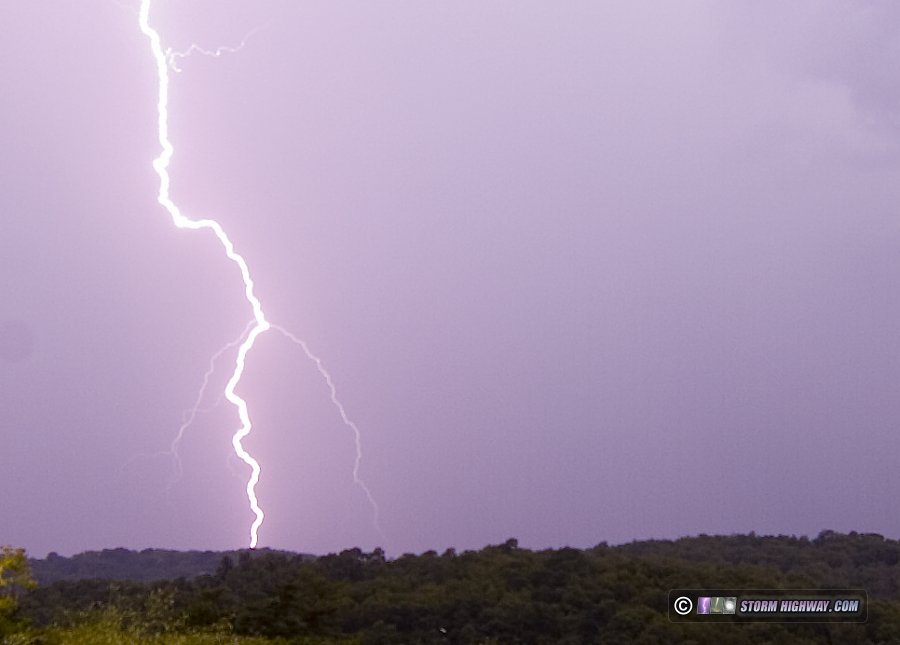 July 10: St. Louis metro storms
A round of slow-moving summer storms produces no photogenic lightning.
July 15: New Mexico monsoon storm
A monsoon storm (my first) produces a daylight bolt near Grants, New Mexico on the way to California.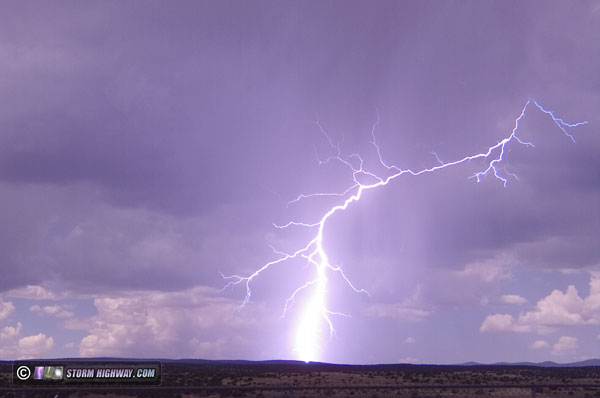 A trip to California to document surface rupture and aftershocks of the M 7.1 Ridgecrest earthquakes.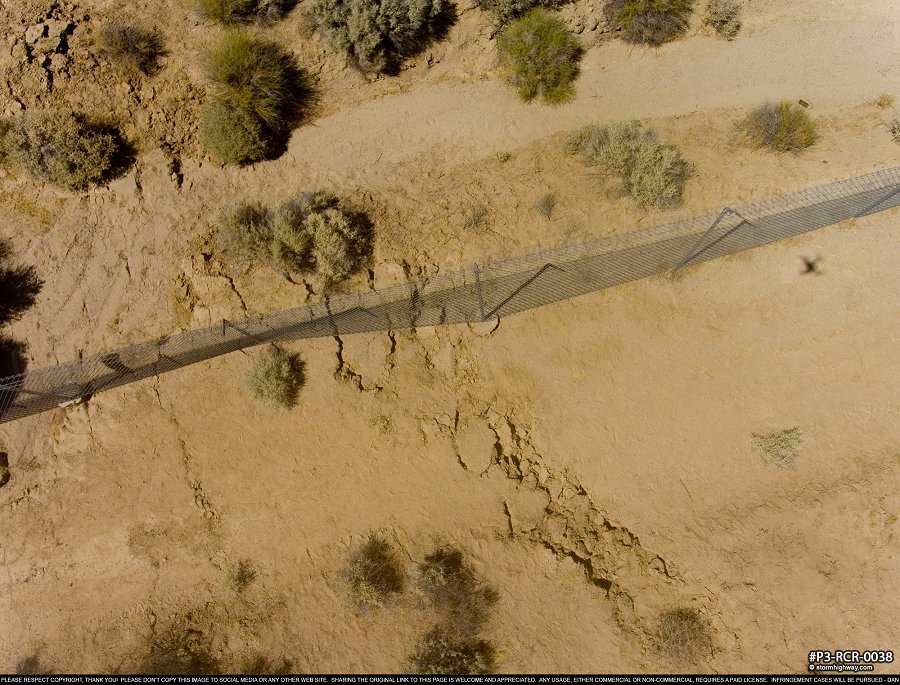 July 21: Joplin, MO severe storms
A stop on the way home from California to shoot storms moving into Joplin, MO yields no photo or video captures.
July 29: St. Louis metro storms
A five-hour expedition from downtown St. Louis to St. Libory, IL for, you guessed it, uncooperative storms. There was very little in the way of visible lightning bolts. Dying storms fired right over downtown 20 minutes after I left. Near St. Libory, I hit a large sinkhole on the edge of the road when pulling over, and then hit a deer 5 minutes later. The deer broke my car's bumper tabs, causing me to have to manually reattach it with cable ties.
GO: Home | Storm Expeditions | Photography | Extreme Weather Library | Stock Footage | Blog
Featured Weather Library Article:
All content © Dan Robinson. All usage requires a paid license - please contact Dan for inquiries.

Web Site Design and Internet Marketing by CIS Internet