Incredible tornadoes at Dodge City, Kansas: May 24, 2016
ABOVE: Tornadoes south of Dodge City Kansas on May 24, 2016
HD EXPEDITION VIDEO: May 24 Dodge City, Kansas tornadoes: Watch Video
4K EXPEDITION VIDEO: 4-Way Dashcam Timelapse of the expedition: Watch Video
HD EXPEDITION VIDEO: Front Dashcam timelapse of the expedition: Watch Video

Click any thumbnail on this page to view a larger version.

DODGE CITY, KS - The longer I've been storm photography (2016 was my 24th season), the higher the bar gets for an event to rank in my top ten. So, it's saying something that May 24, 2016 is my new #1. This storm produced the bulk of every type of tornado scene I've ever wanted to capture: Several "lifetime" tornado scenes - simply perfect in structure, lighting and foreground. I will always be in humbled disbelief I was blessed to be there and witness such a rare and stunning display of nature. It's going to be hard to top. In fact, if I had to choose between the legendary Campo tornado day and this one, I'd pick Dodge City every time.

I counted (from my video and stills) at least 11 separate tornadoes. Others say there were more, possibly as many as 15-18 (which very well may be true, when you're closer, you tend to miss some of the action in other parts of the storm). My better years (2004, 2005 and 2007 for instance) have netted me a total of 12-14 tornadoes all season. Seeing 11 or more in a single day is off the charts!

GPS LOG: Click to view the GPS track for this expedition

I had stayed in Sayre, Oklahoma the previous night, so I had a pleasant leisurely trip to the day's most obvious target only 3 hours' drive to the north. An outflow boundary from previous day's storms was oriented from western Kansas down into northwestern Oklahoma, just east of the dryline and in the midst of a very unstable and sheared environment. Any storm that fired on the dryline and interacted with this boundary would have excellent tornado potential.

I stopped among several groups at the Shattuck Windmill Museum, a classic landmark in the realm of storm photography. After buying a Windmill Museum t-shirt, I made my way north, stopping at a large roadside pull-off at Rosston, Oklahoma as the largest and best pre-storm photographer convergence I've been a part of got going: seeing and talk to fellow colleagues you only see in passing maybe once a year. In the 4-way view timelapse video from the day, this starts at 5:30. I had a great time here, just another perk of this amazing day.

As we milled about meeting, greeting and conversing, someone made the announcement that a supercell way up near Scott City, Kansas had already produced a tornado. That was the cue for us to start wrapping up our roadside mini-convention and move north to our incipient storm, where some agitated cumulus was looking ready to break through. One by one, we loaded up and took off northbound.
As I approached the storm at Minneola, the first scud tags of a wall cloud began to develop. I kept going, pulling right up under this area with only a few minutes to spare before the first dust whirl began in the field a couple hundred feet to my west. I backed up slightly to give the newborn (and very weak at this point) tornado some room to cross the road in front of me, and the show was under way! The tornado tracked northward generally right along the road, making for an easy following as it went through several forms - morphing from narrow cone funnel with a thin tube to the ground, to a crazy snaking multiple-vortex "sidewinder", to full cone, then to a majestic stovepipe (and sometimes cone) with an expansive black debris cloud. At one point, a horizontal vortex was exhibited.
As the tornado was getting started, a separate tornado to the east (visible in the first image below) briefly kicked up a puff of debris, marking the day's first instance of two or more simultaneous tornadoes. This second tornado circulation merged with the first, causing the "sidewinder" morphology just before the primary tornado rapidly intensified. The tornado at times was a clone of legendary Rozel. At times there was even a tornado reflection in the wet road - how often do you see that?! I'll let the still images I took during this interval do the rest of the talking:
This panoramic composite shows the tornado's life cycle:

As the first tornado (what I'll call "Rozel II" or "Dodge City Classic I") started roping, a rapidly spinning wall cloud to the east was already producing its first tornado, a tiny needle. This was the second of several instances of multiple simultaneous tornadoes: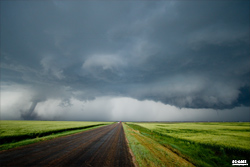 After "Dodge City Classic I" roped and finally vanished, I made the short jog over to the new meso as it began producing "Rozel III or Dodge City Classic II".
I was able to pull up to within a half mile of this tornado. Meanwhile, the storm was producing at least two separate tornadoes to the east! A police roadblock then stopped the northward progress of me and about two dozen other storm photographers, creating a traffic jam. Up until this point, traffic on this road had been sparse and free-flowing. Despite the jam, I was able to jump out and grab my best-ever tornado stills at this stage as the tornado morphed into yet *another* Rozel clone (the second in a row!). The lighting and contrast was absolutely perfect here: a stark white fat-stovepipe tornado with black/brown debris over a lush green wheat field - complete with a waterfall-like roar. Again, I'll let the still photos do the rest of the talking:
As "Dodge City Classic II" narrowed, a solid rope tornado planted to its east under a new circulation, another instance of simultaneous tornadoes. There was a third simultaneous tornado at this stage as well, though I did not see it (so I won't count it in my personal total for the day).
Unfortunately, the bigger (western) tornado grazed a farmstead here, removing the roof from the house. This 50mm image shows the resulting chunks of debris (click to view in full screen for detail):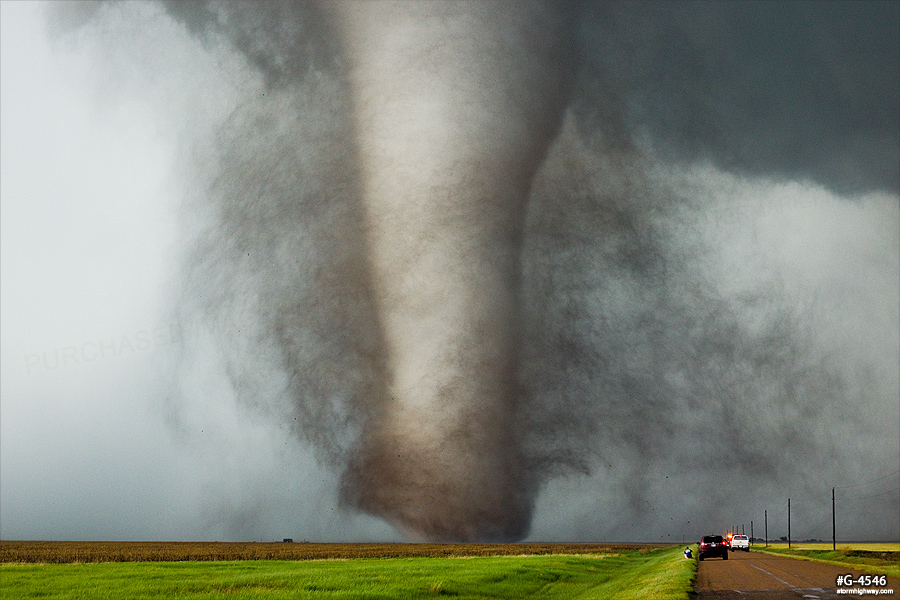 This panoramic composite shows the tornado's life cycle:

As the north-northwest moving "Dodge City Classic II" roped out, it was pulled east across the road again into the circulation of the new meso/tornadoes (similar to how the 1990 Hesston tornado did with the Goessel tornado). The new circulation produced a brief fat cone tornado: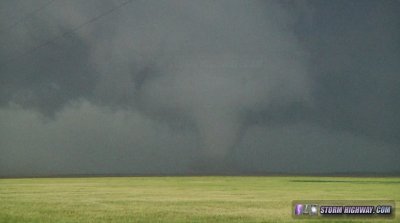 The police roadblock necessitated backtracking south almost 3 miles and then east to US Highway 283, where I resumed the trek north. Traffic was heaviest here, but all orderly with no problems to speak of (watch this realtime 4-way dashcam excerpt to see for yourself). As I moved north on Highway 283, the storm produced its largest tornado of the day, a barrel/wedge just outside of the western fringes of Dodge City: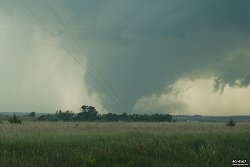 The tornado continued as I made my way north through town: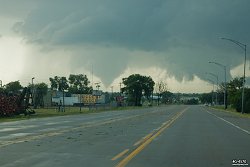 On the north side of the city, I witnessed yet another tornado north of town: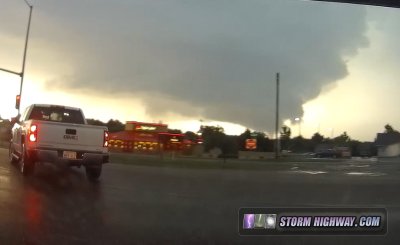 Soon after, I encountered the second roadblock of the day just north of town. On my way around adjacent roads, yet another tornado developed to the north: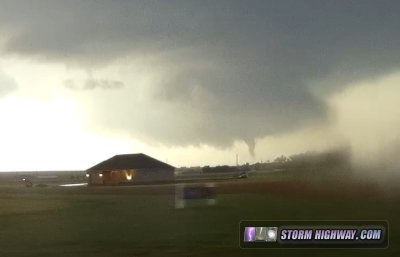 Then yet another two, the last instance of dual simultaneous tornadoes: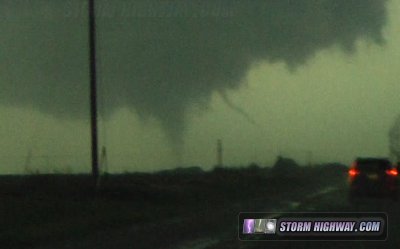 At this stage, a new storm had developed to the south of the original and was beginning to affect the first storm's inflow. The appearance of the meso/wall cloud deteriorated as the new storm advanced over Dodge City, dropping tennis-ball hail on me as I moved south. My hail shields likely saved my windshield here. I thought the new storm might have tornado potential itself once it moved north, but it never did seem to organize. With the storms congealing into a large complex to the north and east, it appeared the tornado threat was diminishing, so I decided to end the expedition and start heading back into the city for dinner.
With the storms moving off to the east and the sun beginning to dip low in the western sky, I expected a dramatic rainbow to the east. I drove over to the east side of town for a view of the Dodge City NWS NEXRAD radar dome, preparing for the shot. A full rainbow never materialized, but these awesome anticrepuscular rays did: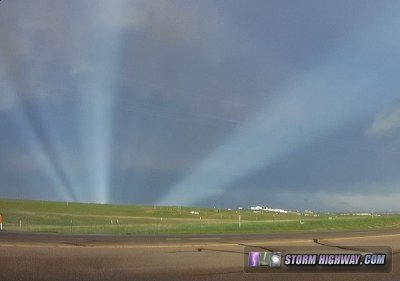 This show was followed by a finale featuring the best sunset mammatus display I've ever seen:
Other observer accounts from this event:
NEXT PLAINS EVENT: Long-lived EF4 tornado from Solomon to Abilene, Kansas >
All content © Dan Robinson. All usage requires a paid license - please contact Dan for inquiries.

Web Site Design and Internet Marketing by CIS Internet